With the new school year just around the corner, there are so many great back to school deals online that offer discounts on amazing laptops which can increase your productivity and help you with schoolwork. There are a couple of aspects that make one laptop suitable for school. The portability is always highly requested because the majority of students plan on carrying their laptops with them at all times. Of course, the price plays an important role as well because not everyone has an unlimited budget, right? And there is hardware which should run software as smoothly as possible because schoolwork includes plenty of multitasking and there has to be some room for entertainment later.
Luckily, the list of deals on laptops is quite long this year and there are plenty to choose from, including more expensive gaming laptops. Chromebooks are considered to be very popular among students due to the price and simple design. For those of you who want to increase the functionality of your new laptop, trying out a convertible that is essentially both a tablet and a laptop can be useful and revolutionary.
Attending a college can be stressful, and you need a good companion to help you along the way. Selecting the right laptop for college can be crucial to your success. So, here is the list of best back to school laptop deals at the moment, which includes no-nonsense offers on ultrabooks, convertibles, chromebooks and gaming laptops that students can avail this fall.
The Best Back to School Laptop Deals – 2018
ASUS VivoBook 14
Portability should be one of the first points to consider when buying a laptop for school. ASUS Vivobook 14 certainly fits that role with its sleek and lightweight design. The lid is made of brushed aluminum that makes this laptop look expensive and classy. The rest is made of plastic, but that doesn't undermine ASUS' intentions when creating this notebook. Vivobook 14 weighs 3.3 pounds, with a very thin profile of 0.7-inches (or 1.7cm). The 14-inch full-HD display might not be the brightest and most accurate out there, but it does its job perfectly well. The keyboard is great with 1.4mm of travel which means you will feel comfortable typing on it. The trackpad is without any buttons, but it is quite accurate and responsive.
The performance is great considering the price of this laptop. There are Intel Pentium N4200 processor and 4GB of RAM that will make multitasking easier and without delays. Its 64GB eMMC Flash storage can seem a bit low to some users, but there are ways to expand it. You will be able to connect all the peripherals you need since ASUS Vivobook 14 has a total of three USB ports, one of them being Type-C, as well as an HDMI port, and an SD card reader. The most surprising part of this laptop is the incredible battery life. As a matter of fact, it can last for up to eight hours which is incredible.
You can grab an opportunity now and get ASUS Vivobook 14 at a discounted price, saving $35 with this deal.
If you want to have more internal storage, there is another option for you. ASUS Vivobook F441 is also on a discount and features 256GB of SSD for just $481.00. It is $100 less than it was before.
Samsung Chromebook 3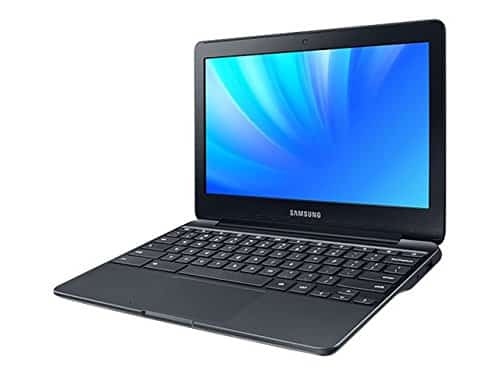 Samsung Chromebook 3 is a blend of affordability and performance. It is ideal for college students due to its size and the fact that it is very travel-friendly. The overall design is quite simple, with an all-black plastic chassis that feel sturdy. Having in mind that this Chromebook weighs merely 2.5lbs, it is clear that you can carry it with you for an entire day and you will not even feel that extra weight in your backpack. The 11.6-inch LED screen is a true centerpiece of this laptop because it is bright and very high-quality. It can easily rival some pricier models. The keyboard has curved keys for increased comfort, and it is also spill resistant.
The combination of Intel Celeron N3060 processor and 4GB of RAM will ensure everything is running properly in Samsung Chromebook 3. You will also get 16GB of internal memory which might sound a bit low, but you can always expand it with an SD card or by using cloud storage. The battery life is remarkable, and it can last for almost ten hours of heavy use which is useful for students who want to take this laptop with them to lectures. And the webcam is worth mentioning as well because it is surprisingly great considering the size of the laptop.
The price of Samsung Chromebook 3 is $179.00, with $23 off.
If you are set on buying a Chromebook, there are other good deals out there such as Acer Chromebook 14 for $219.00 from Walmart and Acer Chromebook 11 for $269.00, which will save you $24.
ASUS Chromebook Flip C302CA Convertible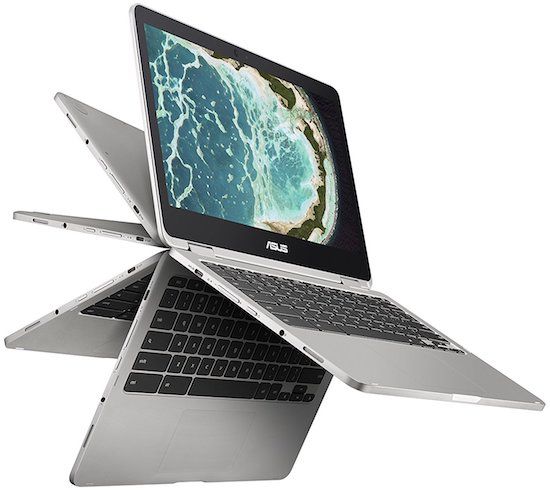 Convertible laptops are very popular nowadays because they basically provide you with two devices in one. ASUS Chromebook C302CA sports a premium design that makes this machine stand out from the competition. Made of aluminum with clean lines, ASUS Chromebook C302CA will fold perfectly once you put it into tablet mode due to the positioning of the hinges. If you are looking for a lighter laptop, this one should definitely make your list because it weighs just 2.6lbs so it will be easy to use when in tablet mode. The keyboard is surprisingly comfortable considering the size of this convertible laptop. There is a decent amount of travel which provides a good typing experience.
The 12.5" full-HD touchscreen is responsive and features anti-glare technology. Also, the viewing angles are amazing, which is expected since ASUS Chromebook C302CA is a convertible laptop. Intel Core m3 processor is in charge of the performance and it does its job properly. There is 4GB of RAM which is more than enough to keep this machine running properly. Plus, you will get 64GB of internal storage. The battery can hold for up to eight hours which can be the deciding factor for many students. Keep in mind that Chromebooks will arrive with Chrome OS but the operating system is simple and you can get used to it in no time.
ASUS Chromebook C302CA Convertible can be found for a discounted price of $679.00 which will save you $50.
ASUS's Chromebook line has other options that are quite affordable at the moment such as ASUS Chromebook Flip with spill proof design which is important when studying and has a firmer build. You can purchase it for $474.95, with $50 off. Acer Chromebook R 11 Convertible is also discounted at the price of $394.45, saving you $20. And finally, if you are a fan of Chrome OS, you can get the best — Google Pixelbook with $170 off.
Acer Aspire 1
If you have a small budget at your disposal for this school year and you still want a good everyday laptop, there is no need to worry because Acer Aspire 1 is both affordable and delivers good performance. The chassis is made of textured matte plastic that makes this machine appear more expensive than it truly is. Weighing 3.64lbs (or 1.65kgs), it will slide into your backpack easily. Acer Aspire 1 has a 14-inch full-HD display, and the colors do appear vivid and bright. On the other hand, the viewing angles might not be that good so sharing the content of your screen with your friends could be tricky.
Powered by Intel Celeron N3450 Quad-Core processor and 4GB of RAM, you will be able to complete your daily tasks easily and quickly. The internal storage is certainly low, and you will get only 32GB. But you can always use cloud storage which is a great solution in these situations. There is also an SD card slot on the side which can increase your internal memory as well. The battery can last for up to seven hours, depending on your settings which is a huge plus for students and people on the move.
Considered to be one of the best-priced laptops on the market at the moment, you can buy Acer Aspire 1 for only $399.99, saving $43.99.
NOTE – These discounts on Chromebooks and Windows netbooks may not sound huge, but you should not forget that you are getting discounts on the prices which were already best. So, ultimately you are getting pretty good deals on these ultra-portable, long-lasting productivity machines which are perfect buys for students this back to school season.
Microsoft Surface Laptop
With the portability and design that can rival even MacBook Air, Microsoft Surface laptop looks very polished and stylish. It can be your perfect companion in a classroom and for doing schoolwork because it is thin, light, and packs very powerful hardware on the inside. Sporting an aluminum lid, Microsoft Surface will be protected and safe in your backpack. This laptop weighs merely 2.76lbs and has 0.57-inch (or 14.48mm) profile. Once you open it, you will notice that the keys are made of plastic reinforced with Alcantara fabric material that will make typing very comfortable. There is 1.5mm of travel between the keys so your fingers will not feel tired.
With 7th generation Intel Core i5 processor and 8GB of RAM, you can launch several apps at the same time, and the performance will not be influenced in any way. Not to forget 256GB of SSD storage that will improve the overall speed of the computer. Microsoft Surface laptop features a 13.5-inch PixelSense touchscreen display that is scratch resistant which comes in handy when carrying the laptop to classes or around the campus. The battery can last for up to nine hours, depending on your power settings which means you don't have to pack a charger with you all the time. Additionally, Microsoft Surface will arrive with Windows 10 S operating system that puts less strain on the battery.
You can purchase Microsoft Surface laptop for $898.96 with $250 off.
For students who prefer convertible devices, Microsoft Surface Book 2 is also discounted with $200 off on the 13-inch model and $300 off on 15-inch one. Even though it might not have the latest hardware, you can get a good deal on Microsoft Surface Pro as well because there is up to $300 discount on the official website.
ASUS VivoBook F510UA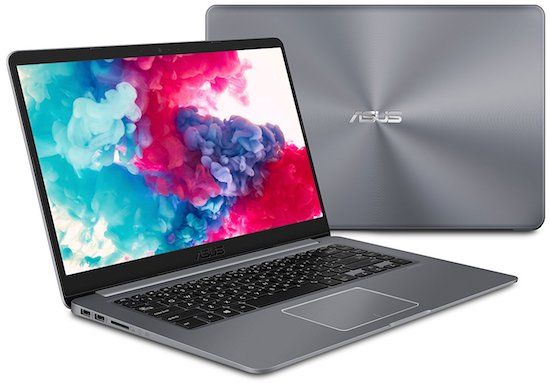 ASUS VivoBook F510UA is powerful, affordable and incredibly stylish which is a great combination for students who have a limited budget but want to purchase a high-quality laptop. Even though the chassis is made of plastic and not aluminum, you might get fooled at first because the finish on the lid is textured and looks quite interesting. Weighing 3.57lbs and with a 0.8-inch profile, this laptop can fit in your backpack without any problems. The 15.6-inch display is in full-HD and has narrow bezels so you can enjoy great visuals. The connectivity is satisfying as well because there are three USB ports, one of them being super-fast USB Type-C, and an HDMI port.
If you plan on using this laptop for research, schoolwork or business, you can be sure that the hardware will not fail you. The latest 8th gen Intel Core i5-8250U is in charge of the performance, and it is one of the most reliable Intel CPU you can get in this price range. Additionally, there is 8GB of RAM, integrated Intel UHD Graphics 620 GPU, and 1TB of HDD storage. If you plan on typing for hours, you will be glad to hear that the full-size keyboard is quiet and comfortable. On the other hand, packing a charger with this laptop is essential because the battery will last for four hours top.
ASUS VivoBook F510UA can be yours for $775.00 which is probably the lowest price you can get for such a powerful laptop.
If you are a gamer and want a laptop with dedicated GPU in the same price-range, then Acer Aspire E 15 has NVIDIA GeForce MX150 and you can buy it for $1,199.77 from Amazon.
HP Omen 15
HP Omen 15 is not your typical gaming laptop. Surely it does sport a futuristic and modern design, with a carbon fiber lid which is cleverly decorated, but it can also be your everyday computer for studying and research. Gaming laptops are known to be heavy and not very travel-friendly. However, HP decided to make a lighter version with strong hardware. The 2018 HP Omen 15 weighs just 5.4lbs so you can carry it around with a well-padded backpack and still feel comfortable. This laptop has a 15.6-inch IPS display with 1080p resolution so you will see every last detail regardless of the work you do.
The hardware is impressive since HP Omen 15 has new six-core 8th generation Intel Core i7-8750H processor which is supported by 12GB of RAM. Combined with NVIDIA GeForce GTX 1050 Ti GPU, you will get smooth gameplay and the ability to multitask easily. There is also both SSD and HDD storage, with 128GB and 1TB of space respectively. The keyboard is backlit with not too much travel between the keys, but it is still responsive and comfortable even though it is not mechanical. Unfortunately, the battery life is not so great considering that you might want to take this laptop with you to lectures. It can last for up to four hours if you really lower your power settings. So don't forget to make some room for a charger in your backpack.
You can purchase this powerful HP Omen 15 gaming laptop for just $1,096.00 with $100 OFF. That's a steal deal!
If you are really set on purchasing a gaming laptop, then Acer Predator Helios 300 PH315 has a better Nvidia GeForce GTX 1060 GPU and fast 144Hz refresh-rate display. However, it lacks in storage department as it comes with just 256GB of SSD, but it can be upgraded. The price of the Acer Predator Helios 300 is $1,082.71 and it is also discounted for $100.

Users who want to have a gaming laptop but are working on a smaller budget should check out ASUS FX503VD. It has Intel Core i7-7700HQ processor which was launched last year, and an entry-level GPU in the Nvidia Pascal lineup (GTX 1050), but those components are still great for gaming and work. The price of ASUS FX503VD is $1,199.11 and you will save $100.05.
Apple MacBook Pro 13 with Touchbar (2018)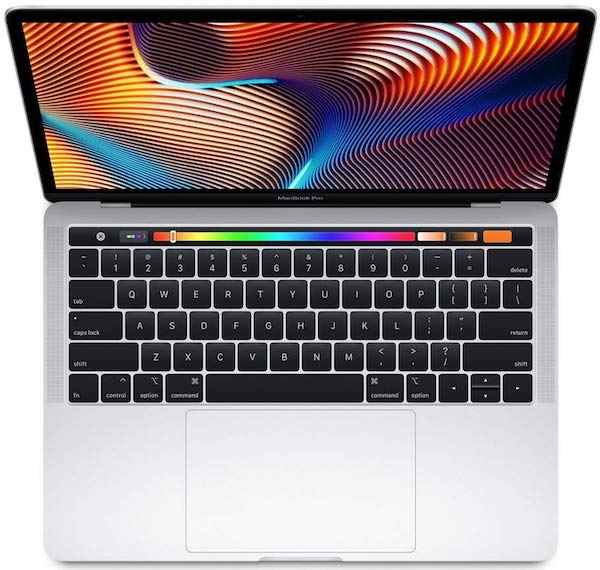 Already a classic among the students, many of them will opt for Apple MacBook Pro at the beginning of a new school year. With its simple but useful design, MacBook Pro can be of great help while studying or attending lectures. The 2018 MacBook Pro is a recent release by Apple, and even though it follows the same design principles, there are a couple of new additions that are interesting. Weighing 3.02lbs with 0.6-inch profile, the laptop will go easily into any bag or backpack. The 13-inch Retina display delivers amazing visuals which are improved even further with True Tone technology that adjusts the colors automatically, making them "easier on the eyes".
The keyboard has 0.55mm of travel which is one of the questionable design choices when it comes to Apple. However, this new version of MacBook Pro keyboard is significantly quieter. The Touch Bar which is basically a tiny touchscreen located above the keyboard is a very useful addition and can save you some time, especially while browsing the internet or listening to music. When it comes to the hardware, MacBook Pro 13 has Intel Core i5 processor and 8GB of RAM which will run this machine like clockwork. There is also 256GB of SSD storage. As expected, the battery can last for almost nine hours even if you use the laptop at the highest power settings.
You can save $100 on 2018 MacBook Pro 13 with touchbar at Best Buy if you're a student and get it for $1,799.99 $1,699.99
You can get Beats Wireless Headphones for free when you buy an eligible Mac at Apple Web Store.
Lenovo Yoga 730
Lenovo Yoga 730 13" is one of the best-selling convertible laptops out there. Designed for artists and designers, as well as for the everyday users, this laptop pushed boundaries with its bold design and abilities. Made of aluminum, this laptop feels more expensive than it really is. This is a 2-in-1 device so you will basically have a tablet and a laptop. And it is very portable since Lenovo Yoga 730 weighs 2.47lbs (or 1.12kgs). It has a 13-inch touchscreen, and you can use Lenovo Active Pen 2 on it in order to draw, write, or design.
The connectivity is so-so, with two USB 3.0 ports on the left side but that is a standard for 2-in-1 devices. While the keyboard looks good and has 1.1mm of travel between the keys, some users might find it uncomfortable. But the trackpad makes up for it with the size and responsiveness. The hardware is great for a convertible laptop because it features 8th generation Intel Core i5-8250U processor, 8GB of RAM, and 256GB of SSD storage. As you might guess, the performance in exquisite and smooth. If you plan on using this laptop throughout the day, you may do so without thinking of recharging because the battery can last for seven hours.
You can buy Lenovo Yoga 730 13" for $799.99 with $150 off.
If you need a slightly bigger screen, you can select Lenovo Yoga 730 15" for $749.99 which will save you $100. Of course, there are always options with even stronger hardware so you can get Lenovo Yoga 730 15" with 4K screen and Intel 8th generation Core i7 for $1,399.99 which will save you $150.
Lenovo ThinkPad T480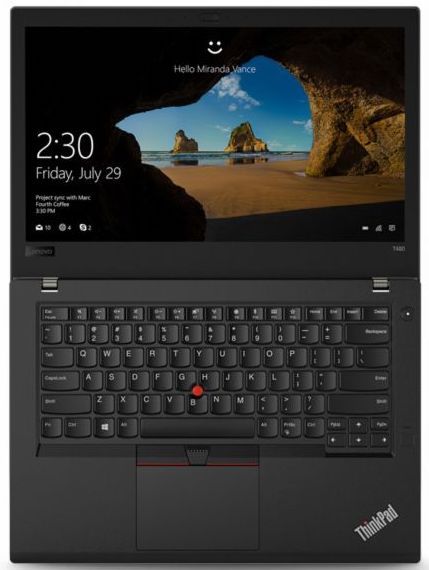 If you require a powerful and reliable laptop for your everyday tasks and schoolwork, Lenovo ThinkPad T480 will certainly meet your expectations and then some more. With its serious and no-nonsense design, this notebook looks professional and classic. Lenovo makes durable machines and this one was tested in insane conditions just to make sure it would stay in one piece. Unfortunately, this is not an ultraportable because it weighs 3.6lbs, but it is still travel-friendly and shouldn't weight you down while walking around. Lenovo ThinkPad T480 has a 14-inch screen with IPS technology guaranteeing excellent viewing angles.
The basic configuration for Lenovo ThinkPad T480 features Intel Core i3-8130U processor, 4GB of RAM, and 500GB of HDD. This combination is perfect for school or business where you are required to complete tasks daily or weekly. However, you can get the same laptop with better hardware which will be explained below. Lenovo ThinkPad T480 has a very comfortable keyboard that is responsive so users who plan on typing a lot on it will enjoy the experience. The connectivity is good considering the size of the laptop and you will have 2 USB ports, one SD card reader, and an HDMI port at your disposal. The battery life is truly amazing, and the laptop can last for up to eight hours on a single charge.
Lenovo ThinkPad T480 can be purchased for $767.20 with $242 off from Lenovo web store. That is the price of basic model with Intel Core i3 but you can also buy it with up to Intel Core i7. Those models are discounted up to $500.
The Lenovo ThinkPad X1 Carbon ultrabook which is one of our top-rated laptops is also on discount at Lenovo web store. It offers excellent performance hardware within lightweight carbon-fiber chassis. Of course, it isn't cheap and falls in $1000+ category. So, if you have the budget and looking for a powerful and lightweight laptop to buy this back-to-school season, then ThinkPad X1 Carbon is the one to go with. | Check Price on Lenovo
HP Spectre x360 13″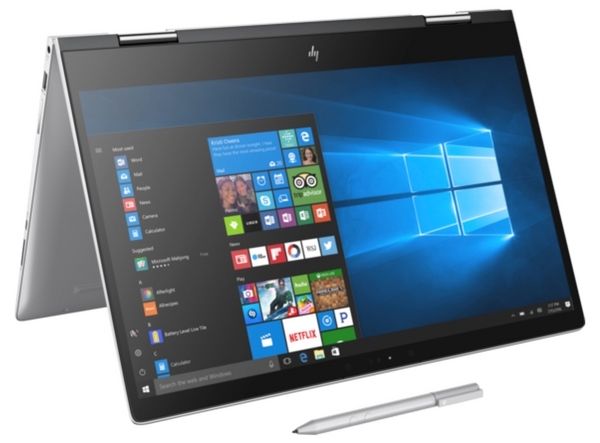 Convertible laptops can be exceptionally useful for students because they will basically get both a computer and a tablet in a single device. HP Spectre x360 is affordable and can deliver outstanding performance for that price. The design is quite simple but durable, with an aluminum chassis that looks and feels expensive. The hinges which are responsible for transforming this laptop into a tablet are high-quality and firm. HP Spectre x360 is incredibly compact and weighs 2.78lbs. When you lift up the lid, you will see a wide trackpad that gives you plenty of room for movement. The keyboard has just the right amount of travel between the keys to keep your fingers rested while typing.
The 13.3-inch display is in full-HD and uses WLED technology. You will get stunning visuals since the contrast and brightness are very balanced. It is a touchscreen so you can use the HP pen for catching notes during the lectures. Powered by Intel Core i5-8250U processor and 8GB of RAM, this small laptop is a true powerhouse. Not to forget 256GB of super-fast SSD storage where you can keep all of your files and launch apps in seconds. HP's website says that the battery can last for up to sixteen hours which might be plausible in some situations. However, if you run your laptop at the highest settings, the battery will last for up to eight hours which is still quite impressive.
You can purchase HP Spectre x360 13" for $949.99, with $200 off from HP web store.
If you really like this model but require even stronger hardware, you can get Spectre x360 15″ with 4K touch display, Intel Core i7-8550U processor, 16GB RAM and 512GB of SSD for $1,399.99 with $200 off from HP. | Configure yours now
HP Envy 13t
Super portable and elegant, HP Envy 13t can be your trusty companion throughout the school year. With a matte aluminum design and smooth lines, HP Envy 13t is affordable and powerful. Once you lift up the lid, you will see the all silver keyboard and trackpad that follow the same aesthetics. HP Envy 13t is incredibly light, weighing only 2.93lbs and the profile is 0.55-inch thin. The battery can last for nearly ten hours without being charged, it is clear why HP Envy 13t can come in handy when in classes.
This laptop has a 13.3-inch full HD display that is decent for the price, but you will notice that brightness and the vividness of colors are not breathtaking. The viewing angles are also a bit off. Intel Core i7-8550U processor and 8GB of RAM will make sure you can multitask and complete any type of work on this machine. Additionally, there is 256GB of SSD storage which will improve the speed and the performance of HP Envy 13t. The keyboard is on a smaller side, with 1.2mm of travel between the keys but you will not even notice it. It is still responsive and comfortable. The trackpad is smooth, without the visible buttons, and supports gestures.
The price of HP Envy 13t is $799.99 with a $200 discount at HP web store. This is one of our most favorite laptop deals of this year's back to school sale.
Dell XPS 13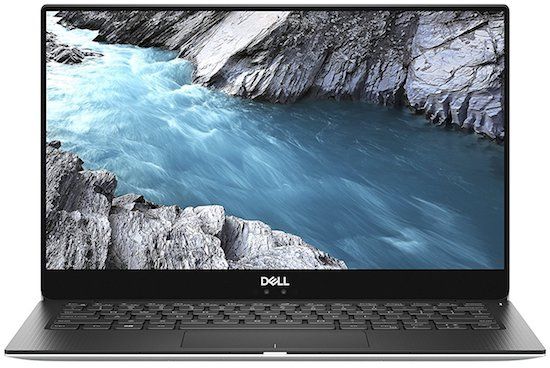 Dell XPS 13 is that company's take on an ultraportable laptop which is ideal for students because they require a light machine that doesn't take up too much space in a backpack. Constructed from aluminum with a carbon fiber palm rest that doesn't get too hot, Dell XP 13 is sturdy and reliable. It weighs merely 2.9lbs with 0.33 to 0.6-inch of height. Dell decided to include a 13.3-inch full HD InfinityEdge display which covers the majority of the frame without leaving any borders on the sides.
The Intel Core i5-8250U processor and 8GB of RAM guarantee excellent performance when doing the everyday school work and other tasks. You can also do some light gaming on this laptop in your free time. When it comes to storage, Dell XPS 13 will arrive with 256GB of SSD. The connectivity is great, with two USB 3.0 ports, one USB Type-C port, an HDMI port, and an SD card reader. The battery life is truly amazing, and you will be able to use this laptop for up to eight hours on a single charge.
You can buy Dell XPS 13 for $949.99, with $150 off.
Alienware 15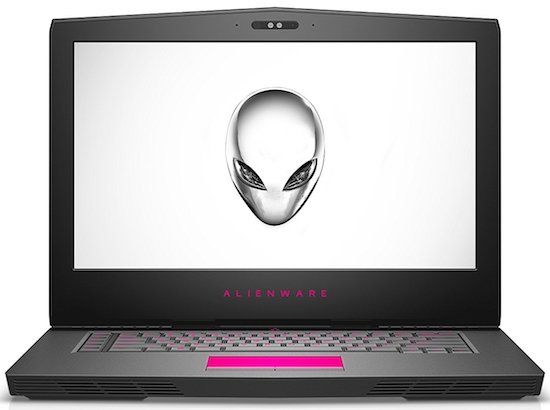 Dell really raised the bar when it comes to gaming laptops with the release of Alienware 15. It is a stylish and professional looking laptop with quite interesting design choices. The chassis is made of a combination of metals that will keep the laptop safe so you can slide it into your backpack and travel comfortably with it. But it is on a heavier side since it weighs 7.69lbs. Alienware 15 has a 15.6-inch LCD display which is in full HD. It also has anti-glare technology so you can work or play video games in various light conditions. The keyboard is perfect for typing with 2mm of travel between the keys. The trackpad is spacious, smooth, and supports gestures.
The combination of exceptional components makes Alienware 15 stand out from the competition. Starting with 8th generation Intel Core i7-8750H processor, you can be certain that the laptop will perform well. When you add 16GB of RAM and NVIDIA GeForce GTX 1060 GPU, you can rest assured that the gameplay will be enjoyable without any pauses or lags. But there are a few downsides as well, namely the heat. The keyboard and the palm rest might get hot after gaming for hours which could be a little bit unpleasant. And the battery can last for four to five hours of internet browsing and video streaming. You can already guess it will last shorter when you play video games.
The current price of Alienware 15 is $1,399.99 with $400 off at Dell web store.
If you like the hardware and want to pay less for the same components, check out Dell G7 15 which is another great gaming laptop that might be budget friendly.
Conclusion
With so many excellent options, you might feel slightly overwhelmed right now. But take a step back and go over a couple of things. First of all, what is your current budget and which laptops can you afford? Secondly, what type of work do you plan to do on your new laptop? Once you get this straight, choosing the perfect computer will be a breeze and you will start the new school year ready to tackle anything!
Keep checking this page for updated back to school sales and discounts offers on laptops.