It's time to get back-to-school for all students of United States and hence, it's the perfect time to buy a laptop right now. Well, who wouldn't want a powerful and fascinating laptop to carry with them to the school? We here at laptop under budget understand this concern of yours and have thus brought the best available laptops aka work machines deals for your work at school.

Like every year, this year has arrived with some huge back-to-school laptop discounts in department stores and websites. The department stores are noted most crowded in this time of the year, as all parents rush to get the advantage of students discounts on equipments their children will need in upcoming school year.
So, if you don't want to go there and enjoy all the back to school laptops discounts with a cup of coffee at your home, then here are our top picks, for best back to school laptop deals 2017 from Amazon, NewEgg, BestBuy, Microsoft Store and Apple Store.
Best Back to School Laptop Deals and Discounts
ASUS P-Series P540UA-AB51 Laptop
FLAT $100 Discount
ASUS P2540UA-AB51 is a recently launched business laptop which broke all the earlier set prototypes by computer manufacturers in budget laptops segment. For the price less than $500, the ASUS P2540UA offers the specifications that no other budget laptops ever offered.
It is finished in black color and has brushed-hairline aluminum textures everywhere which adds professional looking hue to the laptop. Its 15.6 inch full HD display has anti-glare coating which helps in reducing eye strains even after prolonged usage. It comes with 3 x USB 3.0 ports, 1 x USB 2.0 port, 1 x HDMI and 1 x VGA port. It also has Ethernet port which will be helpful while playing games in LAN.
On hardware front, the laptop bolsters the 7th Generation Intel Core i5 processor and 8GB of RAM. This processor-RAM duo produces enough thrust of power to handle multitasking and mediocre gaming on the laptop with ease. To store collection of all your favorite movies, TV shows, games and your college assignments, this laptop offers 1TB of HDD.
Despite of having such powerful hardware, the ASUS P2540UA still manages to last for up to 9 hours which makes it the best laptop for college under $500. With $100 off on its list price at Amazon, this powerful feature rich laptop is one of the best back to school budget laptop deal of the year.
ASUS ZenBook UX330UA-AH54 Ultra-Slim Laptop
SAVE $70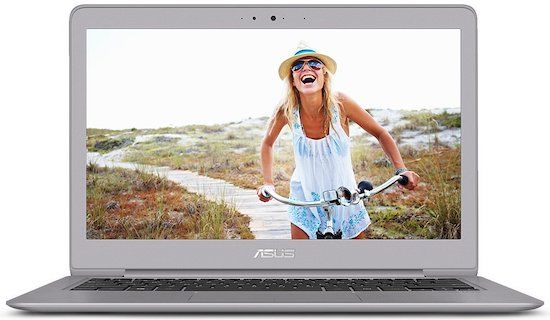 Every student regardless of the college major have a one common requirement from the laptop. And that's a long lasting battery backup. Although the laptop market is now crowded with a lot of feature packed laptops, a lot of them fall back when it comes to battery backup.
There are very few laptops in the market which offers a long-lasting battery backup and our current contender, the ASUS ZenBook UX330UA is one among them. It sports a 13.3-inch wide-view Full-HD display with the resolution of 1920 x 1080 pixels. The laptop also comes with eye care mode which reduces eye strain ness of prolonged laptop users.
Under the hood, it has a powerful 2.5 GHz Intel Core i5-7200U processor paired with an 8GB of RAM and 256GB of SSD storage. This premium looking laptop is bolstered graphically by an Intel HD 620 integrated graphics, which aids the laptop to be an allrounder in almost every segment.
The laptop is pretty light weighed at 2.6 pounds and has a battery backup of up to 12 hours which makes this laptop a perfect choice for college students. This laptop also has a loud and crispy clear sounding Harman Kardon speakers and it also comes with a fingerprint scanner to keep your laptop safe from others staying in your dorm room. All in all, the ASUS ZenBook UX330UA-AH54 is a powerful, beautifully built, long-lasting laptop and is priced very reasonably after the discount. So for all the college going students, this is probably your best investment.
Microsoft Surface Laptop
$100 off for college students, staff & faculty
The most-anticipated, recently launched laptop, Microsoft Surface Laptop is available at a discounted price for students, staff, and faculty at university and colleges. This beautifully built laptop comes with four tone-on-tone colour combinations and offers sleek and elegant design.
The laptop has aluminum casing and its palm rest area is finished with high quality Alcantara material, which gives it a polished and premium look. The laptop sports a vibrant 13.5-inch PixelSense touchscreen display with a Resolution of 2256 x 1504 pixels. The screen is also covered by the Corning Gorilla Glass' protection to safeguard it for the wear and tear of scratches.
Under the hood, the laptop is powered by a 7th Generation Intel processor and based on your requirement you can opt for the dual-core i5 or i7 processor. The RAM and storage on the device are also configurable with an option to choose from 4GB, 8GB, or 16GB of RAM and a 128GB, 256GB, or 512GB SSD drives respectively. The laptop comes with a long-list of ports and comes with all the essential connectivity options. The striking features of this laptop for students are yet to be mentioned; the laptop offers a phenomenal 14 hours of battery backup on a single charge, which makes it an ideal by the all-means for students.
Avail offer on Microsoft Store
Microsoft Surface Pro (2017)

If you're looking for a two-in-one versatile convertible laptop then this offering from the Microsoft's Surface series of laptop should be your choice. The laptop is equally powerful as its aforementioned sibling and its powerful specifications are paired with the most productive OS till date, the Windows 10. This powerful duo with the versatile design, makes the Surface Pro, an ideal choice for college students to take notes in class and complete assignments.

Microsoft is offering $100 off on prices of all Surface Pro models which makes this one of the best back to school laptop deals of 2017. | Check out all models and prices on Microsoft Store
Apple MacBook Pro (2017)
Get $100 off on Best Buy or Get Beats Wireless Headphones from Apple Store
Apple's MacBook Pro needs no introduction in the field of laptops. This premium looking all aluminium built work machine is known for its uncompromising power and performance. With features like touch bar and Touch ID built-in the new MacBook Pro is more secured and easier to use. It sports a brilliant 13.3-inch Retina display with rich contrast and 500-nits brightness which is the brightest panel ever in the laptop. The display is also crisp and produces 25% more colors than the standard sRGB which makes it the best choice for designers and photographers.
Speaking about the innards of the laptop, it is powered by a 2.3GHz Intel 7th Generation Core i5 processor paired with an 8GB of RAM. You can also opt for the i7 variant which is more costlier but if you're a power user then you should go with it. Storage on the MacBook Pro is backed up by a 128GB of SSD storage, which although isn't sufficient for many but is just ideal for optimal use. If you need more storage then MacBook Pro also offers various storage options ranging from 128GB to 512GB and even 1TB and 2TB of SSD drives upon request.
The new MacBook Pro is also a very well graphics backed laptop. It has Intel Iris Plus Graphics 640 which looks after all graphic heavy apps and gaming. Overall, performance of the MacBook Pro is workstation grade. This laptop can handle demanding tasks such as video editing and photo editing without any problems and its battery backup is also well managed with up to 10 hours.
MacBooks generally doesn't come cheap and if you ever get flat $100 off on its price then I think you shouldn't miss that deal.
SPECIAL STUDENTS PRICE | $1,199.99 on BestBuy
All Back-to-school discounts on MacBook Pro (2017) –
HP Stream 11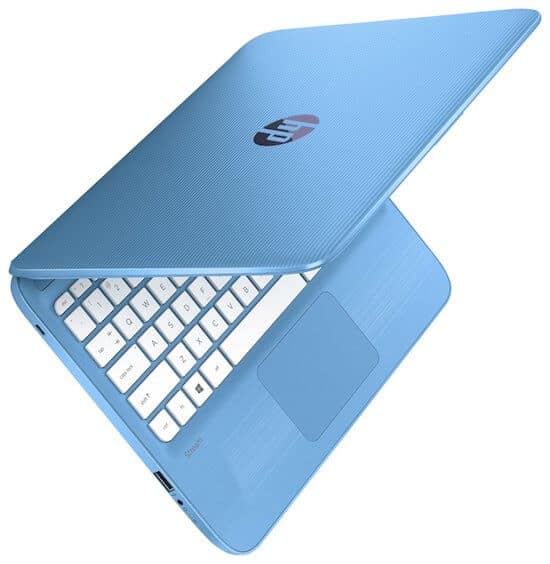 HP Stream laptop is the cheapest yet one of the most efficient windows laptop which I recommend to the students. There is no discount on this laptop right now but I think you are getting quite a lot for the price that you're paying for this laptop.
This compact laptop sports an 11.6-inch HD display with a resolution of 1366 x 768 pixels. Although the resolution is confined to HD panel, it still provides true to life colours and bright display with great viewing angles. Thanks to its compact size, this laptop fits perfectly in almost all the school or college backpacks, making it an ideal choice to take notes in class or work on-the-go.
Speaking about the specifications, the laptop is powered by a 1.6 GHz Intel Celeron processor paired with 4GB of DDR3 RAM. This combination of processor and memory gives the laptop all the necessary power to handle most of the common day to day tasks with ease. Storage on the laptop is handled by a mere 32GB which can, however, be further expanded up to 128GB via a microSD card. This pint sized laptop runs on Windows 10 by default, providing it with an productive edge.
On a conclusive note, HP Stream is one of the best and cheapest available laptop for students. Although there is no discount on this laptop right now, still its amazing features and affordable price tag makes it the best back to school laptop deal of 2017 for budget buyers.
Acer R11 Convertible Chromebook
Save $80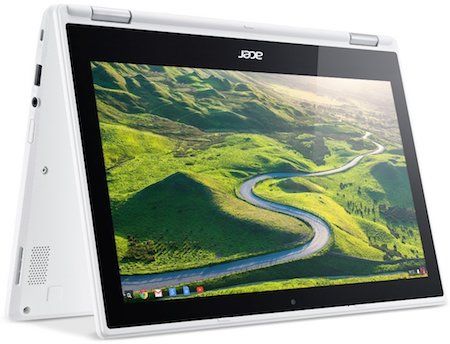 Acer Chromebook R 11 is one of the most versatile convertible chromebook. It can be used as a laptop and also as a tablet making it the best choice for students who always wants to stay connected with the internet. This device boasts an 11.6-inch HD touchscreen display with a resolution of 1366 x 768 pixels. The display panel is driven by LED-backlit IPS technology and comes integrated with a 10-point multi-touch screen.
It is powered by an Intel Celeron N3150 Quad-Core processor clocked at 1.6GHz, which is boosted up to 2.08GHz with the Intel' Burst Technology. For multitasking and app handling, the device is provided by a 4GB of DDR3L onboard memory. This stylish convertible is also backed by an integrated Intel HD graphics co-processor, which takes care of the graphic intense apps and games. Storage on the laptop is restricted to a mere 32GB which we personally feel is a little less but it does have SD card reader to expand its storage further.
The laptop runs on Chrome OS, which is pretty light-weight OS when compared to other traditional operating systems. Thankfully, very few system resources are consumed by the OS, which makes room to open more files and work on multiple apps simultaneously. The battery backup on this chromebook is also very well managed by its 3220mAH battery, which the company claims to provide a backup of upto 10 hours on a single charge!
Overall, the Acer Chromebook R11 is designed for style and comes with great ergonomics. The perks of Chrome OS, paired with right specifications make this laptop one of the ideal choice for students who desire to stay updated in terms of trend and technology. This Chromebook is available right now at a special discounted price of $299.99 $219.00 at Amazon, making it the 2017's best back to school chromebook deal for students.
HP Pavilion 15-cb071nr 15.6″ Laptop
Save $50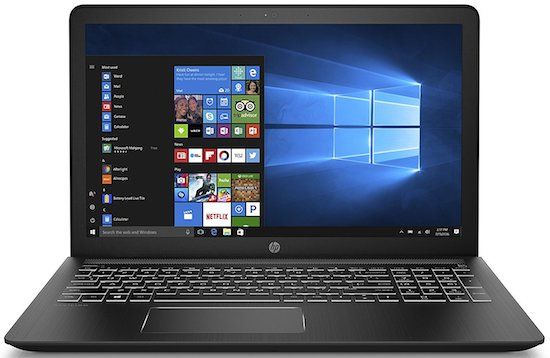 HP 15-cb071nr is a recently launched multi-purpose laptop under $1000 and because of the back to school discount, it is selling like hot cakes on Amazon right now. That said, the laptop boasts a very strong and latest set of configuration paired with high-end features. This is one of the very recently launched notebooks from HP, and accordingly, the device comes with all the latest set of features such as advanced security features, better app management, and better battery backup.
This HP laptop is undoubtedly a very good productivity machine but it doesn't even lack behind in providing a good multimedia experience. It sports a 15.6-inch Full HD IPS display which offers vibrant, crystal-clear images with 178-degree wide viewing angles. Whereas, audio on the laptop is pumped up by a dual HP Speakers tuned by B&O PLAY.
The HP 15-cb071nr offers newer, faster and efficient Intel Core i7-7700HQ processor coupled with 12GB of RAM which makes it one of the better-specced laptops out in the market right now. Storage on this laptop is also very well maintained by 1TB of HDD which is more than enough to store all your college assignments, games and your collection of favorite movies and music. The HP 15-cb071nr also has AMD Radeon RX 550 graphics card with 2GB of graphics memory which makes it also a very good gaming stationed laptop.
Battery life on the device is also very good and is capable of providing a backup of up to 10 continuous hours. Moreover, this powerful gaming, as well as an all-purpose laptop, is now available at an exclusive discount of $50 on Amazon. So what are you waiting for? Go get yourself a brand new HP laptop at unbeatable price of just $949.99 $899.99
HP 10-p012nr x2 10.1″ Detachable Laptop
HP 10-p012nr is yet another powerful and latest offering from HP, which is released primarily to attract youth looking for a stylish and powerful work machine. All thanks to its powerful specifications, able innards, and the detachable feature, this is easily one of our most recommended all-purpose laptop under $500 to all the students. The laptop sports a 10.1-inch IPS WLED-backlit multi touch display which comes with a resolution of 1280×800 pixels. The display is sharp, clean, accurate, and offers vivid images with 178-degree wide viewing angles. The keyboard on this laptop is detachable and it is also very comfortable to type.
Under the hood, It is powered by a quad-core Intel Atom Processor x5-Z8350 clocked at 1.44GHz and it is coupled with a 4GB RAM which takes care of the multitasking and app handling. Although, this laptop doesn't offer the most powerful specs you can get in sub-$400 laptop segment, it still manages to handle basic activities such as notes taking and web browsing with ease. For storage, it offers a 128GB of SSD, which is more reliable than the traditional HDD and it also has a 5-megapixels HP Wide Vision camera to capture images and aid in video calls.
This detachable laptop from HP also comes with HP Active Pen, which aids the users to sketch, blend, write, and navigate on the laptop's menu with better control and accuracy. It runs on Windows 10 OS and provides a battery backup of up to 10 hours on a single charge making it the perfect choice of laptop to take to class for taking notes and other college activities. There is no back to school discount on this laptop because it is already a very reasonably priced laptop therefore the HP 10-p012nr x2 is the best 2-in-1 detachable laptop deal to avail this back to school season.
These were the hot back to school laptop deals of 2017 for students which you can avail right now. Well, it's still early back-to-school season so there will be many deals and discounts offered by vendors later on. To catch up all of them, keep checking this post to get insight on latest back-to-school laptop deals and discounts.