The Best Laptops For College Students of 2019 – For Every Budget and College Majors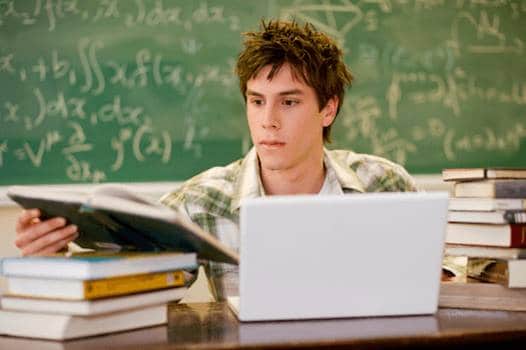 We are living in a modern era, wherein almost all our tasks are handled and assisted by a computer. The same applies to students as well, as they have to carry a portable computer aka laptop to their college for their assistance. However, not everyone is similar, and everyone is bound to their own constraints such as budget and specifications needed. And to pick the best laptop for college from the market is now a hectic task, in which students often take a wrong decision of buying a new laptop which is not the best available for their money. We have simplified the process and have brought to you the best available college laptops of 2019 in various segments of price, performance, features, specifications, and of course for different college majors.
Have a look at the list below to know about all the laptops that are ideal for college students and pick the right one in accordance with your college major and budget.
However, if you're looking for the best tablet to take to the classroom, you can check out our buying guide for tablets for college students on our sister site Tablet Under Budget.
Best Laptops For College Students – Top Picks
So, let's start with the least expensive ones and go until you can break your bank.
Are you ready? Let's start!
Best Cheap Notebooks and Chromebooks For College (Under $200)
– light on pockets, but essential on works!
1. Acer Aspire 1
Best Cheap Laptop for College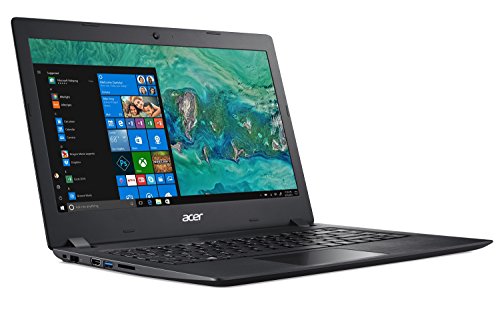 Acer is a widely renowned international brand and is very well reputed in the field of laptops. The company understands the needs of every user covering every niche and accordingly release various laptops with good specifications at the asking price. And when it comes to a laptop for college, whatever may be the need, budget is a strict constraint. A students laptop has to be powerful and must satisfy the budget constraint.
To satisfy the above maxim, Acer introduced its Aspire 1, a 14-Inch lightweight Notebook, which is not hard on the pocket but is packed with features, every student would love to have. Sporting a 14-inch Full HD display, this laptop is powered by a dual-core Intel Celeron N4000 processor paired with 4GB of RAM. On the software front, it runs on the latest Windows 10 operating system, which is probably the best OS when it comes to support and application compatibility. Storage on the device is backed by a 64GB of eMMC, and it comes with all the necessary ports, making it one of the best cheap laptops for students. | Read full review
However, this laptop might fall short when it comes to a long-lasting battery backup. If you want an efficient laptop that can last for a day then the below mentioned Acer Chromebook might be your best bet.
2. Acer Chromebook CB3-132-C4VV
On the other hand, there is another similar option available for the students who are restricted to a budget of under $200. If one is ready to let go the flexibility of Windows 10, then the 11.6-inch Acer Chromebook CB3-132-C4VV is a great choice as it is one of the best selling Chromebook currently. Although it has slightly less powerful specifications, it provides a long battery backup making it ideal for prolonged school sessions.
Under the hood, it has Intel Celeron N3060 paired with 4GB of RAM and 16GB of internal memory. What makes Chromebook unique in the segment is its long-lasting battery life and its lightweight rugged chassis.
Samsung Chromebook 3 is another excellent option for college students with a little bit better build quality and hardware. It has 4GB RAM and it is powered by the Intel Celeron N3060 processor. The battery life of the Samsung Chromebook 3 is also better than the Acer Chromebook with up to 11-hours on a single charge.
With spill-resistant keyboard and anti-reflective 11-inch display, the Samsung Chromebook 3 is also one of the best laptops for college students who are on a strict budget. | Check out its price on Amazon
---
Top Budget Laptops For Students (Under $300)
– It's surely worth spending a minor amount for major works!
3. Lenovo Ideapad 130
Lenovo Ideapad 130 is probably the best laptop you can get for under $300. That said, it not only offers powerful specifications for the asking price, it also comes with the brand confidence of Lenovo. It offers an ultra-light form factor within a standard 15.6-inch display. Although the display is HD (1366 x 768), it is colorful and has respectable viewing angles. There's nothing special about it, but it will essentially satisfy the students in terms of college work and entertainment.
Under the hood, there is an AMD A4 processor paired with 4GB of RAM to take care of the functioning, performance, and multitasking of the device. It comes with an ample 1TB of hard drive, making it a very brilliant choice for students who are fond of storing huge amounts of data in their work machines. Graphics department is handled by AMD integrated graphics which manages to run some old games to play at leisure in your dorm room.
Yet again, this 15.6-inch model from Lenovo falls short in providing a decent battery backup and falls back to its Chromebook competitor in the segment, the Acer Chromebook 514.
4. Acer Chromebook 514
Best Chromebook for College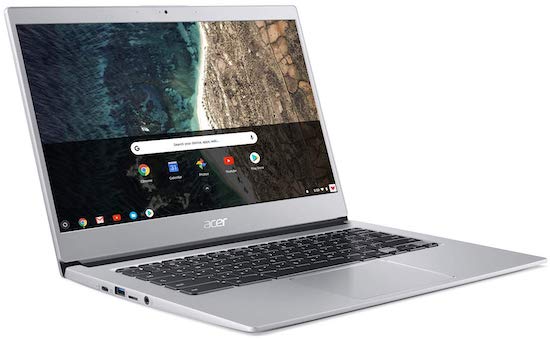 Acer Chromebook is an eye-catcher when it comes to looks, styled in an all-aluminum chassis, it is probably the best looking notebook for the asking price. So for all the students out there who needs an extra attention, Acer Chromebook 514 should be your bet. Sporting a 14-inch Full HD IPS display, it is powered by a quad-core Intel Celeron N3160 chipset paired with 4GB of RAM, which is adequate for handling apps. Storage department consists of a small 32GB of flash memory, but it comes with an SD card slot to expand the memory and you can always use Google Drive or Dropbox to store your data. Battery backup of this Chromebook is exceptionally good and can last for about 12 hours of continuous usage.
Acer Chromebook R11 is also a very good choice for college students who prefer a convertible laptop to use in the classroom. It has 11.6-inch HD touchscreen display which can be rotated 360 degrees to convert this laptop and use it as a tablet. With 32GB of internal storage and up to 10-hours of battery life Acer Chromebook R11 is the best convertible Chromebook you can buy for college for around $250. | Check Price on Amazon
If you want a convertible Windows laptop, then Lenovo Flex 11 is a great alternative to the Acer Chromebook R11. It is powered by an Intel Pentium N5000 processor with 4GB of RAM and 64GB eMMC storage. It weighs just 2.75 pounds and has a battery backup of up to 8 hours which makes it good enough for taking notes in the classroom. | Check Price on Amazon
---
More Budget Laptops (Under $400)
– You earn what you spend, in the form of performance.
5. HP 14-CF0014DX Laptop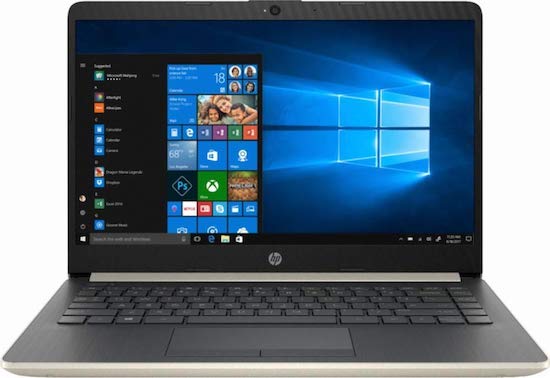 When it comes to buying a new laptop for the students, it is surely no less than a herculean task. That said, every student has their own requirement depending on their area of interest and studies. There are very few laptops out on the market, which can satisfy all the college majors and are meant for a universal usage. HP 14-CF0014DX is one such laptop, which fares really well in almost all the segments. Sporting a 14-inch display, this HP notebook provides rich viewing experience and is backed by a 2.4 GHz Intel Core i3-7100U paired with 8GB of RAM.
It is a very lightweight laptop considering its form-factor and is one of the most ergonomic laptops in this price range. Storage department comes with a 128GB of SSD storage, which provides decent space to store your important data. This laptop can handle most of the apps you throw at it, and it also boots up faster than other laptops because of the speedy SSD. If your budget is around $400, then HP 14-CF0014DX notebook is one of the best affordable laptop for college you can buy right now.
6. Acer Aspire E5-576-392H Full HD Laptop
#1 Best Seller
Well, there is another choice for an under $400 college laptop. The Acer Aspire E 15 is more powerful and able laptop than the the aforementioned HP 14-CF0014DX and comes with all the newest specs within slightly bigger form-factor. So if you are ready to overlook the looks and light weighing factor of the HP notebook for better performance, then Acer Aspire E 15 is your best bet under $400.
Well, if you're a fan of convertible laptop and want to buy the best possible convertible laptop under $400 for your college requirements then ASUS Chromebook Flip is our top choice.
It supports Android apps so you can download your favorite apps from the Google Play Store and it also comes with a stylus which will help to take notes easily while in class. | Check Price on Amazon
---
Best Laptops For College Students Under $500
– For a power-packed long-term stable performance, $500 isn't a bad bet.
As the budget keeps increasing, more and more options, with a specified feature arises putting us in a confusion to choose from the lot. We understand this concern of users and have finalized the best laptops for college students under 500 dollars. During our research and polls with the students, we have come across few very important major features, which a student wishes to see on their next laptop. They are Portability, Gaming, Efficient day-to-day performance, and storage capacity. We have therefore shortlisted best laptops for all the aforementioned features for your budget of $500.
7. Samsung Chromebook Plus
Best for Taking Notes
A 12-inch is an ideal size for all the users when it comes to portability. Accordingly, Samsung Chromebook Plus comes with a 12.2-inch LED display and is powered by an Intel Core m3 processor paired with 4GB of RAM. Its powerful configuration, sleek looks, and lightweight form-factor make it a perfect portable laptop for students, who need to carry them daily to the classroom to take notes.
Best thing – it comes with S-Pen!
8. Dell Inspiron 5000 15.6″ Laptop
The Inspiron 15 5000 is another great laptop in $500 price segment from Dell. It has got very powerful hardware inside which can get you through anything. The unique selling point of this laptop is its touchscreen display. It has got 15.6 inches of full HD display with multi-touch capabilities which is very responsive and accurate. It can be very useful for students while taking notes in the class or while browsing the web. Apart from that, this is also a good choice for gaming enthusiasts on a budget as it can run CS GO and other similar games without any lag or hiccups.
Although this Dell Inspiron laptop is slightly heavy to carry around, it is still an able performer and can outlast most of the laptops under $500 when it comes to gaming and productivity. Therefore, Dell Inspiron 15 5000 is one of the best touchscreen laptop for students under $500 of 2019.
9. ASUS VivoBook F501UA FHD Laptop
With 8th Gen Intel Processor
'Laptop needs to satisfy each and every day-to-day need of ours'—says most of the students. If you come to this aforementioned category, then ASUS VivoBook F510UA is surely the best student's laptop you can get for under $500. Its 8th gen Intel Core i5 processor paired with 8GB of RAM, 1TB of hard drive and a 15.6-inch anti-glare Full HD display makes it an even day-to-day performer, which excels in almost all the segments. The laptop comes in a decent plastic built chassis and can be your assistant in almost all the school work and entertainment.
This laptop is the best choice for business students because this laptop is equipped with a fingerprint scanner to keep all the volatile data stored on the laptop secured and safe. All these features and powerful specs for just $509 makes ASUS VivoBook F510UA the best affordable laptop for college of 2019.
---
Best All-Purpose Laptop For School/College (Under $600)
– Spending few extra bucks can return a lot for of power-packed performance.
10. Acer Aspire E15 E5-576G-5762 Full HD Notebook
If you need a super fast performer with a 15.6-inch Full HD IPS display with super fast processing, then the Acer Aspire E15 must be your priority for college provided your budget is under $600. It sports a 15.6-inch Full HD display with very rich and vivid viewing angles and also comes with a protective matte finish to safeguard our eyes. Under the hood, the laptop sports the latest Intel Core i5 processor paired with an 8GB of RAM. Storage on the device is handled by a 256GB solid-state drive for faster file execution speeds which is less, but we recommend this laptop most to the computer science students, so I think they won't find it difficult to upgrade this laptop's storage by putting in an HDD in the empty slot inside.
As we used this laptop personally, it provided us 8 hours of battery life, which is superior considering its 15.6-inch Full HD display. Also, the laptop is an ideal choice for college students as it serves well in the field of productivity, storage, gaming, multimedia, assistance, power, and efficiency. So, on a conclusive note, if you are restricted to $600 then the Acer Aspire E15 E5-575G-57D4 is the best laptop for college you can get.
11. Lenovo Yoga 730 13-inch Convertible Laptop
If you want the convertible laptop for college to take with you to the classroom, then Lenovo Yoga 730 is the best one you can buy in $600 price range. It has 8th gen Intel Core i5 processor with 8GB of RAM and 256GB of solid state drive. It comes with 13.3 inches of full HD IPS touchscreen display and has all aluminum built which makes it look and feel premium. It weighs just 2.6 pounds so it is a perfect laptop to carry in a backpack. However, it's display isn't great in terms of color accuracy, so if you are in arts major, then this laptop might not be the right pick for you. But for others, the Lenovo Yoga 730 13″ is an excellent option if you are looking for a convertible laptop that performs well and looks premium.
---
Top Choice of Laptop (Under $700) for Students
– Yet again, the more you spend the better you get.
12. HP Envy 13t Our Top Pick for all College Majors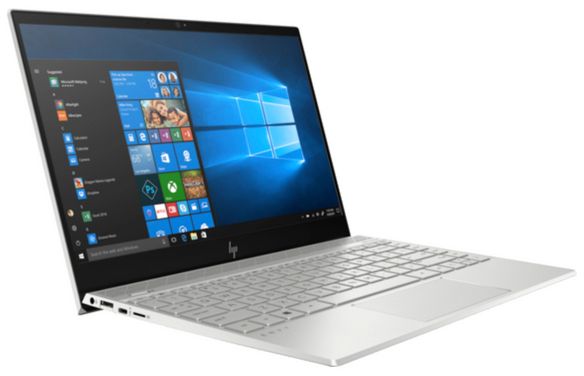 HP Envy 13t is our most recommended laptop for college students of 2019 because it provides everything that could make any laptop an ideal choice for college. From lightweight chassis to high performance hardware to long-lasting battery life, the HP Envy 13t fulfills all of them. The laptop sports a full aluminum unibody structure which gives it a slim and sleek looks. The laptop feels premium in hands and carrying this laptop back and forth between dorm room and class in backpack or in hands will be more than easy, thanks to its lightweight chassis which weighs just 2.7 pounds! Apart from that the HP Envy 13t is also a very powerful performer. Having said that, it is powered by an 8th generation (quad-core) Intel core i7 processor paired with 8GB of RAM and 256GB of high performance SSD. Despite of such high performance hardware packed inside such thin chassis, it still has enough room to pack a huge battery pack inside which can last this laptop for up to 12 hours.
All these things, sums up to make the HP Envy 13t a perfect college laptop of 2019. Although, it is priced more than $700, we think it's still an excellent option overall.
However, if one needs a versatile and more portable laptop than the HP Envy 13t, then Dell Inspiron 14" 2 in 1 Touchscreen Laptop is another very brilliant buy in $700 price range. It is a convertible laptop, which comes with a 14-inch Full HD touch screen, which can be rotated and used as a tablet. As far as the specifications, are concerned Dell offers top notch specifications for the asking price, and it is an eye-catchy, powerful, and portable laptop for students who are willing to spend up to $700 on their college laptop.
---
Best College Laptops For Campus Gamers (Between $800 – $1000)
– It's quite natural that we expect quite a lot for what we invest in. Spending hard-earned $1000 can get you a future-proof, performance guaranteed work machine.
Considering, you have a budget varying from $800-$1000, there are tons of options available in the market to go for. There are varied specification to look out for which could be quite subjective to the user. Some students might opt for a better daily performer, whereas some might need a powerful graphic performer. There are few students who prefer portability over everything and there are few who need a really long-lasting battery backup.
13. Dell G3 15 Laptop
Best for College & Gaming
If your budget is under $800, then the Dell G3 Series gaming laptop offers a good mixture of performance, portability and battery life. It sports a 15.6-inch Full HD display and comes in a customizable option, wherein a user can trade between processor, storage, and RAM accordingly. The config that we recommend is the one with Intel Core i5 quad-core processor, Nvidia GeForce GTX 1050 Ti GPU, 8GB of RAM and 256GB of SSD storage. It comes in a Matte Black finish featuring blue Dell logo giving it a powerful gaming laptop hue.
14. ASUS VivoBook S14
The ASUS VivoBook S14 is another powerful laptop which resides on gaming but doesn't actually look like a gaming laptop. So if you want a gaming laptop that doesn't have a fancy red or any other flashy colored exterior, then this laptop should be your choice as it comes with an 8th Generation Intel Core i7 quad-core processor, 8GB of RAM, 256GB SSD and dedicated graphics powered by Nvidia. | Read full review
15. Apple MacBook Air
I am pretty sure, there are few Mac lovers hiding in the cluster of Windows laptops. For all those students, the 2019 Apple MacBook Air is a very good alternative to all the Windows based laptops. Styled in an all new anodized aluminum chassis, the MacBook Air, is a powerful machine, which is known for its really long-lasting battery backup of up to 10 hours. It comes with an Intel Core i5 Y-series dual-core processor paired with an 8GB of RAM. Its light weight ultra sleek ergonomics gains it an upper hand over other traditional Windows laptops in the segment. Overall, we think that it is the best MacBook for college you can buy right now. Its design, performance and battery life is just perfect for a typical student life.
However, if you want more powerful Apple laptop, then MacBook Pro 13 with touchbar is also excellent option for students. Although it costs more than $1000, it comes with a lot more powerful quad-core Intel Core i5 processor, 8GB RAM and 256GB SSD. It is also excellent option for students with more power punch and full day battery life.
Here are few other alternatives in the same price segment, which not only resides in a specific area, but are an able all-round performers.
16. LG Gram 13
Best Ultrabook for College
LG Gram 13 is a MacBook killer Windows laptop which weighs just 2.1 pound! It features 13.3 inch full HD display with very thin and small bezels making it stand out in the segment. The thin and lightweight form-factor of this laptop makes it easy to carry around and one of the best laptops to work on the go. The laptop is powered by 8th Gen Intel Core i5-8250U processor with 8GB of RAM for efficient multitasking and 256GB of storage. It has 72WHr battery inside which keeps this laptop juiced up to 10+ hours! Other noteworthy features that makes this laptop best for students are backlit keyboard, USB Type-C port and a fingerprint scanner. | Check user reviews and current price on Amazon
17. Dell XPS 13
If you are looking for a powerful ultrabook with a rich multimedia experience, then the Dell XPS 13 is a perfect all-rounder, entertainment and productivity machine with best in segment infinity edge display for under $1000. It is a flagship laptop from the company and it is available with varied hardware and in two different screen sizes. It is powered by the newest Intel Whiskey Lake processors, hence it is a very capable and one of the best laptops for high school students to buy right now. | Checkout other features and full specifications
---
Best High Performance Laptops For College (Above $1000)
– Laptops ready to take whatever task you throw at it.
18. Apple MacBook Pro 15
MacBook Pro is the Apple's flagship laptop and is a very powerful, stylish, and productive work machine. Sporting a 13.3-inch Retina display and touch bar above the keyboard, it is evidently the best laptop for film and animation students. Under the hood, it is powered by an Intel Core i7 six-core processor paired with an 8GB of RAM. Storage on the MacBook Pro is provided with a 256GB of solid state drive for efficient data processing. Graphics on the laptop are handled by AMD Radeon Pro 555 which is yet again an able graphics coprocessor. On the software front, the MacBook Pro comes with latest macOS Mojave and comes with a really long lasting 10 hours of battery life under continuous usage.
19. Alienware m15 Portable Gaming Laptop for College
Finally, if you are not bound by a budget and expect to buy an all new standard benchmark laptop for gaming, then the Alienware m15 is an ultimate choice to go for. It sports a 15.6-inch Full HD IPS display which provides the pleasure of immersive gaming. Under the hood, it comes with the 8th generation Intel core i7 processor paired with a massive 16GB of RAM and 1TB of HDD and 128GB of SSD storage. Graphics department is handled by a Nvidia GeForce GTX 1070 Max-Q dedicated graphics. On a conclusive note, this beastly gaming performer can be used as an all-purpose laptop and can be used to handle all the graphic related heavy tasks. This would be the best laptop for students who likes to enjoy gaming with friends in college.
If you want a lightweight gaming laptop then recently launched Razer Blade 15 is another excellent choice, if budget is not a problem. It offers newest Intel Core i7-8750H hexa-core processor and Nvidia GeForce GTX 1060 Max-Q GPU inside MacBook like thin chassis. It weighs around 4 pounds so carrying it to college in a backpack is no problem at all. Moreover, it comes with a huge 80 Wh battery that makes laptop lasts up to 6-7 hours.
20. Lenovo Thinkpad P52 For Engineering Students
Lenovo Thinkpad P52 is not made for normal users. Having said that, it is a workstation laptop powered by an ultra high end Intel Xeon processor and Nvidia Quadro P2000 graphics. This laptop is the perfect choice for students in architecture and civil engineering majors for doing CAD and 3D Modeling works. Apart from powerful specs this laptop is also one of the best built laptop you can buy to work in harsh conditions. You can take notes on this laptop while you're in classroom or take it to the construction sites to perform practicals. The only downside of this laptop is, it is little heavy (5.4 pound). Well, considering the build quality and the hardware that it packs in, the weight can be overseen.
Of-course the laptop with such powerful hardware will not come with cheap price tag. The Lenovo Thinkpad P52 is priced at $2,339.00 but this is a one time investment which will last for at least 6-7 years.
---
We hope you have found what your next college laptop is going to be. The aforementioned list is an ultimate laptop buying guide currently, which covers all the best laptops in various budgets and niches and are especially picked for the students according to the college majors.
We hope this laptop buying guide help you in buying the best laptop for your college requirements. We have done a lot of research and put a lot of hours of work to create this ultimate student's laptop buying guide of 2019. Please consider sharing it on social media, if you really want to thank us for this guide.
Happy Shopping!