If you are a video editing novice (like yours truly), you might have struggled with several aspects before you could get down to practicing your rudimentary editing skills. It's not a big deal, though. With the genius pieces of video editing software and computers we have today, it is only a thing of the past that performing intricate video editing tasks were best left to the professionals. Thanks to the dawn of all these revolutionary video editing laptops and softwares, even with limited technical expertise, you can explore the endless prospects 2020 is now offering in the realm of video enhancing.
Although this has to do with a bunch of factors, some of which involve determining what video editor you should use and the machine that will be supporting it. The latter is a bit more complex than it sounds. Shuffling through the range of laptops currently available in the market, specifically for video editing, can often be frantic. So we thought you might need a little guide to get you started. Keep reading to gain more insight about the dos and don'ts when it comes to buying the laptop for video editing and also check out the list of our most recommended video editing laptops with reviews below.
Advertisement
[vc_message color="info"]
5 Things to Consider Before Buying a Video Editing Laptop
---
Reaching this point, there is quite a typical approach we tend to adopt. Just Google the 'top 10 best laptop for video editing' and pick the one laptop that agrees with your pocket, but if you want to be a video editing guru, there is a lot more to consider than just that. Don't get me wrong. You could get started just fine with a typical, customary laptop and perform basic video trimmings and add light effects, but as time goes by, you will begin encountering some decisive issues that will, at that point, be unavoidable.
So, give yourself a safe start and analyze different specs which might implicitly influence your video editing activities.
The most common challenges people tend to face are; lack of storage – any high-quality video will take up a huge chunk of your disk. Now consider a heavily edited 4K video. To cram in a bunch of those in your laptop requires a lot more capacity than you can anticipate. Then there are several issues with the horsepower premium video editing softwares demand, along with a speedy processor, high-grade graphics and whatnot.
In this section, I will give you a brief description of selecting the best core hardware for video rendering and editing laptops fragmented into a step-by-step breakdown. So, let's begin…
A Powerful Multi-Core Processor
Know that all your efforts to buy a video editing laptop will go in vain if you don't buy the laptop with a powerful processor. After all, the processor will be your underpinning for advanced editing software, graphics cards, and other necessities. For instance, hardcore video editing softwares like Adobe Premiere Pro, DaVinci Resolve, and Final Cut Pro will efficaciously make use of your CPU's multiple cores and require hyper-threading. Hence, buying the laptop with a multi-core processor with hyperthreading capabilities is the best for video editing.
Although, of course, if you want to keep up with the evolving trends, the best option is to upgrade to a better laptop from time to time. Like at this point of time, you will not find a more powerful alternative than a laptop running Intel Core i9 or AMD Ryzen 9 processor for video rendering. The 8-cores and multithreading capabilities make them the best CPU for video editing right now. However, most laptops with those processors cost upwards of $2500, and not everybody's workflow will make use of all the power that these high-end CPUs have to offer. That said, most people will be better with the laptops powered by the Intel Core i7 processor (i7-10750H, i7-10875H) or its AMD equivalent (Ryzen 7-4800H).
If you are a little tight on money, you can look at the laptops powered by AMD CPUs. The new 4000-series AMD Ryzen processors offer better performance than their Intel counterparts for a lot less money, making them great machines for budget buyers right now.
Quick Tip -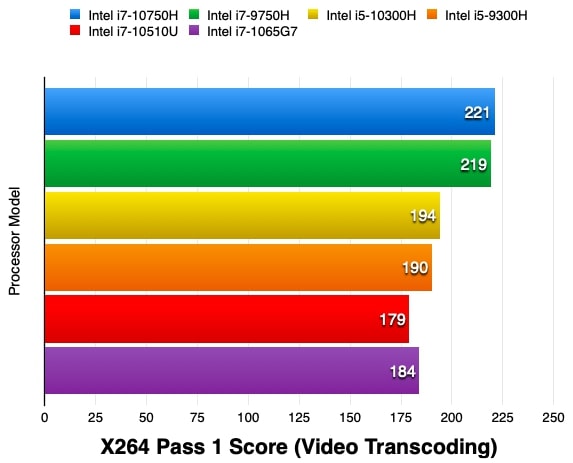 The laptops powered by H-series Intel Core i5 Processors (i5-10300H, i5-9300H) are CHEAPER and POWERFUL than the laptops powered by U-series Intel i7 Processors (i7-10510U, i7-1065G7). So, if you're looking for a pocket-friendly laptop for video editing, then laptops powered by the H-series Intel i5 processor is also the best option.
[vc_separator color="sky" style="dotted" border_width="2″]
Top-Notch Discrete Graphics
Depending on the severity of your use, the graphics card has to be powerful enough to speedily render information into high-quality pixels.
For light video editing, you don't need a laptop with dedicated graphics as integrated graphics on newer generation Intel and AMD processors are powerful enough to get the work done. Still most latest video editing softwares, efficaciously use dedicated graphics through hardware acceleration, so it would be highly beneficial if you have an A-grade one on your laptop to obtain the best results.
A few good alternates? Of course, Nvidia's performance and reliability are unmatched, and their GeForce GTX and newest RTX GPUs is a revolutionary development in itself. Providing improved efficiency, the new GPUs with ray-tracing features is a major breakthrough for gaming, and video editing as well.
For the sake of exploring all possibilities, there is a Radeon series of GPUs by AMD offering similar specs and performance. To mention a few, the AMD Radeon Pro series graphics processors are the most superior ones in the bunch for video editing laptop. Although Nvidia has proven to be the unspoken king, AMD is catching up, and many AMD powered laptops give Nvidia powered laptops a good run for their money.
[vc_separator color="sky" style="dotted" border_width="2″]
Giant Amount of Storage Space
Of course, you need to store all your edited videos. If you are getting down to some serious video production work, you should have a few gigabytes to spare on your laptop. If not, there is always a possibility of ramming your files into an external SSD. You could, however, go with a cheaper, hard drive alternative, but from performance perspectives, I'd recommend a good SSD to go with your video editing machine.
External drives are known to provide better and more reliable accommodation for your media files than built-in ones. But if you are a frequent traveler, there are some good laptops having a decent go-to storage space (You'll find them in the list of our top laptop picks below).
[vc_separator color="sky" style="dotted" border_width="2″]
RAM – The more the better
If you don't want to slam shut your laptop amidst video editing because of unavoidable lagging, buy a laptop with the right amount of RAM. Finding a 'suitable amount' of RAM depends massively on your use. If you are working on full HD videos (1920 x 1080), your computer with a built-in 8 to 12 GB RAM would be enough to get you going. For more advanced video resolutions like 4K (and 8K), I'd advise you to have 16GB or more RAM in your laptop.
Whatever the case may be, you won't regret spending bucks on an expanded RAM, if your budget allows. A good intermittent backup and uninterrupted playback go a long way while professional video editing and is all due credit to a powerful RAM.
[vc_separator color="sky" style="dotted" border_width="2″]
High-Resolution Display
The display is another crucial aspect to check in the laptop for video editing. A color-accurate display with sufficient resolution is required to play and edit videos properly. For instance, editing a 4K video will be best if done on the laptop with a 4K display, but note that the laptops with 4K displays do not come cheap. Plus, 4K displays eat up a lot of battery power because its hardware has to push everything in 4K resolution, and as a result, most laptops with 4K displays have inferior battery life.
Tip -
Don't buy a video editing laptop with the 4K display unless most of the videos you edit are in 4K.
If you don't have to edit videos on-the-go, then we would advise you to buy a laptop with an excellent color-accurate 1080p display and buy a 4K monitor separately with your laptop. A good 4K monitor doesn't cost much, and this way, you can have a decent setup when you are editing videos. When you're traveling, you can have a laptop with extra battery juice because it doesn't have to push extra pixels to accommodate the 4K display.
[/vc_message]
If all this dense technical hardware jibber-jabber is hard for you to digest, then you can get any laptop from the list of our top picks below. We have handpicked the best video editing laptops with full HD and 4K display in different budget ranges. They offer a perfect blend of speed, high-quality color-accurate display, and sufficient storage space to deliver the best mobile video editing experience.
Best Laptops for Video Editing – Top Picks
1. Dell XPS 15
Our Top Pick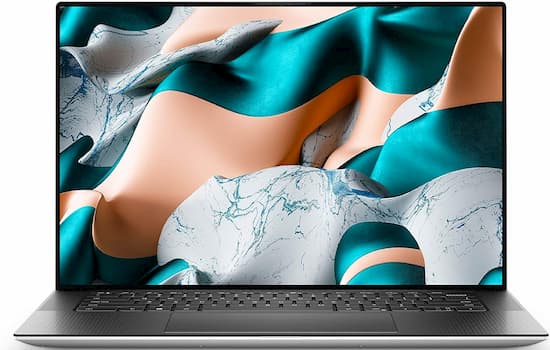 A thin and light ultrabook and powerful video editing laptop aren't the words you often hear in the same sentence. But Dell has proved us wrong with their newly updated XPS laptops with 10th Gen Intel Processors. The new Dell XPS 15 weighs just 4 pounds, making it one of the lightest performance laptops. The range kicks off with a 10th Gen i5 Processor with four cores and can be configured up to 10th gen Intel i9 processor with eight cores. Coming to the graphics, you get Nvidia GeForce GTX 1650 Ti as standard across the range, except for the base model. The GTX 1650Ti is neither the latest nor the most powerful GPU in the segment, but it can deliver satisfactory performance for editing on-the-go. That makes the Dell XPS 15 a perfect video editing and rendering machine for people who have to travel more often.
The 15.6-inch InfinityEdge display can be configured with either full HD+ (non-touch) or 4K UHD+ (touch) panel. Both are great options for video producers, as both cover 100% of Adobe RGB gamut and up to 94% of DCI-P3 color gamut – the standard color gamut of the film industry. Plus, its brightness peaks at 500 nits, making it one of the brightest displays on a laptop. To add more value to its video editing capabilities, the Dell XPS 15 can be configured with up to 64 GB of RAM and 2TB of SSD storage, enabling you to edit and save videos faster while taking a significant load off of your CPU and GPU.
All in all, it is a video editing genius. Plus, all this powerful hardware comes packed in a premium and classy looking lightweight 15-inch carbon fiber chassis, making the Dell XPS 15 one of the best laptops for video editing of 2020.
Hardware Specifications of Dell XPS 15 (2020) Laptop
Processor
10th Gen Intel Core i7-10750H 2.6 GHz six-core Processor (Turbo up to 5.0 GHz)
RAM
16GB DDR4 2933 MHz RAM (Expandable up to 64GB)
Storage
512GB PCIe NVMe Solid State Drive
Graphics
Nvidia GeForce GTX 1650 Ti 4GB DDR6 Graphics
Display
15.6 Inch UHD+ (3840 x 2400) InfinityEdge Touchscreen Display (100% sRGB)
Operating System
Windows 10 Home 64-bit OS
Battery Life
8 hours
Weight
4.0 lbs
If the Dell XPS 15's specs and graphics don't cut for you, take a look at the newly released Dell XPS 17, a bigger and beefier version of Dell XPS 15. XPS 17 delivers desktop-class performance on the go. It's everything that we love about the XPS 15, but more and better.

Despite the humongous 17 inch screen, it's form factor isn't much bigger than a regular 15-inch laptop thanks to the narrow bezels on display. It features the top-notch specs such as a 10th Gen Intel Core i7 processor with eight cores, the latest Nvidia GeForce RTX 2060 Max-Q GPU. 64 GB of RAM and up to 2TB SSD storage. It is also configurable with the mightiest Intel Core i9 processor, but for some reason, it is not available right now. | Check Price on Dell
2. HP Spectre x360 15
Runner up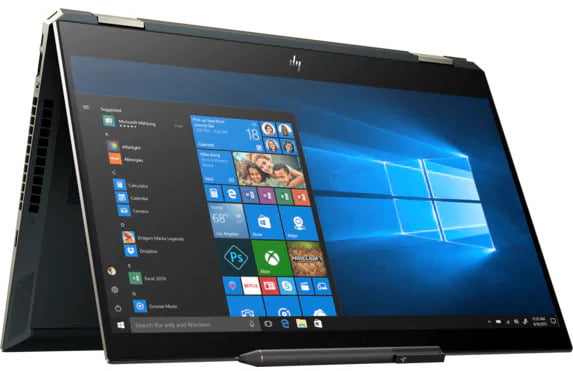 HP Spectre x360 15 has achieved a lot of fame among photo editing laptops due to its beautiful color-accurate 4K display and lightweight, versatile chassis. However, thanks to its powerful internals and excellent thermals, it is a perfect option for video editing as well. The best thing about this laptop is undoubtedly its vibrant and razor-sharp 4K UHD display. It covers an astonishing 157 percent of the sRGB color gamut, standing proud with the premium laptops. HP also fixed the complaints on the low brightness of the display. Now, the full loaded HP Spectre comes with 400 nits display, that's bright enough for studio lit environments.
From performance viewpoints, it comes with a high-end Intel i7 six-core processor, and a massive 16GB RAM with a dedicated Nvidia GTX 1650 Ti Max-Q discrete graphics card, so there is a sufficient room for modern graphics manipulation. The laptop provides spacious 512GB of SSD storage to save your videos and has a range of connectivity ports, including the lightning-fast Thunderbolt port. While it does come with a card reader built-in, it is a MicroSD card reader, which could be problematic depending upon the camera you use or how you import your videos to the computer. The speakers are powered by Bang and Olufsen, and they sound great. Overall, the specs are up to mark for editing on the go, and the convertible micro-edge display is great for editing videos or content consumption in general.
All these packed inside a sleek aluminum lightweight chassis for less than $1500 makes this laptop a STEAL DEAL, which you shouldn't miss!
Hardware Specifications of HP Spectre x360 15″
Processor
10th Generation Intel Core i7-10750H 2.6 GHz Six-Core Processor (Turbo up to 5.0 GHz)
RAM
16GB DDR4 RAM
Storage
512GB SSD
Graphics
Nvidia GeForce GTX 1650 Ti 4GB DDR6 (Max-Q) GPU
Display
15.6-inch Touchscreen 4K IPS WLED-backlit display with 400-nits brightness
Operating System
Windows 10 Home 64-bit OS
Battery Life
Up to 8 hours
Weight
4.2 lbs
Microsoft Surface Book 3 - Best Detachable Laptop for Video Editing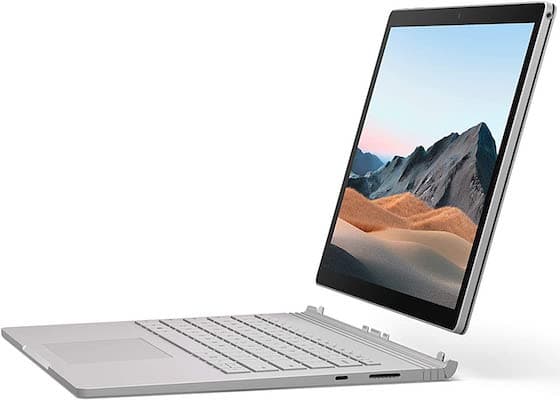 While there are high-end detachable laptops like HP ZBook, the Microsoft Surface Book 3 is our top choice of detachable for video editing right now. It is available in two different sizes with 13 or 15-inch pixel display, but we recommend its 15-inch variant for video editing because it comes with more powerful CPU and GPU.
It is powered by the latest 10th Gen Quad-Core Intel Core i7 processor and can be configured with up to 32GB of RAM and 2TB of SSD. The sole reason to opt for a 15-inch variant over 13 inch is the better GPU. The 15-inch Surface Book 3 comes with Nvidia GeForce GTX 1660 Ti GPU with 6 GB of DDR6 graphics memory while the 13-inch variant offers GTX 1650 with 4GB VRAM. So, 15-inch variant is the one you should get if you want to edit and render 4K videos fast and seamlessly.
As far as design and build-quality of the laptop are concerned, the laptop feels very well put together, and it is very ergonomically designed laptop. The laptop's screen can be detached entirely to use it as a tablet, and its unique fulcrum hinges allow it to use in various other modes.
Coming to the display itself, it's not the best in the market. It can produce a respectable 101% of the sRGB spectrum, but competitors at a similar price can push out more colors. The 15-inch version comes with a resolution of 3240 x 2160 pixels and a peak brightness of 402 nits, which leaves no room for complaints. So, all in all, the Microsoft Surface Book 3 with its powerful specs and unique 2-in-1 design is the most versatile laptop available for video editing right now.
3. ASUS TUF A15 Gaming Laptop
Best Value For Money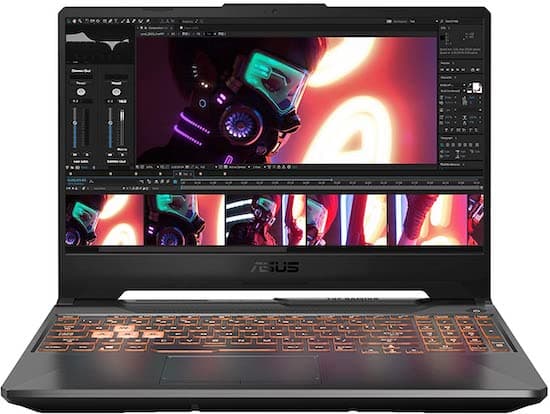 Running tight on budget? No problem! ASUS TUF Gaming A15 is an AMD powered beast which you can nag at the $1000 price point. It's powered by an eight-core Ryzen 7 processor and Nvidia GeForce RTX 2060 GPU. An equivalent Intel-powered laptop will cost you almost two to three times. Moreover, it comes with 16 GB RAM and 1TB SSD for storage. Plus, it has additional slots to add more RAM and storage. It's the perfect laptop for editors who're on a budget and looking for sheer performance for the price.
It comes with a 15.6 inch full HD IPS display with 144Hz refresh rate, which is great for gaming, but for video editing, it is tad disappointment. It's straight-up bad in terms of color-accuracy as it covers only 62% of sRGB color gamut and pretty terrible 47% of Adobe RGB gamut. The screen is also very dim at just 285 nits of peak brightness. On the positive side, the TUF A15 has an abundant selection of ports and slots, a blessing for editors.
The design factor is bold and loud with edgy cuts and highlighted 'A S W D' keys. It can't be mistaken for anything but a gaming laptop. If you're working in a formal environment with subdued machines, know that this will catch a ton of queer eyes.
In a nutshell, the Asus TUF A15 packs fantastic specs at a rather affordable price point, but the display is not up to the mark for video editors. We'd recommend buying an external monitor to make the most out of this laptop as a video editing station.
Read our full ASUS TUF Gaming 15 Review
Hardware Specifications of ASUS TUF Gaming A15 Laptop
Processor
AMD Ryzen 7 4800H 2.9GHz Octa Core Processor (Up to 4.2GHz)
RAM
16GB DDR4 3200MHz RAM
Storage
1TB SSD
Graphics
NVIDIA Geforce GTX 1660 Ti 6GB DDR6 Graphics
Display
15.6 Inch Full HD 144Hz Display
Operating System
Windows 10 Home 64-bit OS
Battery Life
Up to 8 hours
Weight
5.07 lbs
If you're looking for an Intel-powered machine in the $1000 price range, then the recently-refreshed Acer Predator Helios 300 is your best pick. It comes with the same design and display as its predecessor, but it's a great 15.6-inch widescreen full HD 144Hz refresh-rate display, not the most color-accurate panel, but it is a relatively good 1080p IPS panel to get the video editing works done.

The new Predator Helios 300 is powered by the newest 10th Gen Intel Core i7-10750H hexa-core processor accompanied by a 16GB of RAM and Nvidia GeForce RTX 2060 GPU. This mammoth configuration can handle all the video editors with ease and will let you edit the 1080p and even 4K videos without any problem. The laptop also offers USB Type-C and USB 3.0 ports for transferring the videos back and forth between your external drive and laptop quickly. You also get the HDMI port, in case if you want to hook up an external monitor with this laptop for editing videos.

The best part is that all of this comes without making you go bankrupt, and this complete package will only cause you $1100 worth of damage. | See it on Amazon
4. Razer Blade Pro 17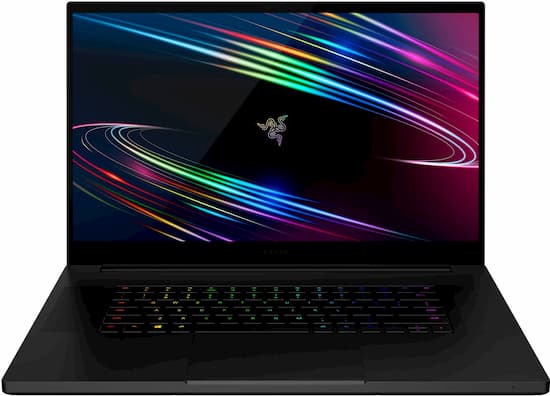 If you are looking for a 17-inch laptop that is portable enough to be carried in a backpack and has all the power of the high-end desktop, then Razer Blade Pro 17 is your pick. It's a powerhouse stacked with the 10th Gen 8 core i7 Processor and RTX 2080 SUPER Max-Q graphics. The pre-installed RAM peak at 16GB, but you can upgrade it to 64GB. Similarly, it comes with 1TB pre-installed SSD, but it features an expandable M.2 slot. What's surprising though is, all these powerful hardware is packed inside a chassis that's less than an inch thick and weighs 6 pounds, which is excellent considering the size of the laptop and components inside.
Coming to display, you can either pick a full HD display with a 300Hz refresh rate or opt for a 4K panel with a 120 Hz refresh rate, our pick being the later. The screen is bright, crisp, and covers 119% of the sRGB color gamut. The speakers are fabulous with loud and crisp audio, and they are furthermore fine-tuned with the Dolby Atmos sound.
The Razer Blade Pro 17 is a creator ready laptop with ample connectivity, including SD card slot, Thunderbolt port, and even an RJ45 connector. It's a light and portable laptop that doesn't compromise on the performance. However, it doesn't come cheap. The maxed-out version will run you $3500 down.
If budget is not a problem, then Razer Blade Pro 17 is probably the best high performance thin and light 17-inch laptop you can buy for video editing.
Hardware Specifications of Razer Blade Pro 17
Processor
Intel Core i7-10875H 2.3GHz Octa-Core (10th Gen) Processor (Up to 5.1GHz)
RAM
16GB DDR4 RAM
Storage
1TB PCIe NVMe SSD
Graphics
Nvidia® GeForce® RTX™ 2080 SUPER Max-Q 8GB graphics
Display
17.3 Inch 4K Touchscreen IPS 120Hz Display (100% sRGB)
Operating System
Windows 10 Home 64-bit OS
Battery Life
5 hours
Weight
6.06 lbs
$3,399.00 | Buy Now From Amazon
MSI GL75 Leopard 17-inch Gaming Laptop

If you're the type of editor who doesn't travel much and work on their laptop from the desk most of the time, then you should opt for the MSI GL75 Leopard, a similarly specced laptop that you can get for half the price.

The GL75 Leopard runs on the latest Intel Core i7 10th Gen processor with eight cores, and the graphics are powered by GeForce RTX 2070 with 8 GB GDDR6. There is 16 GB onboard memory (expandable up to 64 GB) along with 1 TB HDD and 512 GB NVMe SSD for storage solutions.

The 17.3 inch IPS display supports a resolution of 1920 x 1080 and a refresh rate of 144 Hz. The display covers 100% of the sRGB color gamut. Unfortunately, it's not a 4K panel. However, on the positive side, it supports 4K output. So if you've got a 4K monitor, you can hook up this laptop for a fantastic video editing setup.

You can easily score an MSI GL75 Leopard for $1,499, less than half the price of Razer Blade Pro 17. | See it on NewEgg
5. HP Omen 15
Best Budget Option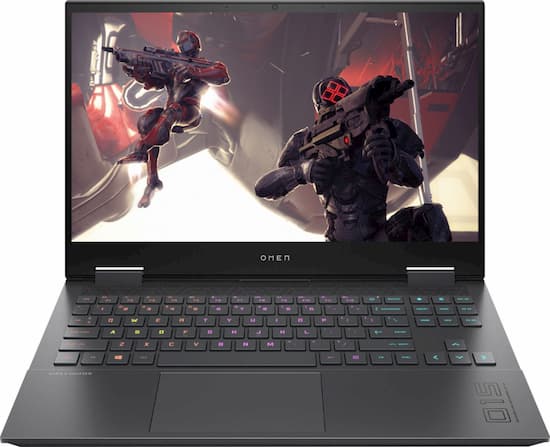 The HP Omen 15 is the best pocket-friendly video editing laptop for students in film majors or anyone who is just starting off a new YouTube channel or a videography service. It is priced near to $800 and offers the latest AMD Ryzen 5 six-core processor and an Nvidia GeForce GTX 1650 Ti GPU with moderate 8GB of RAM and 256GB SSD. This laptop might not seem too impressive from specifications compared to our previous video editing laptops entries in this list. Still, it is perfect for playing around and exploring your video manipulation skills, and if you don't want to spend much while doing that.
If you ever feel constrained, HP Omen 15 gives you the ability to add more RAM and storage, which is always nice to have feature, and that gains this laptop an upper hand over other similarly priced and specced laptops in the segment.
For icing on the cake, this laptop also comes with immersive B&O speakers. Plus, it has a backlit keyboard and a smooth Windows precision touchpad. That makes the HP Omen 15 a perfect budget all-rounder laptop for students or anyone to get started with video editing.
Hardware Specifications of HP Omen 15 Laptop
Processor
AMD Ryzen 5 4600H 3.0GHz Hexa-Core Processor (Up to 4.0 GHz)
RAM
8GB DDR4 3200MHz RAM
Storage
256GB PCIe NVMe M.2 SSD
Graphics
Nvidia GeForce GTX 1650 Ti 4GB DDR6 graphics
Display
15.6 Inch Full HD IPS Anti-Glare WLED-backlit Display (250-nits)
Operating System
Windows 10 Home 64-bit OS
Battery Life
Up to 6 hours
Weight
5.2 lbs
Acer Swift 3 - The Best Inexpensive Laptop for Video Editing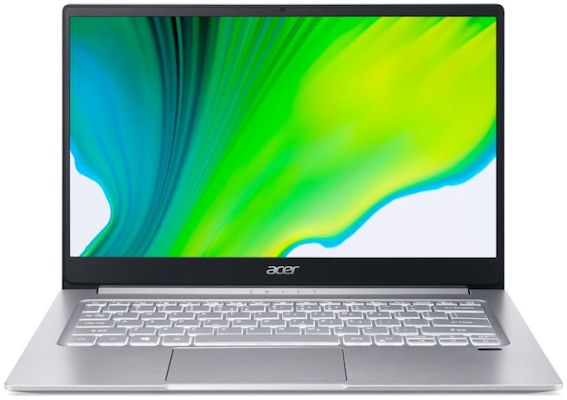 While we recommend you to spend extra and get our most recommended budget laptop mentioned above, but if it's out of your budget, then Acer Swift 3 is our another recommendation. It's the best budget laptop for video editing that costs under $700 with powerful 8-core AMD Ryzen 7 processor, 8GB RAM and 512GB SSD. It does not have a dedicated GPU, but integrated Radeon graphics on the new Ryzen processors is very powerful, and it can handle even 4K video editing. You still won't be able to edit the footage with a lot of adjustments, color grading, etc. but for basic video editing like adding text, cutting the part of the video, or adding transitions, it's perfect. You'll be surprised how smooth this laptop performs while editing the 4K videos.
However, its display is not so great for editing. It is dim and covers only 68% of Adobe sRGB color gamut. But, you can't complain given the price of this laptop. It has got all the ports and slots though so you can connect an external monitor to it. Plus, it features a backlit keyboard, a fingerprint sensor and a premium metal chassis, so all in all, it's an excellent value machine and one of the least expensive option for video editing right now.
6. Apple MacBook Pro 16
Best MacBook for Video Editing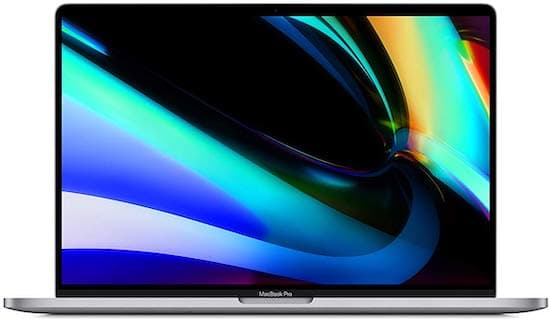 When it comes to content creation, most professionals choose 'Apple' for their work. Mainly because of its software, which works very well in sync with its hardware. Well, if we talk about MacBook for video editing specifically, then there's no better option than the MacBook Pro 16 for that. It's the only MacBook that can be configured with a powerful six or eight-core CPU and dedicated GPU. Moreover, all that hardware is packed inside a very well-engineered thin and light chassis, making it the laptop of choice of most professional video producers right now.
Well, it's not just about the powerful hardware. The display is also perfect for content creation with 500 nits of brightness and 119% of sRGB spectrum coverage and support of the wide P3 color gamut – standard for film making. Moreover, it has the best speaker system on any laptop out there with a six-speaker sound system and dual force-canceling woofers. Apple also fixed the horrendous keyboard, which was quite prone to failure. Now, you've got the trustworthy old butterfly keys.
Apart from that, MacBook Pro 16 can be configured up to 8TB SSD, seemingly endless storage perfect for video producers. The only disappointing factor is the lack of ports. All you have are four thunderbolt ports and an audio jack. If you're someone who works with SD cards, you'll need to get an adapter.
So on a final note, the MacBook Pro 16 is one of the most powerful, lightweight, and advanced laptops for video editing with a steep price tag, but not too steep for video editing professionals who can spend a couple of hundred bucks more for high-grade machinery.
Hardware Specifications of MacBook Pro 16
Processor
Intel Core i7 2.6 GHz Six-Core 9th Gen Processor (Turbo up to 4.5 GHz)
RAM
16GB RAM
Storage
512GB SSD
Graphics
AMD Radeon Pro 5300M GPU (4GB DDR6 Graphics)
Display
16 Inch True Tone Retina Display with 3072 x 1920 Resolution
Operating System
macOS Catalina
Battery Life
Up to 11 Hours
Weight
4.3 lbs
7. ASUS ROG Zephyrus G14
Compact Powerhouse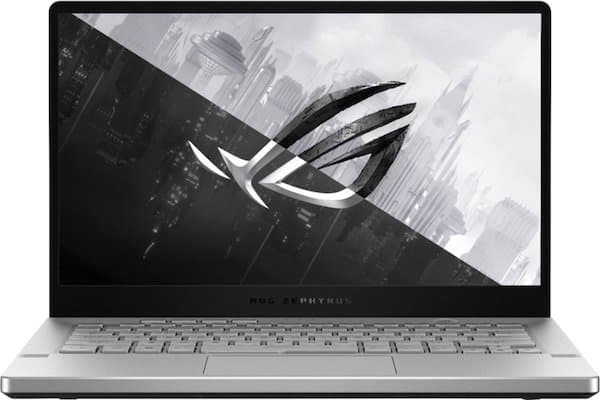 The ASUS ROG Zephyrus G14, as the name suggests is a 14-inch gaming notebook, which packs some real punch inside, and yet it is ultraportable and lasts for a full day on a single charge. That might look seemingly impossible, but believe us, this laptop is a REAL DEAL. Plus, it offers some pretty nifty features that you cannot find anywhere else.
Talking about the design, unlike other ROG laptops, the design of Zephyrus G14 does not scream gaming. It has got a premium looking magnesium alloy chassis with a subtle ROG logo on the lid. Moreover, it's just 0.7 inches thick and reasonably lightweight, weighing only 3.6 pounds. Despite such slim and small form factor, it boasts hardware that can put even most highly specced tower PCs to shame!
Under the hood, it has the newest AMD Ryzen 9 processor with eight cores which beats even the mightiest Intel Core i9 in benchmarks. Moreover, it has powerful Nvidia GeForce RTX 2060 Max-Q GPU inside and 16GB DDR4 RAM and spacious 1TB SSD. The performance that this hardware set output is nothing short of impressive. Moreover, the laptop, despite such small form factor, runs at pretty comfortable temperatures under a heavy workload, which is yet another USP of this ultraportable machine.
The display is also pretty good for video editing. It is a 14-inch full HD 120Hz panel, which can reproduce 117% of the sRGB color gamut. While there are other laptops in the list which have way better displays than this Zephyrus G14, but with the fact that it's a high refresh-rate one, makes it great for gaming as well. However, the unique part of this laptop is the 8 bit LED panel on the lid that you can customize to show custom text and pictures. It's not particularly useful, but it helps you set your laptop apart.
Overall, the ASUS ROG Zephyrus G14 is an ultraportable beast. For under $1500, it offers top-notch performing specs and sheer portability. Plus, it's among the longest-lasting gaming laptops with up to 10 hours of battery backup. That makes it the complete package overall and undoubtedly one of the best video editing laptops to pick up in 2020.
Hardware Specifications of ASUS ROG Zephyrus G14
Processor
AMD Ryzen 9 4900HS Octa Core Processor (Turbo up to 4.3 GHz)
RAM
16GB 3200MHz DDR4 RAM (Upgradable)
Storage
1TB PCIe SSD
Graphics
Nvidia GeForce RTX 2060 6GB DDR6 Graphics
Display
14 Inch Full HD IPS 120Hz Display (100% sRGB)
Operating System
Windows 10 Home 64-bit OS
Battery Life
Up to 10 hours
Weight
3.64 lbs
$1,449.99 | Buy Now From Best Buy
8. ASUS ZenBook Pro Duo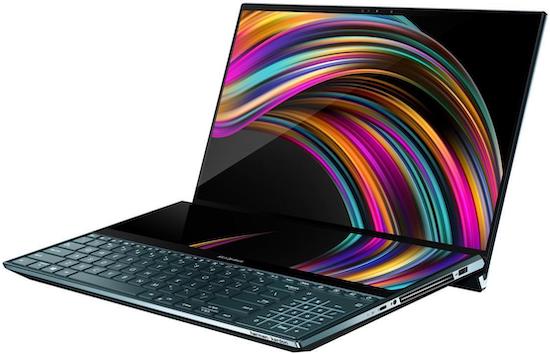 ASUS is one of the most renowned brands in the gaming laptops category, and the ASUS ZenBook Pro Duo is one of their slimmest and sleekest laptops that you can buy right now. It is designed with content creators in mind and boasts dual screens, the main 15.6-inch 4K OLED touchscreen display, and another one above the keyboard, which is a 14-inch touchscreen panel with 4K resolution. The extra real-estate is always helpful while editing videos, and it also packs a compelling set of hardware inside, which makes it one of the best laptops on this list for professional video editing work.
Powered by a 9th Gen Intel Core i7-9750H hexa-core processor, this powerful ASUS laptop runs on Windows 10 and hosts an extensive RAM of 16GB to render video files seamlessly. With Nvidia's latest GeForce RTX 2060 6GB GDDR6 graphics card, it houses a bunch of other unique features as well. It comes with an ASUS active pen stylus and a detachable palm rest which you can carry and have a complete workstation like feel while editing videos.
Apart from that, it is also a very thermally efficient machine with an Ergo lift hinge, which improves airflow, and it also has a dedicated Turbo Fan button to boost cooling. So, video editing aficionados can also use this laptop to play their favorite games.
Moreover, being such a slim notebook, it still provides an excellent selection of ports and slots. It has one USB Type-C Thunderbolt 3 port, HDMI, two USB 3.1 Gen 2, and audio jack ports. That's pretty much everything you'll require to connect your peripherals to this beast. So, there are no major flaws in this laptop other than its price tag. This laptop costs $2500, which is steeper than the other laptops with the same configuration, but considering the features, build quality, and lightweight chassis of this laptop, the price is totally justifiable.
Hardware Specifications of ASUS ZenBook Pro Duo UX581 Laptop
Processor
Intel Core i7-9750H 2.6GHz Hexa-Core Processor (Turbo up to 4.5 GHz)
RAM
16GB 2400MHz DDR4 RAM
Storage
1TB PCIe NVMe SSD
Graphics
NVIDIA GeForce RTX 2060 6GB DDR6 Graphics
Display
15.6 Inch 4K Touchscreen OLED Display with 133% sRGB Color Gamut
ScreenPad: 14-inch 4K matte Touchscreen
Operating System
Windows 10 Home 64-bit OS
Battery Life
Up to 6 hours
Weight
5.5 lbs
If you want the same OLED goodness at a slightly lower price, then Gigabyte Aero 15 is another excellent option. It doesn't come with two display setup like ASUS ZenBook Pro, but it has a 15.6-inch 4K AMOLED display, which is excellent in terms of brightness and color reproduction. On the hardware front, it also has a six-core Intel i7 processor along with Nvidia GeForce RTX 2060 GPU and 16GB of RAM and 512GB of SSD storage. It is a pretty well-equipped laptop with all the newest specs and features, so if you want to save a bit, then Gigabyte Aero 15 is also a great option for video editing. | $1,599.00 from Amazon
9. MSI WS66 Workstation Laptop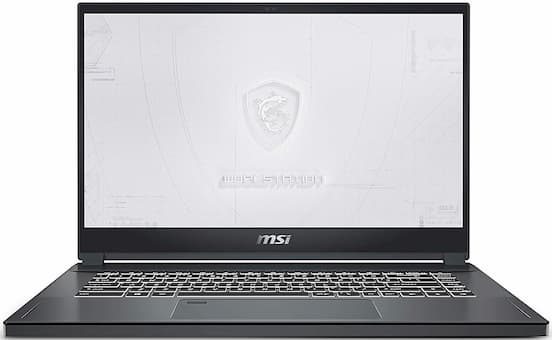 If you are looking for a workstation laptop to edit videos, then MSI WS66 is our pick. It offers workstation-grade specs paired with stunning display in a thin and light form factor that weighs less than 5 pounds.
It has got the latest 10th Gen Intel Core i9 processor and Nvidia Quadro RTX 5000 GPU inside with 64GB of RAM and 1TB SSD storage. That's some serious performing hardware, and believe us, it can do wonders with video editing. The Nvidia Quadro GPU in there is the standard choice of many Hollywood moviemaking professionals, and it has 16GB of graphics memory, which will always have some spare memory despite what you throw at it.
All these powerful components are packed inside a chassis that weighs just 4.6 lbs and is 0.7 inches thin. Despite that, there are no thermal issues, and the laptop's keyboard and palm rest area always remain at comfortable temperatures. There's no shortage of ports either. It has two USB Type-C ports, one of which is Thunderbolt 3, one USB Type-A 3.2 port, an HDMI port, an ethernet port, a 3.5mm headphone jack, and a full-size SD card slot.
However, all these premium aesthetics and high-end performance doesn't come cheap. The MSI WS66 workstation laptop with the discussed specs and features costs around $4000, making it out of reach of a lot of people. That said, professionals who have that kind of budget would surely be impressed by its performance.
Hardware Specifications of MSI WS66 Workstation Laptop
Processor
Intel Core i9-10980HK 2.4GHz Octa Core Processor (Turbo up to 5.3GHz)
RAM
64GB DDR4 2666MHz RAM
Storage
1TB NVMe SSD
Graphics
Nvidia Quadro RTX 5000 16GB DDR6 Graphics
Display
15.6 Inch Full HD IPS LED-backlit Display with 1920 x 1080 Resolution
Operating System
Windows 10 Pro 64-bit OS
Battery Life
Up to 9 hours
Weight
4.63 lbs
10. Alienware Area 51m R2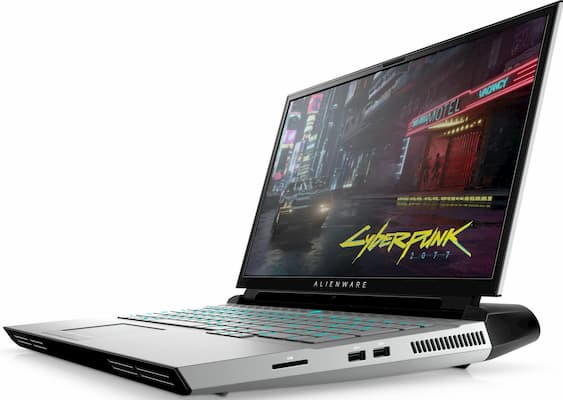 The only area where Desktops beat high-end laptops is upgradability. While you can upgrade the RAM and storage in some laptops, the CPU and GPU have always remained non-upgradable on laptops. Due to that reason, even the most high end and powerful laptops become obsolete within a few years.
Thankfully, Alienware has solved this age-old problem. The Area 51m is the first and only laptop where you can upgrade the CPU and GPU. It can be configured with up to 10th Gen Intel Core i9 (desktop) processor and Nvidia GeForce RTX 2080 SUPER GPU with up to 64GB RAM and 8TB SSD. A few years later, when a better CPU and GPU are released, you can swap out the outdated specs instead of scrapping the whole laptop. In addition to upgradability, you can easily overclock both the CPU as well as the GPU. It's the peak of performance laptops, now and ever.
The Area 51m R2 comes with a 17.3″ display and offers three different panel options. For gamers, there's a full HD panel available with either 144Hz or 300Hz refresh rate option, and for content creators, there's a UHD panel option, which is the most costly option, but it's perfect for video editing. The colors and brightness are excellent on all the panels, but the UHD panel has a slight edge in color accuracy. It's not the best display on a laptop, but then again, that's not the selling point of this laptop.
All of this comes at a cost. The base model starts at $2500, while the top-end model retails over $5000. It is not a particularly light or portable laptop either, weighing over 10lbs. The Alienware Area 51m is more of a movable desktop, with top of the grade performance and upgradability features.
Hardware Specifications of Alienware Area 51m R2 Desktop Replacement Laptop
Processor
Intel Core i9-10900K 10-Core 3.7GHz (10th Gen) Processor (Turbo up to 5.3GHz)
RAM
32GB DDR4 3200MHz RAM (Expandable up to 64GB)
Storage
1TB 7200RPM Hard Drive + 1TB PCIe NVMe SSD
Graphics
Nvidia GeForce RTX 2070 SUPER 8GB DDR6 Graphics
Display
17.3 Inch UHD Display with 100% sRGB and 500-nits brightness
Operating System
Windows 10 Home
Battery Life
Up to 4 hours
Weight
10 lbs
If you find Area 51's chassis extremely bulky, then Alienware m17 will suit you better. The m17 can do almost everything that the Area 51 can, except the upgradable CPU and GPU. On the positive end, you get the best specs that you can find in a laptop in a form factor that weighs just 5.5 pounds and starts at $1500. The fully loaded variant is equipped with 10th Generation Intel Core i9 processor, 32GB DDR4 RAM, 4.5TB storage (3 drive configuration), and the latest Nvidia GeForce RTX 2080 SUPER with 8GB GDDR6 VRAM. The display options are the same as Area 51, but the form factor is incredibly thin and small, even from a gaming laptop's standard.

So, while m17 isn't a future proof laptop in terms of upgradability like Area 51m, it's an incredibly capable video editing laptop to pick up in 2020. | Check Price on Dell
Conclusion
Picking the one 'best laptop for video editing' would be unviable. It all depends on your preferences combined with your usage that determines the one best machine fit for your routine. The above list ranges from ultra-modern graphics cards to advanced processors, from 17-inch wide screens to low budget laptops, but determining which one would be the best from your prospect, requires in-depth research and review exploration.
We think our short reviews of each video editing laptop listed above will help you determine that, but If you still need further guidance in ascertaining which laptop you should invest in, feel free to ask us and leave a comment below.
Advertisement