CES 2023 is less than a week away and almost all laptop manufacturers have announced about their presence and keynotes in the event. Like every year, we are expecting to see a lot of new laptop launches at CES. Though these newly launched laptops would not be available to purchase in stores right away. If you are planning to buy a new laptop right now, it's worth waiting until the 8th of January (until the CES 2023 concludes) so that you have all the information of the new models, their prices and availability, etc.
In this article we have provided all the information of what's incoming for laptops this year at CES. From the laptop brands and hardware manufacturers participating in the event to the date and time of their keynotes and also rumors around what they are planning to launch/showcase at the event.
Advertisement
But before we start let's talk about,
Why is CES an important event for laptop shoppers in 2023?
As I said earlier, at CES we see a lot of new laptop launches every year and this year also it's expected to be the same. However, the interesting thing about the laptops launched at CES is these laptops also house the latest CPUs and GPUs by Intel, AMD and Nvidia, also announced at the CES!
So, the CES is when the laptops market gets a refresh as a whole with all the new innovations happening in the computer hardware industry.
And the history shows that the laptops launched at CES are some of the best laptops of the year. So, you can expect Dell's flagship XPS lineup and HP's Spectre 2 in 1s among many others to get the refresh next week. And we will also see a lot of new gaming laptops launching at the CES housing the most powerful CPUs and GPUs made for laptops yet.
So, if you are planning to buy a new laptop in 2023, then it is undoubtedly very important to learn about all the latest laptops launching at CES next week.
When is CES 2023?
Consumer Electronics Show (CES) 2023 is from 5th of January to 8th of January 2023. It is an in-person event that happens in January every year in Las Vegas.
What laptop brands are going to be at CES and what do they all have in for you?
Almost every renowned laptop brand will be present showcasing their latest laptops at CES. Below is the list of brands that has confirmed their presence at CES 2023:
Dell & Alienware
Lenovo
HP
Acer
Asus
MSI
Razer
Apart from the brands listed above, Samsung, LG and Microsoft will also participate in the CES 2023, however, they do not usually launch laptops at the event. But it's still worth keeping eye on everything that Samsung and LG announce at the show as it's pretty exciting and usually they launch new TVs and monitors and often the display tech from them is carried over to laptop displays.
Also as mentioned earlier, alongside these brands announcing their latest laptops for 2023, Intel, Nvidia and AMD would be announcing their next generation of CPUs and GPUs at CES, which is going to be very important news for laptop shoppers in 2023.
So keep eye on the announcements from all these brands in the upcoming week.
To make it easier for you to follow all the laptop news from CES, we have put together the information like date and time of the keynote/launch events of all the laptop brands at CES 2023, what kind of laptops we are expecting them to launch at the event and all the rumors floating around the launch news below.
So, go through the laptop brands one by one to know their CES schedule and learn what you can expect from them.
Dell & Alienware
Last year at CES, Dell added a new member to its XPS lineup, the Dell XPS 13 Plus, which came with an all-new design, and it housed the (then latest) 12th generation Intel Core P-series 28W processor.
Dell does not update the design of the XPS laptops every year, so we don't think that Dell will launch the redesigned XPS 13 Plus this year. However, we are expecting design updates to the larger XPS laptops, the XPS 15 and 17 from Dell this year at CES.
Regardless of the design updates, it's pretty much confirmed that they all will be getting the specs bump with the latest 13th Gen Intel processors and new RTX 40 series Nvidia GPUs.
From Alienware though which is Dell's subsidiary gaming brand, we are expecting some huge announcements this year at CES. Last year Alienware launched the Alienware x14, the smallest Alienware gaming laptop you can buy.
And this year we have leaks and rumors floating around that Alienware will be launching an 18-inch gaming laptop at CES (largest in the lineup) and those leaks seem to be true as it pretty much matches in context with the teaser tweet made by Alienware a few weeks back.
Though we will see what Dell has in for us at CES 2023 in few days. However, for you as a consumer Dell is not going to livestream its launch event to watch, so wait for us to get all the updates and we will update you with everything that Dell showcases at CES 2023.
Lenovo
Lenovo almost gives update to its whole laptop portfolio at CES every year as it launches a slew of ThinkPads, Yogas and Legion gaming laptops at the event. This year also we are expecting to see the same with a few new introductions but mostly refreshes and specs bump to the Lenovo laptops with latest Intel and AMD CPUs.
One of the recent leaks that revealed all the devices Lenovo is going to showcase at CES 2023 aligns with our expectations as we see a lot of older models with minor cosmetic changes and specs bump. However, there' still a lot of information missing in the leak and to find out that we will have to wait for Lenovo to announce them officially.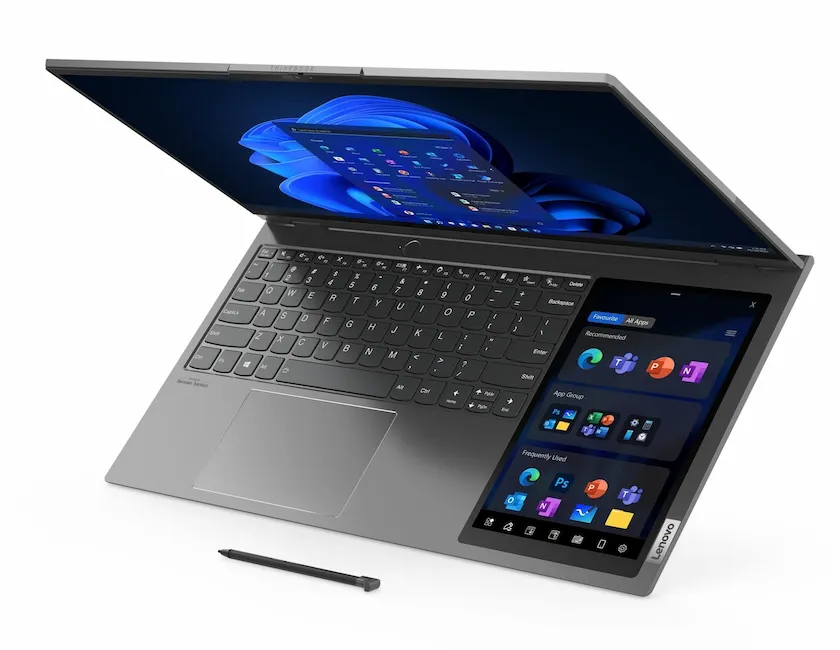 Lenovo is also known to showcase laptops with pretty innovative and futuristic designs at CES. Like last year Lenovo showcased the Lenovo ThinkBook Plus Gen 3 at the event, which is a 17-inch laptop with a secondary 8″ screen on the keyboard!
We might see laptops like such futuristic designs this year as well at the CES from Lenovo.
Lenovo will be livestreaming its launch event on 5th January from CES, and you can watch it on Lenovo's website here.
HP
CES for HP is usually the time when they update their business class EliteBook and ProBook line of laptops targeted towards corporate and commercial use. So, this year as well we will be seeing the same at the CES 2023 the hardcore business laptops made by HP with the cutting-edge security and privacy features.
However, we might also see a few new consumer laptops like HP Envy or Spectre and we are even expecting new Omen gaming laptops at the event because of some leaks.
Recently a twitter user posted the screenshot of a website of a Romanian laptop reseller who mistakenly listed the Omen 17 with the 13th Gen Intel processors and RTX 40 series Nvidia GPUs.
This suggests that HP might launch new Omen gaming laptops at CES this year.
However just like Dell, HP also won't be showcasing its newly launched laptops at CES directly to consumers so as we get to know about them, we will provide you with all the information on their new laptops for 2023.
Acer
Acer the favorite brand of budget shoppers also launches and showcases a lot of devices at CES every year and this year also we are expecting the same from the brand. We are expecting all of its Acer Aspire lineup and Swift lineup of laptops and also Nitro, Predator and Triton series of gaming laptops to get updated with the latest Intel and AMD processors and Nvidia GPUs.
Recently Acer Predator gaming laptop with 13th Gen Intel Core i9-13900HX processor and Nvidia GeForce RTX 4080 GPU appeared on GeekBench, which suggests that we might see new gaming laptops announcements at CES from Acer.
To know about all that Acer showcases and launches at CES 2023, you can watch their livestream on 3rd January on YouTube.
Asus
Asus also goes pretty much all in on CES every year for launching its laptops for the year and this year also we are expecting the same from the brand. We have seen Asus teasing its upcoming laptops on twitter and a few leaks are also doing rounds on the internet suggesting the new Asus laptops launches are imminent at CES.
So, expect Asus to launch new VivoBook and ZenBook laptops with latest 13th Gen Intel and AMD Ryzen 7000 series processors with some redesign, and also a few new ExpertBook laptops which are Asus' business laptops.
As far as gaming laptops are concerned Asus has teased with tweet "Something *BIG* is coming 👀" on twitter. We are thinking that an 18-inch gaming laptop is incoming from Asus as well, but we will have to wait to see.
Apart from that Asus is also expected to launch the next generation of budget TUF gaming laptops and mid-range and premium ROG Strix, Scar and Zephyrus laptops powered by the latest Intel, AMD and Nvidia CPUs and GPUs at CES 2023.
Asus will livestream its launch event from CES 2023, and it will host launch event for ROG devices on 3rd January and for other Asus laptops it will host the launch event on 4th January. You can watch the livestream on Asus and ROG Global YouTube channels.
MSI
MSI also revamps its almost whole portfolio of gaming laptops at CES every year. Last year, they launched the redesigned GS77 Stealth gaming laptop which is MSI's most premium gaming laptop. So, this year we are not expecting a design overhaul, but MSI might make slight cosmetic changes or add a new color option for it and of course the specs bump.
Similarly for Vector GP and Raider GE series we are not expecting the design overhaul as it was redesigned last year, but we are expecting MSI to launch redesigned Pulse GL and Katana GF series of budget gaming laptops as its red and black color scheme is now showing its age.
Apart from design changes, we might see more MSI gaming laptops, especially the premium ones and from the Creator series to come with a mini-LED display like the 2023 Tital GT77 which MSI announced recently.
And it goes without saying that all of the new gaming laptops launched by MSI at CES 2023 will have the latest and greatest hardware inside from the Intel, AMD and Nvidia.
Confirming the latter, the GE66 Raider with what appears to be the flagship 13th Gen Intel Core i9-13980HX 24 Core processor was recently tested on GeekBench, so it's likely that it will be launched and showcased during the event.
MSI's website says they will announce the new products virtually on 3rd January; however, we could not find any information about their livestream anywhere. So, stay tuned as we will provide you with all the news from MSI at CES 2023.
Razer
Razer the premium gaming laptops and accessories brand will also be present at the CES 2023 and they are also known to showcase quite innovative gaming products at CES every year.
Last year they launched a mask for gamers which had fans and RGB lights on it! And a few years back they showed us the laptop with triple display at CES known as the Project Valerie!
So we are sure that Razer will showcase something pretty unique this year at CES as well. However, between showcasing these futuristic gaming gizmos, Razer also tells us about its gaming laptops for the year at CES and this year we are expecting Razer to launch an all new 18-inch gaming laptop.
We got the hint about the 18-inch Razer laptop from the GeekBench's website when its variant with the 13th Gen Intel Core i9 processor got tested a few weeks back.
Though Razer is not throwing any teasers around that leak, we think Razer does not want to spill any of their secrets until they officially unveil it at CES.
Apart from the new 18-inch Razer gaming laptop, we are also expecting design overhaul for the Razer Blade 14, 15 and 17. And of course, the yearly specs refresh with the latest Intel, AMD and Nvidia CPUs and GPUs.
However, these are just the leaks and speculations, and we will get to see what Razer have in for us in 2023 when CES kicks off. Razer won't be streaming its CES launch event so wait for update on all the new Razer laptops at CES from us.
So these is what you can expect from laptop brands at CES. However, as I said earlier, the biggest and most important announcement would come from the hardware manufacturers Intel, AMD and Nvidia as they will uncover the next generation of laptop CPUs and GPUs.
What you can expect from Intel, AMD and Nvidia at CES 2023?
Intel, AMD and Nvidia all have their keynotes at CES. Though majority of the time of their keynote will go into launching new desktop CPUs and GPUs, we are expecting them to also announce their next generation of mobile CPUs and GPUs at CES, which will power most of the laptops launched by brands at the CES and throughout the 2023.
We have already seen the benchmark leaks of some of the laptops powered by the 13th Gen Intel processors, AMD Ryzen 7000 series processors and Nvidia's RTX 40-series GPUs. From the leaks the next-gen mobile hardware is looking very much promising in terms of performance. However, it would be interesting to see how efficient they have gotten, especially next-gen U-series CPUs and their integrated graphics as well.
Similarly for GPUs we are waiting to see how big of the performance improvement would Nvidia's RTX 40 series mobile GPUs bring to the table and if they are as good as their desktop counterparts. Rumors and leaks also suggest that Nvidia is going to bring RTX 4090 to the laptops this year. And from AMD as well we are expecting the new mobile GPUs and also much improved integrated graphics performance on its next generation Ryzen 7000 series CPUs.
Your Takeaway
So it's going to be very interesting few days if you are a hardware enthusiast and worth reading tech news days if you are planning to shop for a new laptop in 2023.
We have provided you all the information of how you can follow these brands to learn about all that they launch at CES and what you can expect them to launch at the CES 2023. However, don't worry if you don't get time to watch their livestreams.
Our team will bring you all the laptop news from CES with the nuggets of information important for you. So, bookmark our website and visit us back at your convenience to get all the laptop updates from CES 2023.
Advertisement