At an event in New York on September 21, Microsoft unveiled the latest iterations of its Surface line of laptops and provided details on its new AI-powered assistant called Copilot. The launch included refreshes to the premium 2-in-1 Surface Laptop Studio, the budget-friendly Surface Laptop Go, and the business-oriented Surface Go tablets.
The new Surface devices feature upgraded internal components to better handle new AI capabilities in Microsoft's products and services. Most notably, the laptops will come with the next feature update to Windows 11, scheduled for September 26. This update will introduce Copilot, Microsoft's AI assistant designed to help with productivity tasks across the company's software and services.
Advertisement
Copilot Leverages AI Across Microsoft Products
Copilot uses natural language processing to understand contextual information and provide assistance. According to Microsoft, Copilot will be "seamlessly available" across Microsoft's software, including Windows 11, Microsoft 365 applications like Word and Excel, and the Edge web browser.
Users will be able to summon Copilot through voice commands, keyboard shortcuts, or menu options. Copilot can then generate summaries of documents, suggest email replies based on previous writing style, organize desktop windows, and complete other productivity tasks.
Microsoft CEO Satya Nadella stated that bringing Copilot to more products allows the company to "democratize AI" and make it more accessible to everyday people beyond just the tech industry.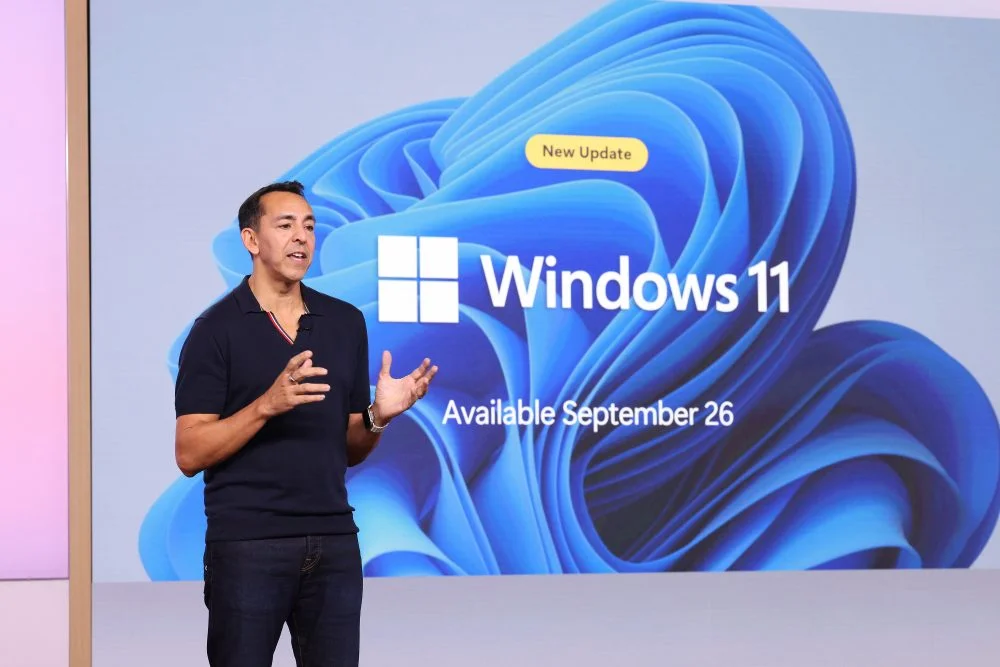 For consumers, Copilot will be included for free as part of the Windows 11 update starting September 26. It can be activated using a keyboard shortcut and integrated throughout the operating system.
For commercial customers, Microsoft 365 with Copilot will launch on November 1 for an additional $30 per user monthly. Copilot will be deeply embedded within 365 apps like Word, Excel, and Outlook to assist with document creation and productivity.
New Surface Laptops Elevate Performance
Alongside the focus on AI, Microsoft unveiled refreshed versions of three Surface laptops: the Surface Laptop Studio 2, Surface Laptop Go 3, and Surface Go 4. The new models boast upgraded internal components to deliver faster performance while retaining the same external designs as their predecessors.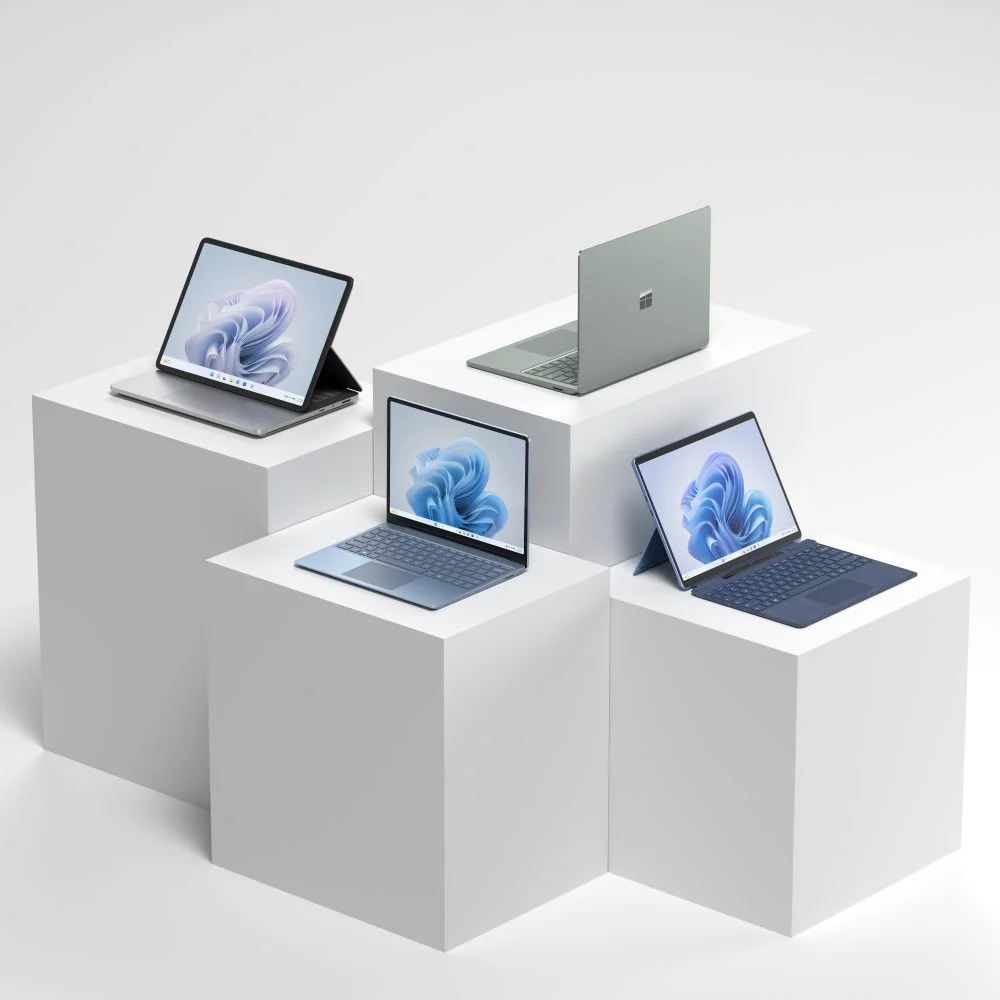 Surface Laptop Studio 2
The Surface Laptop Studio 2 is billed as the most powerful Surface device ever. The 2-in-1 convertible laptop includes Intel's latest 13th-generation Core i7 processors and Nvidia's new RTX 4000-series GPUs for up to twice the performance of the original model.
Users can equip it with up to 2TB of solid state drive and up to 64GB of RAM, double the maximum capacity offered before. This power allows the Surface Laptop Studio 2 to better handle creative workloads like 3D modeling, video editing, and graphics rendering.
The Studio 2 features the same 14.4″ touchscreen as the previous version but adds a new neural processing unit to accelerate AI tasks. Other updates include an improved 1080p webcam, USB-A port, and full-size SD card reader.
Pricing starts at $1999 for a model with a Core i7 processor, 16GB RAM, 512GB storage, and Intel Iris Xe graphics. Units equipped with dedicated Nvidia RTX GPUs, more memory and storage are priced higher.
Surface Laptop Go 3
On the more affordable end, Microsoft introduced the Surface Laptop Go 3, starting at $799. It retains the same slim 2.5-pound design and 12.4″ touch display. However, updated internal components provide up to 88% faster performance over the original Surface Laptop Go, according to Microsoft.
The Surface Laptop Go 3 incorporates a 12th-generation Intel Core i5 processor compared to the outdated 10th-gen chips used before. Other improvements include faster memory, WiFi 6 support, and an increased battery life of up to 15 hours per charge. Available colors include Platinum, Ice Blue, Sage, and Sandstone.
Surface Go 4
For business and institutional customers, Microsoft quietly announced the Surface Go 4. The 10.5″ detachable tablet weighs just 1.2 pounds for easy portability. It is identical on the exterior to the consumer-focused Surface Go 3.
However, the Surface Go 4 switches to a quad-core Intel N200 processor and doubles the memory to 8GB in the base model. The improved performance allows the Surface Go 4 to handle multitasking and intensive business applications better. Storage options max out at 256GB, twice that of the previous generation.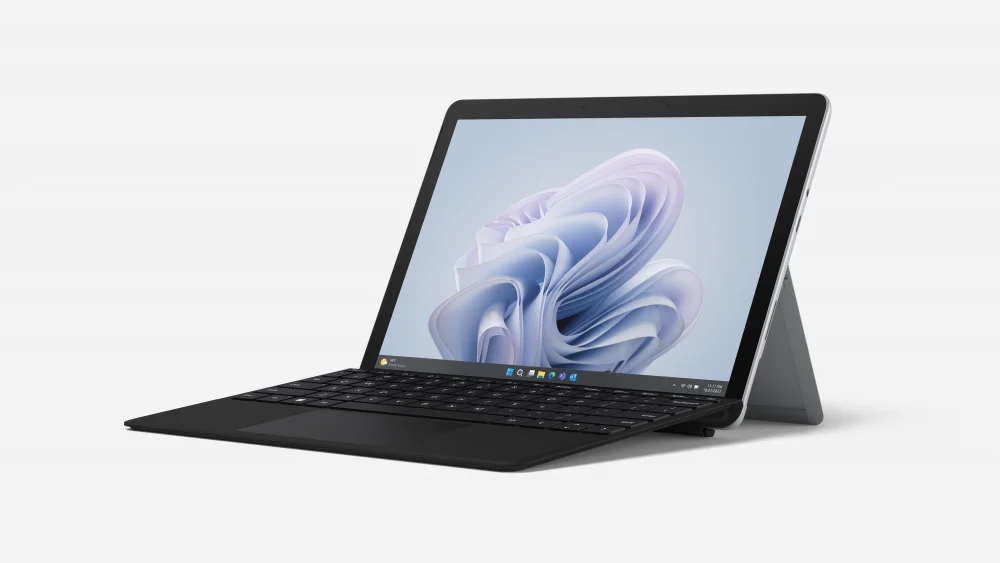 The Surface Go 4 also gains enhanced repairability, an essential consideration for enterprise device fleets. The display, battery, cameras, and other components can be individually replaced to extend the usable lifespan.
Prices start at $579 for the commercial-oriented Surface Go 4.
AI Improvements to Bing and Windows 11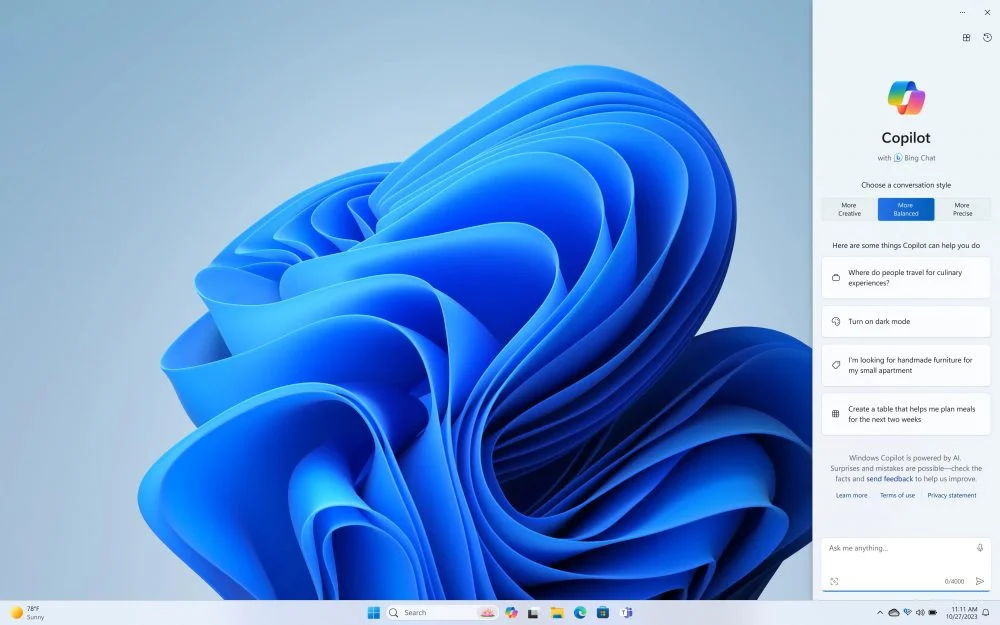 Along with the integration of Copilot, Microsoft highlighted several other AI advancements coming to Bing and Windows 11:
Bing Chat will incorporate DALL-E 3 to generate realistic images from text prompts at no extra cost. Generated images will be labelled as AI-created.
Personalized Answers uses chat history and user context to tailor Bing's responses and search results. Microsoft says users concerned with privacy will have the option to disable this feature.
Bing Image Creator is being updated to leverage DALL-E models and create more natural-looking pictures based on text descriptions.
Windows 11's native Paint app lets users generate images by typing a textual description, providing basic generative art capabilities without third-party software.
Windows Ink features allow copying text from screenshots and having Copilot automatically solve math equations captured with a stylus.
Snap layouts in Windows 11 enable users to have Copilot suggest an optimal window configuration for productivity.
Taken together, Microsoft is rapidly incorporating generative AI across its consumer and enterprise products. The company sees Copilot as a key advantage that will span Windows, Office, and the web.
What it Means for Microsoft
With this latest Surface launch, Microsoft's overarching focus was enhancing AI capabilities and demonstrating Copilot's integration across both consumer and enterprise products. While not revolutionary, the refreshed Surface Laptop Studio 2, Surface Laptop Go 3, and Surface Go 4 do deliver welcome upgrades under the hood.
For consumers, Windows 11 bringing Copilot natively to the entire operating system could be a major selling point versus alternatives. On the commercial side, launching Copilot for Microsoft 365 represents a key attempt at value-add for the productivity suite.
While Copilot drew the spotlight, the Surface hardware upgrades will allow customers to utilize these new AI functionalities on the latest Intel and Nvidia silicon. Given Microsoft's strategic emphasis on AI, producing devices tailored to showcasing these strengths is likely the larger goal.
The extent to which Copilot proves helpful rather than gimmicky will be critical to its success. But Microsoft is clearly touting AI integration as a centerpiece of its software and hardware roadmap. If executed thoroughly across products, Microsoft's AI-first strategy could yield competitive advantages, complemented by the upgraded Surface laptops optimizing these experiences.
Advertisement