Ever since the advent of gaming laptops, they were seen as the big bulky machines that promised to pack desktop-grade performance on the go. But these laptops were massive, and carrying them was a pain. Then came the age of ultra-portable laptops, but sadly performance was the cost that we had to bear for portability. The manufacturers had their fair reason for the sacrifice. It was simply impossible to cool down such high-end specs in a small and portable form factor.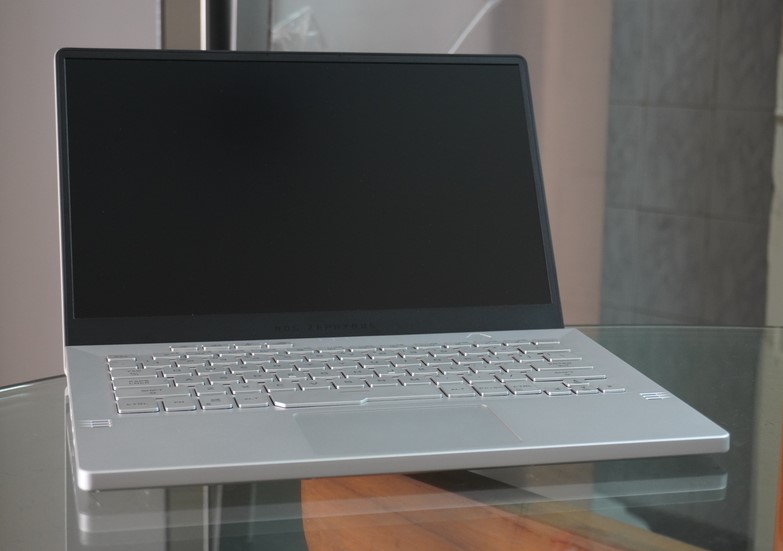 But then came the Asus ROG Zephyrus G14, and did what was previously considered impossible. Asus packed the latest RTX graphics and an 8-core AMD Ryzen processor in a compact form factor and somehow managed to cool it properly. There are also no gigantic and ugly vents to dispense the hot air or undervolted components to run the system cool, G14 is a fully specced gaming laptop! This would not have been possible without the new AMD Ryzen 4000 series processors, though. The new 7 nm AMD chips deliver better performance than its Intel counterparts and consume way less power while doing so. For the same reason, the battery life on the G14 is above par than competitors, and less power consumption also means it generates less heat. Hence, it also runs comparatively cooler.
Advertisement
Asus, with the Zephyrus G14, has materialized the pipe dream of a thin and light gaming machine unbound by any shackles. With a svelte portable chassis, high-end internals, and up to 11-hours of battery backup, the Asus ROG Zephyrus G14 has changed how we have imagined the thin and light gaming laptops so far.
The pricing also seems to be very fair considering other small and light gaming laptops with RTX graphics. The model we reviewed costs $1450 at Best Buy and is an anime-matrix version with top of the line AMD Ryzen 9-4900HS processor, Nvidia RTX 2060 Max-Q graphics, 16GB RAM, 1TB SSD, and a 14-inch full HD 120Hz display. This is not the top of the line variant. The top of the line variant costs $2000 and comes with a QHD 60Hz display, which we think is more apt for the content creators.
It's an almost perfect gaming laptop with excellent performing hardware, great display, good keyboard, and other nifty features. It has a few caveats, though, like there's no webcam, and it has bad backlighting on the keyboard, but these are not deal-breaking things, and it's very easy to overlook them with other great things on the laptop.
Design
The Zephyrus G14 sets itself apart from the competition in terms of design. The center of all attention is the 'Anime Matrix' display on the lid.
The lid on the Zephyrus G14 is diagonally divided into two halves. Half is a smooth finish with a subtle ROG logo in the corner, and another half features dozens of small, LED matrix lights that glow up once the laptop is powered up. With the help of Armoury Crate — the proprietary Asus software which comes pre-installed, you can personalize the Anime Matrix display as per your preferences. You can choose from an array of preinstalled animations or other items such as time, battery percentage, custom text, or make completely new animations on your own.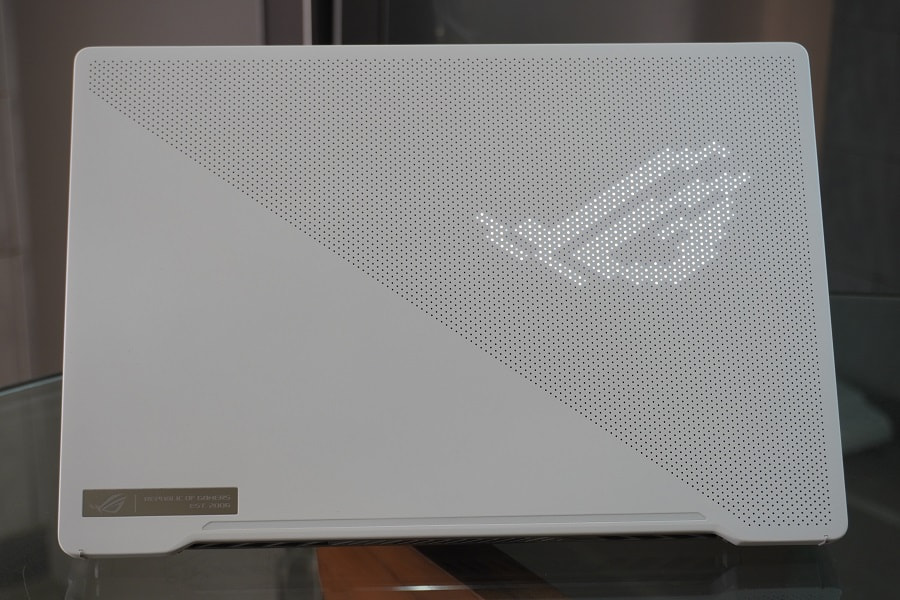 While it may sound gimmicky at first, it helps you set your laptop apart from the bunch. It's particularly handy when you're in a conference or a presentation where you can put up your company logo on the anime matrix, or if you are a DJ, you can display your social media info there. The anime matrix display is made-up of small white LEDs, so there is no RGB lighting, unfortunately.
Coming to the design of the laptop, it's a wonder in itself. It comes in two colors, "Moonlight White" and "Eclipse Gray." Although I like both colors, I prefer the gray more because of the dim backlighting on the keyboard (more on that later), and white color shows dirt and grime more easily. Talking about the dimensions, the laptop measures 12.8 x 8.7 x 0.7 inches and weighs just 3.5 pounds, which is extra-ordinary considering the specs it packs inside. It weighs less than the Razer Blade 15, and it is also lighter than the Dell XPS 15! The build quality is also top-notch, with its body made from magnesium and aluminum alloy. Everything feels premium to touch, and there is also no noticeable flex on the lid or deck.
The quality continues when you pop the lid open as well. The 14″ screen is surrounded by thin bezels on three sides, while the bottom chin is comparatively thicker. Unfortunately, a webcam is amiss from the laptop, so you'll need to resort to external webcams if you ever need to video conference. The lack of webcam racks up against the Zephyrus G14 in an age where 'work from home' culture is rising.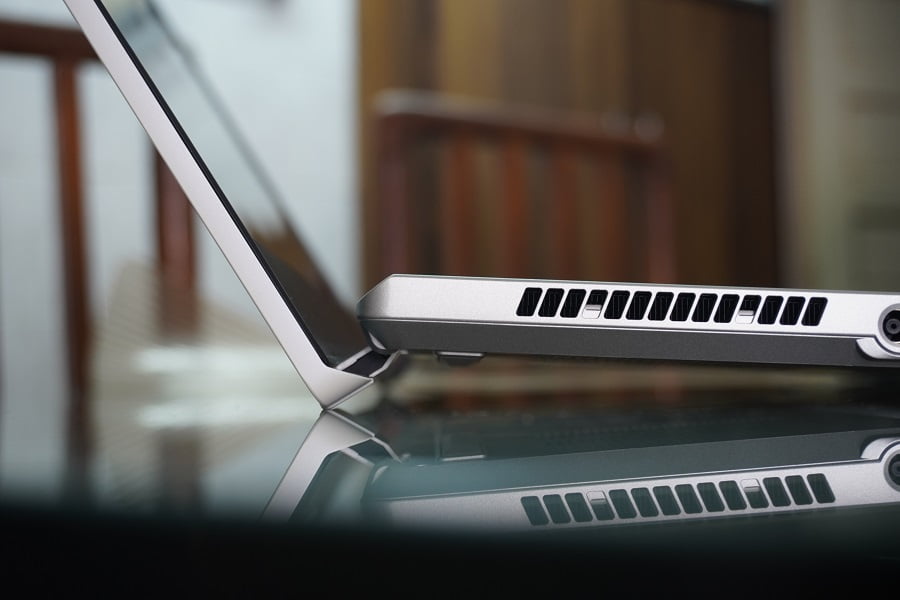 Like many other Asus laptops, the Zephyrus G14 also has an ErgoLift hinge, which slightly lifts the back-end. It provides a more comfortable typing experience and also facilitates better cooling.
Overall, the Zephyrus G14 is a solidly built, yet subdued, gaming machine. There are no crazy edges or borders that are otherwise commonly observed on regular gaming laptops. The Zephyrus G14 can easily pass as a work laptop in official settings, and with the help of the anime matrix, you can turn it into an aggressive looking machine in LAN parties.
Ports & Connectivity
You'll find two USB 3.0 ports, a Kensington lock slot, and a Type-C port along the right side. On the other side is the power connector, an HDMI 2.0b output, and another USB-C port that supports charging, and a 3.5 mm jack.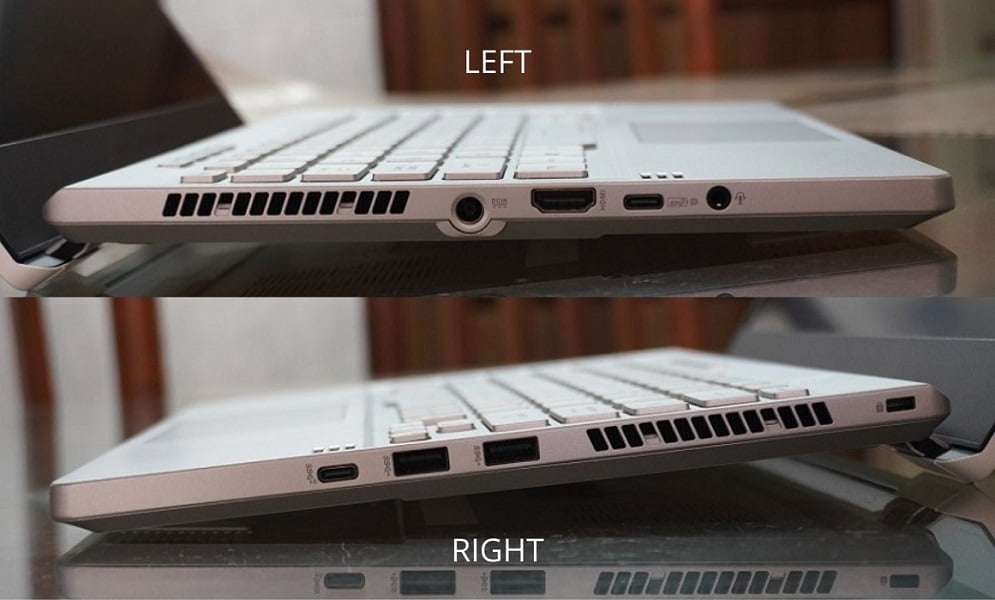 The Zephyrus G14 has a healthy port selection for its size, but there are some obvious drawbacks. There is no SD card slot, and since it's an AMD powered machine, it cannot house the Intel's proprietary Thunderbolt port.
On the wireless end, the Zephyrus G14 is equipped with Bluetooth 5.0 and a WiFi 6 card that provides a fast and stable internet connection, which is crucial for multiplayer games in the absence of an Ethernet port.
Display
The 14″ IPS display on our unit supports a 1080p resolution with a 120 Hz refresh rate. The screen covers the complete sRGB color gamut and over 73% Adobe RGB gamut. The screen is more than capable of handling color-sensitive tasks like photo editing, and it also gets sufficiently bright, maxing out at 323 nits. It's slightly above average for its class and works perfectly fine indoors. Working outdoors or in a highly lit area could still be a little eye-straining experience on G14.
However, the display performs decently well for its primary purpose, which is gaming. It supports AMD FreeSync, thanks to Nvidia's updated drivers, and that, paired with a fast refresh rate, enables a smooth and judder-free experience. The specs are also capable enough to push out over 100 FPS on most games without shedding a sweat, which makes the experience even better. However, the 120 Hz refresh rate isn't something out of the box. We've seen even 300 Hz refresh-rate screens in ultraportable gaming laptops like MSI GS66 and Razer Blade 15 Advanced.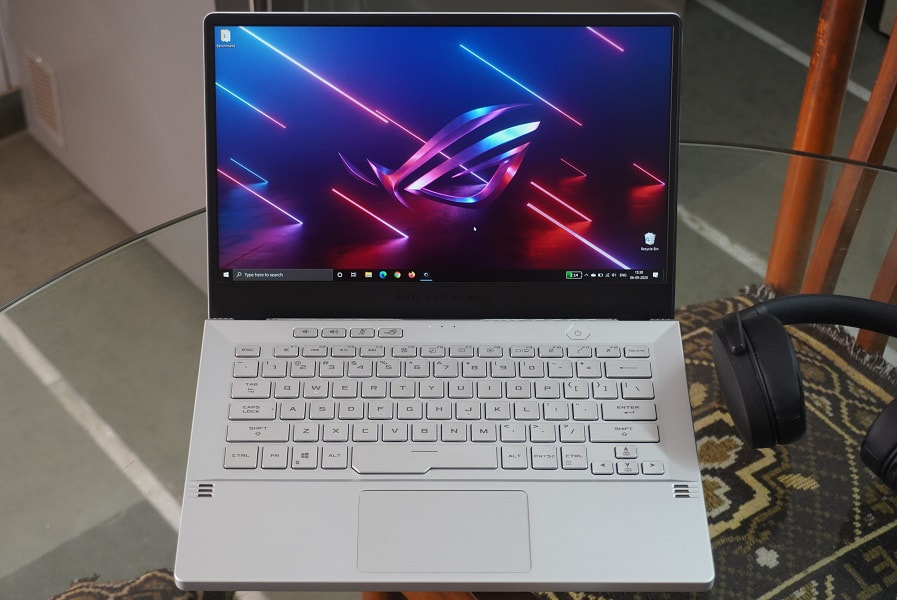 The biggest downside of this screen, though, is the 20 ms response time. In an age where even the budget gaming laptops are packing a faster refresh-rate display with 3 ms response time, the Zephyrus G14 is stuck with a 20 ms response time. In everyday usage, one can't even notice the sluggish response time. Even slow to moderately paced games like League of Legends, GTA V, and Shadow of the Tomb Raider are perfectly fine. The problem arises when you're playing fast-paced shooters such as Overwatch or Valorant.
Overall, we think Asus has provided a great mixture of high refresh rate and color accuracy with this panel. The G14 is also available with a WQHD (1440p) 60Hz screen, which will be a better option if you are a creative professional. However, the color coverage is the same across both the panels.
My personal pick would still be the full HD 120Hz panel because that would give better battery life, and I don't mind trading a slightly better resolution for that.
MORE: The Best 14-inch Laptops Right Now
Performance
The heart of the matter here is the AMD's newest 3rd Gen Ryzen processor, which has break havoc among its competitors by offering chips that are not only powerful but also highly efficient. Our unit has the top of the line Ryzen 9 4900HS processor with 8 cores and 16 threads, and it is paired with 16GB RAM in dual channel configuration, a zippy 1TB SSD storage, and Nvidia GeForce RTX 2060 Max-Q GPU.
If one word can wrap up the performance of the Zephyrus G14, it's 'mighty'. It's not just a formidable gaming laptop, but also a puissant content creating machine. The laptop's single-core and multi-core benchmark scores throw other competitor laptops right out of the park. In fact, in some multi-core tests, Zephyrus G14 performed twice as fast than its competitors.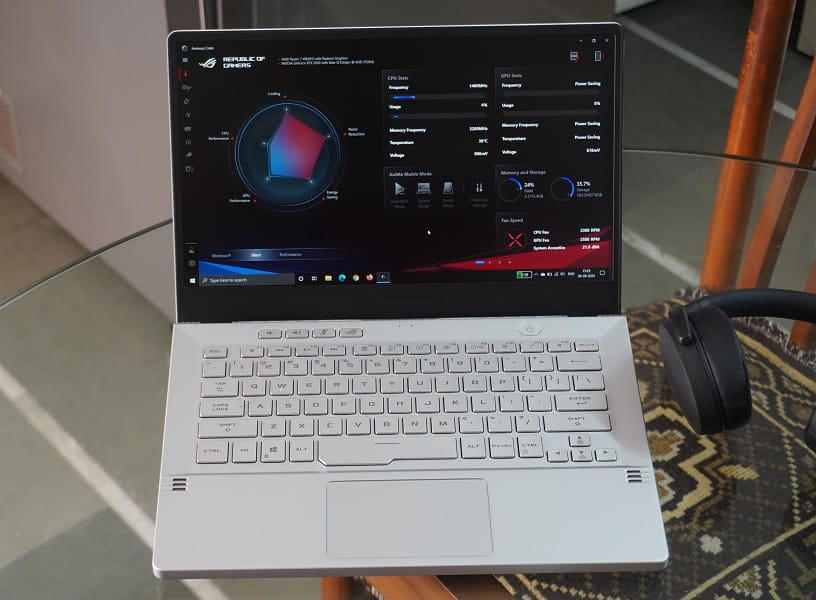 With the day to day tasks, it's next to impossible to experience a lag on the Zephyrus G14. During our test, it handled dozens of chrome tabs, and video render running in the background without breaking a sweat. It completed the render of thoroughly edited 4K video of length 15 minutes in just 9 minutes, making it one of the most capable video editing laptops of this size. To put things into perspective, my MacBook Pro 15 takes approximately 25 minutes to render edited video of that length. Moreover, it features one of the fastest SSDs we have seen on gaming laptops. During our file transfer test, it took Zephyrus G14 just seconds to copy 4.97GB of files at a rate of 1,272.3 MBps.
Coming to video games, the laptop maintained 60+ FPS on Witcher III on the high settings. For lesser demanding games such as GTA V and Valorant, you can expect constant 100+ FPS on max settings. I enjoyed playing Forza Horizon 4 for an hour at ultra settings and max FPS set to 120 FPS. The G14 handled it like a no problem, and I was impressed by how smooth the game felt on its 120 Hz display and how realistic shadows and overall graphics looked.
Overall, we were left amazed by seeing how good Zephyrus G14 performed despite such compact chassis. Moreover, it always stayed at comfortable temperatures, and although its fans got very loud while gaming, you can hardly hear its fans while doing any non-intensive stuff.
If you are on a budget, Asus also offers the Zephyrus G14 with an AMD Ryzen 7 processor, which is also an 8 core and 16 thread chip paired with GTX 1660 Ti. That's also a pretty sweet spec for a compact gaming machine. There is also an option for Ryzen 5 processor a 6-core AMD chip paired with GTX 1650 Ti graphics.
MORE: The Best Gaming Laptops Under $1500 Right Now
Thermal Management & Fan Noise
Cooling a Ryzen 9 processor and RTX GPU in such a small and compact form factor isn't easy, but Asus has done it here. Even with the laptop tuned for performance, the laptop never gets insanely hot. The dual fans throw out hot air from the sides and the back, and thanks to the ergo hinge design which gives more room to the bottom to breath. The CPU and GPU temperatures also maintained near 80° Celcius mark all the time during our tests. The laptop's deck did get a little bit hot though after I continuously played Forza Horizon 4 for an hour, however, the CPU and GPU temperatures were still around 87 degrees, which is not bad.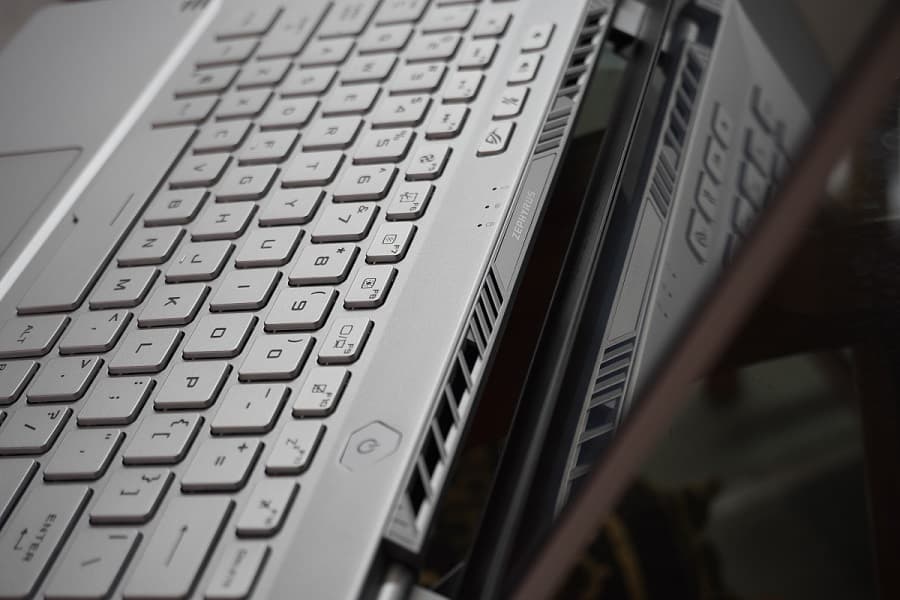 The fan noise is hardly noticeable with everyday productivity tasks in Silent mode. Even on Performance mode, the fan noise is under 50 decibels, which is phenomenal for its size. The fans get noticeably louder in the turbo mode though, which is the max-performance preset in the Armoury Crate. You can also manually crank the fans up where they produce over 60 decibels, but doing so doesn't improve the performance so it's not something we'd recommend.
Audio
The audio quality, as per the Windows laptops standards, is great! There are two 2.5 watt speakers on either side of the laptop with tweeters accompanying them. The sound comes out from the racing car-inspired speaker grills on the deck, and there are also two audio grills in the bottom. Combined, they present a robust sound that can fill the room.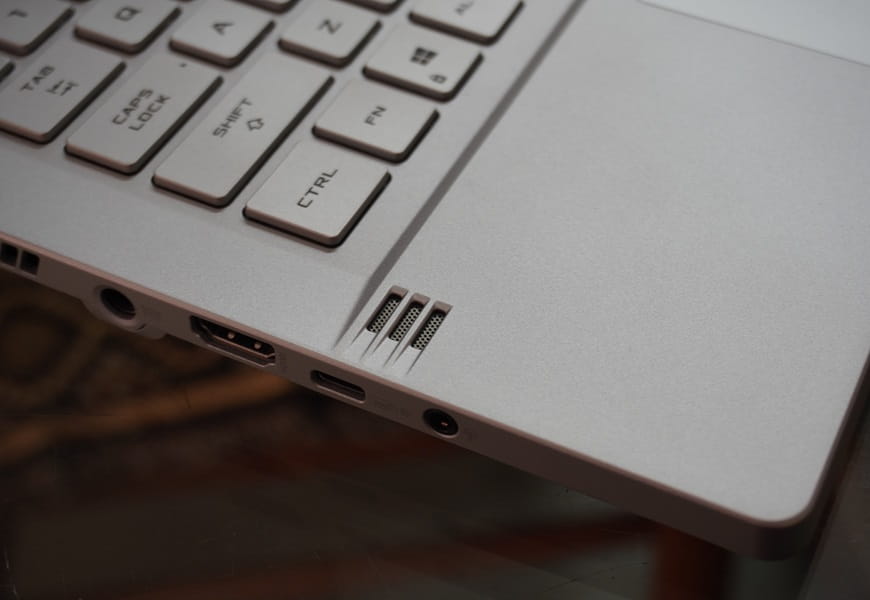 Dolby Atmos further fine-tunes the audio. A pre-installed Dolby Access app allows you to quickly browse through an array of presets optimized for gaming, movies, music and voice-centric media. The app gives you the ability to create custom presets as well, and there's also a Dynamic mode which analyzes the sound and automatically sets the best preset for the audio being played in real-time.
Overall sound quality is awe-inspiring. Even at high volumes, we didn't notice any sign of distortion in the audio. However, the speakers on MacBooks are still way better with better bass and overall rich audio.
Keyboard & Trackpad
The keyboard on the Zephyrus G14 is well-spaced out and has large enough keys with deep travel. Typing never feels cramped, and it's easy to get used to the keyboard on Zephyrus G14. Following the lines of other ROG laptops, the space bar on the G14 is bulkier than other keys. The arrow keys on the right are also well-spaced, but, unfortunately, there are no dedicated Page Up and Page Down keys. However, there are dedicated physical keys for volume up, volume down, and mic mute/unmute. There is also a ROG key, which gives you quick access to Armoury Crate to control your laptop's performance. There's also a Windows Hello enabled fingerprint scanner integrated into the power button for fast and seamless log-in.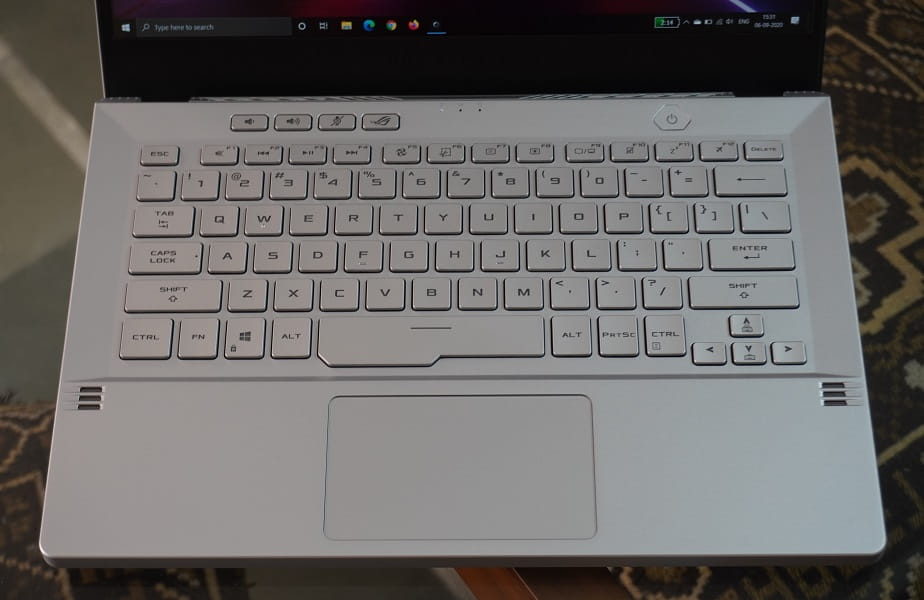 The keyboard itself is all very great, but the problem erupts with backlighting. There are three brightness levels for the white backlighting, but even the brightest setting isn't bright enough. The issue is best exemplified in a white G14, where there isn't enough contrast between the white keycaps and white backlighting. If the color of the keycaps and the backlighting is the same, then the backlighting needs to be quite pronounced to create a contrast, something that Razer does exceptionally well on its Blade 15 silver models. But here, the backlight isn't bright enough. The issue is further worsened due to light bleeding around some keys.
Coming to the trackpad, the Zephyrus G14 features a surprisingly impressive touchpad with a smooth glass surface. Measuring in at 4.1 x 2.4-inch, it's smaller than the Razer Blade 15 and many other thin and light gaming laptops, but distinct clicks and precise multitouch gestures more than make up for the shortcomings.
Overall, the keyboard and the trackpad on the G14 are excellent, with no major complaints.
Battery Life
The Zephyrus G14 is powered by a 76 Wh battery and features a phenomenal battery life. In a silent mode with the brightness set to 150 nits performing day to day tasks such as browsing the web and streaming videos, the Zephyrus G14 lasted a whopping eleven and a half hours. That's well beyond not just gaming laptops, but any ultraportable laptop in its range. It's safe to say that the Zephyrus G14 can last an entire workday without a second charge.
Unfortunately, it's a different story when you want to use the true potential of the laptop. First off, the laptop underperforms on battery, which is the case with every Windows laptop. You need to plug-in the AC adapter to unlock the true potential of the CPU and GPU. If you're on the battery doing an intensive task like editing a video or gaming, you can expect 3-5 hours of battery life depending on the workload, which is in line with most other gaming laptops.
However, Zephyrus G14 left all of us at our office awestruck with almost double the battery life than its competitors with everyday productivity tasks. We can confidently say that the Zephyrus G14 is the perfect combination of work and play. You can take it to the office without the charger and come back at the end of the day and plug it in to enjoy gaming on this beast.
Upgradeability
Unlike most other thin and light laptops, the Zephyrus G14 provides decent upgradeability options with easy to open back panel. All you need to do is unscrew 14 screws, and the back panel comes right off. There is no adhesive, so you don't need any prying tool.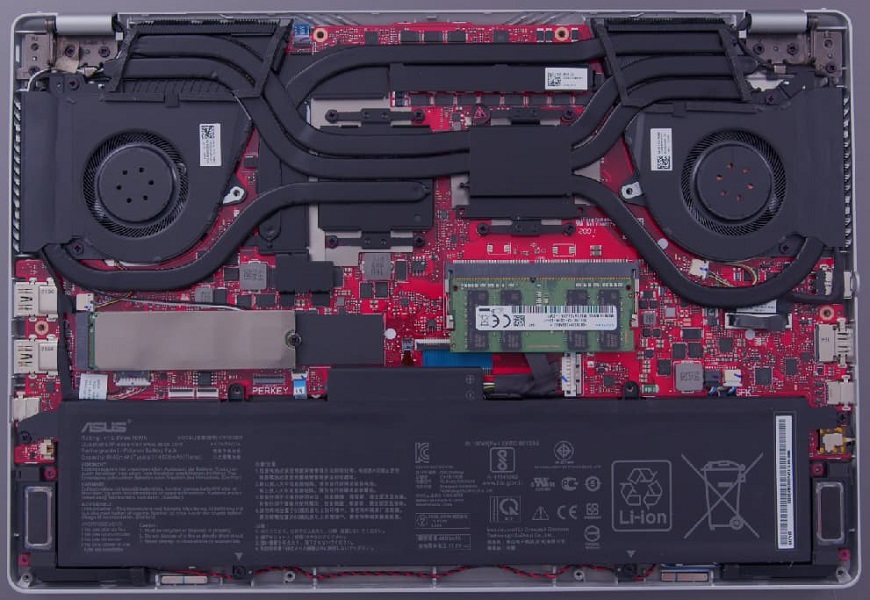 However, there aren't any empty slots inside. There is just one SSD slot which is occupied by the pre-installed SSD. The WiFi card is housed underneath the SSD, which is also replaceable, but there's no point because it's the latest WiFi 6 module. There is only one user-accessible RAM slot, and the 8GB RAM comes sodded on the motherboard. The user-accessible RAM slot is occupied by an 8GB RAM stick on our unit, totaling the total RAM to 16GB. The total RAM on the Zephyrus G14 is configurable up to 24GB by installing a 16GB stick in the user-accessible RAM slot.
So while you have access to SSD, WiFi card, and RAM, there is no sense of upgrading them, at least not right out of the box as you're getting pretty good specs pre-installed.
You may like to check out: Top 10 Best Desktop Replacement Laptops Right Now – Upgradable Like PCs!
Bottom Line
The Asus ROG Zephyrus G14 wears the crown of the most powerful 14-inch gaming laptop with pride, and it thrashes the competition with its performance. While it might not be the most graphically capable thin and light machine, it indeed is an excellent performer overall. Plus, its battery life goes on and on. We have never seen a gaming laptop with such a long battery life.
With its powerful performance, great screen and the svelte thin and light form factor, the Zephyrus G14 is a portable powerhouse that is suitable for a wide array of use cases. Be it gaming, photo or video editing or any other demanding workload the G14 can handle it all comfortably.
Its hard to not like this laptop as there are hardly any major drawbacks other than the lack of webcam, which could be deal-breaker, especially in this 'work from home' times, but a good quality external webcam does not cost a lot of money.
Overall, the Asus ROG Zephyrus G14 gets a huge thumbs up from us. With more powerful specs and less price than its competitors, the G14 is an easy recommendation to anyone who wants portable gaming or media editing machine.
We are very impressed by the new AMD chips, and we look forward to seeing more thinner and lighter AMD powered gaming notebooks in the future, but until then the Zephyrus G14 is the one we recommend.
Asus ROG Zephyrus G14 Gaming Laptop
$1,449.99
Advertisement