Top 10 Best 14 Inch Laptops – The Most Recommended Midsize Laptops of 2017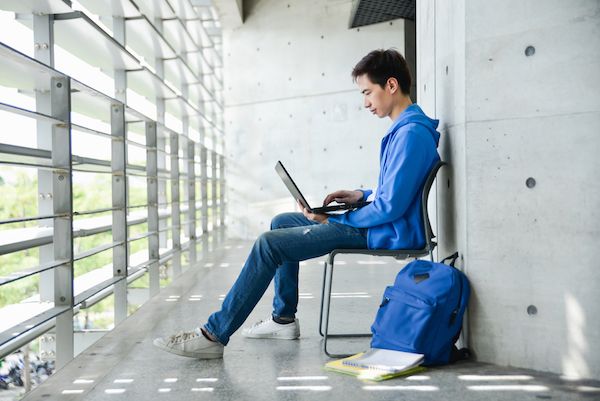 We recently published a guide to buy the best 11 inch laptops, where I elaborated the significance of having an ultraportable 11 inch laptop and the best ones you can opt, that are available in the market right now. But what about the other possibilities? What about the users who just can't cope with a small display no matter how portable or lightweight the laptop might be? Or for users who want to settle the on middle ground and go for a midrange laptop? For those users here is a complete guide to buy the best 14 inch laptops which will help you to decide, why you should opt for a 14 inch laptop over 13 and 15 inch ones and it also includes our 10 of the most recommended 14 inch laptops which our team of laptop experts cherry-picked from all available in the market.
So without further a do, let's get started…
So, now you might be ready to make an informed purchase of the 14 inch laptop for yourself?
If yes…
…here we have sorted a list of best 14-inch laptops available in different price ranges for you to consider and have briefly described their pros and cons that might help you assess which one fits best for your use.
Some of you may be looking for hi-tech processing characteristics, while some of you might base your decision on integrated graphics, so I'll be roughly covering all aspects. Here are our most recommended best 14-inch compact ultrabooks of 2017 to help you buy the best laptop within your budget.
Best 14 Inch Laptops – Top 10 Picks
1. HP Stream 14-ax010nr 14-Inch Laptop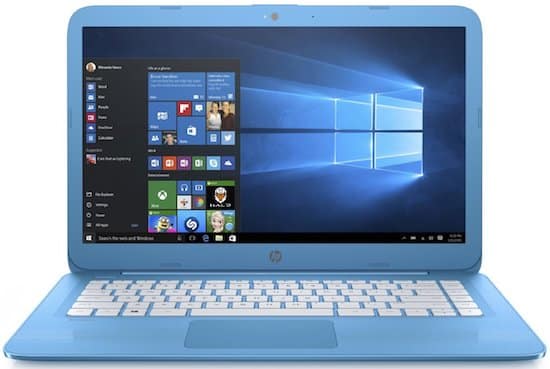 This laptop is for people wanting a cheap, but at the same time, a fancy looking laptop. This economical windows 10 laptop comes with a sharp HD screen, an adequately powerful Intel Celeron processor and among its distinctly appreciable pros is the wide selection of I/O ports.
Considering its sleek and elegant chassis, it houses room for an HDMI port, a headset jack, an SD card reader, a USB 2.0 port, and a USB 3.0 port along with fast 802.11a/c Wi-Fi and Bluetooth for wireless connectivity.
As for its processing power, it is a good choice for users who need laptop for casual video browsing and document manipulation. So its affordable rates and lightweight makes it a perfect fit for college students as its small enough to be carried in a backpack. The HP Stream 14 runs on full Windows 10 Home so it can also be a good fit for extreme Windows fanatics, who want the panache of a Chromebook without having to rely on a browser based "chromebooks".
The only drawback that can be considered is its limited 32GB storage and is comparatively a bit heftier than its fellow Chromebook models but that's the case with almost all the cheap laptops in 200 dollars price range, so to get more storage, either you'll have to increase your budget or settle with using the cloud storage or an external hard drive. Other than these, this laptop could check a lot of positive aspects on your assessment list including an inexpensive windows laptop, stylish chassis and a 14 inch HD LED display.
Hardware Specifications of HP Stream 14-ax010nr 14-Inch Laptop
Processor
Intel Celeron N3060 1.6GHz Dual Core Processor
RAM
4GB DDR3L SDRAM
Storage
32GB eMMC Flash Based Storage
Graphics
Intel HD Graphics 400
Display
14-Inch Diagonal HD BrightView WLED-backlit Display
Operating System
Windows 10
Battery Life
Up to 10 Hours
Weight
3.17 lbs
2. Acer Chromebook 14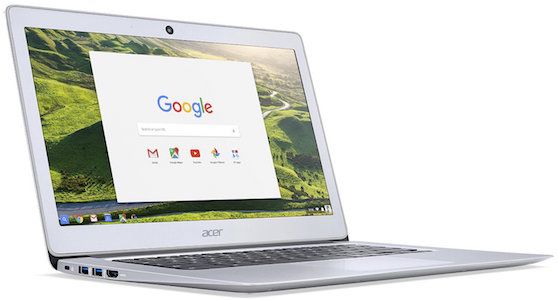 By the looks of it, the Acer Chromebook 14 fits perfectly into the description of a steep, professional, hi-tech and stylish Macbook Air, but instead of draining your bank account, the Acer Chromebook costs only a few hundred bucks.
The chassis is extremely well designed with razor blade edges, rounded corners, an aluminum body and within its metallic frame, there is an Intel celeron N3160 quad-core processor, a 14 inch full HD IPS display and a sturdy battery that offers a whopping 10-12 hours of backup!
Its processing capabilities however may not be considered as one of its strong suits. You might face a bit of lagging and stuttering if you burden its processor with several running web apps or multiple tab operations. Also, there is the unavailability of an SD card slot that could help in expanding its minute 32GB of storage capacity.
All in all, the laptop offers good value for the money and you won't be able to get a laptop of this size, design and battery life at a better price. That said, the Acer Chromebook 14 is a nice 14 inch chromebook for basic work tasks and to sit at your countertop for light browsing and streaming.
Hardware Specifications of Acer Chromebook 14
Processor
Intel Celeron N3160 Quad Core 1.6GHz Processor (Turbo up to 2.24GHz)
RAM
4GB LPDDR3 SDRAM
Storage
32GB Flash Based Storage (Non-Expandable)
Graphics
Intel HD Graphics
Display
14-Inch Full HD IPS Display with 1920×1080 Resolution
Operating System
Chrome OS
Battery Life
Up to 12 Hours
Weight
3.42 lbs
If you're looking for a windows alternative to the Acer Chromebook then the recently released Acer Aspire 1 is the best 14-inch windows laptop in same price range.

Powered by a new Intel Celeron N3450 quad-core processor and 4GB of RAM, this budget laptop from Acer is perfect for school and business purposes. Again, the drawback with this laptop is less amount of storage. It has 32GB of internal storage which rather forces users to carry external hard drive and use the cloud storage.

But overall, it is an excellent value for money laptop. It packs a huge battery pack inside which keeps this laptop juiced up to 9 hours and presence of full HD 14-inch display in a notebook with the price tag of just $220, makes it a steal deal. | Buy Now From Amazon
3. ASUS F402BA-EB91 VivoBook 14″ Full HD Laptop
With an ASUS VivoBook, you can gladly leave your charger in your drawer and go out for a full workday. Alongside a long lasting battery, the ASUS VivoBook comes preinstalled with a Windows 10 OS and it has a bright HD 14 inch display.
The exterior is a classy metallic frame with a brushed aluminum top lid that makes it appear way more premium than it costs. Another commendable feature is, it comes with long list of ports including HDMI, Ethernet, USB 3.0 and a USB Type-C port, which is very rare in the laptops falling under sub-$400 category.
For users on a budget, looking for an ultraportable, stylish laptop and are usually on the road, the ASUS VivoBook is a fair bargain. The 3.0GHz AMD A9 dual-core processor suffices for basic everyday operations without causing much of a problem. From performance point of view, it offers matchable power to its rivals and clearly outshines among ultraportable, budget laptops. VivoBook also hosts a giant storage space and a 8GB of RAM that is more than enough to help you get through your daily work routine, or light document drafting.
As long as you stick to casual browsing and video streaming, you'd be more than happy with this 14 inch laptop's battery life and performance.
Hardware Specifications of ASUS VivoBook F402BA-EB91 14″ Full HD Laptop
Processor
AMD A9-9420 Dual-Core 3.0GHz Processor (Turbo up to 3.6GHz)
RAM
8GB DDR3 RAM
Storage
1TB 5400 RPM HDD
Graphics
AMD Radeon R5 Graphics
Display
14 Inch HD Display (1366×768)
Operating System
Windows 10 Signature Edition
Battery Life
7 Hours
Weight
3.6 lbs
4. Lenovo Ideapad 510s 14″ Laptop
The 'S' in 510s stands for 'Slim' and among the Lenovo 500 series, this particular model is the sleekest, most premium designed and it also happens to be the cheapest amidst its peers as well.
Marked with a price tag of as low as $600, this well-built laptop has been designed by paying peculiar attention to detailing, and its metallic backlit keyboard along with 14 inch IPS screen are perfect examples of it.
With its minimalistic exterior, this slim laptop contains an Intel core i5-7200U processor, three USB 3.0 ports, an SD card reader accompanied with a full-size HDMI output. Although respective to its size, the Ideapad 510s is a bit hefty to carry around and weighs 1.7kg (3.7lb) approx and, you might find the touchpad to be not one of the smoothest. But apart from that, it provides great battery backup of 10 hours to be exact and will surely deliver sufficient performance, only if you delegate it to perform regular desktop work, casual browsing and light gaming.
It can take a little more than light weight operations, but make sure not to overburden it with arduous tasks as those might require more powerful specs than an 8GB RAM and a dual core i5 processor.
Hardware Specifications of Lenovo Ideapad 510s 14″ Laptop
Processor
Intel Core i5-7200U 2.5GHz Processor
RAM
8GB RAM
Storage
1TB 5400RPM Hard Drive
Graphics
Intel HD Graphics 620
Display
14 Inch LED Full HD IPS Display, 1920×1080 Resolution
Operating System
Windows 10
Battery Life
6 Hours
Weight
3.7 lbs
5. Acer Swift 3 14 Inch Ultrabook
With 8th Gen Intel Processor
After going through the specs of Acer Swift 3 judiciously, I think the high quality hardware that Acer has used to assemble this ultrabook has to be one of its best features. Being entirely responsive, the aluminum chassis is so effortlessly decent that it is bound to catch everyone's attention. Due to its exclusive appearance, it leaves the impression that it is a steeply priced high end laptop. So if you want to look fancy on a low budget then the Acer Swift 3 might be your go-to choice for best 14 inch laptop.
From the point of view of operational capabilities, the Acer Swift 3 ultrabook is robust enough to be equipped with everyday applications, without compromising its overall performance. Another attractive aspect is the Kaby Lake – R (8th generation) Intel Core i5-8250U processor, which supports routine tasks and multiple tab operations without any struggle and can also diligently handle light games, photo editing on Adobe Photoshop or light video editing on Adobe Premiere, all due credit to the new Nvidia GeForce MX150 graphics. Moreover it comes with sufficient amount of RAM, 8 GB to be exact and a 256GB SSD for storage.
One of the very few drawbacks of this laptop would be a 3220 mAh battery, that could have been replaced with a larger one, but it's not too bad either. Another one would be a slightly dim screen that makes it a bit difficult to be used outdoors. But other than that, the Acer Swift 3 is one of the best 14 inch ultrabook with latest and greatest specs for users with everyday needs on a low budget.
Hardware Specifications of Acer Swift 3 14 Inch Ultrabook (NEWEST MODEL)
Processor
8th Generation Intel Core i5-8250U Processor (Turbo boost up to 3.4GHz)
RAM
8GB LPDDR3 RAM
Storage
256GB SSD
Graphics
Nvidia GeForce MX150 2GB DDR5 Graphics
Display
14 Inch Full HD Widescreen LED-backlit Display
Operating System
Windows 10 Home
Battery Life
Up to 10 Hours
Weight
3.75 lbs
$799.99 $719.00 | See on Amazon
6. Lenovo Flex 4 14-Inch Convertible Laptop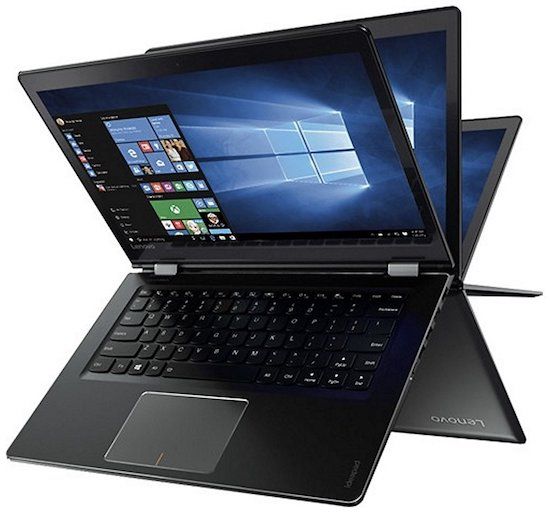 Who doesn't want the comfort of using a premium convertible laptop with minimalistic looks and top-notch features. But the entire packages sound too good to be real, at least with a reasonable rate. The Lenovo Flex 4, offers it all and causing only a damage of $600, the metallic edges and black color finish gives off a lavish appearance and apparently comes without a backbone.
In my opinion, the Flex 4 offers great value for money. An Intel Core i5-6200U processor, 8GB of RAM, pre-installed Windows 10, and a 1TB of HDD is more than enough for an average user to get through his day. The 14 inch wide Full HD display with up to wide viewing angles can definitely be paraded around like a trophy, mainly because of the sharp screen quality and vibrant display of colors. From performance perspectives, this 14 inch laptop was found to be more than adequate and can perform multi-tasking operations and video streaming side by side without any noticeable lag. Still if you want more power then you can buy successor of this model, Lenovo Flex 5 which comes with even powerful Intel Core i5 processor and 256GB SSD storage.
The drawbacks of Lenovo Flex 4 are a not so standard webcam and little less battery backup. But these limitations are certainly not critical enough to make us overlook the wide range of eminent features it brings to the table.
Hardware Specifications of Lenovo Flex 4 14 Inch Convertible Laptop
Processor
Intel Core i5-6200U 2.3GHz Processor (Turbo up to 2.8GHz)
RAM
8GB DDR4 RAM
Storage
1TB 5400RPM HDD
Graphics
Intel HD Graphics 520
Display
14 Inch Full HD Wide View Multi touch display with 1920×1080 Resolution
Operating System
Windows 10 64-bit OS
Battery Life
Up to 6.5 Hours
Weight
3.8 lbs
Acer Spin 7 – The Thinnest & Lightest 14 inch Laptop

If you travel a lot and want a powerful and ultra-portable laptop to work on-the-go, then Acer Spin 7 is one of the thinnest and lightest 14-inch convertible laptop available to buy right now. It is just 10 mm thick and weighs 2.6 lbs making it a perfect travel companion.

It has 14 inch full HD multi touch IPS display which is bright and shows vivid gamut of colors. For protection the display has Corning Gorilla Glass 4 on top of it which helps to keep the display safe from everyday wears and tears. On hardware front, the laptop bolsters an Intel Core i7-7Y75 processor with clock speed up to 3.6GHz and it is paired with 8GB of RAM. For storage, you get 256GB of SSD. Overall, performance of this laptop is very good. You can easily browse web, take notes and stream videos simultaneously on this laptop without any sort of lag or hiccups.

The only drawback of this laptop is the connectivity ports. Due to its thin design, the laptop has space for only two USB Type-C ports and a headphone jack which is a huge let down for most people but you can buy USB Type-C dongles and get access to all those traditional ports and slots.
7. Lenovo Flex 5 2-in-1 Laptop
Another ultraportable, convertible laptop by Lenovo that is good enough to land on a top 10 best 14 inch laptops list anywhere, anytime. With a complete 360 degree wrap around hinge, the Flex 5 comprises of basic features, that are to be honest not so flattering but good enough to pull through essential tasks.
How you analyze its performance depends entirely upon your usage and prioritization of specifications. A fair warning, if you are a frequent traveler, this laptop might cause you a bit of inconvenience with its bulky body. Although you can consider the gigantic 1TB hard drive a compensatory aspect for the thick weightage. But the keyboard on this laptop is definitely the star of the show as it sports a keyboard layout which is very similar to the Thinkpad series of business laptops from Lenovo.
But many users have reported some lagging and stuttering while performing a bit of hefty tasks, and a problematic display that is considerably dim making it harder to use outdoors. On the plus side, it comes with wide offering for ports including two USB 3.0, a USB Type-C, full size HDMI and card reader. Not to mention the very much up to date specifications which couldn't have been better; the latest Intel Core i7 processor, an impressive 8GB DDR4 RAM and 1TB 5400RPM hard drive.
Hardware Specifications of Lenovo Flex 5 2-in-1 Laptop
Processor
Intel Core i7-7500U Dual Core 2.5GHz Processor (Turbo boost up to 3.1GHz)
RAM
8GB DDR4 RAM
Storage
1TB HDD
Graphics
Intel HD Graphics 620
Display
14 Inch Full HD IPS AntiGlare Multitouch Display (1920×1080)
Operating System
Windows 10 Home 64-bit OS
Battery Life
Up to 8 Hours
Weight
3.8 lbs
8. Lenovo Thinkpad T460 14 Inch Business Laptop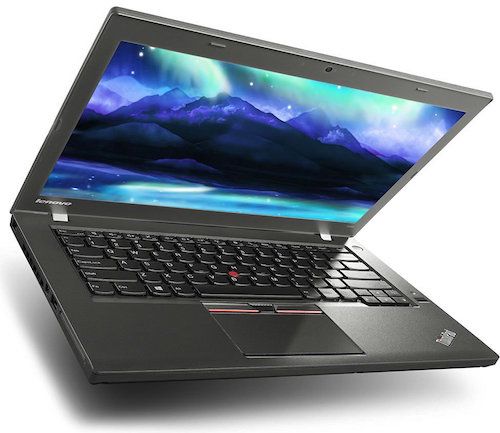 It appears Lenovo is taking their budget line damn seriously, this being the third addition in this list from their brand. That said, the Lenovo ThinkPad T460 is a more affordable alternative to the premium Lenovo ThinkPad T450(s). The ThinkPad T460 has of-course a 14 inch display and it is powered by an Intel core i5 processor paired with whopping 8GB RAM and a 500GB HDD.
These configurations when put together are adequate enough to support multi-tab operations and running basic office applications without taking any hiccups. So it is fair to say that Lenovo Thinkpad T460 would be best 14 inch laptop for corporate usage, which requires mainly accounts management, documentation and other workplace impositions. With strong hardware specs and a decent looks, it is a perfect blend of class, and robust underlying features.
On the other hand, with the Intel HD 520 graphics this laptop is not at all recommended for hardcore gamers. It can support some original classics without causing any noticeable trouble, but for more up-to-date titles, ThinkPad T460 is a big NO for gaming. Moreover, the display is somewhat lacking and is not a good choice for outdoor usage, especially during daylight. So overall verdict, a perfect office contraption and would do great sitting on your desk.
Hardware Specifications of Lenovo Thinkpad T460 14 Inch Business Laptop
Processor
Intel Core i5-6200U Dual Core 2.3GHz Processor (Turbo boost up to 2.8GHz)
RAM
8GB DDR3L SDRAM (Upgradable up to 16GB)
Storage
500GB 7200RPM Hard Drive
Graphics
Intel HD Graphics 520
Display
14 Inch HD 1366×768 Resolution Display
Operating System
Windows 7 Pro 64-bit OS (Upgradable to Windows 10)
Battery Life
Up to 10 Hours
Weight
3.8 lbs
You may like to read: The Best Gaming Laptops Under $500
9. MSI GS43VR Phantom Pro-069 14″ Gaming Laptop
MSI is killing it with their gaming beasts and the GS43VR is just another example of it. It has impressive NVIDIA's GTX 1060 6GB DDR5 graphics card accompanied by the latest, 7th gen, Intel Core i7-7700HQ quad core processor. With 1080p gaming experience, the laptop can indisputably be crowned as an ultimate powerhouse as it can support QHD panels and VR headsets by only minimally tuning down the quality settings which is a fair compromise.
With latest, demanding titles like Middle Earth: Shadow of Mordor and GTA V it performs quite exceptionally and causes no trouble at all from performance aspects. To readily accommodate your huge gaming gallery, it comes with a 1TB hard disk and with Full HD IPS 14 inch screen you can get the ultimate gaming experience without having to sulk about resolution. The battery standup is quite satisfactory if not impressive, offering a little over 4 hours without asking for a socket. The keys selection are one of the most comfortable ones (so perfect for pro-gamers) but there is one let down. The device heats up after only a couple of hours of gaming and makes it impossible to be placed on your lap without setting it on fire (not literally of course), but hey what did you expect from a 'portable' 'gaming laptop'. These two terms hardly belong together in a sentence.
Hardware Specifications of MSI GS43VR Phantom Pro-069 14″ Gaming Laptop
Processor
Intel Core i7-7700HQ Quad Core 2.8GHz Processor (Turbo boost up to 3.8GHz)
RAM
16GB DDR4 RAM
Storage
1TB 7200RPM Hard Drive + 128GB SSD
Graphics
NVidia GeForce GTX 1060 6GB DDR5 Graphics
Display
14.3 Inch Full HD Non-Reflection IPS Display
Operating System
Windows 10
Battery Life
Up to 4 Hours
Weight
3.75 lbs
RELATED: The 10 Best Gaming Laptops Under $1500 of 2017
10. Razer Blade 14 Inch Gaming Laptop
YES, the actual laptop is just as heavy as the name when it comes to performance and specifications. With a killer slim profile, the Razer Blade boasts a Kaby Lake, Intel's 7th-generation core i7 processor with 256GB SSD and a speedy 16GB RAM. But its award winning aspects are definitely the VR ready NVIDIA GeForce GTX 1060 graphics and 14″ IPS Full HD display that gives you a crystal clear illusion of reality.
A feather light chassis with powerful gaming qualities are just too good to be true. Its hardware bits are robust enough to pull through heavy tasks, side-by-side with some quality gaming without leaving any traces of lagging. But all of this does not come cheap and will cause you a damage of $1900 approx. Another turn-off is the substantial heat generation that could have been compensated at a price this steep.
Hardware Specifications of Razer Blade 14 Inch Gaming Laptop
Processor
Intel Core i7-7700HQ Quad Core 2.8GHz Processor (Turbo boost up to 3.8GHz)
RAM
16GB DDR4 RAM
Storage
256GB SSD
Graphics
NVidia GeForce GTX 1060 6GB DDR5 Graphics
Display
14 Inch IPS Full HD Display (1920×1080)
Operating System
Windows 10 64 bit OS
Battery Life
Up to 5 Hours
Weight
4.25 lbs
$1,799.99 | Buy Now From Amazon
For an even more ultimate gaming experience there is this Razer Blade variant with QHD+ Touchscreen display (check price on Amazon) that you can consider if you have a few bucks to spare. The rest of the specs are mostly the same. There's also a 17 inch display variant which comes with desktop class NVidia GTX 1080 GPU. It is featured in our guide to buy best 17 inch laptops, if you are interested, you can learn more about it and other large screen laptops there.
That's all people!
We hope that this guide offers enough room for you to explore all the best 14 inch laptops available in market from various perspectives. Be it gaming, corporate usage or a shared family computer.
With variability in processors, graphic cards, storage and budget, there is of-course a lot more to probe around in the market when you are looking for new laptop. Checkout our other laptop buying guides and make an advised purchase for your new laptop.
Feel free to leave us a comment below, if you have any questions on the laptops listed above or if you need any kind of help to buy your new laptop.
Thanks for stopping by and have a nice day ahead.