ASUS has been one of the global best sellers in laptops division and has been launching various segment of laptops to satisfy various niches. ASUS has recently announced their new gaming series of laptops under TUF (The Ultimate Force), which is derived from the company's motherboard naming. Considering the major shift of users towards the budget segment laptops, the company has launched the TUF series of gaming laptops, which are mid-rangers, unlike the high-end ROG series of gaming laptops.
TUF motherboards from ASUS are known for their reliability, and stability under extreme conditions. And, same has been brought down in building these new mid-range TUF gaming laptops by the taiwanese giant. On top of this, all these laptops are now powered by the all-new, 8th-generation Intel Core processors.
Advertisement
ASUS has been claiming that the latest TUF series of gaming laptops were designed to last longer than most of the already-available average laptops.
So, after hearing so much about these series of laptops, we decided to put the ASUS TUF FX504 Gaming Laptop to the test in our lab, to make our readers familiar with the real-time usage of this mid-range gaming laptop.
ASUS TUF FX504 Thin & Light Gaming Laptop
as of October 1, 2023 1:24 am
Features
Durability - Dual fans with anti-dust technology. Red-backlit keyboard rated for 20-million keystroke durability
Portable design gaming Laptop with 0.98" Thin profile and weight of only 5.07 lbs
8th Generation Intel Core i5-8300H Processor and GeForce GTX 1050 2GB for superior gaming performance and multitasking
8GB DDR4 2666MHz RAM | 1TB FireCuda SSHD | Windows 10 Home
15.6" Full HD IPS Level Display
Design
The ASUS FX504 comes with an all-plastic body with a red hue to the finishing. The laptop looks stylish and lushes out the gaming pattern from every angle. It comes with the right placement of keyboard, trackpad, ports, and slots, making it one of the most ergonomic laptops in the segment.
Speaking about the dimensions of the device, it measures 15.12 x 10.31 x 0.98 inches in length, breadth, and thickness. The laptop weighs just over 5 pounds, making it easy to carry around. Without speaking much about the regular aspects of the device, let's drill down to what are the special features in the design of this laptop.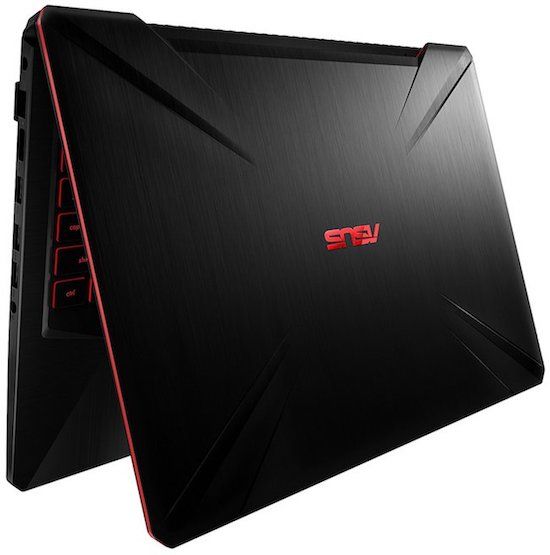 ASUS has worked hard and equipped the TUF FX504 with an advanced anti-dust cooling system. This system is meant to expel the dust particles out of the innards of the laptops through the two available dedicated tunnels, ensuring zero dust residues inside the laptop. Being a gaming laptop, the FX504 has to manage the heating issues and to deal with this, ASUS has integrated the HyperCool technology in the laptop for thermal maintenance. During our test, we couldn't tell about the dust as internals were already neat and tidy, but laptop remained cool and calm during our heavy to hardcore usage including gaming.
All in all, the laptop looks absolutely charm and considering the price point, its build quality is also top-notch. Of-course, it isn't like a laptop built completely from a single piece of metal, but materials used by ASUS to built their new TUF series of gaming laptops are tough and will ensure the longer life span, no matter in what conditions you use this laptop.
Display
The ASUS TUF FX504 laptop comes with three different display options with varied refresh rates. Our current contender, the FX504 sports a 15.6-inch Full HD display with a resolution of 1920×1080 pixels. Our review unit had a low quality 60Hz TN Panel with 45% in NTSC color gamut. As you would expect, the viewing angles are pathetic and color-reproduction is also very dull. However, it is decent enough for gaming once you set it in the right position and we also liked the matte finishing on the display.
Well, if you want a better display, then Asus does offer TUF FX504 laptop with a full HD 120Hz IPS panel (94% in NTSC color range) but that costs extra and adds up a lot to its original price.
So overall, we think that the display on the laptop could have been a bit better in terms of brightness and viewing angles to suffice the gaming enthusiasts needs.
You may like to read: Top 10 Best Laptops for Photo Editing with Most Color Accurate Display
Hardware
Speaking about the internals of the ASUS TUF FX504 gaming laptop, it is powered by the latest 8th generation Intel Core i5-8300H processor paired with 8GB of DDR4 RAM. This latest processor can be turbo boosted up to a massive 3.9GHz under full throttle, making it one of the fastest laptops in its segment.
On graphics front, our unit had a less powerful 2GB of Nvidia GeForce GTX 1050 GPU but TUF FX504 laptop is also available with GTX 1050 Ti (More on the gaming performance later). Storage on the device is handled by a 1TB of FireCuda storage, bagging the laptop yet another advantage over the other laptops with a normal HDD. The solid-state hybrid disk (SSHD) on this laptop offers speed, which is twice as fast as a normal hard disk. This helps in faster data transfer speeds, and also helps in loading the applications quickly. The hard drive also ensures less power consumption while maintaining performance and durability.
As far as upgradability of the laptop is concerned, the laptop has two RAM slots which can accept the RAM up to 32GB and there's also a PCIE Gen 3 slot inside for SSD.
You may like to read: Top 10 Best Gaming Laptops Under $800 Right Now
Keyboard
The ASUS TUF FX504 comes with a very sturdy keyboard, which the company claims to take up to 20 million key presses. Each key on the keyboard delivers a 1.8mm travel distance, to give a better and more efficient tactile feedback.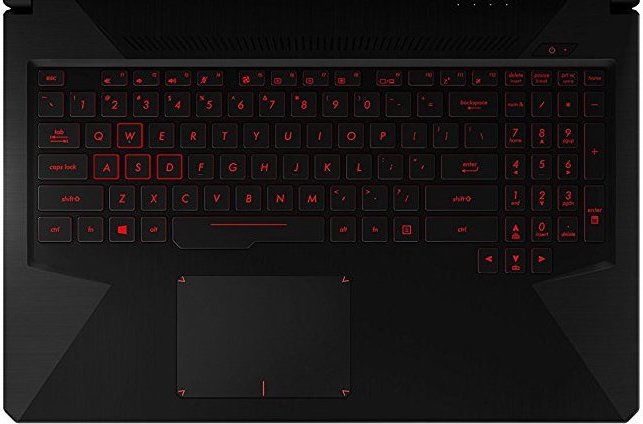 The laptop has been designed with gaming in mind while not compromising on the looks and design. Accordingly, the keyboard on the device also gives the laptop the right gaming hue to satisfy almost all the users. The keyboard is backlit enabled and is curved to the right extent to give a better usage for working in dark.
You may like to check out – The Best Laptops for Writers with Most Comfortable Keyboard
Ports & Slots
Considering the fact that this laptop is a primarily gaming-stationed one, you get a decent list of specifications, which will suffice the gaming needs. The device comes with two USB 3.1 ports, a USB 2.0 port, and an HDMI 1.4 port. The device also comes with a microSD card reader.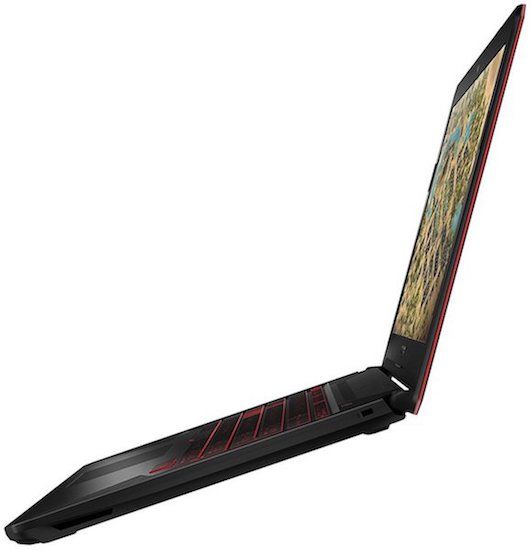 Moreover, all these ports are aligned on the left hand side of the notebook, keeping the right side fully-free for the mouse. That earns ASUS TUF FX504 gaming laptop 10 out of 10 for the ergonomics.
Software
The ASUS TUF FX504 runs on the Windows 10 operating system out of the box. Windows 10 is the most efficient and productive operating system to date and is highly optimized to house and run most of the modern games and apps.
Thanks to the windows store, users can get almost all sort of applications such as productive, utilities, entertainment, gaming, and more with ease. The device also comes with some handy features such as multi-window, small-window support to show important notifications and instructions, without interrupting the gaming experience. Considering all these aforementioned features, Windows 10 is an ideal operating system for all the hardcore gamers.
Performance
The ASUS TUF FX504 is one of the few laptops available in the market right now to come with the latest 8th generation Intel Core i5-8300H quad-core processor right now. Accordingly, the laptop did surprise us with its impeccable speeds and resource handling abilities. Thanks to its 8GB of DDR4 RAM, the laptop's multitasking is quite well, and during our usage, we never actually had to shed a sweat using it. That said, the laptop is undeniably an able device for almost all the everyday essentials such as browsing, watching videos, playing audio files, working on documents and more.
You may like to read: Top 10 Best Laptops with Intel Core i5 Processor – Newest 12th Gen Models
Speaking about the connectivity of the device, it comes with super fast Wave 2 WiFi for high speed reliable wireless connectivity. Moreover, the 2×2 MIMO configuration provides up to 30% wider coverage area than the basic 1×1 configuration for uninterrupted gaming even at the less WiFi reception areas.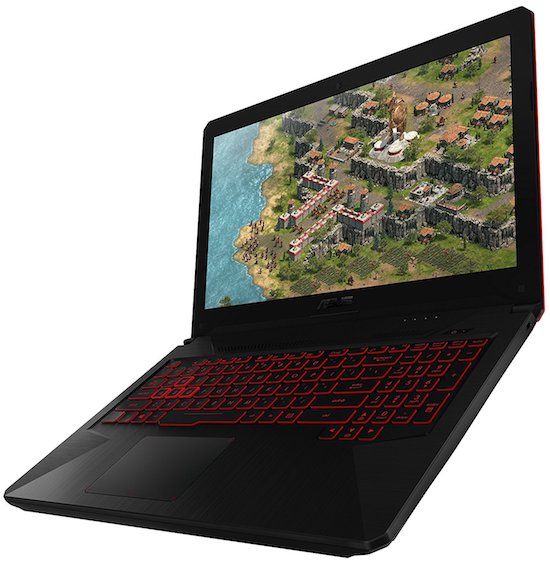 Speaking about the gaming on the device, the higher clock speed of the processor and the Nvidia GeForce GTX 1050 GPU runs the show. The laptop does exceptionally well in handling almost all of the moderate games. High-end games can also be played on the device, with some restrictions considering this is a mid-range gaming device which has less powerful GPU with just 2GB of DDR5 VRAM.
One thing that we note during our test is the laptop doesn't heat up even after heavy gaming, thanks to its dual fans with advanced hyper cooling technology. All in all, we had a good time with this laptop in terms of everyday performance as well as gaming.
Audio & Video
As I've been saying, the laptop also does pretty well in terms of serving as a multimedia powerhouse. It comes with an immersive 7.1-channel surround sound along with DTS headphone slot. When using the laptop with a headset on, we actually felt the theatre like sound, which helped a lot while playing First-person Shooter games on the laptop. In addition to the powerful speakers, it also comes with a powerful built-in equalizer, which allows adjusting the sound as per the user's requirements.
MORE: The Best Laptops for Music Production & Djing Right Now
We also played almost all video formats on the device, and we didn't have any issue worth mentioning. The built-in microphone on the ASUS TUF FX504 gaming laptop is also worth applauding. We tested it by recording the audio and to our surprise it sounded crystal clear. We also tried using its built-in microphone for commanding the Cortana (Windows assistant) in a room with a lot of noise, and in such conditions as well, it filtered out all the ambient noise and picked up clear voice quite efficaciously.
Battery Life
The laptop comes with a lithium-ion battery, which takes about 2.5 hours to fully charge from 0 to 100. During our review, we were actually surprised to see the battery backup of the device considering the fact that it's a gaming stationed laptop. Even after heavy usage and multitasking, we still managed to get about 6 hours of continuous usage on a single charge, which is pretty good for a gaming laptop of this calibre.
Conclusion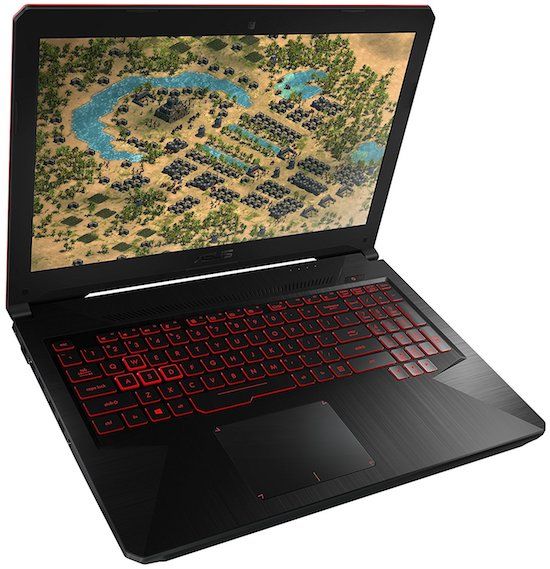 With all our experience with the different laptop models, we can definitely assert that no device is perfect. Every laptop has to undergo a couple trade-offs if not more to meet the requirements. Accordingly, the ASUS TUF FX504 is a very reliable and powerful laptop with decent specifications. However, there are couple of misses, which we could evidently notice. The first being the display, which is a very low-quality TN panel and second is its less powerful Nvidia GTX 1050 GPU which provides just 2GB of dedicated video memory.
But if we exclude these things, then ASUS is offering a very good package overall with the trust seal of TUF. You get all the latest set of hardware specifications and highly intuitive anti-dust cooling system which not only improves the performance but also enhances the life-span of the laptop.
So, if you want a "tough" gaming laptop that can run most AAA titles at medium graphics settings then the ASUS TUF FX504 is the gaming laptop you will love it.
Advertisement