As far as CES 2019 is concerned, ASUS has been at the top of their game. They have come up with the most accessible, yet innovative solutions to cater to almost every kind of audience. Not a few days ago, ASUS introduced rugged and thick notebooks for students and kids – able to withstand almost any sort drop and bump that you can imagine. Now, they are back with a more premium and exquisite version of their well-worshipped Flip C302, named the Chromebook Flip C434.
The ASUS Chromebook Flip C434 boasts a beautiful edge-to-edge screen and the signature Flip 360 hinge as its main attractions. The chassis is an all-metal aluminum body weighing just about 3.3 pounds and is only 15.7 mm thick. The rough rubber might be durable but there is just something about a silver metal finish you can't turn away from. Plus its a good camouflage for those nasty fingerprints as well. The 2-in-1 book's 360 ErgoLift hinge transforms the device into a traditional laptop, tablet, and tent modes.
Advertisement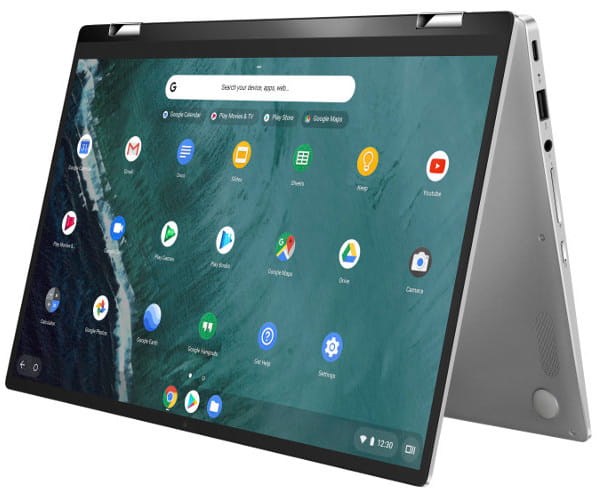 Now, the ASUS Flip C302 was a classic success among budget users no doubt, as it provided great value for money. The Flip C434 not only does maintain the same aspect but also comes with a bunch of new upgrades. For instance now there is support for Intel's 8th Gen Y-Series (choice between an i7-8500Y, i5-8200Y, or M3-8100Y) CPUs and the addition of a USB-A port. Apart from the affordability, there are still a lot of similarities left between the older and the latest version. Like the 8GB of RAM, upto 128GB of storage, and the microSD card slot.
The reason ASUS is able to offer premium looks, mid-range price, portability, and a good processor is due to the lightweight ChromeOS. This lightweight operating system has been a long companion of budget users and comes in good looking books as well. Just like the ASUS Chromebook Flip C434 which stands out with its Full HD NanoEdge 14-inch touchscreen display. And that too with maintaining the very 'in' trend of slim bezels which are just 5mm on this one. What's even more impressive is that they have still to fit in a front facing camera at the top.
ASUS also hasn't lost the chiclet keyboard that provides one of the most comfortable typing experiences and is also backlit. And thanks to the flexible hinge, the experience just gets better.
MORE: The Best Laptops for Writers – Buying Guide
ASUS has announced this all-purpose premium ultrabook to be out in a few months. For the price – ASUS points out that instead of going overboard with either fancy specs or huge savings, they have decided to level both and offer surpassing specs within a mid-range cost and is offering its notebook with a starting price of $569.
Read more related stories:
Advertisement