With the VivoBook S14, Asus has tried to create an ultra-portable machine that is also capable of performing mid to high-end tasks. There are many variations of the VivoBook S14, and we have with us the Core i7 (8th gen) variant, S410UN-NS74 which packs in solid hardware. Asus VivoBook S14 is as compact as ultrabooks come which is why it is a perfect machine for students and professionals alike.
Asus VivoBook S14 S410UN is really slim in hand which makes way for a versatile set of tasks. But how does the VivoBook S14 fare in daily use, let's find out.
Advertisement
ASUS VivoBook S Thin & Light Laptop (S410UN-NS74)
out of stock
as of May 28, 2023 1:24 am
Features
8th Generation Intel Core i7 8550U (Turbo up to 4.0GHz) Quad Core processor and dedicated NVIDIA GeForce MX150 graphics 2GB
8GB DDR4 RAM and 256GB SSD
14 inches Full HD Wide view display with up to 178 degrees wide view and Asus NanoEdge bezel for a stunning 77% screen to body ratio
Slim 12.8 inches Wide, 0.7 inches Thin and portable footprint with metal cover and backlit keyboard with fingerprint sensor
Comprehensive connections including USB 3.1 Type C (Gen1), USB 3.0, USB 2.0, HDMI, & headphone/mic combo port (*usb transfer speed may vary. Learn more at Asus website)
Design
Right of the bat, the Asus VivoBook S14 has a profile of just 0.7-inch and weighs around 3 pounds. That is as sleek as ultraportables go and the VivoBook nails in that segment. Users can work on the VivoBook S14 right out of anywhere and everywhere as they will not face any burden in carrying the laptop.
The Asus VivoBook S14 is available in Icicle Golf and Star Grey colors. The back panel too has an eye-catching brushed-metal textured design which feels great in hand.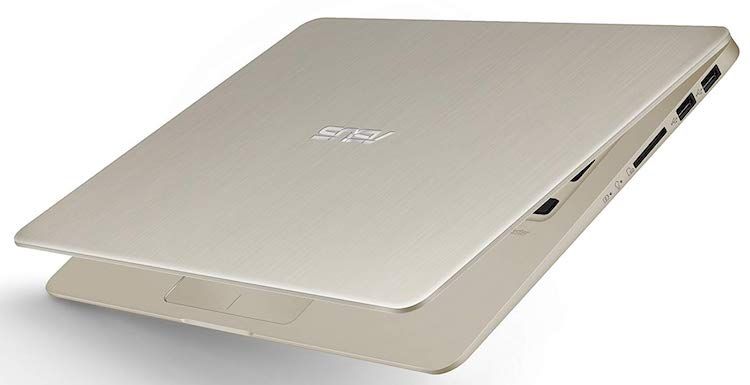 Overall, the laptop is well-built which shows right from the moment you pick it out of the box. Apart from a little bending here and there, the VivoBook is stiff enough and in my opinion should survive a normal drop.
Lift the display lid and you are presented with a chiclet keyboard. The keys themselves aren't too "clickety" but that is a matter of personal preference and something I almost often get irked about. Having said that, it is easy to type on the laptop, fluid and precise. The Asus VivoBook S14 has one of the better chiclet keyboards out there, even better than some of the company's own offerings.
The VivoBook S14 has very thin bezels around the display which is reminiscent of the Dell XPS series. But unlike the XPS series, the VivoBook S14 here has a rather pertinent top bezel which houses the front-facing camera. The bottom bezel is the thickest of the three and has an engraved Asus logo.
To reiterate, the Asus VivoBook S14 (S410UN-NS74) is a pretty nice looking handy notebook that you can easily carry along without all the heft that comes with other bulky laptops. More so because it doesn't compromise on the hardware as it achieves its fundamental goal of being an ultra-portable.
Display
So, while we are used to smartphones with thin bezels, Asus' lineup of its VivoBook and ZenBook series have also picked up the trend. Asus calls it their NanoEdge display. On the VivoBook S14, Asus has managed to fit in a 14-inch Full HD (1920×1080 pixels) LED panel in a frame size that traditionally fits a 13-inch display. This makes for an awesome 77% screen-to-body ratio.
The Full HD panel has an anti-glare coating on the top which allows a wide 178-degree viewing angle possible. It also prevents reflections and shadows to hinder your viewing experience. This concoction of a Full HD panel with anti-glare coupled with its compact build seemed nearly perfect when we were consuming content on-the-go.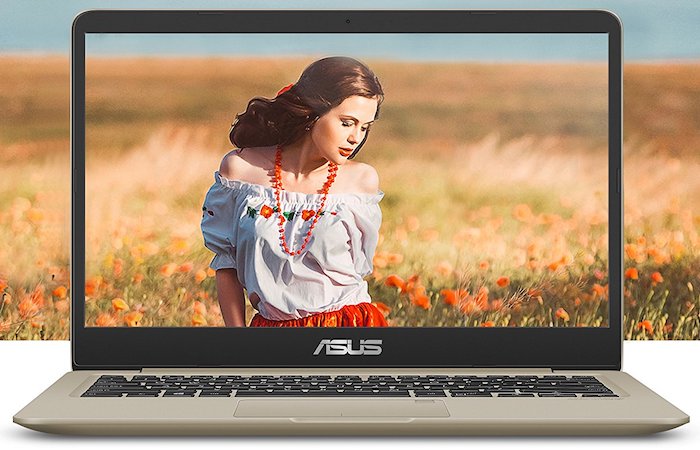 About the display itself, the VivoBook has one of the most gorgeous displays when it comes to laptops under this budget. The panel is evenly bright, produces sharp, vivid photos and videos. Although the VivoBook S14 often manages to produce natural looking colors, it cannot reproduce the entirety of the spectrum, which is why some hues will not be accurately reproduced.
Asus also loads a utility, Splendid, to control the colors reproduced. From vivid to eye comfort mode, there are a lot of presets to choose from. Additionally, Asus' Tru2Life Video technology improves and increases contrast by a whopping 150%, enhancing the video watching experience.
All in all, the VivoBook S14 has a great display, one which will not disappoint you when binge-watching your favorite show or movie.
You may like to check out: Our Most Recommended Laptops for Video Editing
Hardware
As mentioned earlier, the VivoBook we tested features an Intel Core i7-8550U chipset. The quad-core CPU is clocked at 1.8GHz (up to 4.0 GHz on Turbo) and is backed by 2GB of Nvidia GeForce MX 150 graphics. This configuration is supported by 8GB of RAM and 256GB SSD.
Now, this setup itself places it in a sweet spot, between running high demanding tasks to casual gaming. That being said, the GeForce MX 150 won't be able to provide much relief to graphics-intensive titles so keep that in mind when making the decision.
MORE: Our Top Picks for Gaming Laptops Under $800
However, this hardware churns almost everything we threw at it which is all students, professionals and general media consumers think about when purchasing a laptop.
In our usage, we faced no problems whatsoever as far as the performance of the VivoBook S14 is considered. We were easily able to multitask, watch videos, edit photos on Photoshop and prepare some graphics on Adobe Illustrator among other things. The VivoBook S14 did not slow down at all, nor did we see any stuttering or lags.
As for the software, the Asus VivoBook S14 comes loaded with Microsoft Windows 10 Home out-of-the-box.
Keyboard & Touchpad
The chiclet keyboard on the ASUS VivoBook S14 (S410UN-NS74) does its job though there is nothing memorable about it. Seasoned typists would not like the keyboard for its shallowness but it will work great for most. The keys are of the perfect shape and size and are backlit. Users can choose from three modes of brightness for the backlit keyboard. There is nothing wrong with the keyboard of the VivoBook S14 although if a good keyboard is a priority, there are better options available.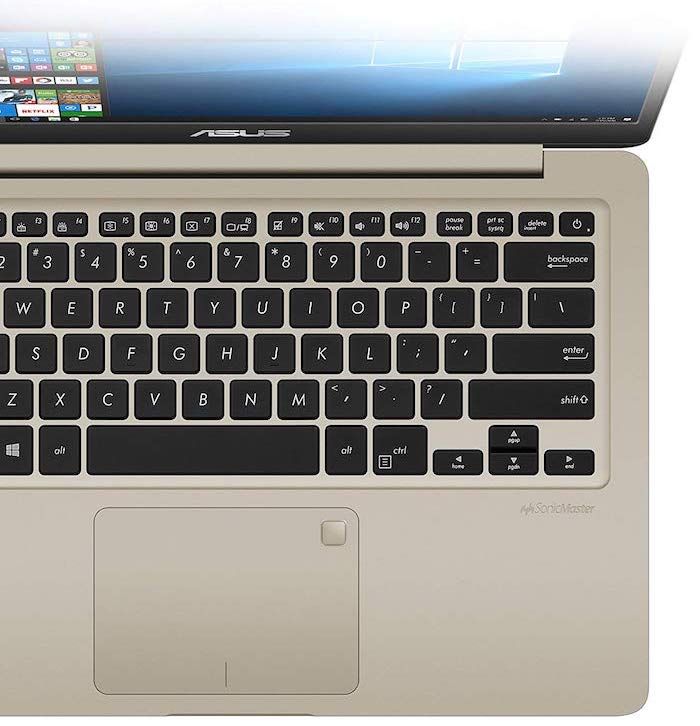 Being a 14-inch laptop, there's a rather spacious touchpad below the keyboard which was accurate and smooth in our usage. A fingerprint reader beside the trackpad allows users to quickly log in to the laptop courtesy of Windows Hello.
Ports & Slots

The VivoBook S14 features a USB 3.1 Type-C port, a USB 3.1 port, a USB 2.0 port, an HDMI port along with an SD Card slot. Users will be able to connect various peripherals ranging from external displays to projectors. Sadly there's no DVD reader/writer on the laptop, one of the drawbacks of portability.
Audio & Video
Asus VivoBook S14 features a pair of 2W downward facing speakers. The laptop also supports the company's proprietary SonicMaster technology to enhance the overall audio experience. Though being downward facing, the audio output is dampened.
You may like to check out: Guide to Buy the Best laptops for Music Production
Taking our usage into account, we would say that the VivoBook S14 will suffice the needs of a casual media consumer and then some. Heavy media consumers may need to look elsewhere.
Again, the display on the VivoBook S14 makes for a really good experience when watching videos on it.
Battery Life
We weren't all impressed with the battery life of the Asus VivoBook S14. It's average at best and lasted us close to four hours in our usage.
The VivoBook does support fast charging though so in case you start running out of juice, you can rest be assured that it won't die on you. We were able to recharge the laptop up to 70% in a matter of just 55 minutes.
Conclusion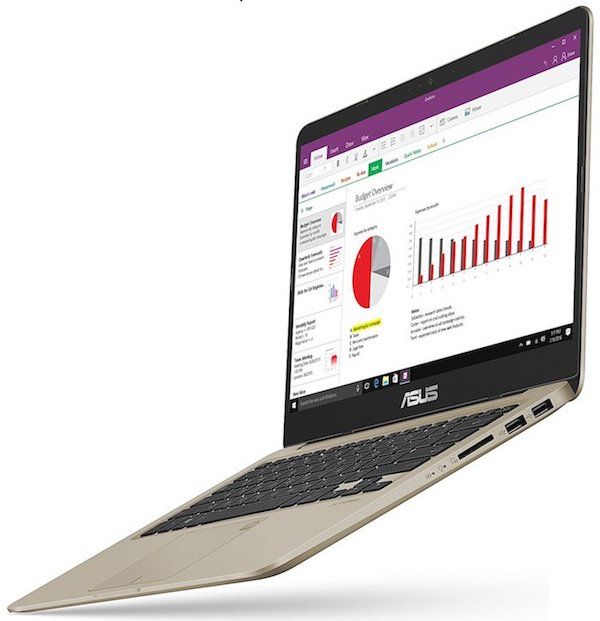 The Asus VivoBook S14 (S410UN-NS74) provides bang for the buck you spend on it. It is a beauty with brains and while it may do nothing to please a gamer, the average consumer would just love this ultraportable. It ticks all the boxes for consumers looking to purchase a laptop solely for media consumption. On the other hand, the VivoBook S14 is also a great notebook for college going students. The 8th gen Intel Core i7 processor coupled with 8GB of RAM and 2GB of graphics prowess, the VivoBook is a jack of many trades and master of some.
Advertisement