The Black Friday is just round the corner and we know that you have been waiting for it since long to to buy new laptops at discounts and save some of your hard-earned money. With people already queueing up at stores to buy laptops at discounted prices, we are making it comparatively easy for our readers to get the best deals on laptops on this year's black friday sale. Our team of laptop experts have handpicked all the best deals from Amazon, Best Buy, NewEgg, Walmart and even from various laptop manufacturer's official websites who are hosting black friday sale this year.
So, sit back and relax on your couch and enjoy these best black friday laptop deals of 2016 with a cup of coffee. Don't just stay and watch the deals, go for it because they can get out of stock anytime!
Best Black Friday Laptop Deals of 2016
1) HP ENVY 13-ab016nr Notebook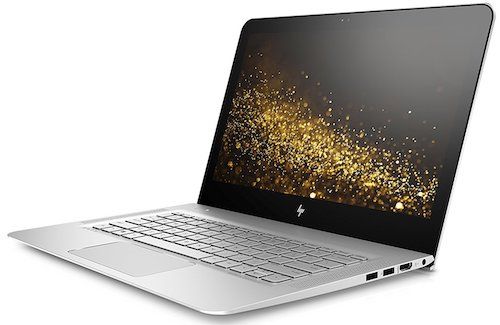 Remember the HP Envy 13? Yes, it's the same laptop, which we are repeatedly suggesting our audience in the past couple of posts. The laptop has all the right set of specifications for the asking price and is easily a low-budget replacement for even most of the high-end laptops. Thanks to the ongoing black friday sale, the deal has just got better. The laptop is now available at an unbelievable price for the same strong set of specs. For the uninitiated, the laptop sports a 13.3-inch Full HD display with a resolution of 1920×1080 pixels. Under the hood, the laptop is powered by a latest 2.5GHz Intel Core i5-7200U (7th Generation) processor paired with 8GB of RAM. This is a pretty powerful configuration at the asking price and can easily run almost all the requirements one would ever expect from a laptop in this range. As far as the storage on this laptop is concerned, it is bolstered by a 256GB of SSD storage for faster and efficient file transfers. On an overall note, this lightweight, compact, powerful and power efficient laptop is currently the best deal one would choose to take and is, therefore, topping our list.
MORE: The Best Laptops Under $700 – Buying Guide
2) Microsoft Surface Pro 4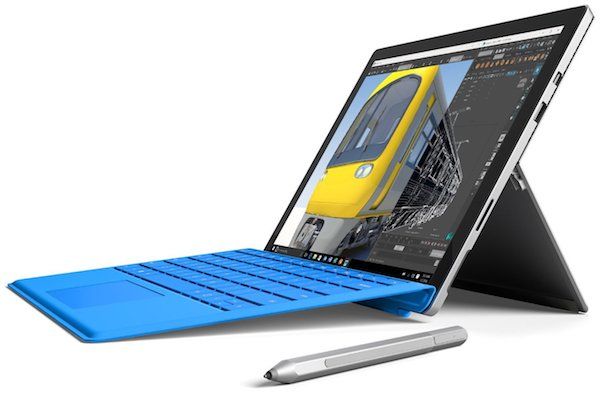 Wondering why a tablet has crept into our list of best laptops? Well, after using this beautiful yet powerful tablet, we couldn't resist our self. This tablet is capable of replacing a laptop in every aspect. It is ultra thin, it is versatile, it is a perfect blend of portability with performance. Enough of exaggerating, getting into the specifications of the laptop, it sports a 12.3-inch PixelSense touchscreen display, which comes with a UHD resolution. This tablet comes with a set of accessories, which not only increase the productivity of this device but also enhances the usage and gives a tight competition to laptops of the same calibre. Under the hood, the laptop is powered by an Intel core i5 processor paired with 4GB of RAM for multitasking. It offers 128GB of SSD storage, which can store your files. The surface Pro 4 offers great performance along with a really impressive battery life. The tablet under a single charge can deliver up to 9 hours of continuous usage, which we feel is an icing on the cake. There is currently $200 off on this tablet cum laptop at Microsoft store making it one of the best black friday laptop deals of 2016. So why are you still waiting? it's time to go get your hands on this beautiful beast.
$799 | Buy from Microsoft Store
3) Gigabyte P576Xv6-PC3D Gaming Laptop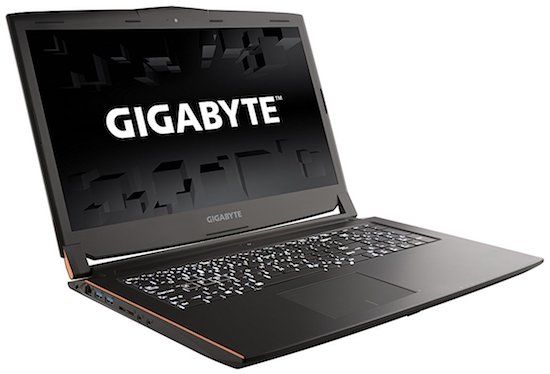 Gigabyte is a well-renowned computer parts manufacturing company and the laptops which they manufacture are also the powerful workhorse computers. This laptop from Gigabyte is packed with all the latest and powerful internals and it is now available for a discounted price on Amazon black friday sale, which makes it even more compelling option for the budget. Getting into the technicalities of the laptop, it is powered by a 6th Gen Intel Skylake i7-6700HQ processor clocked at 3.0GHz. For multitasking, the laptop comes with a massive 16GB of RAM and for storage the laptop offers 1TB of SSD which is a huge plus point of this laptop. The laptop is a graphics powerhouse and accordingly comes with an 8GB of NVIDIA GeForce GTX 1070 graphics processor. The laptop runs on Windows 10 out of the box, which is not just productive by default but can also support almost all the applications. The laptop is a lightweight and comes with a very sturdy and durable chassis. The laptop doesn't get warm even under heavy usage and is a perfect match for all the heavy users.
4) MSI GL62 6QF-893 15.6 Inch Gaming Laptop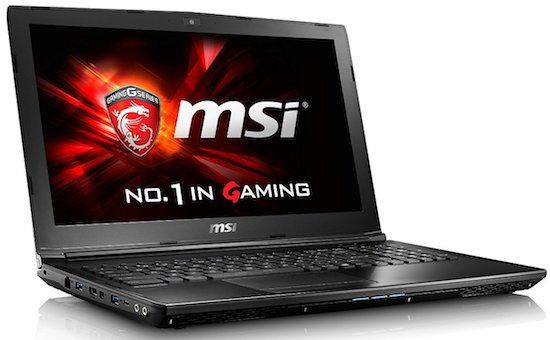 MSI GL62 is a budget-friendly powerful gaming notebook for people who are seeking for the best combination of entertainment and gameplay without burning their pockets. It is a very beautifully engineered and sturdy built laptop like all other MSI's range of laptops. It not only comes with great ergonomics and usability but also packs in a really strong set of specifications. It sports a 15.6-inch Full HD LED display with a resolution of 1920 x 1080 pixels. This dominating MSI laptop comes with an Intel Core i7 6700HQ processor clocked at 2.6GHz and is paired with a 12GB of SO-DIMM RAM for efficient multitasking. Storage department is handled by a large 1TB of hard disk making it compatible to store a long list of games and all other data. It comes with a furiously coloured backlit enabled keyboard with a dedicated number pad giving it a perfect gaming hue and ease of usage. On a conclusive note, the overall outer chassis of the laptop is furious and feels premium by every bit. By the name itself, MSI laptops are very powerful gaming devices, and evidently, the MSI GL62 comes with a 2GB of Nvidia GTX 960M graphics coprocessor to compliment graphics on the laptop. This laptop is available at $999 $799 on Amazon which makes this as the best gaming laptop deal of black friday 2016. At this price this MSI GL62 is simply unbelievable. So all the gaming lovers out there, go get yourself a true gaming laptop!
MORE: Top 10 Best Gaming Laptops Under $800
5) MSI GE72VR Apache Pro-023 Gaming Laptop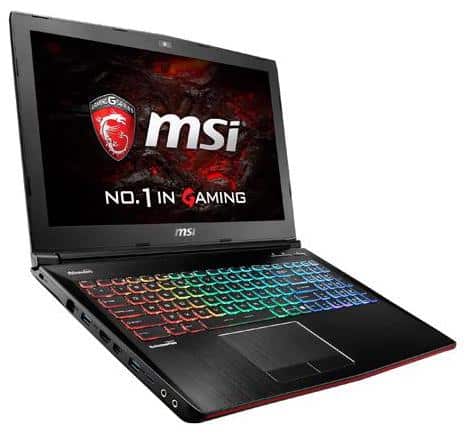 Gaming laptops are the highest selling laptops across the globe and any gaming laptop series is incomplete without an MSI's gaming beasts. That said, MSI is although firmly established in the gaming arena for over years, it still is capable of overshadowing various other laptops in different segments. Almost all the laptops from MSI offers dedicated gaming configuration and cutting-edge design elements in them. It sports a huge 17.3-inch Full-HD display with a resolution of 1920 x 1080 pixels. Under the hood, the laptop is powered by an intel core i7 processor paired with a massive 12GB of RAM. For graphics, the laptop comes with a 6GB of dedicated NVIDIA GeForce GTX 1060 graphics. Storage on the device is backed by a 256GB of solid state drive for storing data. The laptop comes with a tricolour keyboard, which gives it a powerful gaming hue under the usage. For a laptop with such a long list of powerful configuration, it provides over 5 hours of continuous usage, making it a perfect value for money and the black friday laptop sale discount on NewEgg makes this laptop available at a stealing price.
MORE: Top 10 Best High Performance Gaming Laptops Under $1500
6) Acer Aspire E5-575-33BM Laptop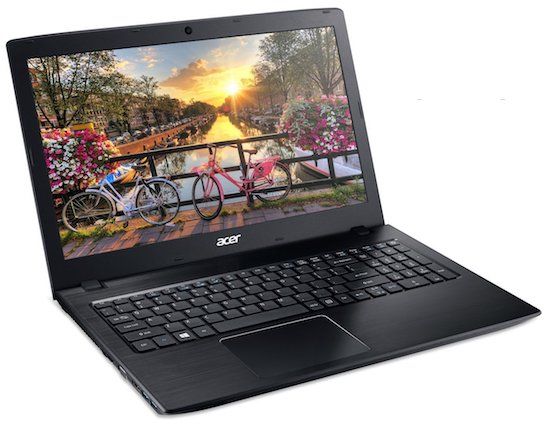 Presenting yet another Acer Aspire laptop, which is not just budget-friendly but is also a complete value for money. Acer Aspire E15 is the company's most selling laptop across the laptop and the reason is because of its powerful innards and sturdy built. Speaking about the specifications of this laptop, it packs in the latest 7th Gen Intel Core i3-7100U processor paired with a decent 4GB of DDR4 RAM. This duo is well-sufficient enough to run almost all your basic daily essentials. On the storage front, the laptop houses a good 1TB of hard disk drive, which is sufficient for almost all the users. This 15.6-inch full HD possessed laptop runs Windows 10 out of the box and is now available for an unbelievable price. The laptop although is a bit heavy, it's the ergonomics of the laptop, which makes it feel light and compact. Moreover, the laptop also does a commendable job in battery backup's department. All in all, this deal is just irresistible for the ones tight on budget as Amazon is offering extra $20 off on this laptop.
MORE: Top 10 Best Budget Laptops Under $400
7) Lenovo Flex 4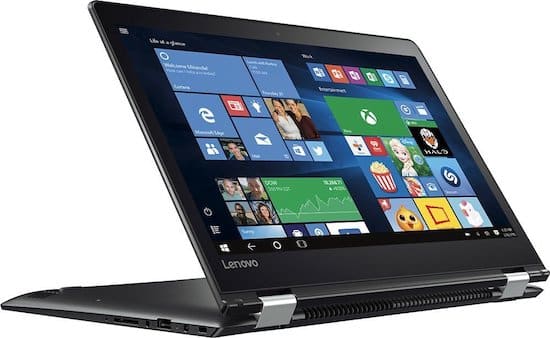 For those people who are looking for the best black friday deal on convertible laptops, Lenovo Flex 4 is available right now at the lowest price at Lenovo. The laptop sports a 14-inch FHD IPS AntiGlare Multitouch display with a resolution of 1920×1080 pixels. Speaking of the innards of this laptop, it is powered by the latest 7th Generation Intel Core i5 Processor paired with 16GB of DDR4 RAM clocked at 2133 MHz. The laptop is evidently a power-packed work machine and the best part, it's flexible! The laptop comes in a storage medium, with either an SSD or an HDD, if you prefer to choose an SSD you get a maximum storage of up to 256GB whereas, an HDD comes with up to a maximum of 1TB of storage. The laptop is not just powerful in terms of productivity but is also a media powerhouse. The laptop comes with Stereo Speakers with Harman Audio Certification. Flex 4 also offers a choice between Nvidia and Radeon graphics coprocessors for bolstering graphics.
8) Asus Q304 2-in-1 Laptop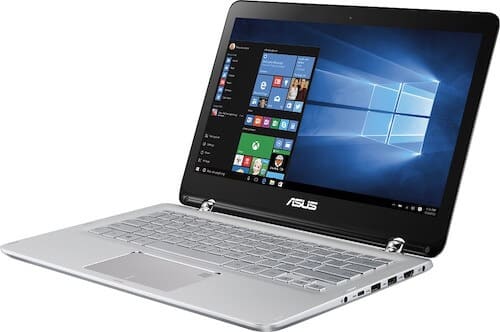 ASUS Q304 is the first convertible laptop in the segment and is not just a versatile laptop, but equally powerful as well. The laptop sports a 13.3-inch Full HD display with a resolution of 1920 x 1080 pixels. Do remember, higher resolution equals better picture quality and evidently, the Asus Q304 offers great viewing angles. Under the hood, the laptop packs in a 2.5GHz 7th Generation Intel Core i5 processor. For multitasking and app maintenance, the laptop comes with a good 6GB of RAM. On the storage front, the laptop comes with 1TB of HDD for storing large chunks of data. As far as the software on the device is concerned, it comes with Windows 10 pre-installed and also comes with a long list of Asus's dedicated software including EverNote, Flipboard, TripAdvisor, Dropbox, Zinio, and Microsoft Office 365 Personal. The laptop comes with an integrated Intel HD Graphics 520, which makes it a slight downside on the gaming department. On top of all the aforementioned features, it offers additional security features including a fingerprint sensor. The laptop is not just a convenient to use work machine but is also a fun to use the machine. That said, it is a powerful multimedia stationed laptop and comes with dual stereo speakers.
9) Dell Inspiron i5567-3655GRY 15″ Laptop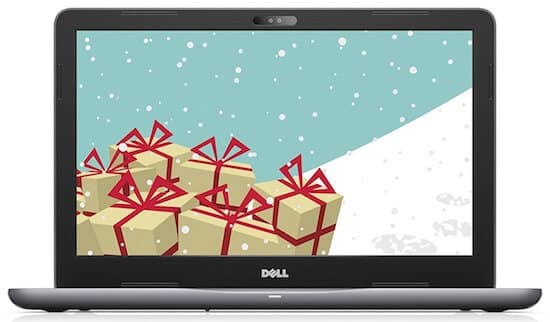 Dell Inspiron i5567 is a mid-budget compact offering from Dell. The laptop is a sturdy, well-built, efficient, and a value-for-money offering meant to satisfy the customers tight on budget. The laptop comes with a 15.6-inch Full HD Truelife LED-backlit on-cell touch display with bright and sharp viewing angles. Speaking about the innards of the laptop it is bolstered with the latest Kabylake series of Intel core i7 processor clocked at 3.1GHz. It comes with an 8GB of DDR4 RAM and 1TB of HDD for application handling and storing data respectively. The laptop also offers very light chassis and perfect ergonomics. The best part of this laptop is, it offers a very reliable battery life. Normally this laptop is priced around $800 but currently Amazon is offering it at the discounted price and guess what? This laptop is selling like a hot cup cakes right now leaving behind all the other best laptop deals of black friday sale 2016.
For all those who needs a versatile and styling quotient along with all the aforementioned technicalities, you must consider the Dell i5568-4492GRY. The laptop is a 2-in-1 convertible variant of the Dell Inspiron i5567. The laptop is equally powerful in all the aspects and comes with an added benefits of convertibility. This laptop is also listed in the black friday laptops deals sections on Amazon so you will get some discount on this model as well.
Check Price and Read Reviews on Amazon
10) Dell XPS 13 Signature Edition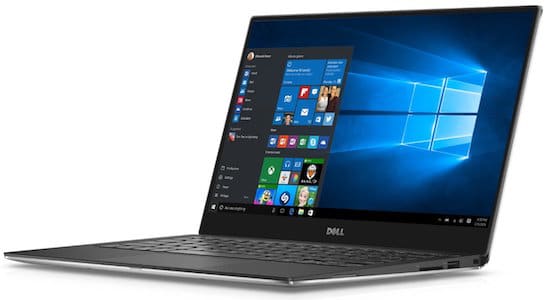 Dell XPS 13 is the choice of many tech experts and publications for its superb performance and slimmest form-factor for a 13-inches laptop. The laptop is way superior to all its competitors and comes with a glorious comfort, performance, design, ergonomics, and battery life. The laptop was also the highest selling laptop across the globe for the first, second, and third quarter of 2016. All this said it is now evident how efficient and powerful the laptop is. Speaking about the specifications of the laptop, it comes with a 13-inch full HD LCD InfinityEdge touchscreen display with a resolution of 1920 x 1080 pixels. The laptop takes both type and touch inputs and comes with a 10-point multi-touch. Under the hood, the laptop is powered by an Intel Core i5-6200U processor clocked at 2.30 GHz with Intel Turbo Boost Technology up to 2.80 GHz. An 8GB of RAM and a 128GB of SSD bolsters the multitasking and storage department of the laptop. The laptop comes with a long-listing of ports for multiple uses and packs in Waves MaxxAudio on the entertainment front. The laptop comes in an all-metal chassis which together weighs just under 1.3Kgs, which is simply phenomenal. The best part, this killer looking futuristic laptop is now available at a discount on Microsoft store. So, if you are in hunt of best windows laptop this black friday sale season then Dell XPS 13 is undoubtedly the best laptop deal overall of this year's black friday sale.
$999 | Buy from Microsoft Store
MORE: Top 10 Best Laptops Under $1000
We are pretty sure that everyone reading this post have already started deciding on what their next laptop will be. But let us warn you beforehand, If you need a laptop, then this is the right time you could ever possibly buy a laptop. All these prices of these laptops are strictly restricted to the black friday sale period and will hike up back to their normal prices in few days. Realising today is far more soothing and relieving than regretting later, so let's get you a laptop you desire!
We hope that this holiday laptop deals guide help you to pick the best laptop for yourself from all the best black friday laptop deals and discounts.
Keep checking this page for updated and more laptop deals of black friday sale 2016.