The Best Microsoft Surface Deals – Surface Pro 6 + Type Cover for $999
If you are always on your toes to find some good Windows laptops which can be shelled out by your menial wallet, now is your time. On top of that, you'll now find the best and the most premium ones in the game on Cyber Monday sale. Sure is a treat that no one can turn away from.
It won't come as a shock if we say that Microsoft Surface laptops are the showstoppers in all Cyber Monday sales for Windows machines. Almost every kind of user – power, professional, and basic have at some point found the flashy Microsoft Surface laptops and notebooks line compelling and enviable.
So here we are, bringing to you the most generous, pocket friendly holiday season Microsoft Surface deals which we guarantee will put your money to good use.
Best Microsoft Surface Deals – Cyber Monday Edition
Surface Laptop 2 Deals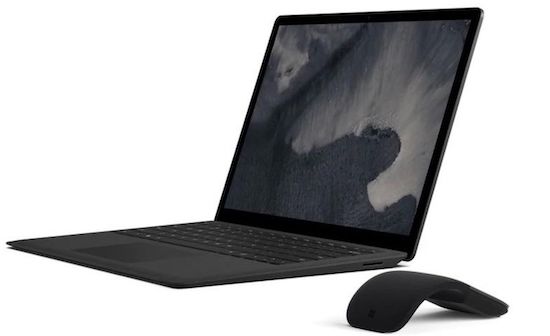 A perfect starter pack for all newbie Surface users is the Surface Laptop 2. Powered by a solid engine and overall decent performance, this is the go-to notebook for users who are always on their feet. Students, business users and even working parents who have to carry their work with them – all are suitable consumers of this laptop. It might not be a massive powerhouse but it has a crisp, sharp display with a solid battery life that will definitely help you power through your day. And, look stylish doing so.
So, if you find the description befitting, Amazon has entry-level Surface Laptop 2 (Platinum color) up for $999, that is $300 down from its list price $1299. Inside, you'll find a quad-core Intel i5 processor with 8GB of memory and 256GB of storage. At Microsoft, you can have the same model for $1,099 ($200 off), but there you get the multiple color options. I can't help but call this an amenity because these kind of sales are usually there for clearing out old stock. Getting options like color variety and saving money is like having found a needle in a haystack.
If you're a power user, then there is a discount of $300 on all the the Surface Laptop 2 models with Intel Core i7 processor at Microsoft. You can play around with colors and configure it with the RAM and storage as per your requirements.
Surface Laptop (1st Gen) Deals
Okay, so here's one for our more advanced users. This 1st gen Surface Laptop does not disappoint with the impressive performance power of the 7th generation Intel Core i7 processor. For $1,629.30 on Amazon (down from $2199), this Surface laptop comes with a 16 GB RAM and 512GB of SSD which is a perfect combo for pro users. Despite the lack of enough number of USB ports, the Surface Laptop checks most of the boxes of a premium device. Pros like portability, a well-built chassis, and a large display kind of makes up for its minor shortcomings.
But even after this copious discount, the price still might not be able to fit in the budget of most users. So, here is one for just $705.00, saving you $294. This one comes with a 7th generation Intel Core i5 processor, 128 GB of storage, 4 GB RAM, and up to 14.5 hours of video playback.
Say what you want, but the combination of a sharp display with a profuse battery life of Surface line, indulges almost every binge watcher. Be it an advanced professional or a broke student.
The only entry left is this section is one with a maxed out storage. Luckily there is a 1TB SSD model up for sale too. Glories of Cyber Monday! Find here the Core i7, 16 GB RAM version of the Surface Laptop for $1,927.98, saving yourself a whole $770.
Surface Pro 6 Deals
What you'll notice with most of the Surface Pro 6 discounts is that they are paired with a type cover. This bundled discount means that Microsoft and other resellers are aiming to make sales on this device more tempting. Another reason is that it's a relatively new model that was launched just a couple of months ago. Chopping down 500-600 bucks on Cyber Monday doesn't really pan out as realistic.
So, Microsoft is giving away the Surface Pro 6 with Type Cover for just $999 and allowing you to save $330. It comes with an 8th Gen i5 processor, 8GB RAM and 256GB of SSD and this discount is limited to Black color option only.
On the other hand, here is a more powerful model for $1,698 containing an Intel i7 processor, 512GB SSD and 16GB of RAM. You can bundle it with a matching type cover and save $330 on it. You can also add a 1 year subscription of Office 365 Personal edition for just $50 and Home edition for $80.
And ofcourse, we are not going to overlook our budget users. There is a Surface Pro 6 model with Intel Core i5 processor, 8GB RAM and 128GB SSD for $837 on Amazon ($61 off) down from $899. If you need more storage, its 256GB variant is $200 off and you can get it for $999 from Amazon.
Surface Pro (5th Gen) Deals
If the Surface Pro 6 is your eye candy but the price tag doesn't seem to agree with you, it's probably time for you to step into 2017. The 5th gen Surface Pro is on sale, cheaper than any other entry in this list so far. For just $599 from Microsoft ($310 off), you are getting an Intel 7th Gen Core m3 processor, Intel HD Graphics 615, 4GB of RAM and 128GB of SSD. It is available in platinum color and of course, there is the type cover in the mix.
An entry for power users: for $1,675 on Amazon, down from $2,199, you are getting a 7th generation Intel Core i7 Processor, 16GB RAM and 512GB SSD on Amazon. Sadly, it isn't complimented with a nice type cover, but to be fair it does relieve you over 500 bucks of the original cost. If you really want to make the most of Cyber Monday deals and wouldn't mind going a bit over the top with the budget, here is a 1TB version for $1,949.99 that is discounted from $2,699. Saving $750 isn't a deal that comes by everyday with Surface devices.
A slightly cheaper version with smaller memory is this one with an Intel Core i7, 8GB RAM and 256 GB storage for $1,072, again saving you $527.
Surface Book 2 Deals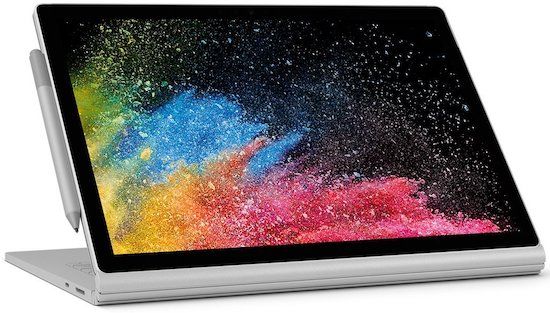 Amazon is offering a long list of discounts on Surface Book 2 variants. Almost every config and package you can think of has a tremendous cut down on the list price as a Cyber Monday treat. You can shuffle with the configurations and customize a package that fits exactly the job description of your ideal PC. Nonetheless, here are some of the noteworthy mentions.
A 13.5 inch variant of the Surface Book 2 with Intel Core i5 chip, an 8GB RAM, and 256GB storage is discounted by $250 and priced for just $1,245 on Amazon. Now let's throw in an i7 variant. With 8GB of RAM, and 256GB SSD, this Surface Book 2 is priced for $1,543 saving you whopping $450.
For power users, here is a 15 inch variant with Intel Core i7, 16GB of RAM and 256GB SSD for $2,249. This configuration saves you $250. However, if you want more storage then you can get the same model with spacious 1TB SSD for $2,949, and with bigger spending comes a bigger discount — this one saves you a whole $350. Now, this price might be a little overwhelming for some but no fret. There are tons of options you can explore here and can find models that cost half as much.
Surface Go Deals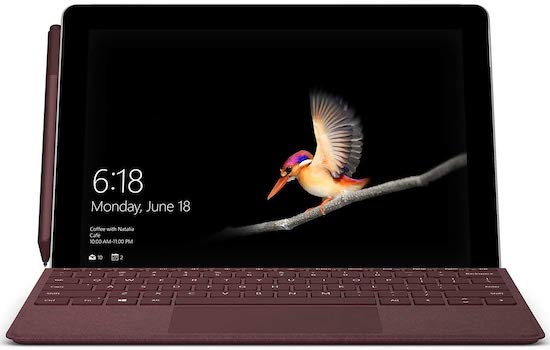 Now this section is solely dedicated to the basic users. Surface Go is the most affordable sibling in Microsoft's Surface line and is a perfect match for students to take notes in classrooms. Not only it is affordable but it's extremely portable and in my opinion is the most practical one on the entire list due to its versatile lightweight chassis.
You will find this Microsoft Surface Go with an Intel Pentium Gold processor. There is an 8 GB RAM, and 128 GB storage on this one and the package comes with a Black Type Cover and a Microsoft Office 365 Home's 1 Year Subscription. This bundle will cost you only $648, saving you $70.
But if you are willing to sacrifice the add-ons and go a little cheaper with the price, you can get the same machine for $499 (down from $549) on Amazon and Microsoft. For 64GB SSD, the device is even more affordable and costs just $349 from Microsoft, down from $399.
Want to check out more of Cyber Monday deals? Here is something for you to explore –