If you are on your toes to find a good deal on Windows laptop, which can be shelled out by your menial wallet, now is your time. There are huge discounts on all the Surface devices right now, including the newest Surface Pro 7, Surface Laptop 3, and Surface Book 3.
Microsoft's Surface devices are known for providing the best Windows experience, expanding from the 2-in-1s to the laptops, desktops, and more. If you are in the market for a well-made, reliable device that stands out with its innovative design, look no further than Microsoft's Surface lineup. On a budget, the Surface Go series provides an affordable tablet design that is excellent for students. The Surface Pro series scales up the Go's design while delivering performance comparable to premium ultrabooks. If you're looking for a traditional design, the Surface Laptop has got you covered, and for power users, the Surface Book should do the job fine.
What's even better is that we've got a whole list of deals from different retailers waiting for you, so that you can save big on these devices.
We have scoured the internet to bring you all the best Microsoft Surface deals to ensure that you get Surface devices at the best possible prices. For those who are looking for the latest and greatest from Microsoft, there are some irresistible discounts and bundle deals on the new Surface Laptop 3 and Surface Pro 7, and Surface Pro X tablets. There are also some excellent deals on the recently updated Surface Book 3 and student's favorite Surface Go 2 tablets. In a nutshell, we have covered all the Surface devices in this article, so go through all the deals mentioned below and avail them ASAP, as they last for a limited time only.
Best Microsoft Surface Deals – September 2020
Surface Laptop 3 Deals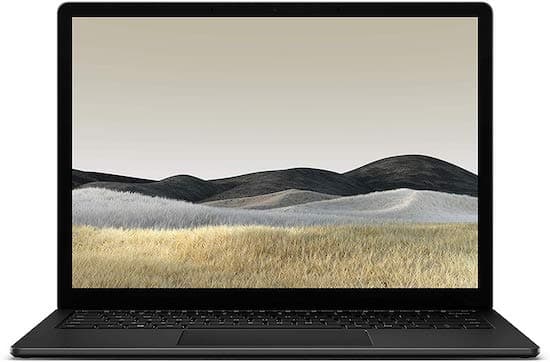 With the launch of the Surface Laptop 3, Microsoft redefined their iconic clamshell notebook with a new seamless metal chassis and an option for a larger 15" form factor which comes with the more powerful AMD processors.
It also offers one of the best keyboard and trackpad you can find on any Windows machine, plus a crisp 3:2 PixelSense touch display with a resolution close to 4K, and significant battery life that keeps up with other ultrabooks, making this a near-perfect laptop for students, business people, and more.
If you are looking to save big on the 13-inch model, we've got you a deal from Microsoft that shaves off $200 on the Cobalt Blue Alcantara model that comes equipped with the Core i7-1065G7, 16GB of memory, and a 512GB SSD. If you want other color options, the same deal is available at Best Buy as well. However, you'll have to enroll in the free My BestBuy program to get that deal. If you're looking for a lower-powered option, Microsoft is offering a whopping $300 discount on the Surface Laptop 3 with Core i5-1035G7, 8GB of memory and a 256GB SSD right now. That brings its price down to $999 from $1299! However, this offer is only available on the Matte Black color option.
Best Buy is currently running an offer for students where you can save $200 on select Surface Laptop 15″ models. The models we feel best are this Matte Black Ryzen 5, 8GB, 256GB model for those looking for a device for regular use, while for more resource-heavy uses, we recommend the Platinum Ryzen 7 model, with 16GB of RAM and 512GB of SSD storage.
Surface Pro 7 Deals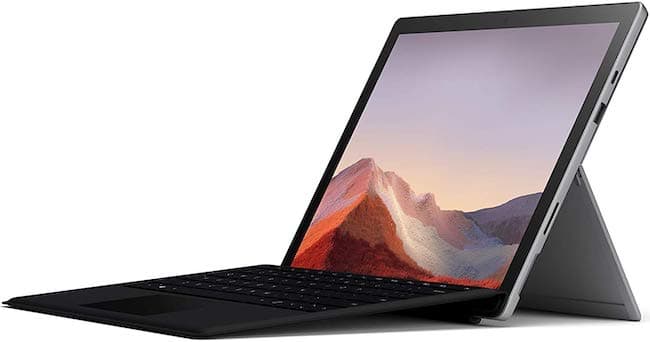 The latest iteration of the Surface Pro lineup, the Surface Pro 7, comes equipped with the Intel's 10th Generation processors, gaining significantly in graphical performance while being more efficient than the previous generation. The Surface Pro has been one of the best 2-in-1's available in the market for a long time, with its excellent stylus paired with the best-in-class keyboard, which detaches to give a tablet with a gorgeous 12.3-inch 3:2 PixelSense touch display.
Whether you need a device that can let you take notes in class and be capable of running complex code or serve as a digital easel for drawing, the Surface Pro 7 is the best that you can get right now. Many retailers have started offering discounts on this 2-in-1, and if you want to save big, now's a great time to do so.
If you love all things matte black, Amazon offers the Surface Pro 7 and keyboard for a cool $331 off, netting you the Core i5-1035G4, 8GB memory, and 256GB storage variant for just $999 from Amazon. If the less storage is fine, you can get the base variant with i5-1035G4, 8GB RAM, and 128GB SSD for $799 from Best Buy, saving you $230.
Microsoft is also offering a discount of $384 when you bundle the Surface Pro 7 with a type cover and pen. You can get this bundle for $1470, which will get you the Surface Pro 7 with a Core i7-1065G7, 16GB of RAM, and 256GB storage.
Surace Pro X Deals

The Surface Pro X ushers in a new era of computers based on the ARM processor design. The 2-in-1 retains the Surface Pro functionality but comes in a slim chassis, only 7.3mm thick, and weighs only 1.7 pounds. The battery life of the device is also impressive, with 13 hours on normal usage. Also included is LTE for use when you're on the go and away from WiFi networks.
Surface Pro X is best for those who are always on-the-go and looking for a device to do regular tasks. If you feel its the right fit for you, Amazon is offering a $289 discount on the model with the Snapdragon SQ1, 8GB of memory, and 256GB of SSD storage. Also included is a signature type cover and a pen.
Surface Book 3 Deals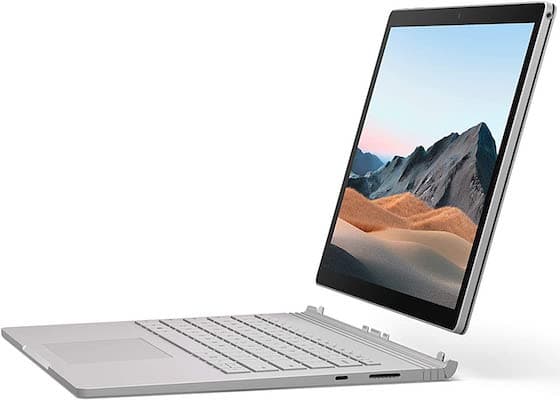 Microsoft's Surface Book 3 is a laptop with a killer feature that no other laptop manufacturer in the market has been able to replicate, the removable screen that doubles up as a tablet. The laptop also comes packed with a significant amount of graphics horsepower with Nvidia's GeForce 1650 and 1660 Ti Max-Q included in the 13 and 15-inch models, respectively. This will allow you to use the laptop for graphical tasks or gaming, and with the press of a button, convert it into a tablet for taking notes or drawing on the gorgeous 3:2 PixelSense display.
Although the computer comes with a massive price premium compared to other offerings, retailers like Best Buy have already started offering huge discounts. Currently, you get $300 off on both models with Nvidia graphics. For the 13″ model, we recommend going with the model with the Core i7-1065G7, Nvidia 1650 Max-Q, 16GB of RAM, and 256GB of SSD storage, which is available for $1999 $1699 at Best Buy ($300 OFF). For the 15″ version, you can get the Surface Book 3 with Core i7-1065G7, Nvidia 1660 Ti Max-Q, 16GB of memory, and 256GB SSD for $2299 $1999 at Best Buy, also saving you $300.
Surface Go 2 Deals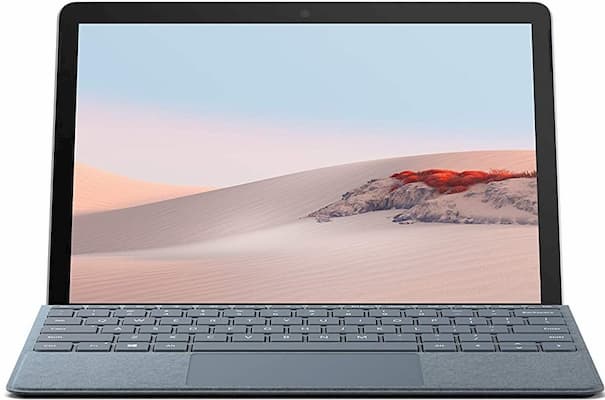 The second generation of Microsoft's budget-oriented Surface has improved over the previous model, mainly in performance, although the base model might still struggle to keep up with regular tasks. The Surface Go 2 makes up for an excellent secondary device, considering its tablet form factor, but you can also use it with its snap-on keyboard as a full-fledged laptop.
Starting with the base model, Best Buy is offering $80 OFF. The model comes with the 8th generation Intel Core m3-8100Y, 8GB of RAM, and 128 GB of storage. The same discount is also available at Microsoft store, in case you find it out of stock at Best Buy. B&H, on the other hand, is offering the bundle deal on the LTE model of the above configuration, which gets you the Surface Go 2 with Surface Pen and a Microsoft 365 1 year subscription for $832.93. Not a significant discount, but a great deal on the LTE model, which will allow you to avail of internet services on the go.
The next model provided at an $80 off deal on Walmart includes an Intel Pentium Gold 4425Y, 8GB of RAM, 128GB SSD, and comes bundled with a year of Office 365 Personal.
Read more related stories: