The Best Microsoft Surface Deals in November 2020 (Cyber Monday Deals) – Surface Pro 7 + Type Cover for $795!
Cyber Monday sales are finally live, and we are sure that you are frantic to find the best deal on your favorite laptop. If you've been eyeing a Microsoft Surface device for a while now, then there are huge discounts on all the Surface devices right now, including the recently launched budget-oriented Surface Laptop Go.
Microsoft's Surface devices are known for providing the best Windows experience, expanding from the 2-in-1s to the laptops, desktops, and more. If you are in the market for a well-made, reliable device that stands out with its innovative design, look no further than Microsoft's Surface lineup.
On a budget, the Surface Go series provides an affordable tablet design that is excellent for students. The Surface Pro series scales up the Go's design while delivering performance comparable to premium ultrabooks. If you're looking for a traditional design, the Surface Laptop has got you covered. The Surface Book should do the job well for power users, while the newly released Surface Laptop Go is an excellent laptop choice for students on a budget looking for a clamshell Surface.
If you feel that a Surface device is a right choice for you, then we urge you to check out the deals we have for you from today's Cyber Monday sale, where several retailers like Amazon have steeply discounted several Surface models.
If you're feeling it tough to find a deal on a particular Surface model, you shouldn't worry since we have scoured the internet to bring you all the best Microsoft Surface deals on Cyber Monday to ensure that you get them at the best possible prices. Some irresistible discounts and bundle deals are available right now on the Surface Laptop 3 and Surface Pro 7, and Surface Pro X tablets for those looking for the latest and greatest from Microsoft. There are also some excellent deals on the Surface Book 3 and students' favorite Surface Laptop Go and Surface Go 2 tablet.
To sum it up in a nutshell, we have covered every possible Cyber Monday on Surface devices in this article, so go through all of the deals mentioned below and avail of them ASAP, as they last for a limited time only.
Best Microsoft Surface Deals – November 2020
The new Surface Laptop 3 is a marvel of engineering with a beautifully machined aluminum body with the option for an Alcantara palm rest, crisp 3:2 touch-screen, best for tasks like reading and browsing, powerful quad-core CPU, and comfortable keyboard and trackpad. It makes up for an almost perfect ultrabook, save for a few omissions in the peripherals like Thunderbolt support and an SD card reader. The competitive price makes it great for students, and if you're looking to pick one up, we have a few deals that could help you on your way.
Amazon is currently offering the Intel 10th generation Core i7-1065G7 model with 16GB of RAM and a 256GB NVMe SSD in the Sandstone and Platinum Alcantara finish for an exciting $319 discount, bringing its price down to $1,199 from $1599. GET THIS DEAL
If you are looking for a lower-spec model, then you can bag the Surface Laptop 3 13″ with quad-core i5, 8GB RAM, and 256GB SSD for just $979 in the same Sandstone finish with the discount of a massive $309 at Amazon. GET THIS DEAL
If you would prefer the Matt Black variant of the same model, it retails for a $339 discount from Amazon. GET THIS DEAL
Most of these discounts are also available at the Microsoft store, so if any deal is not available from Amazon, you can check the Microsoft Store for the same. GET THIS DEAL
For those who want a 15″ variant, the Matte Black and Platinum Surface Laptop 3 15″ with an AMD Ryzen 5 3580U, 8GB of Memory, and a 256GB SSD is available for a $309 discount. GET THIS DEAL
---
The latest iteration of the Surface Pro lineup, the Surface Pro 7, comes equipped with Intel's 10th Generation processors, gaining significant improvements in graphical performance while being more efficient than the previous generation. The Surface Pro has been one of the best 2-in-1's available in the market for a long time, with its excellent stylus paired with the best-in-class keyboard, which detaches to give a tablet with a gorgeous 12.3-inch 3:2 PixelSense touch display.
Whether you need a device that can let you take notes in class and be capable of running complex code or serve as a digital easel for drawing, the Surface Pro 7 is one of the best detachable you can get right now. If you were in the market for a 2-in-1, the discounts offered currently should be a good enough reason to buy the Surface Pro 7 as many retailers offer bundles that include the type cover and Surface Pen, letting you achieve the full experience.
The $795 model in Matte Black from Amazon features a Core i5-1035G4, 8GB memory, and 128GB storage SSD bundled with a Matte Black type cover and is the device we recommend to most people. GET THIS DEAL
Looking for more storage, the Platinum 256 GB SSD variant of the previous model is also discounted by $279.98 right now. GET THIS DEAL
The Matte Black color model with a 256GB SSD and a Core i5, is discounted by $430.98, bringing the price down to just $899 on Amazon. GET THIS DEAL
For budget-conscious buyers, the type cover bundle on the base variant with a Core i3-1005G1 processor, 8GB RAM, and 128GB SSD is available for just $670 from Amazon, saving you a total of $280! It is a great option for casual everyday usage. GET THIS DEAL
Moreover, if you don't want the type cover, then Surface Pro 7 with Intel Core i3 processor, 4GB RAM, and 128GB SSD is available for just $595 at Amazon. Other higher-spec models are also on discount, so make sure to check them as well. GET THIS DEAL
If you want a Surface Pen, you can save up to $550 across a range of Surface Pro 7 bundles with the Type Cover and Pen. Save up to $550 when you get the model with a Core i7-1065G7, 16GB of RAM, and 256GB storage and a Type cover of your choice. Microsoft also offers a free sleeve with every purchase. GET THIS DEAL
---
The departure from the traditional 2-in-1 Surface Pro lineup by offering a refreshingly new design with an ultra-slim chassis, minimal bezels, an all-new Snapdragon SQ2 processor, and LTE support, making it the ideal solution for those who need a device like the iPad Pro, but with the functionality of Windows.
This deal on the 4G LTE model is ideal for those who frequently travel, making it easier to connect to the internet without the need of draining your smartphone battery through the use of a hotspot.
If you feel it's the right fit for you, then there's a Surface Pen + Type Cover bundle deal on the newest 2020 Surface Pro X model with the Snapdragon SQ2 processor, 8GB of memory, and 256GB of SSD storage. You get a discount of $150, which brings its effective price to $1,149 from $1299. GET THIS DEAL
---
Featuring features unique to itself, the Surface Book 3 is an excellent option for buyers looking for a powerful device that can double up as a portable tablet, whether for media consumption or graphic design. The 3rd Generation model comes with upgrades to the internals and now includes 10th Gen Intel Processors and Nvidia's 1650 and 1660 Ti Max-Q GPUs for the 13″ models with i7 and 15″ models, respectively.
Surface Book 3 is definitely more expensive than other laptops with similar hardware, but the premium for the special feature can be justified. If you really hoped to get one right now, these deals could help you lighten the load on your wallet.
Amazon is currently offering a $300 discount on the 13″ model with the Core i5-1035G7, Intel Iris Plus Graphics, 8GB of RAM, and 256GB of SSD storage for $1599 $1,477. GET THIS DEAL
The 13″ model with the Intel Core i7-1065G7, Nvidia 1650 Max-Q Graphics, 16GB of RAM, and 256GB of SSD storage comes with a $300 discount, making its effective price $1,699 at Amazon. GET THIS DEAL
If you need more memory, the 10th Gen Intel Core i7, Nvidia 1650 Max-Q Graphics, 32GB of memory, and a 512GB SSD model retails for $2,199.99 on Amazon with a net discount of $300. GET THIS DEAL
Those in need of the 15″ Surface Laptop 3 can avail of a $300 discount on the model with a 10th Gen Intel Core i7, Nvidia GeForce GTX 1660Ti GPU, 16GB Memory, and a 256GB SSD. GET THIS DEAL
The model with 32GB of RAM and a 512GB SSD is also available for $300 off, though stocks are quite low, so make a decision quickly. GET THIS DEAL
---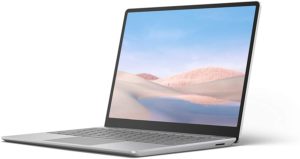 The Surface Laptop Go is a perfect laptop for buyers on a budget. It cuts down on premium features of the Surface Laptop 3 like the high-resolution screen and all-metal build. The laptop's price at launch was on the more expensive side but with discounts available this Cyber Monday, the laptop is well worth its price.
The $150 discount over at Amazon on the model with the 10th Generation Intel Core i5-1035G7 quad-core processor, 8GB of Memory, and a 256GB SSD, is perfect for students looking for a reliable laptop for college. GET THIS DEAL
---
The Surface Go 2 is an excellent device for those on a budget, providing a crisp screen that supports touch, an excellent build complete with a keyboard cover and pen support, and support for 4G for on-the-go connectivity. Best for students or those looking for a secondary device, Go 2, with its low price, is seldom on sale, but we managed to come across these deals, making them worth considering.
A limited stock of the model with the 8th generation Intel Core m3-8100Y, 8GB of RAM, and 128 GB of storage is offered for an $80 discount from Amazon. GET THIS DEAL
If you're looking for a bit more affordable model, Amazon offers a $25 discount on the Intel Pentium Gold 4425Y, 8GB of RAM, 128GB SSD model. GET THIS DEAL
---
With Cyber Monday live now, the deals on Surface models are absolutely amazing, and with even recently launched Surface devices on discount right now, it is wise to consider spending that money you've been saving for that Surface device. With the stocks so low, it's best to pull the trigger now, especially if you urgently need a laptop.
We are constantly updating all the deal pages on our site with new deals on laptops, so keep checking our deals section to find all the best Cyber Monday Microsoft Surface Pro deals.
Read more related stories: