We have forever been hearing about laptops that are slimmer, smaller, and flexible, often forgetting there is an entire line of users with quite different needs. Dell has just come around and updated their Latitude range to include sturdy laptop designs fitting those peculiar needs. These beasts are solely for industrial and military uses.
The laptops are able to withstand harsh atmospheres and extreme temperatures without bending or breaking. Basically, every abuse that is possible in the field that a normal computer would not be able to survive. The line is aimed at the unsung heroes like military soldiers and firefighters, also for professionals working in factories, construction sites, offshore oil-rigs, doctors and scientists in disaster-relief situations. Basically for every use that has a high probability of causing mechanical failures or has a threat of damaging delicate machinery.
Advertisement
How is it 'Rugged'?
According to Dell, the reason behind choosing their Latitude line to include enterprise machines is because it is their only range that came closest to the configurations of its Rugged and Extreme laptops. The outcome is basically powerhouses, ready to bear drops, extreme temperatures, and rain. Dell is kind of hoping to corner the market with a set of buff laptops able to be reliable no matter the conditions.
Engineers, professionals, and army men are free to bring these into the harshest of conditions with dust, water, snow or even give it a few good bumps and drops without the fear of damaging an expensive gear. Another useful addition is the interchangeable dual batteries. They are practical in a way that a few fully charged lithium-ion batteries can be carried to the site and swapped when a charging port is not nearby which happens often on the fields.
New Models and Specifications
Dell's Latitude lineup now includes the Latitude 7424 Rugged Extreme, the Latitude 5424 and 5420. These models are following up to the predecessors 5414 and 7414 models. Now, in terms of performance, the new additions models are more or less the same but do come in various hardware configurations. The new 5420, 5424, and 7424 machines boasts latest Intel 8th generation processors and durable builds. The models, however, vary in form factor, resilience and durability.
The Latitude 7424 Rugged Extreme
The Rugged Extreme Latitude 7424 model, for instance, is capable of handling more tough situations compared to the 5424 model. The 5420 model is about adding a hint of portability along with resilience and ruggedness than an average machine.
The 'Rugged Extreme' takes the cake with Intel's 8th Generation vPro processors, and a range of supported Wi-Fi connectivity. The 7424 can also be paired with a Snapdragon X20 LTE modem to maintain connectivity even in remote or outlandish areas. It poises up to 4TB of SSD storage, up to 32GB of RAM, a 51 Whr primary battery and an option to hot-swap in a second battery.
The screen, sized to 14-inch and anti-glare, comes with 1080p resolution and up to 1000-nits of brightness so it stays lit enough to be visible in direct sunlight.  A touch panel works with those gigantic gloves we see firemen wearing. The graphics are powered by Intel's integrated chips – with optional AMD Radeon 540 and RX540.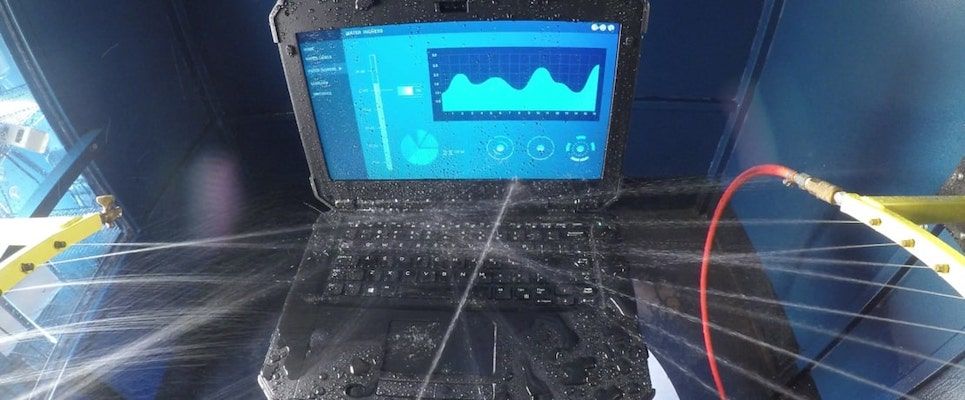 The Rugged Extreme's atmosphere withstanding capabilities are outstanding. The heavy-duty beasts are able to operate in temperatures ranging from 20 degrees below zero up to 145 degrees Fahrenheit. Dell claims that this model has passed the  MIL-STD-810G testing which basically tests the resilience of a device to survive a fall of a certain degree, which here is from up to six feet.
Dell's spec sheets claim the following for the 7424:
MIL-STD-810G testing: Transit drop 72″/.91m, 60″/1.52m, 48″/1.22m; single unit; 78 drops, operating drop (36″/0.91m), blowing rain, blowing dust, blowing sand, vibration, functional shock, humidity, salt fog (with rubberized keyboard), altitude, explosive atmosphere, solar radiation, thermal extremes, thermal shock, freeze/thaw, tactical standby to operational.

Operating thermal range: -20°F to 145°F (-29°C to 63°C)

Non-operating range: -60°F to 160°F (-51°C to 71°C)

IEC 60529 ingress protection: IP-65 (dust-tight, protected against pressurized water)
To top things off, there is a Windows Hello IR camera, and a fingerprint reader addition. Of course, if the device is intended for military and industrial usage, it has to accompany various security features to keep sensitive data safe and encrypted.
The assortment of ports come from USB Type-C to an RS-232 serial, a RJ45, HDMI, VGA/Display (optional), Fischer USB, and pogo-pin connectors for docking.
The Latitude 7424 Rugged Extreme being a little too much on the pricey end, will be available starting from $3,500. But of course, for a premium+hardcore device, users are expected to compensate the same as well.
New Latitude 5420 and 5424 Rugged
Minutely 'thinner' additions – the 5424 Rugged and an even slimmer, the 5420, are essentially identical to the 7424 Rugged Extreme. That is only in terms of hardware, but as for durability, they have a somewhat lower tolerance for drops (up to three feet) and weigh around 5 to 7 pounds.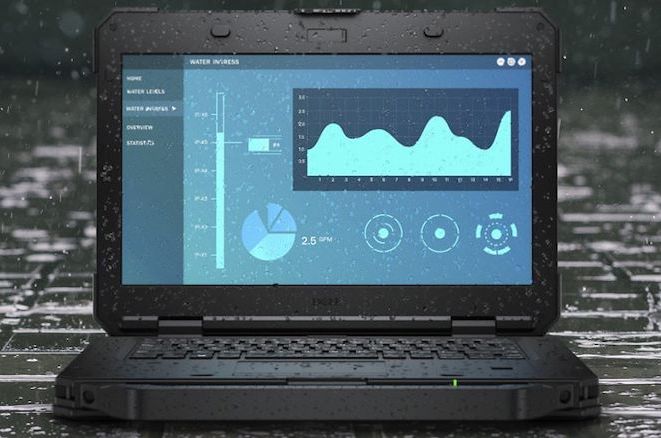 The 5424 and 5420 can too standby difficult environments but to a lesser extent. It might not last in heavy rain and dust storm but will surely make through, vibration, minor quakes, shock, heavy humidity, dripping water, and high altitudes.
For 5424 and 5420, Dell claims:
MIL-STD-810G testing: Transit drop 36″/.91m; single unit; 26 drops, operating drop (36"/0.91m), blowing dust, vibration, functional shock, humidity, altitude, thermal extremes

Operating thermal range: -20°F to 140°F (-29°C to 60°C)

Non-operating range: -60°F to 160°F (-51°C to 71°C)

IEC 60529 ingress protection: IP-52 (dust-protected, protected against dripping water when tilted up to 15°)
All other hardware specifications are more or less the same in all three variants of the Latitude.
The Latitude 5424 and 5420 Rugged will be available at the starting price of $1,500 and $1,400, respectively.
Read More:
Advertisement