It's about time that Google decided to up their tablet game with their Chrome OS. The Pixel Slate was unveiled on October 9th and it seems to shatter all the stereotypes that were widely accepted about Google's slight incompetency in crafting premium tablets.
Although Google has decided to abandon Android tablets altogether, the Pixel Slate's touch has a very Android-like feel to it. The UI however, has a quite Pixel-y sense to it. Even though the screen is 12.3-inches which is pretty wide for a phone like interface with icons spread across the screen. The device weighs a total of 1.6 pounds and quite frankly, feels even lighter. Google was quite particular in ensuring the center balance of the device is intact for improved accessibility when the device is held up like a tablet.
Advertisement
The convertibility aspects are quite spectacular too. The cover of the tablet smoothly glides on the back surface of the device to be adjusted in 3 different positions. It latches on to the embedded magnets inside the device which takes out the annoying hinges and screws out of the picture. The Pixel Slate auto shifts from tablet mode to PC mode. Though convenient- but at times the lack of manual switching might feel like a restriction. The Slate detects the presence of a mouse or trackpad and transforms into cursor mode for more precision during usage and of course, to give the users a PC like feel. The backlit keyboard is an appreciable addition to the Google tablets and was long overdue as well. On top of backlighting, the keys are in circular shape which although is a nice innovation but might take some time getting used to.
Have a look at more detailed specifications:
Dimensions: 7.0mm x 290.85mm x 202.04mm
Weight: 1.6 lbs (without keyboard)
Color: Midnight Blue
Display: 12.3" 3000 x 2000 (293 ppi) LCD "Molecular Display" (400 nits) with Pixelbook Pen support
Processor options: 8th Gen Intel Core m3, i5, i7 or Intel Celeron
RAM options: 4GB, 8GB, or 16GB
Storage options: 32GB, 64GB, 128GB, or 256GB SSD
Battery: 48 WHr, up to 10 hours (supports fast charging)
Ports: two USB-C, keyboard connector
Wireless: WiFi 802.11 a/b/g/n/ac, Bluetooth 4.2, no LTE option
Audio: Dual front-facing speakers, two mics
Front camera: 8MP,  ƒ/1.9 aperture, 1.4um pixel size, 1080p video at 30 fps
Rear Camera: 8MP, ƒ/1.8 aperture, 1.12um pixel size, Auto Focus, 1080p video at 30 fps
Security: "Pixel Imprint" fingerprint sensor on power button, Titan C security chip
Yeap, we know what you are thinking. Where's the headphone jack? Turns out, Google has decided to skip the 3.5mm headphone jack altogether. Google says that the decision was based on the fact that most advanced users are transitioning towards Bluetooth accessories. There is, however, a headphone jack dongle with the device but seems kind of silly using it with a sleek, convertible laptop/tablet. Loses its essence don't you think? On the bright side, there are two USB-C ports. Largely intended for fast charging and 4K video output. There is also a custom keyboard connector and two microphones along with a power button with an embedded fingerprint scanner. A classy move indeed.
The display of the device is quite extraordinary. The Slate has a pixel density of 293 ppi surrounded by thin bezels which only compliments the resolution of 2000 x 3000 pixels. Google has chosen to brand the screen technology of Pixel Slate by giving it the name "Molecular Display." The screen technology uses low-temperature polycrystalline silicon or LTPS which is known for its effects on optimal battery life. Google claims that their Slate cum PC can hold up to 10 hours of juice in a single run.
Pricing sheet
The specs and display of the Pixel slate scream convertible more than any other tablet that Google has released. If paired with the right accessories, this Slate has every capability to be used as a full-fledged PC.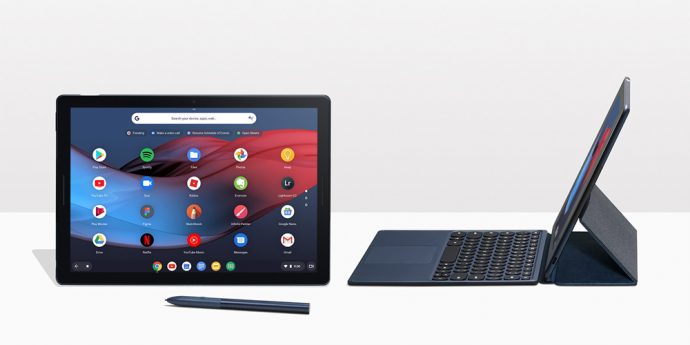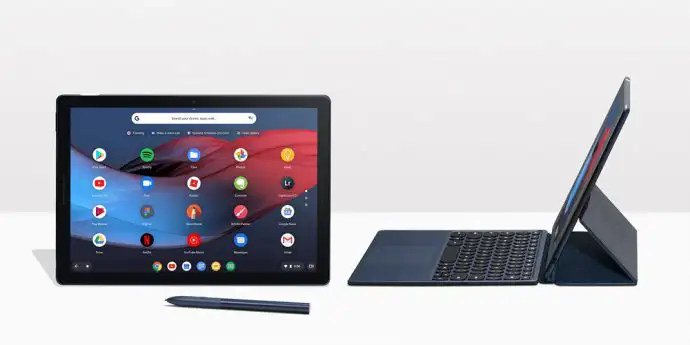 For the keyboard, there are three choices to opt from.  Any Bluetooth keyboard, a $149 Brydge Bluetooth keyboard specifically designed for the Pixel Slate with an included trackpad, much like the ones Brydge sells for the iPad and Surface Pro. Last but the best – Google's very own first-party accessory, the $199 Pixel Slate Keyboard.
The Pixel Slate is priced like PCs too. The tablet is available in multiple variants, starting from $600 with an Intel Celeron processor to a $1600 model with an Intel Core i7 processor.
Here is the full price sheet:
$599 (4GB RAM, 32GB SSD, Intel® Celeron processor)
$699 (8GB RAM, 64GB SSD, Intel® Celeron processor)
$799 (8GB RAM, 64GB SSD, 8th Gen Intel® Core m3 processor)
$999 (8GB RAM, 128GB SSD, 8th Gen Intel® Core i5 processor)
$1599 (16GB RAM, 256GB SSD, 8th Gen Intel® Core i7 processor)
Pixel Slate Keyboard – $199
Brydge Bluetooth Keyboard – $159
Pixelbook Pen – $99
Final word
The Pixel Slate is a massive jump for Google from their failed Nexus tablets to Chrome-based PC convertibles. And I mean it in a good way.
Due to its slim design, the device is not lap friendly when connected with a keyboard but that seems like one of the few minor inconveniences of the device.
It is safe to say that Google is in line and ready to compete with the strongest tablet contenders in the market – the iPad Pro and the Surface Pro. It will be interesting to see how this pans out.
Read more:
Advertisement