HP has announced its refreshed lineup of convertible laptops series Pavilion x360. In an announcement made earlier today, Hewlett Packard has introduced three new laptops in three different screen sizes – 11.6-inches, 14-inches, and 15.6-inches. The OEM's Pavilion x360 series consisting of 2-in-1 laptops are known for featuring a touch screen, seamless design, and powerful performance. With its refreshed lineup, HP has tried to entice users with budget constraints who are looking forward to purchase a laptop that doubles up as a tablet.
Here are the new Pavilion x360 convertible laptops along with their specifications.
Advertisement
1. HP Pavilion x360  11 – A 11.6-inch fanless convertible laptop
Out of the three newly announced convertible laptops, HP Pavilion x360 11 is the cheapest and only model to feature a fanless design. It is a sleek and lightweight 2-in-1 laptop having an 11.6-inches display weighing just 2.7 pounds. The laptop is powered by an Intel Pentium Silver N5000 quad-core Gemini Lake processor which is pretty decent for an entry-level laptop. It features 4GB of RAM and 128GB internal storage. HP Pavilion x360 11 is supported by a 37.69 Wh battery and is accompanied with a 45-watt power adapter. HP has said that the 11-inch notebook will offer up to 10:45 hours of battery life.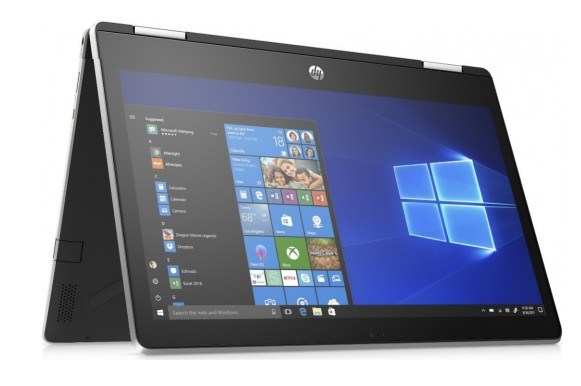 Additionally, for connectivity,  the laptop has  802.11ac WiFi, Bluetooth 4.2, a USB 3.1 Type-C Gen 1 (5Gb/s) port, an HDMI port, two USB 3.1 Type-A Gen 1 ports, a headset jack, and a microSD card reader. The HP Pavilion x360 11 starts at $400 and will be available from May onwards.
2. HP Pavilion x360 14 – A 14-inch convertible laptop supporting 8th Gen i7 Processors
Next in the refreshed x360 lineup is a 14-inch convertible PC which is aimed at power users. HP Pavilion x360 14 features an exciting design with a 3-sided micro edge display that makes bezels thinner. On the design front, HP boasts that it has provided a new hourglass edge to make it easier for users to open the laptop easily from all three sides. However, at 0.8-inches thick and weighing 4.3 pounds, it is not as stylish and portable as the 11-inch x360.
Unlike its 11-inch sibling, it is configurable and supports up to 8th generation Intel Core i7 processors. Carrying an HD display having 1366 X 768 resolution or optional 1080p display, the base variant of x360 14 comes with an Intel Core i3-8145U processor, Intel UHD 620 integrated graphics, 8GB of RAM and internal storage of 128GB. The laptop supports up to 1TB HDD and up to 512GB PCIe SSD.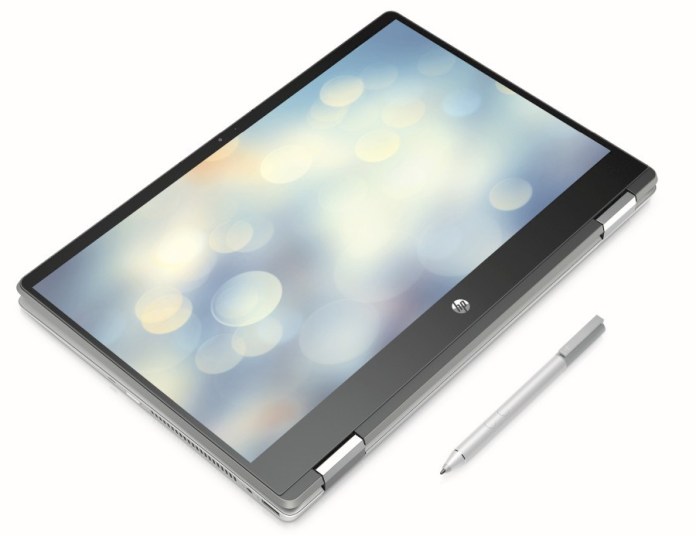 For more power, it also supports up to Intel Core i7- 8565U processor, 16GB of RAM and NVIDIA Geforce MX130 or newest MX250 graphics card. HP has provided 802.11ac WiFi, Bluetooth 4.2, a USB Type-C Generation 1 port, an HDMI 1.4 port, a 3.5mm audio jack, an SD card reader and two USB 3.1 Type – A Gen 1 ports. A fingerprint reader is also available for users as an extra option for authentication. The company has said that x360 14 will provide the battery life of up to 11 hours.
HP Pavilion x360 14 starts at $500 and will be available in the market from April onwards.
3. HP Pavilion x360 15 – a 15-inch convertible laptop supporting AMD Radeon 535 graphics card
For large screen seekers, HP has announced its x360 15 that sports a 15.6-inch display with 1366×768  or 1920×1080 resolution. It shares its design with its 14-inch sibling and features the same hourglass edge and 3-sided micro-edge display for design with thinner bezels. Measuring 14.1″ x 8.4″ x 0.8″, this model weighs 4.3 pounds which is, again, not lightweight exactly.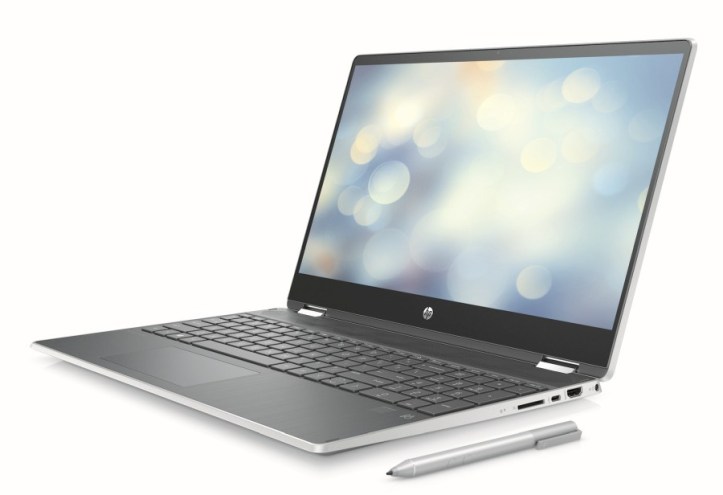 On the performance front, HP Pavilion x360 15 also supports 8th Generation Intel Core i7 processor with up to 16GB of RAM and a couple of storage options. This model also supports AMD Radeon 535 graphics card and can be used for purposes like video editing, animation and much more. You can configure x360 15 with up to 2TB HDD and up to 512GB PCIe SSD. HP has provided a multi-format card reader, a USB Type-C port, an HDMI port, two USB 3.1 Type-A ports and a 3.5mm port for audio accessories.
The Pavilion x360 15 has its downside in the form of the same 41 Wh battery which means that we cannot expect a long battery life from it.
HP Pavilion x360 15 starts at $800 and will be available from  April this year.
All the three new Pavilion convertibles will be available in different color options – Cloud Blue, Pale Gold, and HP's standard Natural Silver color. Also, HP convertibles are fitted with dual speakers and HP audio boost with Audio by B&O.
In addition to convertible laptops, HP has also announced two new monitors including one with 27f 4K Display and another featuring 34f Curved Display.
Read more related stories:
Advertisement