Acer Aspire series of laptops are undeniably a complete value for money devices. After spending months on premium laptops, I have got the budget segment Acer Aspire E 15 laptop to review. It is a common tendency to focus on the flaws and deficits the laptop has as the styling, form-factor, features, and specifications of a budget laptop are definitely far behind that of premium devices.
However, to my surprise, the Aspire E 15 stood up really well exceeding my expectations from a laptop priced under $400. Quite frankly, you'll have a hard time in finding a laptop with impressive specifications, a reliable battery backup, a full HD display, and an abundant amount of RAM for less than $400. But, Acer has again hit the sweet spot in the budget segment and their 2018 Acer Aspire E 15 notebook offers all the current generation hardware with the steeped down price tag of just $379!
Advertisement
But, how is the build quality? And, how does it perform in real world? Let's drill down to the detailed review of Acer Aspire E 15 (E5-576-392H) laptop and find out if it really is the best budget laptop of 2018.
Acer Aspire E 15, 15.6" Full HD, 8th Gen Intel Core i3-8130U, 6GB RAM Memory, 1TB HDD, 8X DVD, E5-576-392H
out of stock
as of October 1, 2023 1:24 am
Features
8th Generation Intel Core i3 8130U Processor 2.2 GHz (Up to 3.2GHz)
15.6 inches Full HD (1920 x 1080) widescreen LED lit Display
6GB Dual Channel Memory, 1TB HDD and 8x DVD
Up to 13.5 Hours of battery life
Windows 10 Home. Operating System Architecture 64-bit
Design
Usually, when a 15-inch laptop strikes in your mind, there is already a typical image in everyone's mind and it is the very first and most common impression users get. However, it is not the same case with the Aspire E 15. The laptop although comes with an old-school design pattern, like most of the other 15-inch laptops, it comes with good ergonomics.
Weighing at 5.27 pounds, the laptop is a tab heavy and bulky. However, thanks to its design and engineering, the weight is very uniformly distributed all across the device, making it easy to carry around.
MORE: Our Top Picks of Laptops for College Students Right now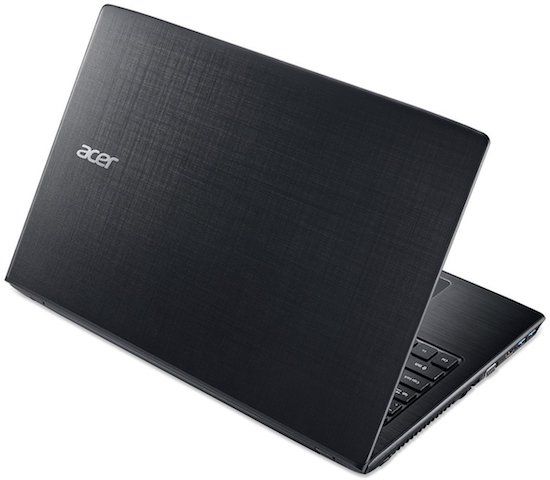 The laptop looks completely identical to the last year's model as its design has been carried forward from its predecessor (E5-575-33BM) which is fine because Acer is providing better specs on this year's model by cutting down its designing and manufacturing costs.
As far as build quality is concerned, the laptop is built from a high quality poly-carbonate plastic and it is finished in black color and has a textured lid which gives it a rather aging yet professional look. The device comes with almost the standard dimensions in terms of length, width, and height and measures 15.02 x 10.2 x 1.19 inches. The laptop feels sturdy but it does have some amount of keyboard and screen flexes which are acceptable considering the price.
Speaking about the port alignment on the device, you get a DVD drive, a charging port, a USB port, and an audio jack aligned with the right edge of the device. On the left edge, you get a couple of USB ports, an HDMI port, and a LAN port, neatly recessed.
Display
The Acer Aspire E 15 E5-576-392H laptop comes with a 15.6-inch Full HD display. The display panel on the laptop is an LED-backlit one, which offers decent resolution for all the essential everyday uses. It sports a resolution of 1920 x 1080 pixels, which also makes it one among the very few laptops offering a Full HD resolution in the segment.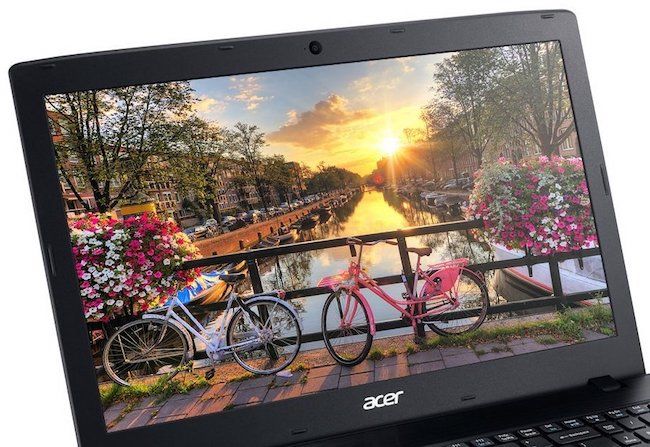 Although the laptop had a decent color accuracy, the brightness was relatively low at only 175 nits. However, the laptop's display had punchy blacks and decent contrast levels. Watching quality video content on the laptop will be satisfying but the display's underwhelming brightness might be a bit of concern for some users. However, considering the price point, the display is definitely serviceable.
MORE: Our Top Picks of Laptops with Best Displays for Photo Editing
Hardware
Acer Aspire E 15 comes with latest and top of the line specifications for the asking price. Under the hood, the device sports an 8th generation Intel Core i3-8130U dual-core processor which is the biggest highlight of this year's model. The Coffee Lake Intel Core i3 processor is clocked at 2.2 GHz and under full throttle it can turbo boost up to 3.4GHz. The latest processor also comes with an Intel UHD 620 integrated graphics for better overall graphical performance.
MORE: Top 10 Best Laptops Powered by Intel Core i3 Processor
The latest processor on the device is paired with a 6GB of RAM which is 2GB more than the last year's model, however it is slower DDR3L RAM and this laptop's 4+2 RAM configuration also eats up both of its RAM slots. But the good news is, RAM on the laptop can be upgraded up to whopping 32GB. As far as storage on the device is concerned, it is managed by a slow 5400 RPM 1TB hard drive which can also be replaced easily with an SSD.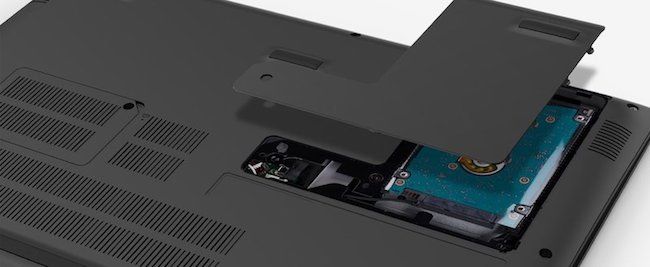 The laptop also comes with an 8X DVD Double-Layer RW (M-Disc enabled) drive which can read and write from any CD or a DVD.
Keyboard & Touchpad
The Aspire E 15 comes with a backlit keyboard, which is a very rare scene for a laptop priced under $400. The keyboard provides a very comfortable typing experience and comes with a very sturdy and sharp key. The keys provide very good tactile feedback while using and this definitely adds on to the great typing experience. On our typing tests, I hit a rate of 72 words per minute, which is great. One should have absolutely no issues in using this laptop's keyboard.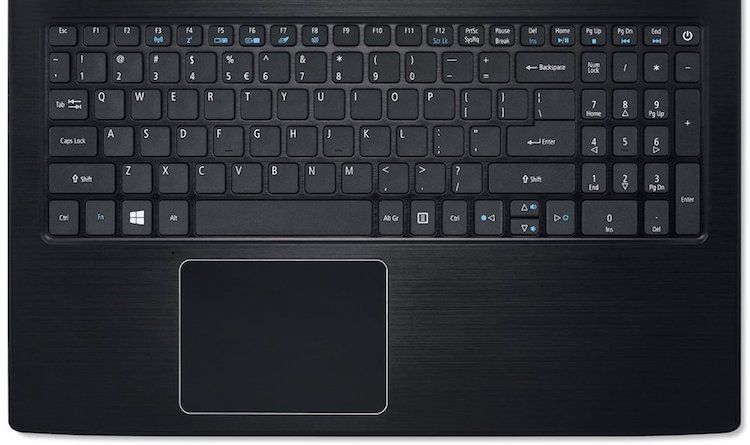 MORE: The Laptops with Most Ergonomic Keyboards for Writers
The touchpad on the device is also very neatly recessed and is very spacious. It does the job adequately well and it comes with both the left and right clickers, like the usual touchpad on a keyboard.
Ports & Slots
The laptop comes with an abundant number of ports and other connectivity options, which makes the laptop stand out in the segment. It sports 1 x USB 2.0 port, 1 x USB Type-C port, 3 x USB 3.0 ports, a physical Ethernet port, an HDMI port, an audio jack, and an SD card reader slot.

On top of this, the device also comes with a VGA and a DVD writer for the ease of usage.
You may like to check out: ASUS VivoBook F510UA Laptop Review – The Best Laptop Under $500 of 2018
Webcam
The Acer Aspire E 15 E5-576-392H laptop comes with an HD webcam which sports a resolution of 1280 x 720 pixels. The webcam on the device also supports High Dynamic Range, for better imaging and rendering during a video call or telephony. However, the camera isn't that great when it comes to capturing some still photographs. The image tends to get a little smoothened and blurred out, losing out on a lot of details in the image. The sensor is, however, fast enough to render the image and adjust it on the screen quickly. Having said that all, the camera on the device serves the cause.
Audio & Video
Acer has always been an exceptionally good multipurpose laptop manufacturer. Accordingly, their Aspire E 15 notebook comes equipped with two built-in stereo speakers for a surround sound effect. We used the laptop to play heavy music including various genres such as metal, symphony, and mid-focused vocals. The laptop did well and has a powerful sound, which can fill a small room.
In terms of software, the speakers are powered by the company's proprietary True Harmony sound, which ensures quality audio output with more depth and details. This adds on to the experience while watching movies and playing games.
MORE: Our Most Recommended Laptops for Music Production & DJing
As for watching videos is concerned, the laptop can take it almost any video format at any resolution and play it with ease. We played true 4K content to which the laptop had no struggle playing it whatsoever.
On a conclusive note, the Acer Aspire E 15 (E5-576-392H), being a sub-$400 budget laptop, is still an excellent multimedia performer.
Software
Acer Aspire E 15 runs on the latest Windows 10 Operating system, which is confined to the Home variant by default. Apart from housing some of the proprietary applications form the company, the laptop also packs in some additional applications, which we want to term as bloatware.
As a matter of fact, we personally felt that the laptop comes with slightly more bloatware than that of an ordinary Windows 10 running laptop. Nonetheless, one can easily uninstall the preinstalled apps with ease. The Acer laptops come with Acer Recovery management application, which we feel is quite handy, especially if you're someone who wants to explore more out of your device. Often, people mess up with it and lose their valuable data.
The display of the device comes with two settings, which can be chosen by the user as per their requirements. It comes with a third-party file explorer app known as the 'App Explorer', which organizes and sorts the files and folders in the laptop in a slightly better manner. It also comes with CyberLink PowerDVD 14 by default, to run the inbuilt DVD writer.
We faced absolutely no hiccups or hurdles while using the laptop during our review, and the software on the device, never really bothered us despite the bloatware it packs in.
Performance
The Intel Core i3-8130U processor paired with the 6GB of memory in the Acer Aspire E 15 E5-576-392H laptop provides enough power and speed for productive multitasking on the laptop. During our review, we had multiple multitasking sessions and the laptop did quite well. We even used split screen feature of Windows to play a YouTube video in full HD resolution and running a bunch of benchmarks simultaneously, to which the laptop did quite well, without any lags or stutter.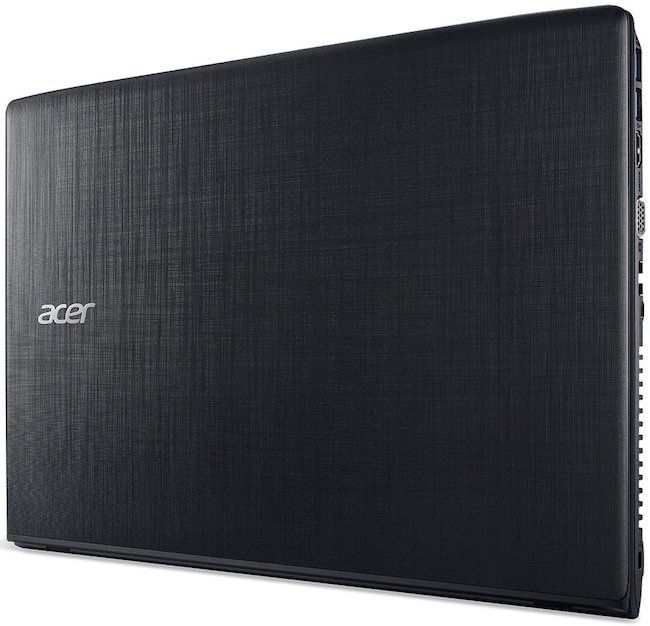 Speaking about our benchmarks, the laptop scored a decent 7,140 on the Geekbench, which gives a pretty much overall performance of the device. This is on par with all the laptops priced under $400. However, the 1TB hard disk drive provided with the laptop had poor read, write and data transfer speeds.
We almost tested out all the connectivity options on the laptop too and it didn't disappoint us. The device was latching on to the Wi-Fi networks quickly and had a good connectivity range.
As far as the gaming on the device is concerned, considering the price, one should be aware of the fact that, it is not meant for heavy gaming. However, the integrated Intel UHD 620 graphics chipset does well for basic gaming. We tested the laptop with some mediocre games such as Dirt 3 racing with graphics set to minimal-medium levels and the laptop did well handling the game and graphics. However, one cannot expect to run heavy games on the device. But what you're getting in this device at this price range makes it a total steal for the buck.
MORE: The Best Gaming Laptops Under $500
Battery Life
Our current laptop, the Acer Aspire E 15 (E5-576-392H) comes with a 6-cell Li-Ion battery (each 2,800 mAh), which makes it one of the very few devices to come with a 6-cell offering in the segment. Accordingly, the device gives an exceptional battery backup of over 7-8 hours on a continuous usage. Although the company claims that the laptop will give a battery life of over 13 hours, it doesn't really stand true.
The device takes slightly over 2 hours to charge fully from 0 to 100, which is rather okay for most users. The laptop's battery life didn't let us down whatsoever during our usage and this is definitely one of the strong zones of this device.
Conclusion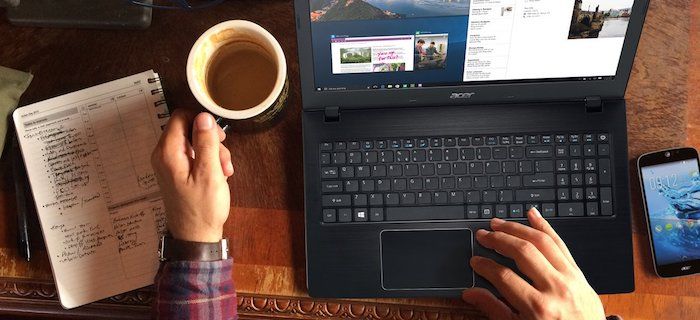 If you're someone asking us 'Should I buy this laptop?', then the answer is 'YES' blindfolded. That said, there is undeniably no better competitor for the laptop at this price range, yet. It has powerful innards, offers good performance, lasts long in terms of battery life, and comes with powerful multimedia abilities. What more can you expect from a laptop at this price range?
However, we would have been taken by a storm, if the device had an even brighter display, as that is one of the very few areas, where the laptop falls short.
Acer Aspire E 15 (E5-576-392H)
$379.99
Design & Build Quality
4.0/5
Keyboard & Touchpad
4.3/5
Pros
Total value for money
Long-lasting battery life
Comfortable keyboard and spacious touchpad
More ports and connectivity options
Powerful multimedia powerhouse
Cons
Slightly underwhelming display
Old-school design and heavy form-factor
Advertisement