At its annual holiday product launch event, Lenovo unveiled several new devices aimed at gamers, professionals, and hybrid workers. The star of the show was the new Lenovo Legion 9i, an elite 16-inch gaming laptop featuring an integrated liquid cooling system for unmatched performance.
Recent leak revealed a lot of details about it but the official announcement of the highly anticipated gaming laptop is finally been made and here are all the details about it.
Advertisement
The Legion 9i stands out as the world's first 16-inch gaming laptop with a completely self-contained liquid cooling solution inside the chassis. Most laptops rely solely on conventional air cooling systems, which utilize heat pipes and fins to direct heat away from critical components.
Air cooling has limitations in terms of the amount of heat it can dissipate, particularly from high-powered gaming laptop components. Liquid cooling solves this by using water to efficiently absorb and transfer thermal energy.
Lenovo's Legion Coldfront cooling system integrates a thoughtful liquid loop design, including cold plates, tubing, radiators, and active pump components. The company partnered with cooling experts at Cooler Master to optimize the system for the Legion 9i's demanding hardware inside the compact laptop form factor.
According to Lenovo, liquid cooling allows the Legion 9i to sustain up to 230W of total power draw during intensive gaming sessions with virtually no throttling. This enables the components like the CPU and GPU to run at higher sustained speeds versus air cooling. Lenovo claims the system can extract an extra 10W of power specifically from the GPU.
Powering the Legion 9i is an Intel Core i9-13980HX processor, Nvidia GeForce RTX 4090 GPU, up to 64GB of DDR5 RAM, and up to 2TB of PCIe Gen 4 SSD storage. This cutting-edge hardware allows the Legion 9i to deliver best-in-class gaming performance, even during marathon gaming sessions.
The laptop also features a stunning 16-inch Quad HD+ (3200 x 2000) mini-LED display with a blazing 165Hz refresh rate and 100% coverage of the Adobe RGB and DCI-P3 color spaces, making it suitable for creative workloads as well.
The panel has a 94% screen-to-body ratio for immersive visuals and impressive brightness peaking at 1,200 nits thanks to mini-LED backlighting consisting of 1,024 local dimming zones. Dolby Vision support further enhances picture quality.
This combination of elite power and brilliant visuals positions the Legion 9i as one of the most capable gaming laptops on the market for both gameplay and game creation.
Lenovo Legion 9i 16's Distinctive Forged Carbon Design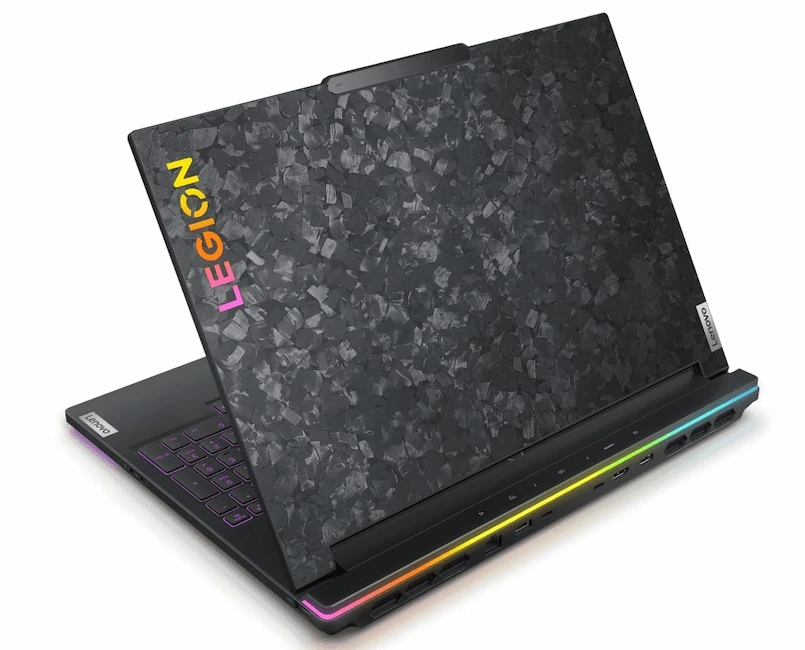 The Legion 9i's forged carbon lid gives each unit a unique "minecraft" aesthetic while also providing structural rigidity to accommodate the advanced cooling system. Lenovo uses a process called resin forging to create the textured cover material.
RGB lighting is ubiquitous on the Legion 9i, with illuminated elements on the keyboard, bottom chassis, rear Legion emblem, and more. This extensive lighting is managed by Lenovo's LA-2 AI chip, which also handles optimizing power distribution between the CPU, GPU, and other components for peak efficiency.
For connectivity, the Legion 9i features Wi-Fi 7 and Bluetooth 5.3 for cutting-edge wireless performance. A premium 1080p webcam with Tobii Horizon eye tracking enables facial recognition login and head tracking in supported games.
The Legion 9i also packs in a massive 99.99Wh battery capacity, the largest allowable for air travel. Rapid charging is supported through the beefy 330W power adapter, while a compact 140W USB-C charger can be used for lighter loads.
The new gaming laptop measures 14.08 x 109.93 x 0.89 inches and weighs 5.64 pounds. It will start at $4,399 when sales begin in October 2023.
Lenovo Legion Go Brings PC Gaming Portability
In addition to the flagship Legion 9i, Lenovo announced the Legion Go gaming handheld. This pocket-sized Windows device lets gamers enjoy PC titles on the go, powered by AMD Ryzen processors and Lenovo's 8.8-inch PureSight touchscreen display.
While less powerful than a full gaming laptop, the Legion Go still packs a punch for gaming away from your desktop setup. Lenovo is positioning it as a companion device for existing PC gamers who want to untether for mobile play.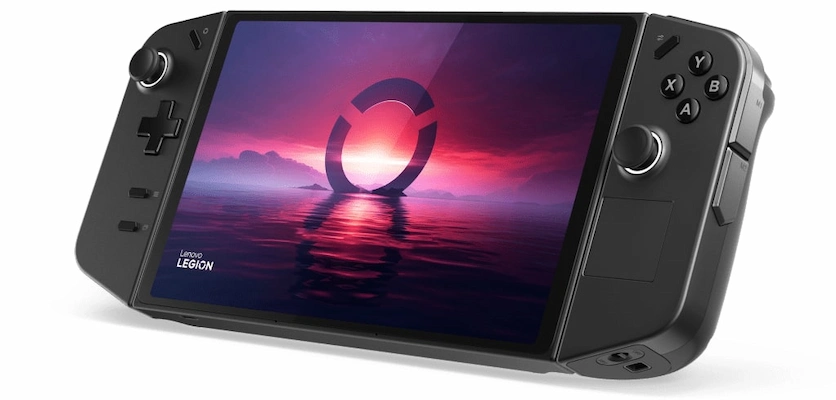 The Legion Go can directly run games downloaded from digital stores or stream them wirelessly from a gaming PC on the local network. This provides options for enjoying high or low-spec titles on the diminutive handheld.
To further enhance the portable Legion Go experience, Lenovo announced Legion Glasses and Legion E510 gaming earbuds as optional accessories.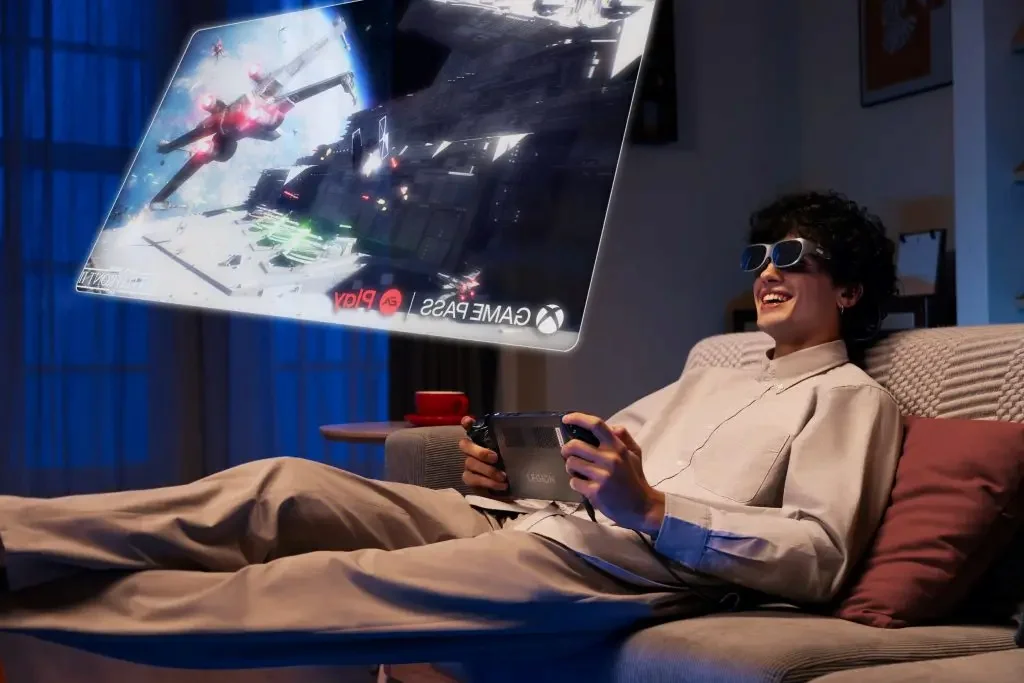 The Legion Glasses use waveguide technology to project micro-OLED displays in front of the lenses, creating a large virtual screen that fits in your pocket. The Legion E510 earbuds provide 7.1 surround sound and a multifunction inline controller.
ThinkVision 27 Monitor Delivers Immersive 3D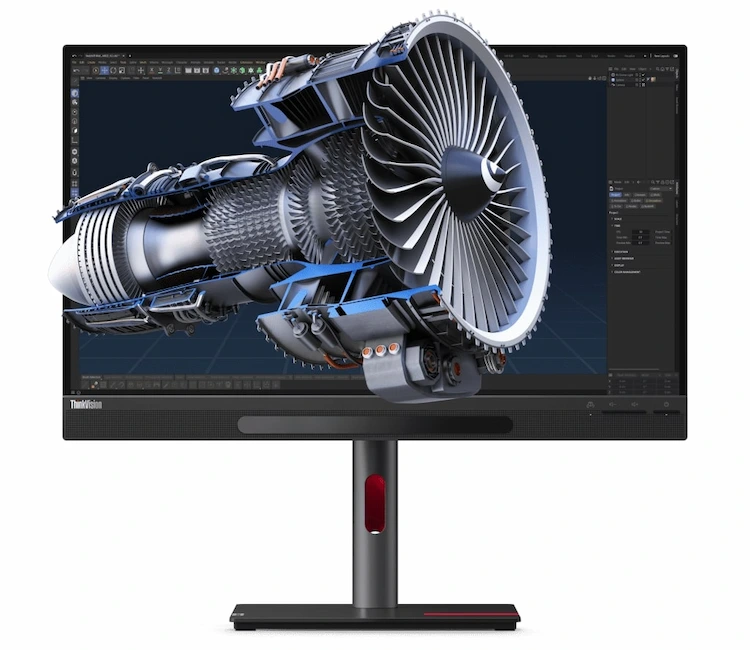 On the work and creativity side, Lenovo revealed the ThinkVision 27 3D Monitor. Billed as a tool for professional content creators needing highly immersive 3D visualization, this 27-inch monitor provides glasses-free 3D effects and real-time eye tracking.
The integrated eye-tracking system enables the 3D perspective to adjust based on the viewer's position for a seamless free-viewing experience. This gives creators an advanced 3D preview and asset manipulation tool right on their desks.
Dual 2K stereoscopic displays deliver 3D imagery without needing glasses. The monitor can also be used in conventional 2D mode.
Lenovo Expands Productivity Peripherals
Lenovo also showed off new audio products, carry cases, and software tools tailored for today's hybrid workforces.
For improved calls, Lenovo announced wired VOIP and active noise-cancelling headsets with enhanced microphones. Several new backpacks provide protection while commuting with a laptop and other gear.
On the software side, Lenovo is enhancing the cloud-based Device Manager to include comprehensive AI-powered energy management capabilities to further improve the efficiency and sustainability of fleets of distributed devices.
Diverse Innovations for Gamers and Professionals
The diverse product lineup demonstrates Lenovo's commitment to both gaming enthusiasts and professional business users. The Legion 9i was the star of the show, with its liquid cooling and elite specs making it one of the most advanced gaming laptops on the market.
Interest was also high around the novel Legion Go handheld and ThinkVision 3D monitor for their potential to take portable gaming and 3D content creation to new levels.
Lenovo's holiday product launch highlighted the company's continued rapid pace of innovation across laptops, peripherals, and software. For gamers, creators, and business users alike, the new Legion and Think branded devices provide cutting-edge performance and premium features tuned to enhance user experience.
With this emphasis on empowering users with the latest technologies tailored to their needs, Lenovo aims to maintain its leadership position in the PC, gaming, workstation, and pro AV markets.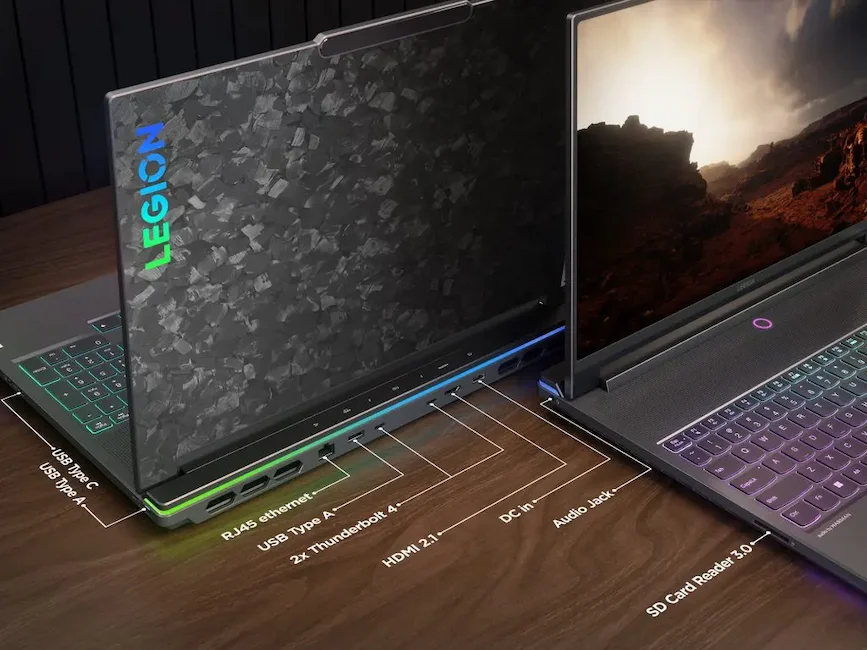 The Legion 9i, in particular, represents a new tier of gaming laptop performance enabled by its thermodynamically advanced integrated liquid cooling. This innovative system pushes the thermal envelope for portable PC gaming.
For professionals, the 3D monitor and other accessories show Lenovo's desire to boost productivity and creativity by incorporating emerging technologies like stereoscopic 3D and AI optimization.
Altogether, Lenovo's 2023 holiday lineup demonstrates the company's wide-ranging innovation and user-centric design to meet and anticipate diverse customer needs across gaming, business, and prosumer segments. Exciting new thermal technologies like liquid cooling in the Legion 9i point to even greater processing capabilities on the horizon as PC portability continues to progress.
Advertisement