LG is making a breakthrough in the laptop market. The South Korean giant is best known for their A-grade electronics and smartphones. LG's 'Gram' series laptops have been adored mostly because of their light footprint and slim design. It is all the more exciting to find out that they are expanding the line and making a comeback with a bang. According to rumors, LG might just upgrade their Gram laptops and make a breakthrough with their large 17-inch and 14-inch 2-in-1 super lightweight laptops. The largest category of mainstream laptops is mostly sized around 17-inch screens. LG is taking that custom one step further. They are rumored to be making an effort to slim down these beasts which hadn't been done until now.
The news first resurfaced on mobile tech site Liliputing, the LG Gram convertible and LG Gram 17 were seen in Best Buy listings on Monday. Now, this might not sound as much of an 'innovation' but seeing that it weighs a little under 3 lbs, is definitely a game changer. Some are also saying that this might be 'the first notebook' from any company to hold such a light form factor with such a large screen.
Advertisement
The BestBuy listing (that has now been taken down) also left us hanging with the prospect of a 14-inch 2-in-1 model of the new LG Gram. Here's everything we know about these two machines:
LG Gram 17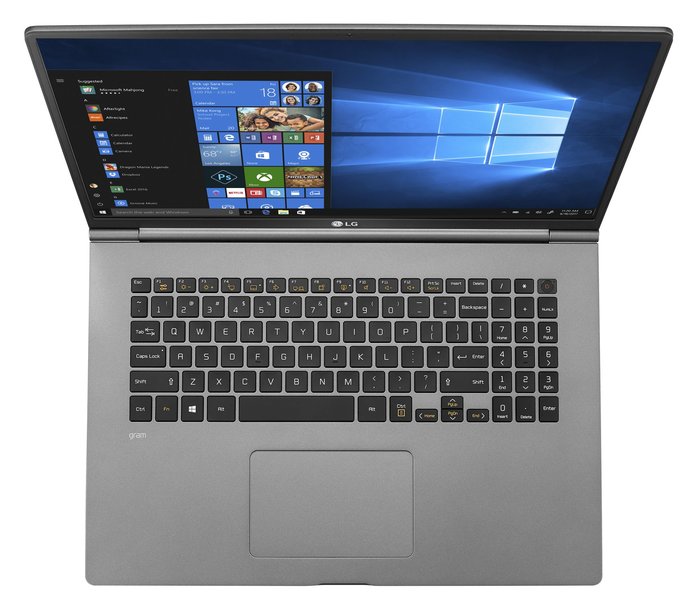 LG Gram 17 laptop will supposedly be equipped with an Intel Core i7-8565U (Whiskey Lake) processor, 16GB of RAM, and a 256GB solid state drive. Its selling price is set to be $1700 as per the rumors. Despite boasting a wide display, this slim machine weighs just 2.95 pounds and measures just 0.7 inches thick.
With a magnesium alloy body, the Gram 17 will have dimensions at 15 x 10.5 x 0.7 inches. Its refreshing to see that LG has not thrown in wide bezels to maintain the 17-inch mark and has the sharpest corners. Overall, the machine comes close to the size of a typical 15.6-inch laptop.
With the Gram 17, there is also a fingerprint reader in the mix and a backlit keyboard. It however leave us craving for Thunderbolt 3 support. But, it does come with three USB Type-A ports, an SD card slot and a USB-C port. As per the source, there is also support for Gigabit Wi-Fi and Ethernet adapter for wired connections.
The battery doesn't disappoint and LG rates the Gram 17's battery life to reach a 19.5 hours benchmark. Though with LG's track record it's highly unlikely for it to actually be the case.
LG Gram 14 2-in-1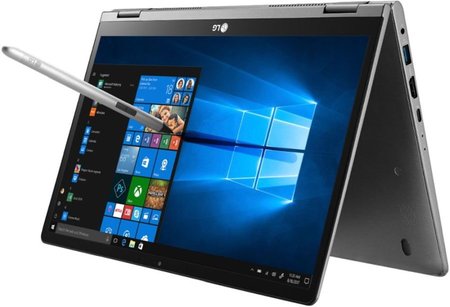 This tablet cum notebook weighs around 2.6 pounds with a 14-inch touchscreen display. For convertibility, there is a 360-degree hinge that lets you transform the computer in different modes- laptop, tablet, tent, or stand.
This bendback convertible is priced for $1,499 and includes support for the digital Wacom stylus input. Boasting a 1080p touchscreen display, the sleek laptop is equipped with an Intel Core i7-8565U CPU, 16GB of RAM and a 512GB SSD.
The port selection on this one comes with two USB Type-A ports, a USB-C port, an HDMI port and headset jack, and a microSD card reader. A dedicated port for a power adapter eliminates the hassle of USB-C charging. The addition of a fingerprint reader will provide you a one step secure login mechanism. The magnesium chassis of the laptop is the major contributor towards the lightweight body. And somehow, the narrow bezels on this one hasn't interfered with the placement of the HD webcam that is located above the display.
There is no official word on the release date yet. But judging from past events, LG might announce the unveiling of their new LG Gram laptops a week into the Consumer Electronics Show. Sale is anticipated sometime in the following months as well.
Read More Related Stories –
Advertisement