MSI are the latest in the long line of gaming laptop manufacturers to unveil their newest and latest RTX gaming laptops at CES 2019.
For 2019, MSI will usher in three new RTX gaming laptops into the market: the GS75 Stealth laptop, the PS63 Modern laptop, and the GE75 Raider laptop.
Advertisement
Each gaming laptop in their latest lineup is aimed towards catering to a specific target audience, but all three are made to help reaffirm MSI's "position as an industry leader endorsed by gamers and eSports teams worldwide."
Alongside their RTX gaming laptops, MSI also used CES 2019 to announce several of their latest products as well. This includes a new pre-built desktop, a new desktop case, a new gaming keyboard, and their newest line of high-performance graphics cards, spearheaded by the MSI GeForce RTX 2080 Ti GAMING X TRIO.
Say Hello to MSI's RTX Gaming Laptops
Leading the charge for MSI's newest RTX gaming laptops is the MSI GS75 Stealth laptop. Coming in at just 0.75 inches thick and sporting a thin bezel design, all housed in an aluminum alloy body for a premium look, the GS75 is meant to stand out aesthetically. Specs-wise, the GS75 doesn't lag behind its competition either. It comes with a huge 17.3-inch 144Hz IPS-level display, the latest Intel Core i7 series CPUs, and perhaps more importantly, the NVIDIA RTX 2080 GPU.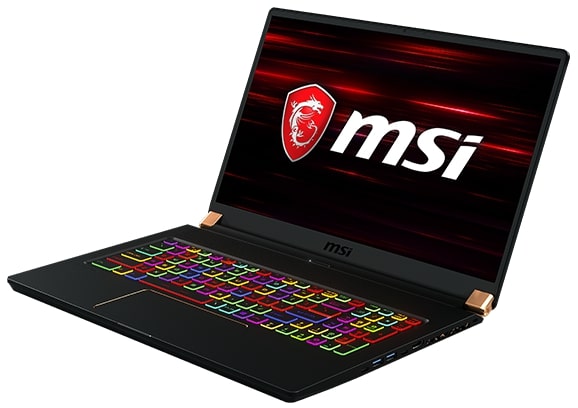 The GS75's smaller brother, the GS65, is also receiving an update for the new year as well. The newest version of the 15.6-inch gaming laptop that weighs just 4.19 pounds will include the best and latest CPUs and GPUs the market has to offer.
MORE: The Best Gaming Laptops Under $1500 – Our Top Picks
Next up is the PS63 Modern. A laptop built for another market entirely, it is not the same beast of a gaming laptop that the GS75 is. At just 0.63 inches thick and 3.53 pounds, the PS63 Modern is perfect for content creators who are looking for a lightweight laptop that can doesn't lag behind in terms of performance. It comes equipped with up to an Intel Core i7 processor and up to an NVIDIA GTX 1050 GPU. More importantly, it has a 16-hour battery life and MSI's own proprietary software called the "Creator Center" aimed specifically towards people who use creator software frequently.
Last, but definitely not the least, is the GE75 Raider gaming laptop. Much like the GS75, it comes equipped with the latest NVIDIA RTX 2080 GPU. However, different from the GS75, the GE75 will feature a thicker, more gamerish aesthetic, complete with a reflective diamond cut trim and a red anodized finish for a more aggressive look.
Pricing and Availability
Unfortunately, MSI didn't unveil any details regarding when the general public will have a chance to get their hands on their latest RTX gaming laptops. However, many expect the Taiwan-based company to release more information regarding about the pricing and the availability of their RTX gaming laptops pretty soon.
Related Stories:
Advertisement