Samsung Chromebook Plus Convertible Laptop had everyone on the edge with the announcement of its launch. The market did go through a bump with its launch and today standards of laptop cum tablets have evolved drastically. Samsung Chromebook Plus Convertible is certainly not the best dual tech gadget to possess but it certainly has led the way to such marvellous development.
Samsung Chromebook Plus is a first of its generation; as this is the first convertible Chromebook ever made by Samsung and there's lot more to talk about it.
Advertisement
The one reason for which the new Chromebook line ups from Samsung have became the subject of talks everywhere is, they now support the Google Play Store. So, just like your Android phone or tablet you can download and have access to millions of apps and games with the convenience of keyboard and touchpad.
Well, there are still few problems that we faced with software on our review unit like stuttering of apps and games in fullscreen but we think that it can be fixed with the quick software update. To get more deeper insight on the new Samsung Chromebook Plus go through our full review below.
Samsung Chromebook Plus
3 used from $179.99

as of October 1, 2023 1:23 am
Features
Speed (GHz):2Ghz.
Flexible 360° profile. Enables you to use upright as a computer to reply to emails or finish a paper and recline for a tablet view ideal for surfing and viewing
This Device comes with the pen out of the box. Power to personalize your communications by writing directly on screen. Take notes, make a sketch, capture part of the screen, etc
All the apps you love on your phone are now available on your computer. Over a million apps are waiting for you. Find your favorites or explore what's new
Your world doesn't have to hit pause when you're not online. Continue to get things done using docs and apps in offline mode
Design
Applauded for its design, Samsung Chromebook Plus is the most beautiful gadget to own. The flexible design makes it easier for people to move the screen as per their need and use accordingly. One can sit straight and use it as a laptop, one can also recline and use the screen as a keyboard, there's a lot people can do with this awesome laptop that turns into a tablet.
Other contemporaries have similar portable design but none of them comes close to Samsung Chromebook Plus Laptop when it comes to quality and hassle free experience. The smooth touch with additional pen is an advantage most people will rejoice to have. The newer versions (PRO) is supposed to have some design improvements as well, the launch of Pro version will certainly send a lot of contemporaries out of competition.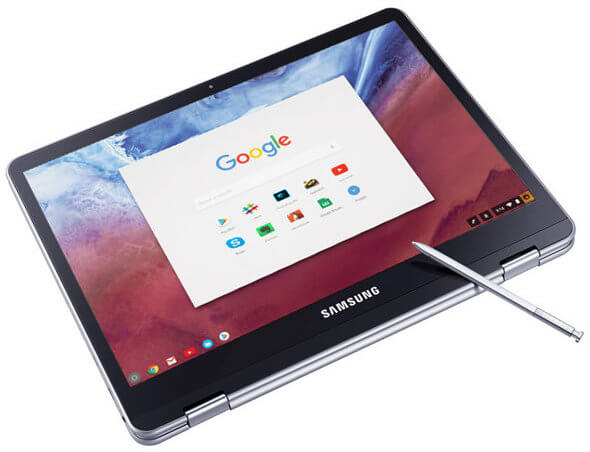 The stylus also facilities easier drawing and screenshot capture for future reference. The metal top allows the owner to use it in adverse conditions without wear and tear issues. The Samsung Chromebook Plus also has a USB Port and stylus parking space. The side part of the laptop is used wisely to house the volume and power button. One can easily reach those buttons on side while using this laptop and control the volume.
With the dimensions being 11.04 x 8.72 x 0.55 inches, this laptop is comparably on the lighter side when it comes to weight. While all the other laptops are 3.2 lbs or 3 lbs, this amazing laptop is just 2.4lbs heavy. The lightweight model and long battery life allows people to take it along into the woods and enjoy their outings like never before.
Display
Display of Samsung Chromebook Plus is something that puts it ahead of all the popular modern day laptops. The facility to move the screen and adjust according to your viewing angle is like a gift to mankind. Now people can enjoy the best of movies by moving into their beds or by reclining on a comfortable couch. The moving screen also facilitates conversion of the laptop into a tablet. The tablet view is very much idle for surfing and reading; one can finally capture screenshots and also bookmark quotes only to revisit them later.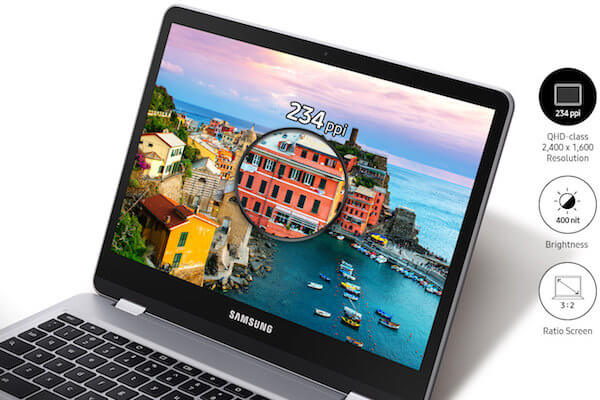 The LED-Lit screen with a resolution of 2400X1600 pixels is not so good for a laptop but highly impressive from a tablet's point of view. This 12.3-inch display is backed with a dedicated integrated graphics, which promises an experience like never before. One can depend upon this display for the requisite entertainment and also for the much-needed comfort for the eyes.
You may like to check: The best 11 inch ultra portable laptops
Hardware
Samsung Chromebook Plus Convertible Laptop has been in news for a long time now, the quality display and the impressive design had people in awe but what about the technical specifications? Are they equally worthy of praises?
This laptop comes with an ARM-based OPI processor, well a lot of you might be thinking, it does not have an Intel processor, must not be good, then let me tell you, ARM based processors work best with the Android Applications. Since Samsung Chromebook is based on Chrome OS and not Windows, ARM-based OPI Processors are the best. These processors are going to facilitate a greater run for applications and also provide eloquent streaming of high-quality videos on YouTube.
While the processor is really good with HD videos, it seems to skip a few frames when processing a 4K video. The Pro version is supposed to have covered such petty issues.
The 4GB of RAM is good enough to power a processor with speed of 2 GHz, one can easily brag about their tablet cum laptop possessing such high processing power.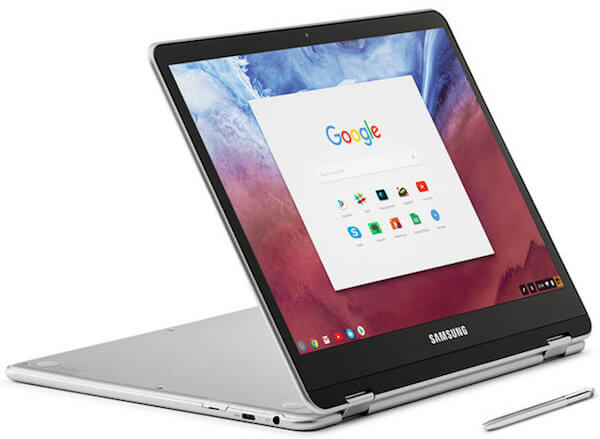 32GB of Flash Storage is something that is going to upset a lot of people and affect their final decision. The storage provided is extremely low in comparison to what other laptops come with but then one can consider 32GB of Flash Storage good enough for a tablet. Also, it is facilitated with the microSD card slot so there's always an option to expand the memory.
Samsung Chromebook Plus Convertible has a processor count of 6, which makes it easier for people to launch a good number of apps simultaneously. Designed to support multitasking this chromebook will see people accomplishing a lot of work at the same time.
RELATED: Top 10 Best Laptops Under $500
Bluetooth & Wi-Fi
With the fastest Bluetooth 4.0 this laptop is designed to send and receive signals at a better speed. 802.11 Wi-Fi is good enough to facilitate easier connection establishment and faster web browsing.
Performance
As mentioned earlier, this laptop can process some of the toughest files with great ease. The 4GB of RAM, processor with a speed of 2GHz are designed to process all kind of requests and file quite efficiently. Thanks to the efficient set of hardware for a lightweight OS like Chrome, the Samsung Chromebook Plus provides impeccable performance without much stutter or lag.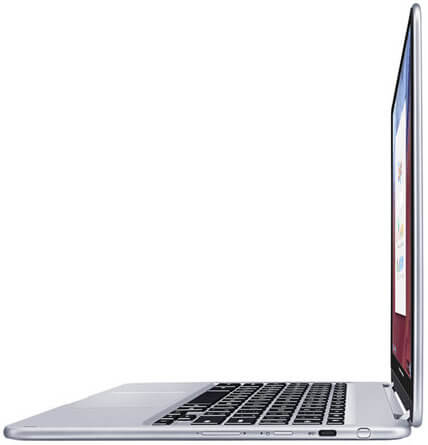 The processor provided with the laptop can house all the sufficient power needed to run most of the applications you throw at it. Moreover, thanks to the browser-based interface of the laptop, multitasking on the laptop is pretty smooth and does the tasks efficiently. In addition to all this said, this convertible laptop remains very quiet even under heavy usage, which is very consoling considering the price, form-factor, and performance of this laptop. The laptop sometimes tend to get slightly warmed up under heavy usage, but we'd like to inform you guys that its just near to negligible. All in all, the Samsung Chromebook Plus offers good overall performance at the budget.
Touchscreen & Stylus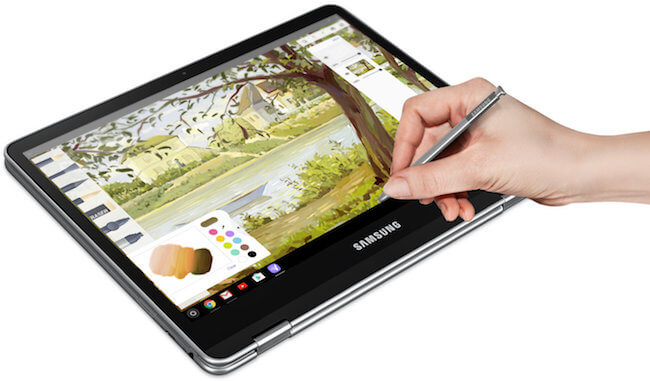 The input features provided with this laptop are exceptional, one can use the touchscreen to make the drawings more detailed and videos more intricate. The stylus facilitates easier selection, bookmarking and also screen capturing. The stylus on Samsung phones are already impressive and we are glad that they included the same stylus with same functionalities on the new Samsung Chromebook Plus as well. The touchscreen display on this chromebook is also pressure sensitive so this chromebook can really do wonders with photo editing and graphics designing.
You may like to check: The Best Laptops for Photo Editing – Our Top 10 Picks
Operating System
This laptop makes an exception with the operating system. Not functioning on Windows just like the other contemporaries, this laptop runs on Chrome Operating System, which makes it easier for people to run all the applications they have on their phones on this gadget as well. Chrome OS is going to lead the innovation in this sector, enterprises from all faces of life are now going to concentrate on innovation and come up with really smart and newer versions of operating system.
Gaming
With the dedicated integrated graphic card, 4GB of RAM and 2 GHz processor speed, users can run all the games they play on their mobile devices. The Chrome OS supports Google Play Stores and all the applications listed on this store. The experience is going to be amazing for everyone who loves games from Google Play Store. One can make the wise use of 4GB of RAM and experience the output.
However, we'd like to add a point here, although the laptop is powerful enough to handle light-weighted games, a Chromebook isn't meant for real-time gaming. That said, you could always play internet based flash games or normal arcade games available on Play Store with ease, but games like Asphalt 4 still struggles to run smoothly on this laptop. We think Google still needs to refine Chrome OS a bit for more smoother gaming on Chromebooks.
Audio & Video
The audio and video impresses the masses because it supports the varied file formats of audio and video. For its audio performance, we tried playing some high-quality encoded audio Flacs and the laptop to our surprise was handling them with ease. The sound quality was good and decent and was loud enough to cover an entire small room. For the video quality, we tried playing some HD, Full HD, and 4K video content, which also responded really well. The colours reproduced on the screen were accurate and were true to life. All in all, the Samsung Chromebook Plus is also a very good multimedia-stationed convertible device.
Battery Life
The battery life of Samsung Chromebook Plus is quite exceptional, only a handful of laptops provide above 10 hours of battery backup while none of the tablets do. This Laptop cum tablet can stay juiced up to 11 continuous hours so that you never have to worry about carrying your charger again. Apart from that, this chromebook gets fully charged in slightly over 2 hours, which is again a strong point of this laptop. The beauty of Chrome OS based laptops is that, the OS used here is pretty light weight and doesn't consume much of the hardware or resources to get the work done, this way, the battery life remains exceptional under everyday usage.
Bottom Line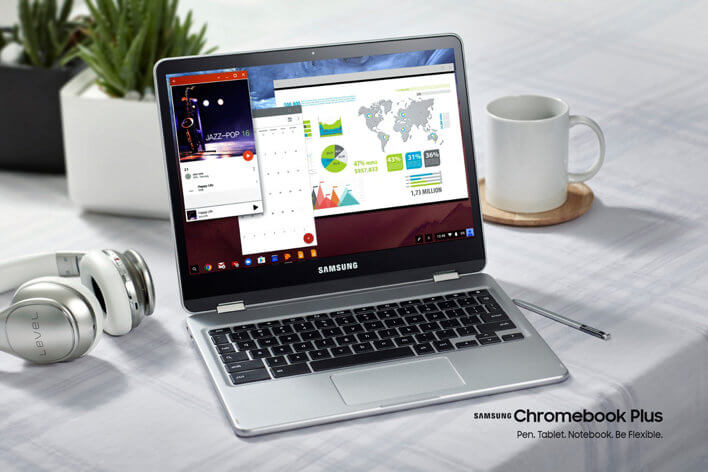 Samsung Chromebook Plus convertible laptop is the undisputed winner when it comes to providing people with an incomparable user experience. The quality audio, video, processing power, long battery life and light weight body are just other reasons why you should bet your money on this laptop. The only thing disappointing about this laptop is the storage space. The 32GB of Flash storage will restrict people from storing their favorite movies and enjoy them when either travelling or stuck at workplace with nothing to do.
Advertisement