After CES 2019, it seems like slim notebooks with razor-thin bezels are the new trendsetters in the laptop market. Just like ASUS ZenBooks, Acer has also taken it upon themselves to add new, upgraded and slim bezeled notebooks to their already successful lineups.
Their renewed version of the Acer Swift 7 – already lauded for its slim build and portability, was unveiled at CES 2019. The new model known as the SF714-52T, takes off almost a third of a pound off of the previous Swift 7's package. Due to its narrow frame, the bezels have shrunk to an unbelievable extent creating a wider, more engaging display. More on the design side, Acer claims the laptop's body weight to be just 890 grams and just 9.9mm in thickness. And ofcourse, there is a 14-inch full HD touch Cornilla glass display with a fully immersive experience.
Advertisement
MORE: The Best 14-inch Laptops
With just 92 percent screen-to-body ratio, the latest Acer Swift 7 features an 8th-gen Intel Core i7 CPU, 256GB or 512GB SSD storage, and up to 16GB of RAM. Acer promises a boost in the performance as well, highlighting their addition of the "Amber Lake" Intel Core processor. Acer prides their new invention for its compactness and the fact that the size does not arbitrate its productivity. A clear precedent is the inclusion of two Thunderbolt 3 USB-C ports, and 3.5mm headphone jack all on its trim body. And even then, the device is so lightweight that it feels 'barely there'. Moreover, Acer has promised the optimal performance with all-day battery life, lasting up to 10 hours on a single charge.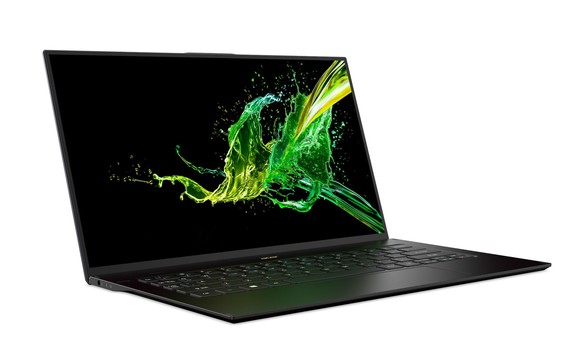 But the upgrade that Swift users had desperately been waiting for is yet to be told. That's right, the clickable touchpad. It was annoying and frustrating to use the tap to click method which gladly has now been eliminated thanks to this addition.
Now the only concern with slim bezels is the placement of webcams. That's where the creativity really unfolds and shows how much thought designers have put into it. Not only did Acer add an HDR camera but also incorporated a push to open mechanism. Which not only is the best solution but also prevents unintended webcam usage which is a huge privacy invasion these days.
All these niceties are beautifully wrapped up inside what Acer calls a "micro-arc oxidation finish". This gives the machine a ceramic-like look, available either in "Starfield Black" or "Moonstone White" themes.
While the upgraded version of the Acer Swift 7 is leaps and bounds ahead of its predecessor, it is delightful and also surprising to see that the upgrades have little impact on the costing. The new 2019 Swift 7 SF714-52T is to be priced around $1,699 which is almost the same as its previous version and will be available by May in the US.
Related stories:
Advertisement