Acer is one such company, which has made its name and fame in the gaming laptop segment. The company has been launching powerful gaming laptops in various segments at various price points. Acer's Predator series of laptops are globally reputed for their performance and power.
With the company launching multiple devices in the gaming laptop market such as the beastly Predator 21X and the sleek and stylish Predator Triton 700, the company has recently updated their already well-known Predator Helios 300 gaming laptop. The 2018 Acer Predator Helios 300 (PH315-51-78NP) is a very straightforward, powerful, and no-nonsense gaming laptop. The device carries a lot of USPs with it and offers an improved and powerful gaming performance for the asking price.
Advertisement
Priced at under $1200, the Acer Predator Helios 300 offers all the current generation hardware and the fast refresh-rate display which has made it gain rapid popularity. We spent a good amount of time with the device to test its caliber. And, here is what we think of it.
NOTE: The new variant of Acer Predator Helios 300 is already launched. You can read the full review of 2019 Acer Predator Helios 300 (PH315-52-78VL) gaming laptop here
Acer Predator Helios 300 Gaming Laptop (PH315-51-78NP)
$1,299.99


$

1,140.00
in stock
10 new from $1,140.00
4 used from $839.00

as of October 1, 2023 1:24 am
Features
8th Generation Intel Core i7-8750H 6-Core Processor (Up to 4.1GHz) with Windows 10 Home 64 Bit
NVIDIA GeForce GTX 1060 Overclockable Graphics with 6 GB of dedicated GDDR5 VRAM
15.6" Full HD (1920 x 1080) widescreen LED-backlit IPS display (144Hz Refresh Rate, 300nit Brightness & 72% NTSC )
16GB DDR4 2666MHz DRAM Memory & 256GB PCIe NVMe SSD | Extra empty accessible slot for 2.5 inch hard drive or SSD.Maximum Power Supply Wattage:180 W
Gigabit Wi-Fi |Backlit Keyboard | USB 3.1 (Type C) | Dual All-Metal AeroBlade 3D Fan Cooling | Metal Chassis.Battery Capacity:3320 mAh
Design
Speaking about the design, there isn't much of an upgrade here. Having said that, the 2018 Helios 300 looks exactly identical to the last year's model.
For the uninitiated, the Helios 300 at the very first glance looks to be much thinner and compact than that of the other laptops in the segment. However, when you hold the device and start using it, you'll realize that it, in fact, is on a bulkier side. The device comes with a dimension of 10.47 x 15.35 x 1.05 inches, which is a little wider and thicker for a 15-inch laptop. The device weighs slightly over 5.5 pounds and can be quite cumbersome to carry around. However, considering the fact that it is a gaming laptop and has a lot of engineering within, it might not be an issue for most of us.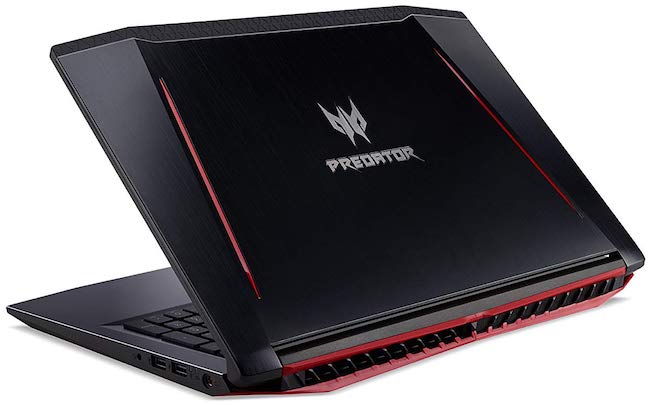 Acer this time has come up with newer color variants, to give gamers a choice. It has unveiled the special edition Acer Predator Helios 300, which comes clad in a white-and-gold chassis. However, we still don't know when it will hit the stores.
The one which we tested looks just like its predecessor and has the same angular design going all around with red and black color scheme. Its aluminum lid has a huge Predator logo and a red lining on either side which gives it a proper gaming hue, however, it doesn't light up like Alienware and some high-end MSI laptops.
Most gamers would love the design of this laptop, however, if you're looking for an out of the box gaming laptop design, then the Acer Predator Helios 300 (PH315-51-78NP) might not please you that much.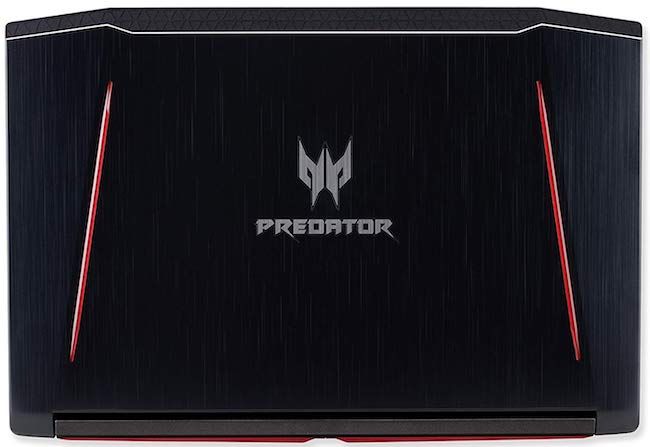 Speaking about the build quality, there is a lot of plastic used in the making of chassis of this laptop. However, there are no compromises with the build quality and laptop feels very solid to hold. Moreover, it comes with a pretty ergonomic form-factor making it subtle to carry around and use.
As far as ports and slots are concerned, they are neatly recessed on both sides of the laptop and they are smartly placed in a way that wired gaming mouse won't hinder your gaming experience.
Keyboard & Touchpad
Almost all the Acer Predator series of laptops come with a short-stroke keyboard, which might not often be preferred for gaming. The keys on the Helios 300, comes with a travel of the only 1.2mm into the frame on a press, which is not much. This affects the tactile feedback on the keyboard. However, this doesn't hold true for regular usage including documents editing and other general tasks.
However, the gamers will like the keys on the device as they are very brightly backlit and come in non-changeable red color hue to match the styling. The keys come with a slight curve, which adds on to the typing experience nonetheless.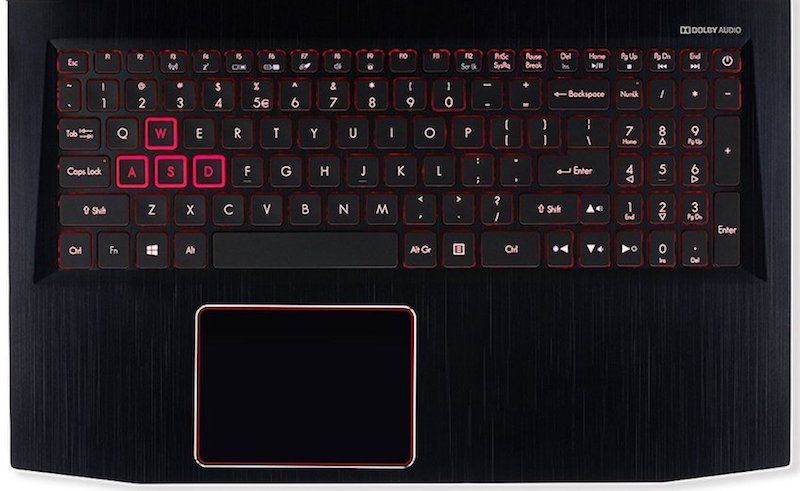 You May Like to Check out: The Best Laptop for Writers – With Most Comfortable Keyboard
Speaking about the trackpad on the device, it is made out of plastic and evidently, one can feel that right away. Although the tactile feedback and the touch sensitivity on the trackpad are fine-tuned, we felt the lack of richness, we ought to get on gaming laptops over $1000. However, it can still take up all the everyday essentials with ease without dropping a sweat.
Display
The laptop comes with a 15.6-inch Full HD widescreen display and it is an IPS LED-backlit panel. What makes it unique though is its fast 144Hz refresh rate. Meaning, the rapid refresh rate shortens the time it takes for frame rendering and provides gamers with an excellent in-game experience. This helps especially when you're gaming or watching the high-quality video files.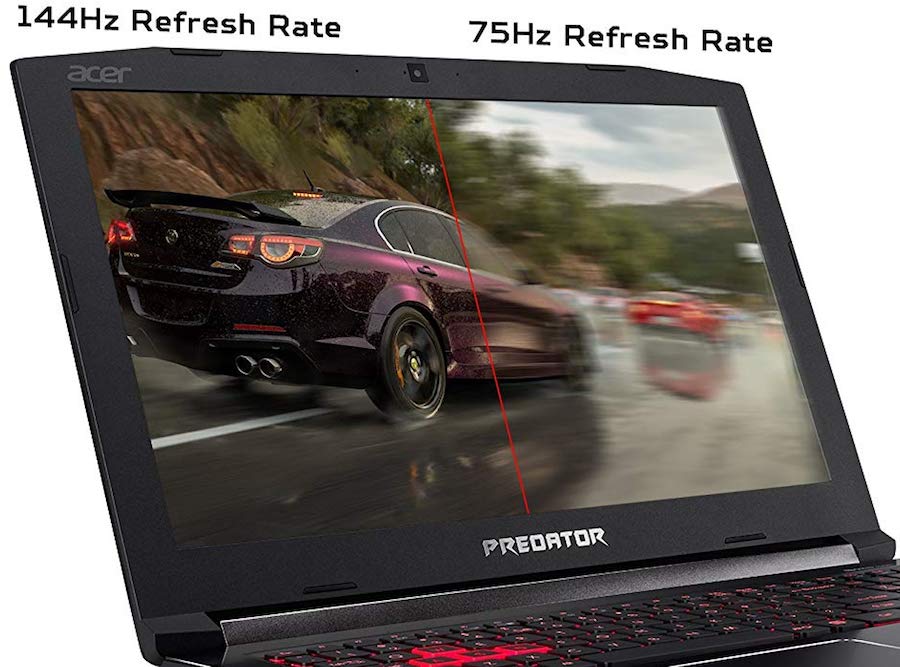 The display can get bright up to 300 nits and produces a decent 70% NTSC and 90% sRGB color gamut on the scale, making it good enough for content creators. We also played some 4K content on the laptop, and the details were very precise, that we could see every minute detail played.
MORE: Top 10 Best Laptops for Photo Editing with Most Color Accurate Display
Overall, the display on the Acer Predator Helios 300 (PH315-51-78NP) gaming laptop is one of its unique selling points and without a doubt, it is one of the best display-equipped mid-range gaming laptop available to buy right now.
Hardware
Speaking about the hardware of the device, Acer Predator Helios 300 comes with powerful innards, which makes it one of the latest in the segment of mid-range gaming devices.
Under the hood, the device is powered by a latest 8th gen Intel Core i7-8750H hexa-core processor with clock frequency of up to 4.1GHz and an Nvidia GeForce GTX 1060 GPU with 6GB of DDR5 video memory. The duo of this CPU and GPU makes it one of the most powerful and value for money gaming laptops available for the asking price.
MORE: The Best Intel Core i7 Processor Laptops (Latest-Gen)
For multitasking, the laptop has a huge 16GB of DDR4 2400MHz memory and storage on the laptop is backed by a 256GB of PCIe based NVMe SSD. Although this might not be sufficient to store huge data, be mindful, the SSD storage offered in this laptop is at least 4 times faster than that of the traditional HDD storage.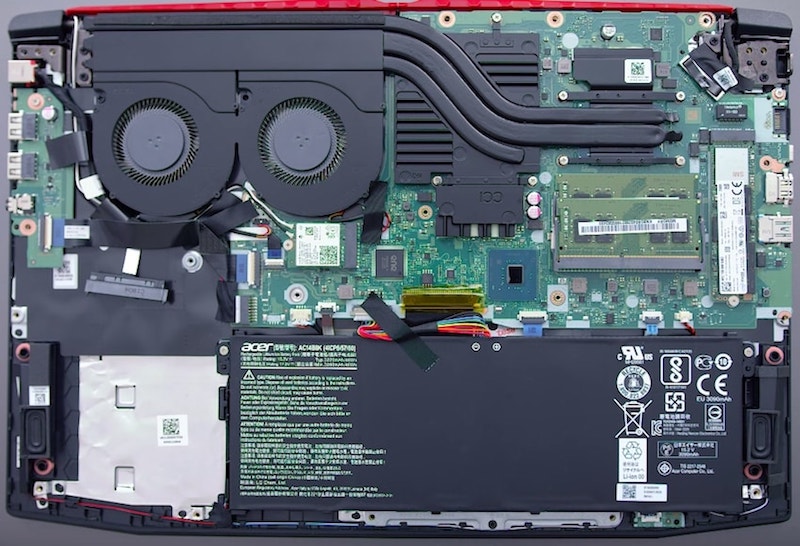 To the gamers rejoice, hardware on the Predator Helios 300 is quite easy to upgrade. The laptop's back panel gives access to its two RAM slots one of which is empty and it also has an empty storage drive bay inside to upgrade its low storage with the hard drive or another SSD. The WiFi card is also easily accessible but we don't think it needs to be changed as the Gigabit card that the laptop comes equipped with, works flawlessly and provides excellent WiFi reception.
Ports & Slots
Being a gaming stationed laptop, we expect a lot of additional peripherals to be connected to the device. Accordingly, the Helios 300 comes with a USB 3.1 Type-C port which can support speeds of up to 5GBps. It also sports a USB 3.0 port and two USB 2.0 ports. There is an HDMI 2.0 port to plug in the additional display if needed. The HDMI port available comes with HDCP support. Apart from these, it also comes with a microSD card reader, an RJ45 Ethernet port, headphone jack, and a charging port.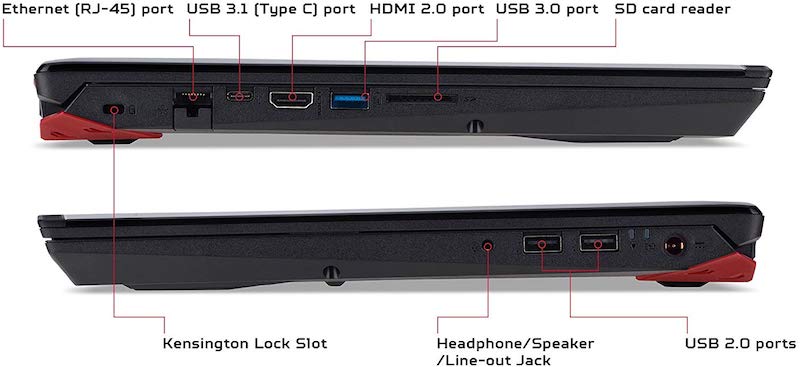 The only disappointment here is its USB Type-C port which doesn't support the Thunderbolt 3. We expected this year's model with Thunderbolt 3 as the last year's model didn't had it. However, it isn't a huge problem if you don't plan to use the External GPU or other Thunderbolt accessories.
Performance
We spent a decent time gaming and doing other mediocre to demanding tasks on this laptop. The laptop stood up to the expectations and did well in terms of providing reliable performance and efficiency. We tested the laptop by rendering video on the Adobe Premiere and even played some AAA games at high graphics settings. Thanks to its powerful innards, the laptop was able to handle our multitasking and gaming tests quite easily.
A gaming laptop is often discredited due to its heating issues but to our surprise, this year's Acer Predator Helios 300 did well in terms of thermal management, despite having powerful CPU and GPU inside it. Thanks to its new all-metal dual AeroBlade fans and huge exhaust vents at the back, the laptop dissipates all the inside heat out and allows CPU and GPU to work at its full potential.
The data transfer speeds and superfast app loading speeds are yet another impressive aspects of this laptop. Its 256GB PCIe NVME SSD doesn't offer adequate room, but it does help in reducing the bootup times and load times of games and other applications.
Speaking about the benchmarks, we ran a couple of benchmark tests on the laptop to find out its actual potential. Accordingly, the 2018 Acer Predator Helios 300 (with i7-8750H and GTX 1060) scored a good P13214 on the 3DMark 11 and a 19800 on multi-core and 4560 on single-core tests via Geekbench 4 64-bit. These scores are on par with most of the other offerings in the segment which makes the 2018 Acer Predator Helios 300 (PH315-51-78NP) again king of the mid-range gaming laptops segment.
Gaming
All credits to the powerful Nvidia GeForce GTX 1060 graphics baked in, the Helios 300 does deliver exceptionally well-performance for the mid-range gaming stationed laptop. We had a good time playing games on it and even at the highest graphics settings, laptop managed to deliver the respectable framerates. However, the fans get quite vocal while gaming and its battery lasted for just 58 minutes in our gaming tests.
| | |
| --- | --- |
| Game | FPS at Ultra Settings |
| GTA V | 120 |
| PUBG | 100 |
| Far Cry 4 | 70 |
| Tomb Raider | 105 |
The laptop also supports virtual reality, but GTX 1060 isn't the best GPU you can get for the VR related tasks. We tested its VR capabilities by playing some VR games, and the laptop managed to run all of them. However, the experience wasn't the smoothest and GPU did felt a bit underpowered for VR. But, the GPU is overclockable and overclocking does reduce the lag up to an extent.
READ: ASUS TUF FX504 Gaming Laptop Review – The Best Budget Gaming Laptop of 2018?
Audio
Like the last year's model, the 2018 Acer Predator Helios 300 also comes with the same dual stereo speakers located on the bottom front of the laptop. They are backed by the Acer's proprietary Acer TruHarmony audio tech and Dolby Audio premium, which claims to enhance the audio quality. However, the audio isn't the loudest and its sound gets suppressed due to the bad placement of speakers.
You May Like to Check out: The Best Laptops for Music Production & DJing
Battery Life
The battery life on the 2018 Acer Predator Helios 300 (PH315-51-78NP) is definitely not the main selling point as it comes with the same 4-cell Li-Ion 3220 mAh battery that we saw in the last year's model.
Although the company claims that the laptop can provide up to 7 hours of continuous usage, during our real-time usage, we managed to sustain the battery for close to 4 hours with normal usage. However, while gaming the battery life dropped to a mere 58 minutes which is tad disappointment and less as per the gaming laptop's standards of 2018. Moreover, it takes up to two and a half hours to charge fully from 0 to 100.
So, battery on the new Predator Helios 300 is another thing after design, Acer has used to cut manufacturing costs, and that can be a deal-breaker for a lot of people.
Conclusion
If one is looking for a powerful mid-range gaming laptop, then the 2018 Acer Predator Helios 300 (PH315-51-78NP) is our top pick right now. It checks a lot of right boxes with its segment first 144Hz display, powerful and latest hardware, and a rather old yet good built chassis. However, a bit heavy form factor, small battery and a 256GB of SSD might be a bit of concern for few. But it's hard to find an alternative to this laptop, especially for the price that it comes.
Acer Predator Helios 300 (PH315-51-78NP) Gaming Laptop
$1,199.00
Design & Build Quality
4.3/5
Keyboard & Touchpad
4.3/5
Pros
New 144Hz refresh-rate display
Powerful Performance
Well-built
Abundant Ports
Value for Money
Cons
Less storage space out of the box
No Thunderbolt 3 support
Small battery
Noisy fans
Heavy form-factor
Advertisement