The 2018 Acer Aspire 1 just like its predecessor is high-on-features yet, low-on-budget notebook. It is a competitively priced entry-level laptop from Acer which does not pack much power, but if all you need to do is browse the internet, work on documents and consume content online, this laptop can check all those boxes, and it will not break the bank while doing that.
Here we are going to have an in-depth look at the Acer Aspire 1 (A114-32-C1YA). I will be going through different aspects of the device, talking about the pros and cons as well as the things that I personally liked or disliked during my time with this laptop.
Advertisement
Acer Aspire 1 (A114-32-C1YA)
out of stock
as of December 3, 2023 12:15 am
Features
Intel Celeron N4000 Dual-Core Processor (Up to 2.6GHz)
14" Full HD (1920 x 1080) Widescreen LED-backlit Display
4GB DDR4 SDRAM Onboard Memory & 64GB eMMC
Microsoft 365 Personal 1-Year Subscription & Windows 10 Home in S mode
Up to 6.5 Hours Battery Life
As you can see in the specs, the Acer Aspire 1 is powered by the Intel Celeron N4000 dual-core processor, which is based on Gemini Lake. The CPU has a base clock speed of 1.1 GHz and can boost to 2.6 GHz. The chip also comes with 4 MB of L2 cache. This is the same CPU that you get in the HP Stream 14. Other than that, you get 4GB of DDR4 RAM and 64GB of eMMC storage.
With that said, let's begin with our review of Acer Aspire 1, talking about each aspect of the laptop, one by one.
Design
The Aspire 1 is an entry-level laptop from Acer, so there isn't really anything fancy about the design but it is still a robust machine, and overall it is very clean. The exterior of the laptop looks stylish, especially the brushed aluminum finish on the lid with silver Acer logo in the center. On opening the lid, you'll find the same finish around the keyboard and touchpad area as well. While there is nothing to brag about the design of this laptop, it manages not to look cheap.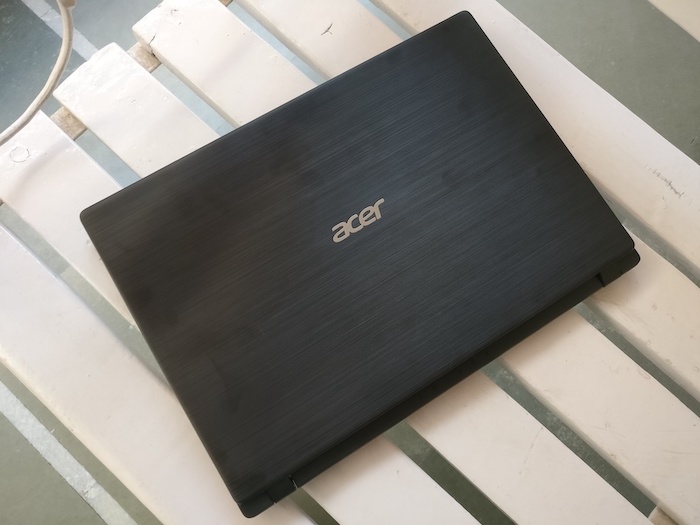 However, there are certain design flaws on this laptop, and one of them is its bad speaker placement. The laptop has two speakers at the bottom, one on either side, and its poor placement muffled the sound everytime I used the laptop from my lap. If we talk about the sound quality, then it isn't that great either. Its two speakers do get loud enough to fill the small-sized room, but I felt a lack of clarity while listening to music. But, considering that this is a $200 laptop, some sacrifice needed to be made, and this happens to be one of them.
Talking about the internal design, getting to the internals of this laptop was very hard. I had to open fifteen screws and had to pull the back panel off to gain access to the parts, but that's fine because there are no upgradable parts inside the laptop. The RAM and storage drive is soldered on the motherboard, and that makes users stuck with its low 4GB of RAM which kind of bottlenecks its overall performance (more on this later). Moreover, the internal design is fanless so you won't be hearing any fan noise when you use the device.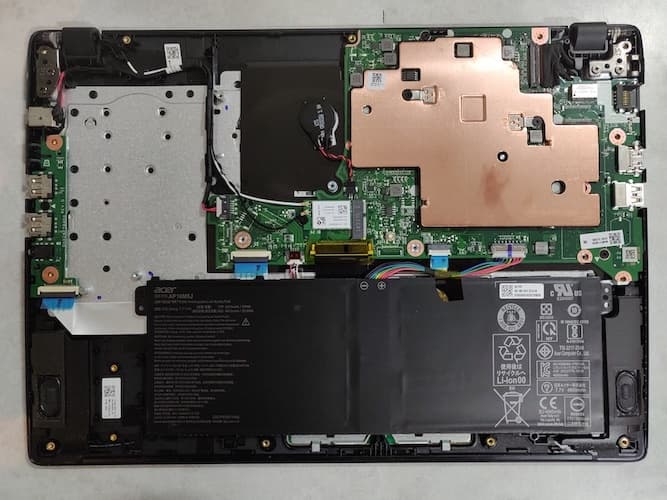 Overall the Acer Aspire 1 has decent build quality. The materials used do not feel like this is an entry-level device. The texture on the lid adds to the premiums of the laptop, and the laptop not only looks impressive but feels great as well. The device is pretty light, and you can easily take it with you.
MORE: Our Most Recommended Laptops for College Students for Every Budget and College Major
Ports & Connectivity
There are a couple of useful ports on this laptop that make it great for the price. You get an ethernet port that will allow you to plug in an ethernet cable if you want faster internet speeds and do not want to rely on a wireless connection. You also have an HDMI output port that will deliver 4K at 30 FPS. On the left, you have a USB 3.0 port to transfer data faster. You also get an SD card slot, but the card sticks out which can be an issue if you were looking to expand laptop's limited storage with the SD card.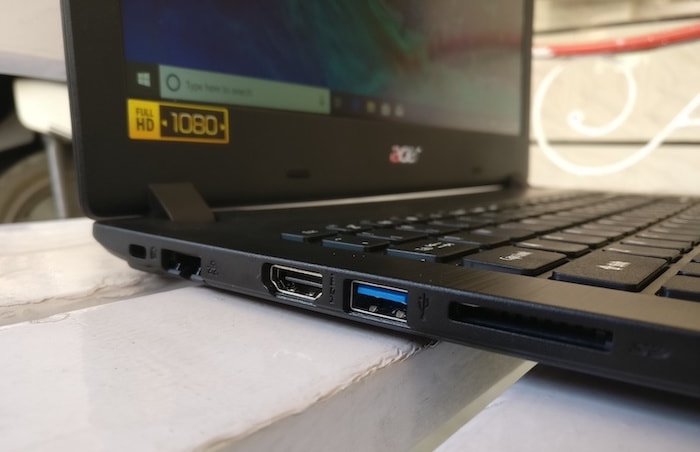 On the right side, you have the combo jack for headphones and two more USB 2.0 ports. These are slower ports that can be used to connect a mouse or other devices that do not require higher throughput.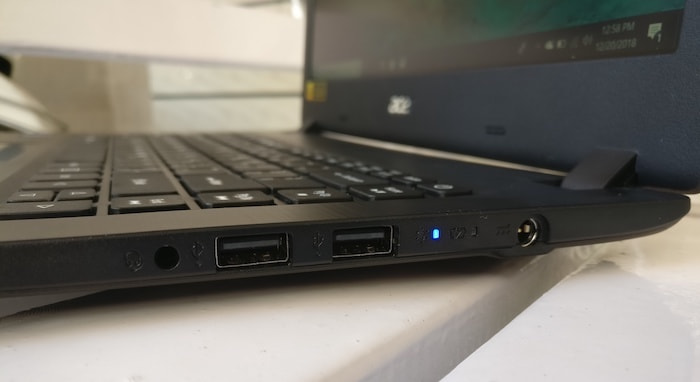 Wireless connectivity options include 802.11ac Wi-Fi, so you will be able to take advantage of high-speed internet and routers that use 5 GHz frequencies. The laptop also offers Bluetooth 4.1 which can be used to connect wireless devices like a mouse or a pair of wireless headphones.
Display
The display on the Aspire 1 is a 14-inch TN panel which does not offer great viewing angles, and as expected it isn't color accurate either. The bright side is that while the screen is the same size as the HP Stream 14, it has a higher resolution. That said, the Acer Aspire 1 is the only laptop in this price segment to offer full HD display making it the perfect budget option for binge watchers.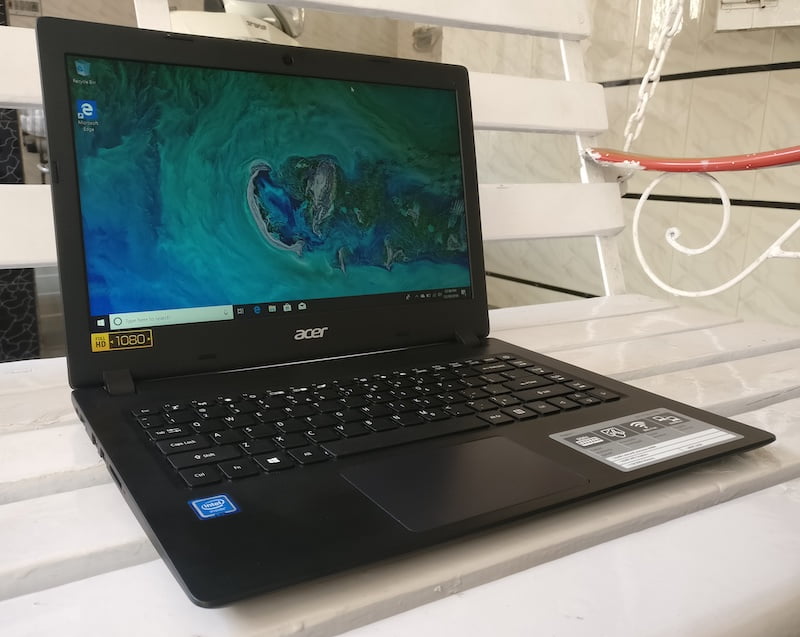 The screen is a bit dim, but it has a matte coating on top which does a great job of reducing reflections while using this laptop in well-lit areas. Overall, it is a pretty decent panel keeping in mind that this laptop costs just a little more than $200.
Another exciting feature is that the screen can be rotated more than 180 degrees. The Acer Aspire 1 is in no means a 2-in-1 device, so I do not really know what Acer is trying to do with this feature, but you can have the screen flat on a surface if you want. The hinge does have a bit of range, and that might keep the screen from snapping off.
You may like to check out: The Best 14-inch Laptops
Keyboard And Touchpad
The keyboard on the Acer Aspire 1 is very impressive, the keys have ample travel, and they are decent to type on. The keys are also a bit larger than usual which is great for typing. The only issue is that the placement of some keys can take a bit of getting used to. You will need to adjust to the arrangement of the small arrow keys and the buttons next to the Enter and Backspace keys. This is not a major issue, and once you have used the device for a few hours, you should get used to it.
The keyboard is much better than some previous Acer laptops that we have used in the past, and the overall design is decent. The touchpad is not all that great though. It is a bit wobbly, but it will get the job done. It uses Windows Precision drivers and supports gestures as well. Compared to the HP Stream 14, the keyboard is fine, but the touchpad could have been better.
MORE: Our Top Picks of Laptops for Writers with Comfortable Keyboards
Webcam
The webcam on the Aspire 1 is another thing after speakers that Acer has compromised to price it competitively. Acer has fitted a very bad webcam on this laptop which produces an unacceptable picture and video quality, even as per the budget laptop standards. The picture that I took of mine with its webcam came out entirely out of focus, grainy and with vanished colors.
So, if you have to make a lot of video calls everyday or attend the video conferences, then this is not the right laptop for you unless you are ready to spend a bit extra for an external webcam.
Software
The laptop comes with Windows 10 in S mode which is excellent for students and individuals who need added security. For uninitiated, the S mode limits the third party apps that you can download, and you can only use apps that are verified by Microsoft and are available on the official Microsoft store. Well, if you don't like it, opting out of the S mode is not an issue, and you can move to regular Windows 10 Home with just a few clicks.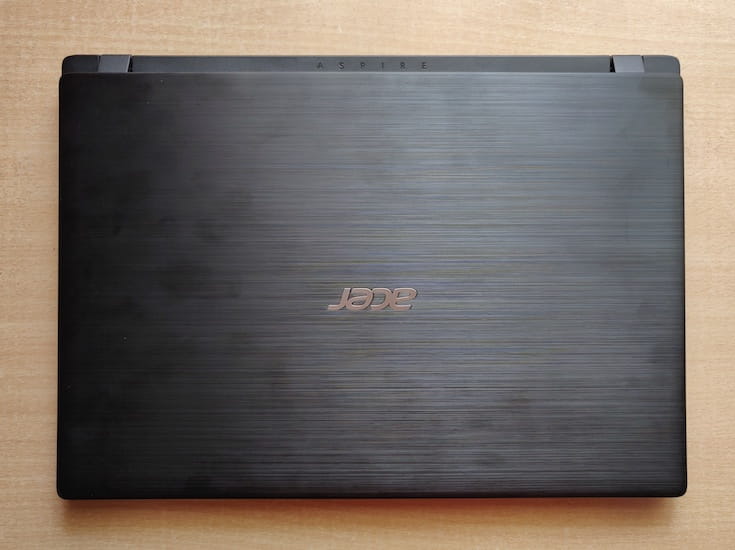 Along with Window 10, there are a couple of other apps and games as well that come pre-installed. These include the Candy Crush Saga, Candy Crush Friends Saga, Cooking Fever, Township, Royal Revolt 2, Fitbit Coach, Photastic Collage, ACG player and Amazon. All these apps can be uninstalled, so it's not a huge problem.
The laptop also comes with a free year of Office 365 and the Acer Product registration app which you will need to register your device, check the warranty and get customer support.
Performance
The Acer Aspire 1 is a netbook with the dual-core processor and 4GB of RAM, so I did not have high hopes when testing the device and it seems that I was right for the most part. The 4 GB of RAM is a major limitation, and it took only four Chrome tabs to get the device to slow down. With eight tabs open in Chrome and one of them playing a YouTube video, there was a noticeable lag when typing.
While this is not a gaming machine, we did play Asphalt 9 on the device, and it ran well. There was no noticeable lag, but then again, the game is very well optimized and will even run on smartphones. We also tried Cooking Fever that came pre-installed, and that ran fine as well.
As far as thermals are concerned, the device's bottom does get a bit warm even while normal multi-tasking possibly because of its fanless design. It can be problematic for users like me who like to use the laptop by keeping it on the lap. However, it was completely usable when kept on the table, and its keyboard and palm rest area didn't show any signs of heat which is a good thing.
The bottom line is that the Acer Aspire 1 isn't great when it comes to multitasking and although it will run games found on the official store just fine, you cannot expect to play games on it. Opening multiple apps or even Chrome tabs will slow it down.
Recommended: The Best Budget Laptops Powered by Intel Core i3 Processor
Battery Life
The claimed battery life of the 2018 Acer Aspire 1 is around 6.5 hours, and in our tests, it managed to last for 7 hours and 12 minutes which is decent, but there are options in the market that will give you 8-9 hours of battery backup. That is a factor worth considering if you are someone who has to rely a lot on battery power every day.
Moreover, the laptop took 2 hours and 17 minutes to charge from 0 to 100% which is also a little longer than the other laptops. So, the battery on the Acer Aspire 1 takes its time to charge and does not offer much in terms of battery life either.
MORE: The Best Laptops Under $200 – Our Most Recommended Inexpensive Laptops
Conclusion
One of the strongest points of the Acer Aspire 1 is its 14-inch full HD display which makes hard to find a substitute for this laptop. Moreover, it offers plenty of ports and comes with modern wireless connectivity options so that you can take advantage of high-speed internet and connect your wireless devices. Although its speakers lack in clarity and have an awful webcam, one cannot go wrong with it considering it costs just $250.
So, overall the Acer Aspire 1 is a solid laptop for the price if you consume content online or work with documents. It can handle some mobile games that are available on the Microsoft store and is a well-built machine overall. The storage and RAM are the limiting factors, but if all you need is a device on which you can create documents, browse the web and watch movies, then this is one of the best inexpensive laptops right now that will get the job done.
Advertisement