Getting a laptop from the already crowded tech market is a no big deal. However, getting the right one especially for you is surely a herculean task. The world is running in a fast-forward motion when it comes to tech and gadgets. This is not only dropping the prices of devices but is also hiking the number of available options to buy.
Acer Inc is a Taiwanese multinational hardware and electronics company which was founded over four decades ago. Since its inception, the brand has always kept up to the standards of providing very efficient devices at pocket-friendly price tags. It is also currently the sixth largest personal computer vendor in the world. Which directly implies that the device is surely a right buy if you're planning to take one.
Advertisement
The Acer Aspire E5-575G-53VG is not only a great laptop in terms of its specifications, it is also one of the most selling laptops across the globe in its budget boundaries. The laptop instead of its stripped down price comes with a good gaming calibre making it one of the only few devices in its segment to satisfy gamers. The laptop has a really long list of specifications and some other interesting offerings as well. So lets us just quickly drill down to the detailed review of Acer Aspire E5-575G-53VG 15-inch laptop.
Acer Aspire E5-575G-53VG 15.6-Inch Full HD Laptop
out of stock
as of October 1, 2023 1:20 am
Features
6th Generation Intel Core i5-6200U Processor (Up to 2.8GHz)
15.6-inch Full HD Display, NVIDIA GeForce 940MX
8GB DDR4 Memory, 256GB SSD
Windows 10 Home; Backlit Keyboard
Up to 12-hours Battery Life; 6-cell Li-Ion (2800 mAh) Battery
Design
Speaking about the design perspective of Acer Aspire E 15 (E5-575G-53VG), it is a very polished laptop which is handsomely built. It comes with an all-plastic chassis, which comes along with a matte finish for a refined look and feel. Some areas of the laptop also come with a polished and shiny look, gaining it a perfect look, which is rather unremarkable.
Do note that the laptop is entirely made up of plastic and therefore, one cannot expect that rich feel you get from a MacBook, Dell XPS or any other metallic built laptop. However, the Acer Aspire E 15 is surely a bit more compelling in terms of design and looks when compared with its rivals in the segment.
Speaking about the keyboard on the laptop—Acer Aspire E 15 comes with a standard, yet a mushy keyboard. Sadly, none of the keys is but in a concave fashion for better typing experience, rather, they come with a subdued and plain surface finish. That said, all the keys on the laptop look flat. Using TypingTest.com, I managed to score around 104 words per minute with four errors, compared to 130 words per minute with around five-six errors on my MacBook Air. Although these seemingly similar numbers can be deceiving, typing on this laptop is not the best you can get and is not recommended if your primary use is word processing.
Getting closer to the trackpad on this laptop. During our usage, we felt that the keyboard and trackpad together are a mixed bag. Trackpad in the Acer Aspire E 15 is very precise than most of the other trackpads in the segment which is actually great for a laptop under $600. Moreover, Thanks to the Acer's trend of eschewing physical mouse buttons in the favour of accessing the trackpad itself instead of physics buttons, making the navigation easy.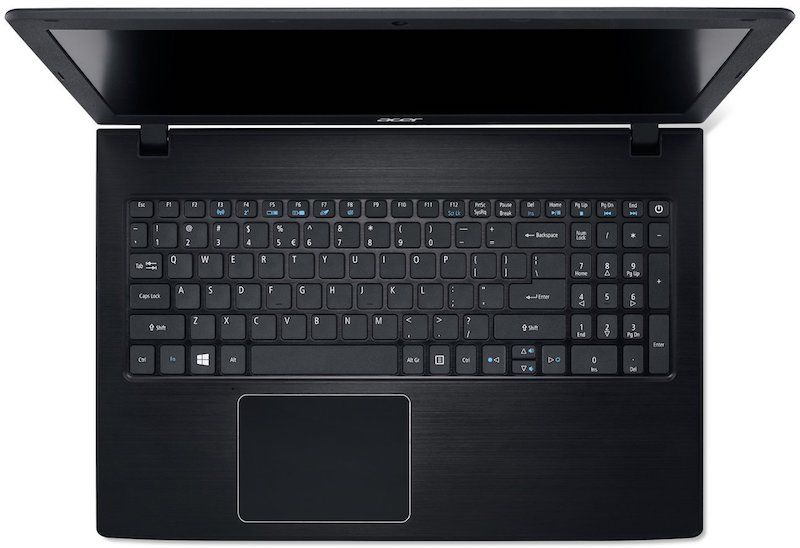 At a weight of 5.28 pounds, the Acer Aspire E 15 feels very ergonomic to carry around. Thanks to its resistive and sturdy hinges the flapping of screen are very neatly reassessed in the chassis. Finally, here are the dimensions, you'd expect from a normal laptop for your daily usage with a 15-inch screen: 15.0 x 10.2 x 1.2 inches.
Display
Speaking about the display quality and resolution of the laptop, If you're looking to buy a laptop with the stealth to produce bold, vivid, and vibrant colours, the Acer Aspire E15's 15.6-inch full-HD display with a resolution of 1920×1080 display has surely got you covered. The screen comes with a matte, anti-glare coating to safeguard the screen from fingerprints and smudges. Details produced on the screen were fine enough that we could differentiate the pixel divots. It comes with a ComfyView LED-backlit Display with an aspect ratio of 16:9, which is ideal.
The Aspire E 15's display panel is capable of reproducing 95 percent of the sRGB colour gamut, which is incredible for a laptop at this price-point. It is intact better than the 92 percent mainstream average of purely gaming laptops priced above $1000.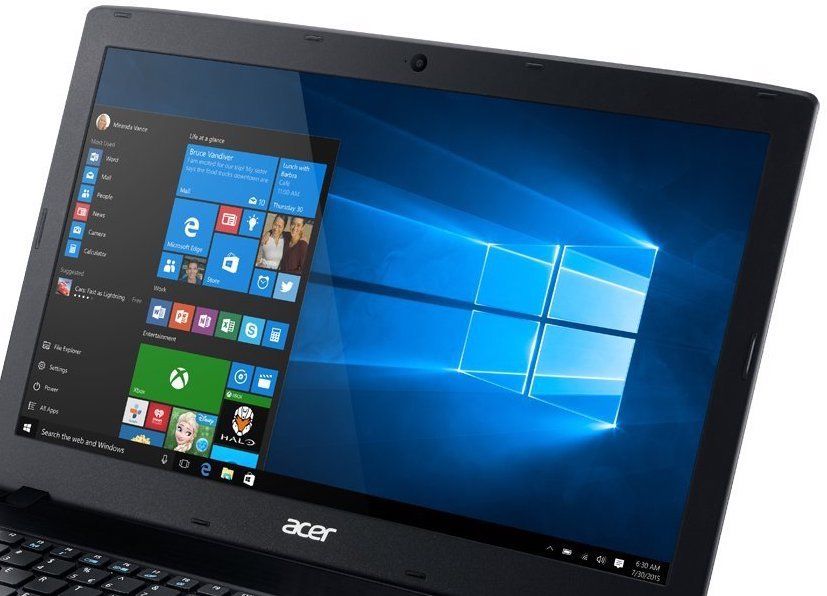 To test the colour accuracy of this laptop, and to our surprise, the Aspire E15 wasn't any far off the mainstream gaming laptop's mark. With a flying score of 1.4 on the Delta-E test, in which 0 is generally considered ideal. However, 1.4 is still way better than the average of 2.4 scores of its competitors.
To test the colour gamut and brightness of the screen, we tested it with few essential benchmarks and we could score around 250 nits of brightness on our brightness test.
All-in-all, the display on the Acer Aspire E15 is a commendable one and is undoubtedly better than the other offerings in the same price.
Hardware
Speaking of the specifications and hardware of this laptop, it is powered by the latest Skylake series of 6th generation Intel core i5-6200U processor clocked at 2.3GHz. The processor can stake up to 2.8GHz with its Turbo Boost Technology for performance at its full throttle. For multi-tasking, the laptop is provided with an 8GB of DDR4 Dual-Channel RAM, which not only pairs up with the processor for enhanced and lags-free performance but also makes sure the data accessing is fast and accurate.
MORE: Top 10 Best Laptops Powered by Intel i5 Processor
As far as the storage department is concerned, Acer Aspire E15 comes with a mere 256GB of SSD storage, which is although the fastest, but is low in terms of space. That said, for all those who stores abundant data on their laptops, unfortunately, the Aspire E15 might not satisfy your needs. However, if you are ready to spend few extra bucks to get a secondary hard disk drive than the table can be turned around.
For the gaming and other graphic related functionalities on the laptop, it is stuffed with a NVIDIA GeForce 940MX graphics processor with 2GB of dedicated DDR5 graphics RAM.
Webcam
Acer Aspire comes preloaded with an integrated 720p webcam with High Dynamic Range support. To our surprise, the webcam is surprisingly very colour accurate and was able to deliver a lag free video during our video conferencing sessions. Moreover, this camera can surely satisfy most of the selfie lovers out there, who wish to take selfies at the work.
Ports & Slots
The Aspire E15 sports an 8X DVD-Super Multi Double-Layer Drive which comes with M-DISC enabled for an uninterrupted and fast Disk access. And other ports on the laptop includes a USB 3.1 (Type C) port for faster data transfers. Dual USB 3.0 ports which let you plug in multiple peripherals at a time. Moreover, one among these three ports comes with a Power-off charging capability.

Moreover, there is a traditional single USB 2.0 Port and an HDMI port with HDCP support. To read the data from a memory card it provides a Digital Media Card Reader for Secure data accessing from a digital SD.
Software
The Acer Aspire E5-575G-53VG comes preloaded with Windows 10 out of the box and is packed with of all sorts of software one would expect from a laptop. Apart from all the great benefits of Windows 10, it also provides additional benefits in the form of Acer Care Centre, Acer Launch Manager, Acer Quick Access, backup tools and more.
All these software not only improve the performance of the laptop but also helps in providing additional security to the laptop and the data within it. Windows 10 is undoubtedly the best productive software out in the market and is, therefore, an added advantage for a laptop to run the latest Windows OS out of the box. The UI is pretty clean without any bloatware and provides an easy to use experience.
Performance
Thanks to the sturdy hardware bundled in the laptop, the performance of the Acer Aspire E 15 remains untethered and is surely the best you can expect from a laptop this calibre. The Aspire E15 features an Intel Core i5-6200U processor with 2.3 GHz of dual-core power, as well as 8GB RAM and a 256GB SSD hard drive. While it might not be the best configuration we've used, it is still a powerful set to keep the work flowing. The laptop will definitely handle almost all the daily tasks you throw at it with ease. And during our usage, we never felt any lag or stuttering of the laptop.
Gaming
Graphics segment is one of the unique selling aspects of this laptop. Although it is not the latest graphic processor in the Nvidia's arsenal, it is surely capable of providing an uninterrupted gaming experience without dropping a sweat. However, you might not be able to play graphic-intensive games such as The Witcher III, Overwatch, and Heroes of the Storm in its complete 4K potential, you can still enjoy almost all these games with a graphic level set to normal.
MORE: The Best Gaming Laptops Under $500
As far as the benchmarks for graphics and gaming is concerned, the Aspire E15 managed to score a respectable 78,912 on the 3DMark Ice Storm Unlimited test. The best part of the laptop, it doesn't heat up much.
Audio & Video
Multimedia is a vital aspect of any laptop. Whether you take it for daily usage or any specific usage such as gaming or productivity, the only aspect which is mirrored in all other applications is the multimedia ability of the laptop.
The Aspire E 15 comes with Two Built-in Stereo Speakers which does the task of providing punchy audio pretty well. We tested the speakers with bass heavy punchy tracks and also with the treble stationed lean tracks. And to our surprise, the sound was pretty clear in all the occasions. As far as the video handling ability of the laptop is concerned, it can play 4K content with ease and all in all the Acer Aspire E15 can keep up the atmosphere with its powerful multimedia experience.
Battery Life
Acer Aspire E 15 comes with a 6-cell Li-Ion (2800 mAh) Battery, which the company claims to deliver 12 hours of usage. However, during our real-time usage with the laptop, we managed to run the laptop for about 6 hours on a single charge. Considering the specifications it packs in, 6 hours of battery life is still a commendable work.
Moreover, if you restrict yourself to normal usage, and doesn't heat up the device with high-end games and continuous video playbacks, you can expect a little more of a juice from the laptop. It takes around 3 hours to charge it from 0 to 100 which is pretty common with all the laptops.
Bottom Line
We have described and mentioned almost all the essentials which are to be filtered in the process of buying a laptop. And keeping our conclusion simple, the Acer Aspire E 15 offers a lot more than what you pay for it.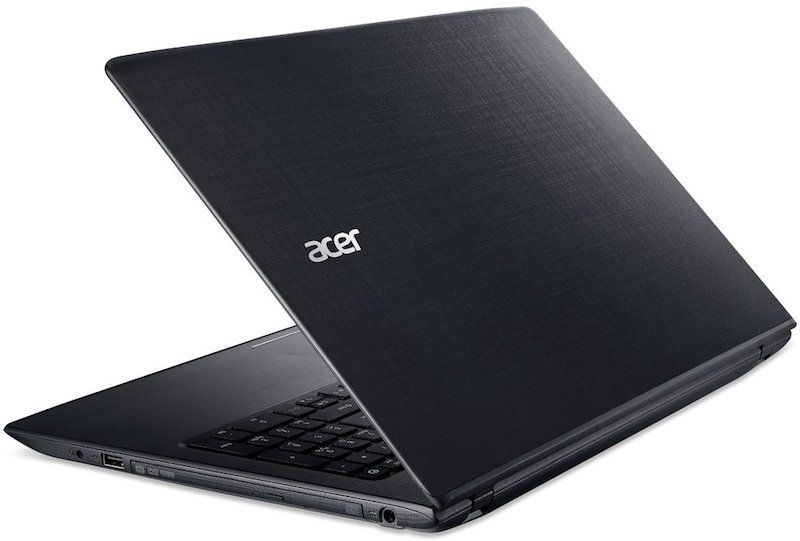 This laptop has evidently proved that the configuration alone is not what matters the most, rather, it's the perfect balance of specs sheet which makes or breaks a device. If your budget is around $600, we currently cannot suggest any better laptop than the Acer Aspire E15 (E5-575G-53VG) to you.
Advertisement