The Acer gaming laptops, specifically, the Nitro 5 and Nitro 7, will both receive hardware and design updates once their latest versions release later this year.
This was confirmed on Thursday, April 11, at the Acer Global Press Conference in New York.
Advertisement
The Nitro series line of gaming laptops are part of Acer's effort to tap into the more budget-conscious side of the gaming laptop market. As per Acer General Manager of Notebooks, James Lin, the Nitro series Acer gaming laptops are proof that "performance gaming doesn't need to break the bank."
True to that, the Acer Nitro 5 and Nitro 7 come at very affordable price points. However, they have an interesting set of features, both in terms of design and hardware. Even though there are slight compromises, the Nitro 5 and Nitro 7 present themselves as budget-friendly alternatives with commendable specifications.
What's New in the 2019 Acer Nitro 5 and Nitro 7 Gaming Laptops?
Of the two Acer gaming laptops, the Nitro 7 is more noteworthy.  It is actually a new product, not a revamp. It features a metal chassis, which belies its "affordable" nature and measures just 19.9mm thin. More importantly, it also comes equipped with a 15.6-inch Full HD display with a refresh rate of 144Hz and a 3ms response time.
Clearly, the Nitro 7 is aimed for hardcore gamers on the go. Specifically, it's made for those who love playing FPS titles.
On the other hand, the Nitro 5 is the one that's actually a refresh of the older line. It is also the cheaper of the two Acer gaming laptops. It comes with two types of displays. You can either choose a 15.6-inch display or a 17.3-inch display. Regardless, both will come with an increased screen-to-body ratio of 80 percent. This means that the display bezels of the new Nitro 5 (as well as that of the Nitro 7) are a lot narrower compared to the older versions.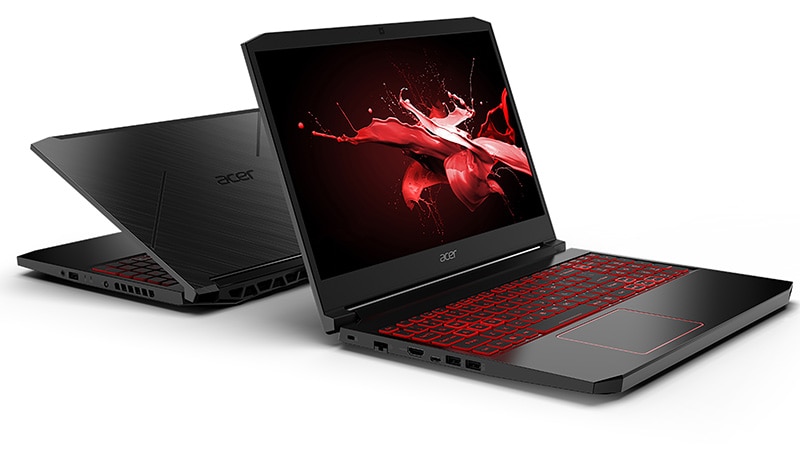 Outside of the fact that both Acer gaming laptops come available with up to 9th-generation Intel Core processors and the latest Nvidia graphics cards, other important features include expansive storage options, including a dedicated HDD slot and two M.2 SSD slots, as well as support for up to 32GB DDR4 RAM.
Both the Nitro 5 and Nitro 7 will also come with the "CoolBoost" feature, a dual-fan cooling design that allows the laptops to keep temperatures low during intense gaming sessions. Both also feature a Killer Ethernet E2500 networking card. Additionally, you can also use the Network Optimizer Tool by Acer to further minimize latency issues when gaming online.
Say Hello to the Acer Predator Helios 700
The creme of the crop when it comes to Acer gaming laptops, the latest Acer Predator Helios 700 puts the Taiwan-based manufacturer right at the forefront of risque innovations in the high-end, desktop-replacement, gaming laptop niche.
As expected, the top of the line Acer Predator Helios 700 will feature high-end hardware components. This includes an overclockable 9th-gen Intel Core i9 CPU, as well as the regular Nvidia RTX 2080 GPU and not the toned down Max-Q version, as well as support for up to 64GB of DDR4 RAM.
That's not all, however.
The Acer Predator Helios 700 also features a transforming keyboard and trackpad that you can slide forward to help improve ventilation, which can come in quite handy if you're trying to squeeze even more performance out of the Acer Predator Helios 700 by overclocking its hardware. The said keyboard also comes packed with MagForce keys, as well as linear switches, in addition to the requisite RGB lighting. This helps create an optimal typing and gaming experience.
For those who think that the Acer Predator Helios 700 is a bit too much, the smaller Acer Predator Helios 300 is also available. The latest version retains the look of its predecessor, but it comes with improved internals.
The so-called "#1 gaming notebook" comes equipped with a 144Hz display that has a 3ms response time. It can come up with up to an RTX 2080 GPU, a 9th-generation Intel Core i7 CPU, as well as 32GB of DDR4 RAM.
When Are the New Acer Gaming Laptops Going to be Available?
For those interested, it is already possible to buy the Acer Nitro 7 in the United States. It starts selling at a $1,000 price point. Acer plans on shipping Nitro 7 units out to the China and EMEA regions sometime in May and June. Meanwhile, for the Acer Nitro 5, it will arrive in US shores starting later this month of April. It will start selling for $800. The Nitro 5 should start making an appearance in the China and EMEA regions in May 2019.
As for the Acer Predator Helios 700, it will start selling at a $2,699 price point. The smaller Acer Predator Helios 300 is a bit more affordable at $1,199. Both should be available in April in the United States. However, the Acer Predator Helios 300 will only start selling in Europe in June, with the Helios 700 coming later in July.
Read more related stories:
Advertisement