The Acer Predator Helios 300 has been one of our most recommended gaming laptops since it was launch in 2017. We got a revision in 2018 with some changes in internals, but it was a mere spec bump as the chassis did not see anything new. In 2019, Acer has remastered it's best selling machine by giving it a complete design overhaul and revamped thermals which Acer claims will lead to a significant difference in the experience of an average gamer.
When put to the test, the new Predator Helios 300 does deliver the claims made by the company while still keeping the price near to $1000. The new design appeals a look which is more modern than ever, the spec sheet with the Core i7 9750H hexa core processor and Nvidia's Turing graphics ticks all the checkboxes and leaves nothing more to be desired. The new cooling solution also seems to help a lot. Overall, on the performance front, Acer has delivered the no-nonsense gaming machine which every gamer always asked for.
Advertisement
Acer Predator Helios 300 (PH315-52-78VL) Gaming Laptop
9 new from $1,267.99
1 used from $1,099.00

as of May 28, 2023 1:27 am
Features
9th Generation Intel Core i7 9750H 6 Core Processor (Up to 4.5GHz) with Windows 10 Home 64 Bit
NVIDIA GeForce GTX 1660 Ti Graphics with 6GB of dedicated GDDR6 VRAM
15.6 inches Full HD (1920 x 1080) Widescreen LED backlit IPS Display (144Hz Refresh Rate, 3ms Overdrive Response Time, 300nit Brightness and 72 percentage NTSC)
16GB DDR4 2666MHz Memory, 256GB PCIe NVMe SSD (2 x PCIe M.2 Slots; 1 Slot Open for Easy Upgrades) and 1 Available Hard Drive Bay
Backlit Keyboard; LAN: Killer Ethernet E2500 10/100/1000 Gigabit Ethernet LAN; Wireless: Killer DoubleShot Pro Wireless AC 1550 802. 11ac; 4th Gen All Metal AeroBlade 3D Fan
Design
The design is the most improved aspect of this machine. The 2019 Predator Helios 300 has an entirely new blue design which calls for a breath of fresh air after years of generic red and black gaming laptops.
The laptop has an aluminum top surface and deck, which combined with the sturdy hinge, provide the feel of strong build quality. It does add a little bit of weight though, the laptop weighs 5.1 lbs (2.3 kg) which is not light by any means, but it is slightly lighter and slimmer than the previous generation. It is still on the bulkier side but in line with the competition and portable enough to carry in a backpack.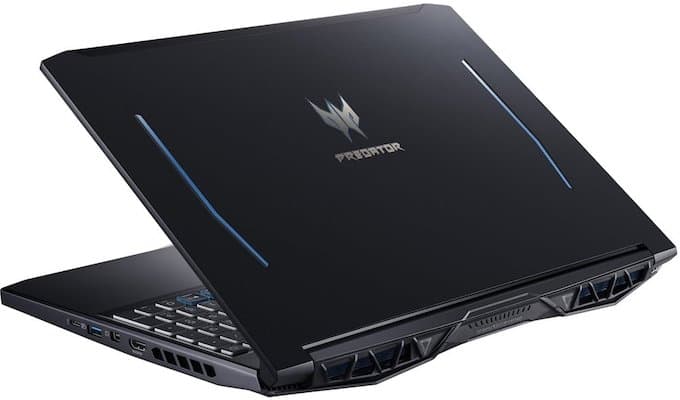 The design is ergonomic and minimalist. The only problem I faced was that the outline is a little angular which caused some trouble while typing and needs getting used to. Apart from that, the overall new design language by Acer was a much needed change and will be appreciated by every user.
Display
The 2019 Acer Predator Helios 300 houses a 15.6 inch 1080p IPS display, which has a refresh rate of 144 Hz and a response time of 3ms. On-paper, the display is on par with the other costly gaming laptops out there.
The thin bezels add to the clean design language that Acer is going for. The 79% screen-to-body ratio provides the laptop with a sleek and modern look. They are not super-thin, so it can house the webcam up top unlike modern ultrabooks even though nobody is going to use it because it's only good enough for video calls as there is no Windows Hello support.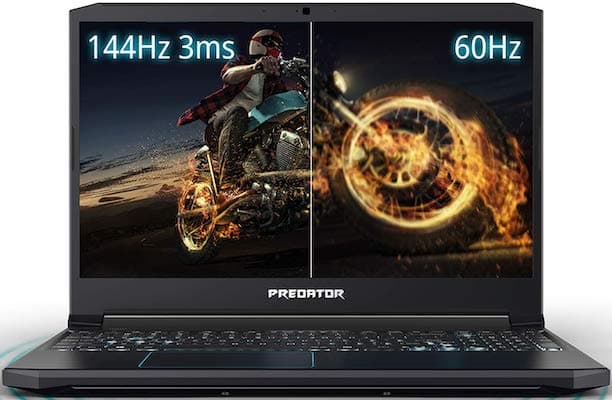 The color accuracy is better than average with 97% SRGB and 75% ARGB color gamut. It's not perfect for color accurate work, but more than enough for a great gaming experience. The peak brightness of the panel was recorded at 343 nits which should result in good visibility outdoors.
The panel does suffer from backlight bleed issues. It is not the same on all the laptops and will depend totally on luck if your panel is unusable in a worst-case scenario. Backlight bleed does not affect gaming or reading text a lot, where it's most noticeable is movies that have black bars on the corners of the screen.
Keyboard & Touchpad
The keyboard and trackpad are the most easily underlooked parts in gaming laptops. The keyboard on this laptop is similar on the inside as the last year's model. Even though it looks different with the blue accents and RGB backlighting, the underlying functionality and the layout is the same for the most part.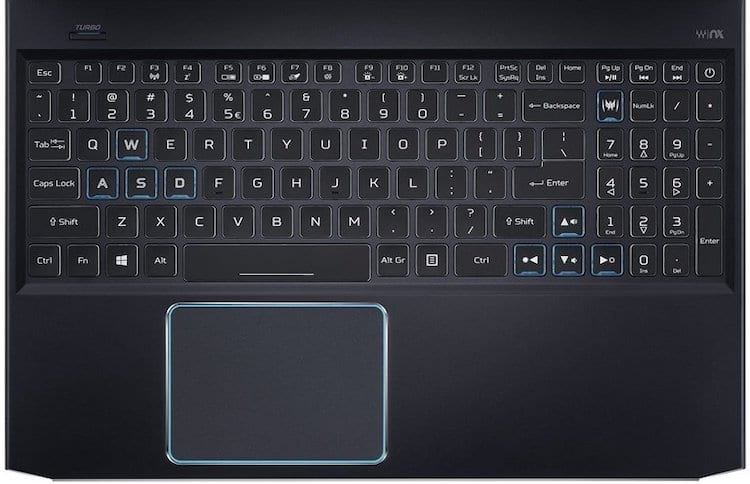 Small improvements are made to the keyboard like increased key travel distance and 4 zone RGB backlight instead of the red backlight from last year. Some lower configurations don't have the complete customizable RGB backlighting but only a subtle white light which is still better than red.
The trackpad has a plastic surface; it is inferior to glass trackpads but does the job. It does not suffer any hiccups or misreads thanks to windows precision drivers. The size is also good enough. Both the trackpad and keyboard are easy to get used to, and most people will find them comfortable to use without any complaints.
MORE: Top 10 Best Laptops for Writers With Most Comfortable Keyboard
Hardware
The new Acer Predator Helios 300 features the same specifications as any other $1200 gaming laptop in 2019, a hexa-core i7-9750H CPU that can boost up to 4.5 GHz on a single core and 4.0 GHz on all cores, 16GB of dual-channel memory and Nvidia's GTX 1660 Ti graphics with 6GB of GDDR6 virtual memory.
However, the spec sheet is not where it's at. The optimization and tuning done by Acer take this laptop one step ahead of the competition. It comes factory-undervolted, which allows the CPU to maintain boost clock while sucking less power and generating less heat as a result. The 'Turbo' button overclocks the GPU and runs the fans at max speed to get the most out of the machine. Acer has taken care of every small detail which allows this laptop to edge out the competition. One thing to note here is that Nvidia's GTX 1660 Ti comes in a few different configurations meant for different form factor designs. The Predator Helios 300 houses a full 80W TDP configuration of the GTX 1660 Ti. It's safe to say it is the most powerful GTX 1660 Ti laptop out there.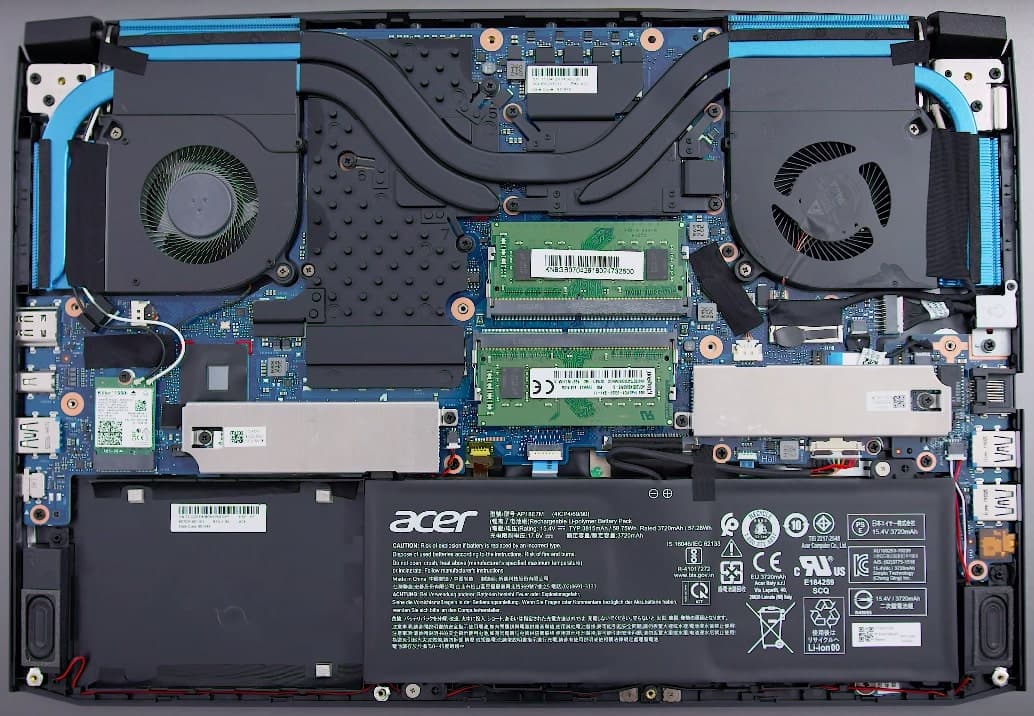 MORE: The Best Laptops Powered By Intel Core i7 Processor (9th Gen)
The rest of the components are pretty well balanced; there are a few storage options to choose from. You can configure the laptop on Amazon with either a 256GB or a 512GB NVMe SSD. The read and write speeds are similar to most NVMe SSDs out there. On the inside, there are 2x SODIMM memory slots, 2x M.2 drive slots and an empty 2.5-inch drive bay to add a SATA SSD or a spinning HDD of your choice. Ram, storage and WiFi card can easily be upgraded by opening only a few screws. Acer has ensured the machine is very user-friendly to upgrade and service.
Gaming Performance
| | |
| --- | --- |
| Game | Avg. fps |
| Fortnite (Epic) | 140 fps |
| Overwatch (Ultra) | 100 fps |
| Shadow of the Tomb Raider (High) | 85 fps |
| Apex Legends (High) | 80 fps |
| Rainbow Six Siege (Ultra) | 127 fps |
| Metro Exodus (Normal) | 69 fps |
| Battlefield V (High) | 60 fps |
Gaming performance is where the 2019 Acer Predator Helios 300 shines; it manages to stick out from the stack of all GTX 1660 Ti laptops by beating every single one of them. The dual-channel memory helps to achieve better 1% lows, and the experience is seamless. The CPU stayed at peak boost frequency all the time while playing Battlefield V.
If you play a lot of competitive multiplayer titles, dropping the graphics settings a bit can help max out the fps to match the display's 144 Hz refresh-rate which is the best way to enjoy these titles.
Thermals & Acoustics
The two fans, one dedicated to the CPU and GPU each, exhaust air out of the four vents, two on the rear, and two on the sides. Acer has done a great job of keeping this laptop cool by pre-undervolting the CPU. Under full load, the keyboard deck stays under a manageable 50°C. The CPU temperature reached a high of 85°C, and the GPU touched a max of 70°C. These temperatures are easily manageable, and no thermal throttling or power limit throttling was noticed. The testing was done with an ambient temperature of 22°C, so your mileage may vary.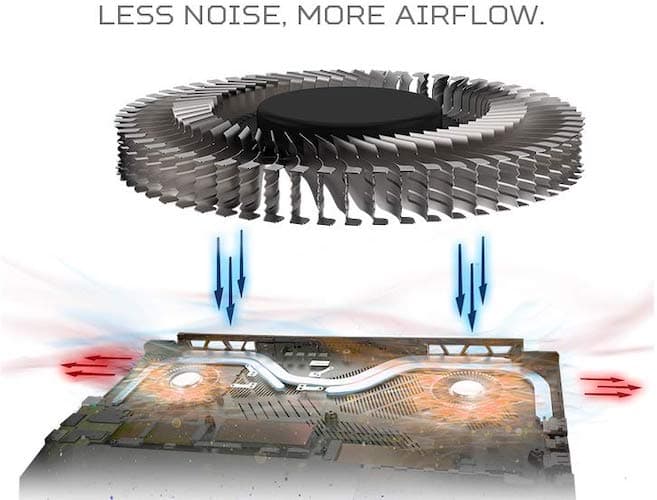 If you're doing any CPU-heavy tasks on this laptop, you're going to see the best results with the Turbo profile that can be initiated with the Turbo button on the deck. It automatically sets the optimum clock speed for the GPU and provides the CPU 25% more power to work with. It does increase the fan noise to slightly uncomfortable 55dB as it ramps up the fans to max speed. But that's a sacrifice you're going to have to make to maximize performance. It's unnoticeable when you have headphones on.
MORE: The Best Laptops for Video Editing – Our Top Picks for Youtubers and Film Editors
Ports & Slots
On the left, the laptop features a Kensington lock, power connector, an RJ45 ethernet jack, 2x USB 3.1 ports, and a combo headphone jack.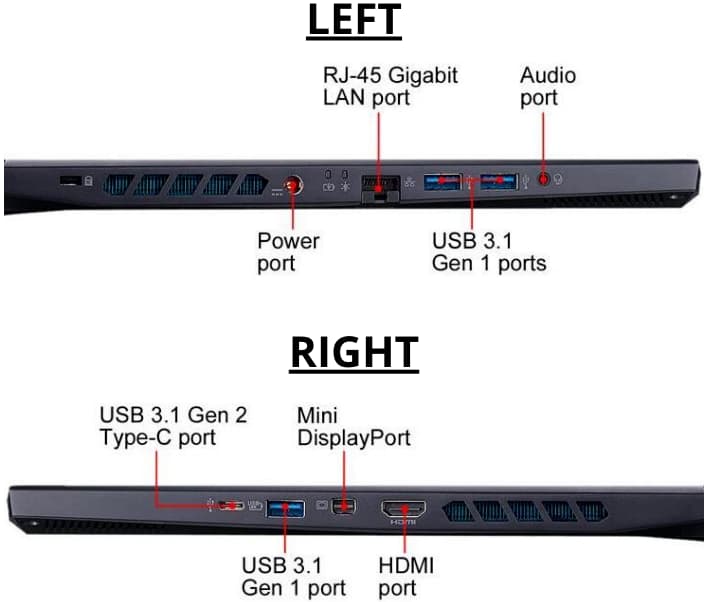 On the right, we see a full-size HDMI port, a mini DisplayPort, 1x USB 3.1 port, and 1x USB 3.1 Gen 2 Type-C port.
The only thing missing here is an SD card slot, which is a bummer for creative professionals who use SD cards to transfer data to and from cameras. The type-c port, sadly, does not support Thunderbolt 3.
Battery Life
The battery on this laptop is a 58 Wh unit. Battery backup was recorded at 3-3.5 hours while doing normal tasks like browsing and watching a video with screen brightness at 250 nits and using Nvidia Optimus to force use the integrated Intel graphics. Under load, while gaming or doing any heavy tasks, don't expect more than 45 minutes of juice out of the small battery.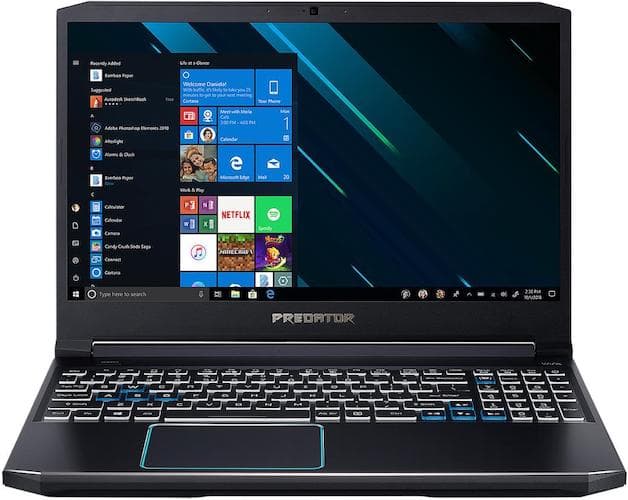 The 180W AC adapter is fairly large but can be easily managed in a backpack. It adds some weight making the package about 6.1 lbs (2.8 kg) heavy to carry around.
Conclusion
For $1200, the Acer Predator Helios 300 provides amazing value when compared to the competition. Not only does this machine outperform every other similarly priced laptop, it does so without any compromises. With the out of the box CPU undervolt, Acer has knocked this one out of the park.
The balanced specifications on this laptop make it a good buy for gamers and content creators. It has a good screen, a stellar keyboard, can be easily upgraded, provides excellent gaming performance, and stays cool while doing so. The price drops to below $1100 often, and in the Black Friday sale, it dropped to a lowest of $930, which makes the Predator Helios 300 the best bang for the buck gaming laptop.
Acer Predator Helios 300 (PH315-52-78VL) Gaming Laptop
$1,072.49
Design & Build Quality
4.5/5
Keyboard & Touchpad
4.3/5
Pros
144Hz refresh-rate Display
Robust performance
Great build quality
Easy to upgrade
Value for money
Cons
Less storage space out of the box
No SD Card slot, No Thunderbolt support
Loud Fans
Small battery
Advertisement