In January this year at CES, Lenovo and ASUS debuted their brand-new laptops with foldable screens. Now you might be thinking all laptops are foldable anyway, why bother making a screen that folds?
Well, we had the same question.
Advertisement
So today, we're taking a look at the newly released form factor for laptops. We'll check out the two laptops with foldable screens on the market right now to figure out if it's actually a good thing.
The Present of Foldable Screen Laptops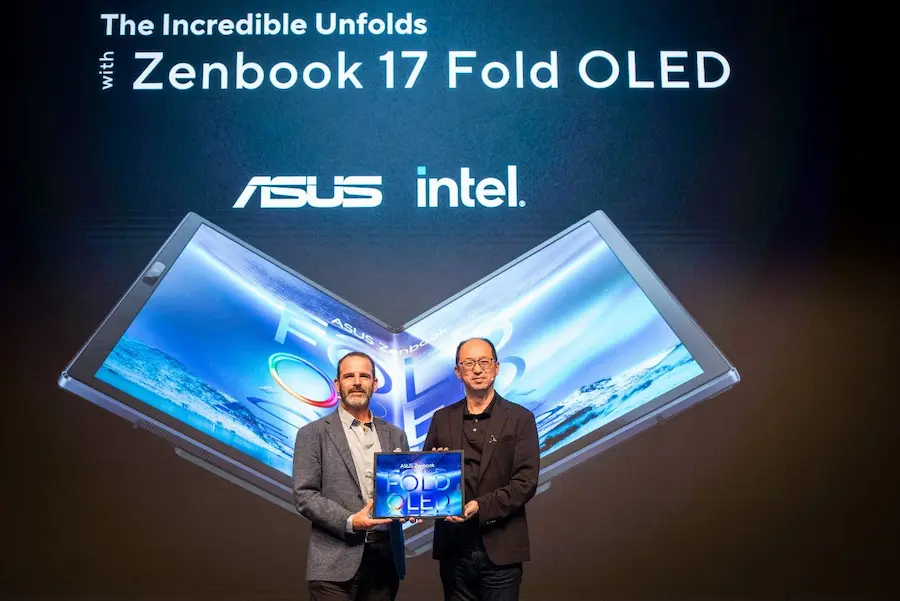 This year's CES 2022 had two foldable laptops showcased from Lenovo and ASUS. The Lenovo ThinkPad X1 Fold Gen 2 and the ASUS ZenBook 17 Fold OLED. Since both share similar traits, they're worthy rivals and it would be interesting to compare them and see what we get out of it.
The Lenovo ThinkPad X1 Fold Gen 2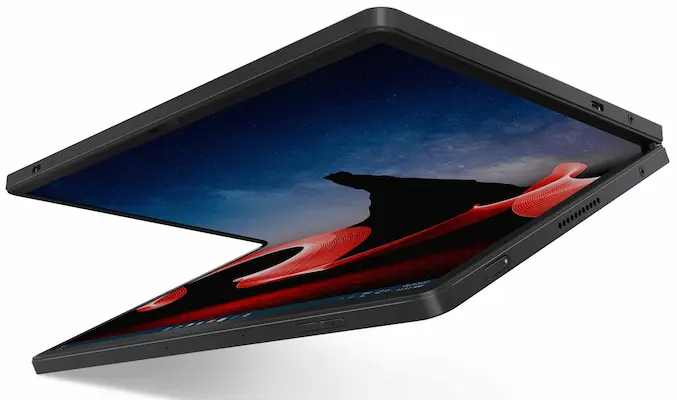 The ThinkPad X1 Fold Gen 2 is the successor of the original ThinkPad X1 Fold showcased at CES 2020.
This was the "world's first foldable PC," and the new version expands on both design and internal specs.
The ThinkPad X1 Fold Gen 2 features a 16.3-inch OLED display with a 2024 x 2560 resolution, 100% DCI-P3, Dolby Vision, and 600 nit brightness. It can also transform into a 12-inch display when folded.
Internally, it features 12th Gen Intel Core i5 or i7 processors, Intel Iris Xe integrated GPU, up to 32GB RAM, and a 1TB SSD. So far, the laptop looks pretty familiar to other Ultrabooks in the category.
But where the ThinkPad X1 Fold shines is the form factor. You can transform the laptop in multiple ways, including laptop mode, landscape mode, portrait mode, book mode, and tablet mode.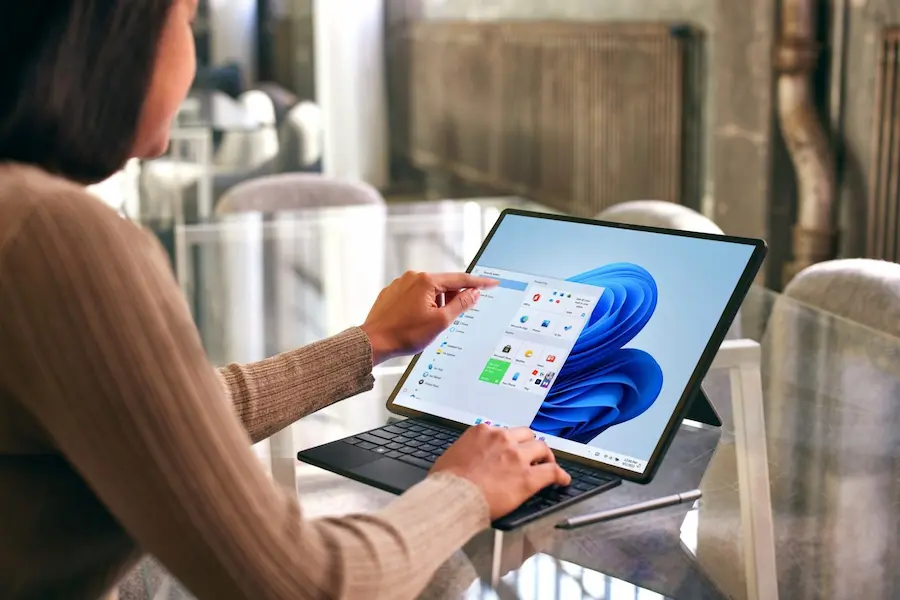 You also can prop up the laptop with the included stand in either landscape or portrait mode. The biggest draw to the ThinkPad X1 Fold is its compactness. The sleek form factor ensures a huge 16″ display in a fraction of the size of a traditional clamshell 16-inch laptop.
It's also incredibly light, weighing in at just 2.82 pound. Adding in the stand and keyboard, it maxes out to 4.19 pound, still a manageable weight. With everything we've seen so far, portability and screen size are key with the ThinkPad X1 Fold Gen 2.
But besides the most obvious advantage of a foldable display, there isn't much else going for the ThinkPad X1 Fold. It's rocking the latest hardware, but you could find much better specs for the price (~$2,500) at a similar weight with something like the Razer Blade 15 gaming laptop that also includes a discrete RTX graphics card.
The ASUS ZenBook 17 Fold OLED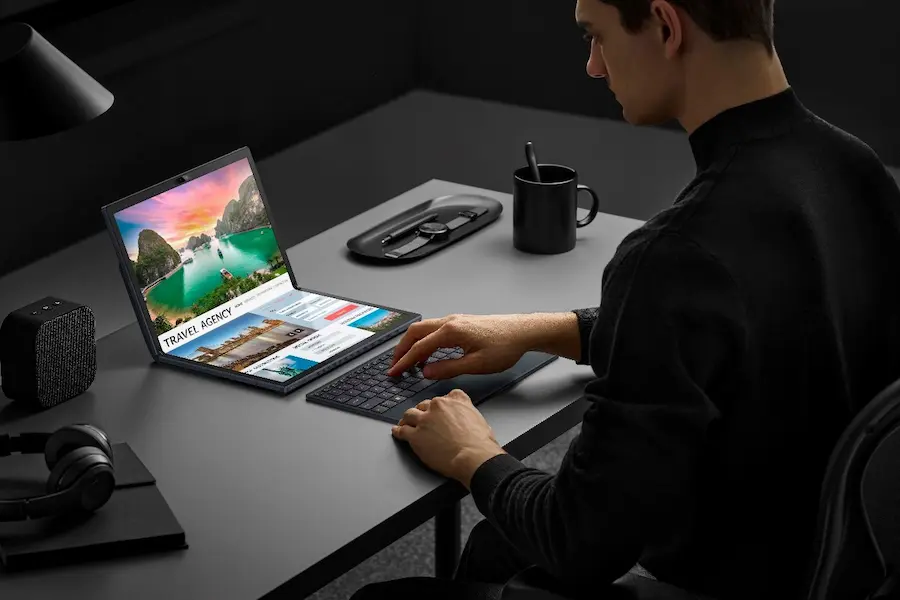 The next laptop released at CES 2022 is the all-new ASUS ZenBook 17 Fold OLED. The ZenBook 17 Fold OLED features a staggering 17.3″ 2560 x 1920 resolution display with 100% DCI-P3, Dolby Vision, and 500 nit brightness. When folded, it transforms into a 12.5″ laptop with a 3:2 aspect ratio and lower 1920 x 1280 resolution.
ASUS also calls the ZenBook 17 Fold OLED the first 17″ foldable OLED laptop. Undoubtedly, it's a huge, unencumbered display that looks great. But the folded crease is visible, which can bother some users.
Internally, the ASUS ZenBook 17 Fold OLED features a 12th Gen Intel Core i7-1250U processor, 16GB RAM, 1TB SSD, and Intel Iris XE graphics. On the outside, the ZenBook 17 Fold has an embedded kickstand to transform to multiple display modes.
This includes two laptop modes (w/ physical or virtual on-screen keyboard), Desktop mode, Tablet mode, Reader mode, and Extended mode.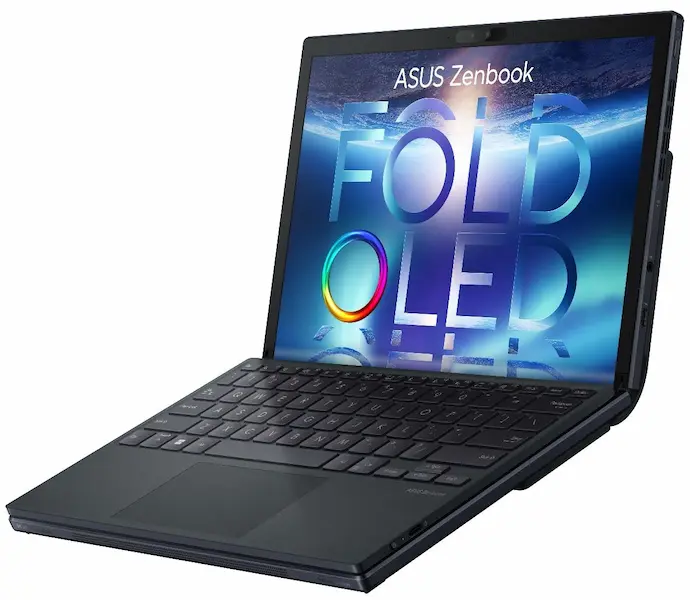 Compared to the ThinkPad X1 Fold, the ZenBook 17 Fold allows you to place the ASUS ErgoSense keyboard on top of the lower portion of the screen and connects magnetically. This transforms the laptop into a typical 12″ laptop form factor. It then looks chunky, but it works.
In terms of versatility, the ZenBook 17 Fold is a notch ahead.
This differentiates the ZenBook 17 Fold enough, especially with the huge 17.3″ display and physical keyboard implementation. The ThinkPad X1 Fold felt more like an ordinary tablet with a separate Bluetooth keyboard.
But for a relatively tame spec sheet (besides the screen), the ASUS ZenBook 17 Fold goes for a whopping $3,499. And it'll be available to purchase by end of this year, but should you buy it?
Reasons to buy the folding screen laptops right now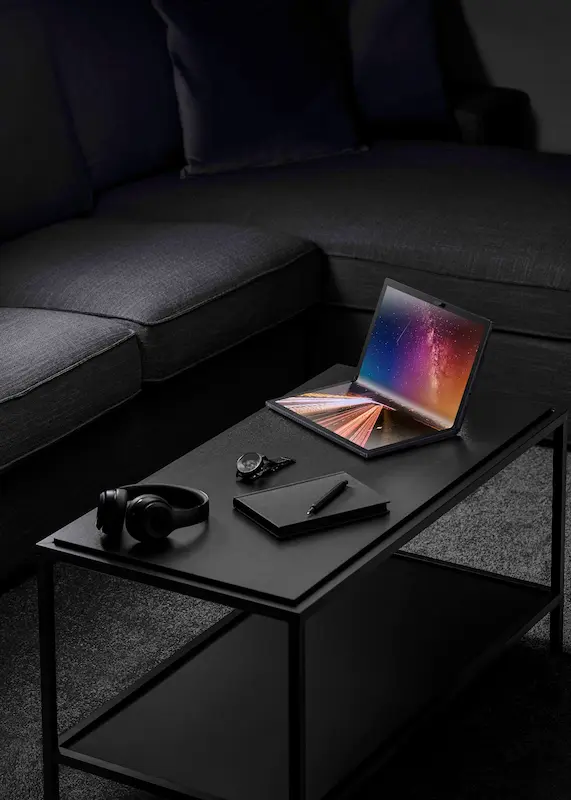 The advantage of the foldable laptop screen is obvious; a bigger, versatile laptop for a fraction of the space. You get a big, vibrant screen and don't have to suffer the consequences of traditional 16″ and 17″ laptops, which are usually heavy and take up a lot of space.
Not to mention you get Windows capability in a tablet form factor which is a sorely lacking feature of the usual Android tablet.
Adding in the ability to use Microsoft allows versatility we haven't seen before. Especially when you consider this is basically a supersized tablet.
Multi-tasking on Windows is also greatly enhanced. In both the featured foldable laptops, you could multi-task in various ways.
You could split the screen into three, with dual portions on the top half and a completely separate screen on the bottom, or you can split the two for a dual-monitor-like setup or flatten it for a full and massive display.
In terms of versatility, the foldable laptop screen gives you options like none other. I can think of many people that can take advantage of this flexibility, like digital artists, graphic designers, engineers and architects, etc.
Reasons why you shouldn't buy a folding screen laptop just yet
But there's always a bad side to anything, and foldable laptops do have a few key problems.
First off, the price.
The foldable laptops we have today are expensive pieces of tech. You'll need to break the bank for a laptop that performs equivalent to some laptops that are half the price.
To say the least, there's nothing special going on internally. Foldable laptops will get you the same Windows experience as many affordable laptops.
And think about the current 2-in-1 laptop market. How many people are actually using their laptops as tablets or folding them?
From personal experience, it's a great party trick, but eventually, you use it like any other laptop without ever flattening it out or twisting it around.
Furthermore, durability is a key component of any laptop.
See the numerous problems with foldable smartphones. There are many accounts of things going wrong with the display, like snapping, dust entering the screen, or just straight up breaking without reason. Since the foldable laptops are thinner and more fragile than typical clamshell laptops, it's expected.
For example, the ASUS ZenBook Fold 17 OLED lasts up to 30,000 cycles of opening and closing. After a couple of years, you may see problems with the hinge.
There's also a visible crease in foldable OLEDs, which we haven't even addressed yet. It might not be a problem for some, but it's definitely noticeable enough to worry about a weak point in the build.
The Verdict
All things considered, one thing is clear.
The foldable laptop screen is an intriguing & attractive proposition that has its merits. However, in terms of cost and practicality, we might not be ready just yet. It'll take a couple of more years for this to hit the mainstream, that's for sure.
In its current state, we'd advise against foldable laptop screens as the form factor is in its infancy. Essentially, you'd be a test market for future iterations of these types of laptops. But hey, if you're convinced and want to be an early adopter, I can understand why.
The Future of Foldable Screen Laptops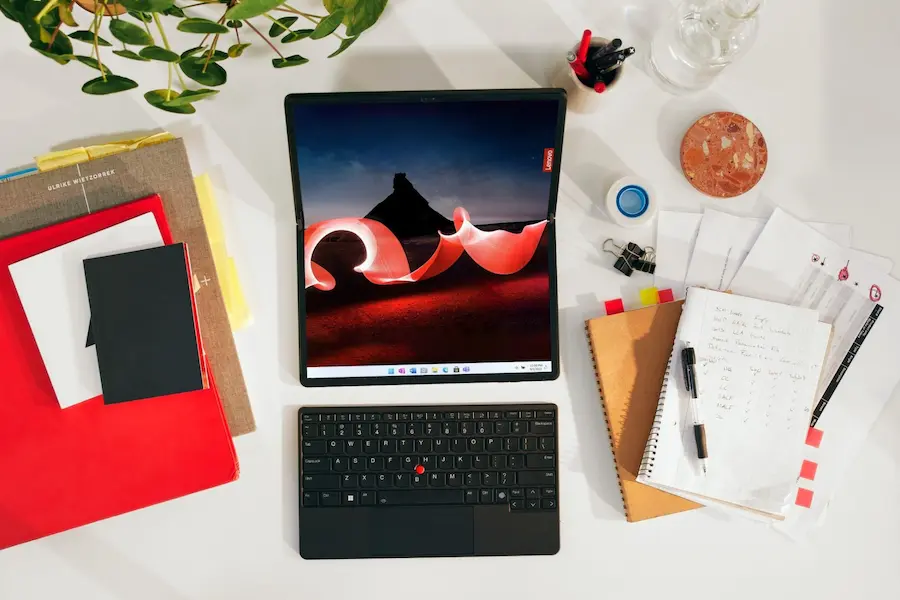 The possibilities for foldable laptop screens look bright, but we still have a long way to go. We've just recently started toying with the idea, and I wouldn't be surprised if foldable laptop screens are all the rage in the coming years.
We've taken a step in the right direction, and we need to see where it leads us. I can imagine many different applications of foldable laptop screens that sound like something out of a sci-fi movie.
Perhaps a foldable screen to bring a monitor with you on the go? Or a Windows laptop folded over your wrist? A 20″ laptop screen in a 13″ body? Curved display panels for immersive entertainment, all in a compact body?
Who knows what future innovations will bring to the table? We've just started getting there, and hopefully, we'll see even more brilliant innovations in the space.
What We Think
With everything we've gone over, we think foldable laptop screens are an exciting proposition, but we're not entirely convinced. Right now, it's an expensive and risky move since we don't know the long-term implications of a foldable screen.
It could be revolutionary, but it could also be a passing fad.
But that's what we think, and we want to hear your thoughts. Is it a must-have or a needless extravagance. Let us know!
Advertisement