Asus F556UA-AB54 laptop is a modern day utility from the house of Asus, the laptop aims to minimise the efforts and maximize the output on the user's part. The introduction of modern day functionalities makes this laptop a rage among the tech fanatics.
Asus aims to take over its competitors and contemporaries with this amazingly affordable laptop. One can use this laptop for entertainment purpose, at work places and also for fulfilling artistic fetishes. The Asus F556UA is certainly going to impact the brand value of a lot of contemporaries. So on an overall note, this is one of the best productivity machine you can buy right now if you have budget of $700. If you want to have an in depth look at this laptop then here's our complete review of Asus F556UA-AB54 laptop which shall help you to decide whether this is the perfect match for you or not.
Advertisement
ASUS F556UA-AB54 NB 15.6" FHD Laptop
out of stock
as of October 1, 2023 1:23 am
Features
Powerful 15.6" Full HD laptop with latest 7th-generation Intel Core i5 processor 2.5 GHz
Thin and light design for superior portability weighing only 5.1 lbs and 1" thin profile
Fast memory and storage for superior boot times and multitasking. Equipped with 256GB SSD and 8GB DDR4 RAM
Extensive connectivity with HDMI/D-SUB/USB Type C, 802.11a/c WiFi, and SD Card Reader
Long-lasting 38 Whr polymer battery 2.5 times the lifespan of standard Li-ion
Design
Few contemporaries might give Asus F556UA-AB54 laptop a tough time when it comes to specifications but in the context of design, it is going to emerge as a winner. The modern day design adds up to the image of new generation laptop; the sleek, stylish and fitting in design makes this laptop the best product for everyone looking forward to do their work in style.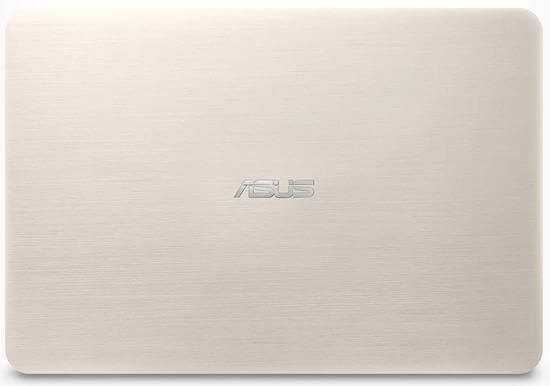 The fact that Asus F5556UA is a lightweight laptop, makes it easier for people to chose this particular machine over the others because there are very less laptops in this segment weighing near to 5 lbs. The Asus F556UA weighs 5.1lbs and it is one of the sleekest 15 inch laptop available in the market right now. So all you tech fanatics, who wanted to have something slim in your bag packs, here is the love of your dreams.
Although, Asus F556UA is a slim and sleek laptop, it doesn't compromise in offering any of the required ports & slots. For more info on what ports and slots does it offer, continue reading.
Display
The stylish Asus F556UA has a screen quality that will put critics to shame, the quality output and controlled emission of blue-light makes movies more fun and safer. The 15.6-inch Full HD LED-Lit display has a matte coating, which minimizes screen glare and protect eyes against fatigue.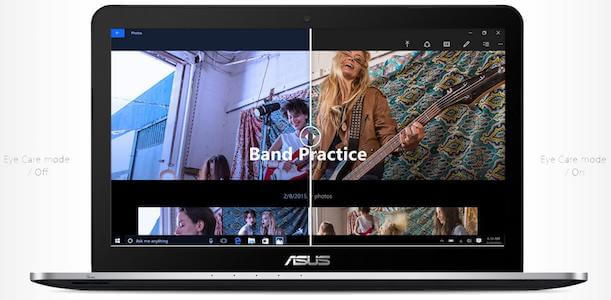 The display panel is way slimmer and stylish when compared to other contemporaries. People who are looking forward to have an affordable laptop with some stylish features can definitely go ahead with this laptop. Even prolonged laptop users like computer programmers are going to love the unique combination of Full HD screen view with eye-protection features.
Color accuracy and brightness levels of display are also up to the par, making it right choice for photo editing pros. Overall display quality of Asus F556UA is really good and there's hardly any laptop in this segment that can give it a tough competition. I would give five out of five stars to this laptop when it comes to serving people with quality entertainment.
Hardware
When it comes to laptop, people think of HDD and RAM as the only legitimate specifications but there's a lot more to consider like clock speed, processor count and also processor brand. Yes! clock speed and processor count are directly proportional to the speed at which a laptop processes data. That said, the Asus F556UA-AB54 sports a powerful dual core 2.5GHz Intel Core i5-7200U processor which is from the latest 7th Generation family of processors from Intel.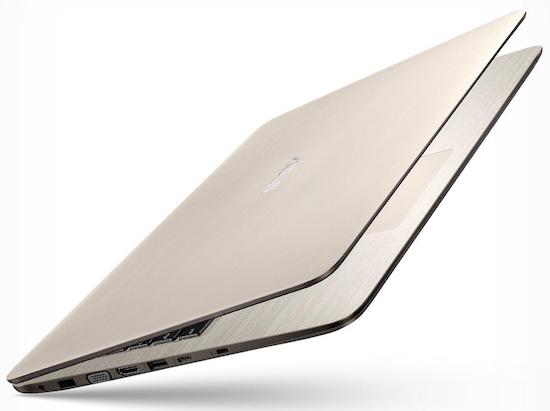 While Asus F556UA may appear as the thought leader in processor segment but it is bit disappointing with disk space, the laptop comes with a 256GB of SSD, which is neither enough nor in competition with the other contemporaries. Laptops in this segment generally have 1TB of HDD, whereas 500GB of HDD is considered to be the basic. Asus must work on it and release a newer version with doubled disk-space sooner.
Let alone the processor and disk-space, the RAM is designed to empower the already impressive processor speed. The 8GB of RAM will be able to queue up more processes and allow the processor to process them without making the laptop freeze. The smart combination of Intel Core i5 processor and 8GB of RAM is going to do wonders for workaholics and entertainment freaks.
You may like to checkout – Top 10 Best Laptops with an Intel Core i5 Processor
Webcam
Asus is generally not known for camera quality but with the newly designed display in place, this F556UA produces pretty impressive images. One can easily depend upon this webcam for creating tutorial videos for youtube and help the tech naysayers out there. Long story short, the webcam on Asus F556UA-AB54 is not the best you can get in segment but it is pretty good for business meetings on Skype.
Ports & Slots
Unlike the modern day laptops, the Asus F556UA-AB54 is slim and still houses all kind of ports, there's a USB 2.0, 3.0, Type-C, an HDMI, a DVD+RW, a card reader slot and also 3.5 mm jack for quality audio video output.
So, you get all the ports and slots that you were familiar with on your previous computer and also the newest and fastest USB Type-C port, which is expected to do the wonders with future of computing.

I think other laptop manufacturers should learn something from Asus about making slim laptops without compromising on REQUIRED ports and slots!
Software
Asus F556UA comes pre-installed with Windows 10 64-bit operating system. It is a premium Windows laptop, which ensures free upgrade to all further Windows 10 updates. With that said, the Asus F556UA does come with a few free preloaded software packages which are "actually useful". Asus F556UA comes with one-year warranty but the customer service of the enterprise is not that great! Acer and Dell emerges as a better leader when it comes to providing customers with quality support and after sales support. On top of all these features, the Windows 10's proprietary voice-assistance Cortana, is a big added advantage for the potential laptop users, and now it supports multiple languages and regions, making it geographically distinct in terms of support.
Performance
Packed with Intel core i5 processor and 8GB of RAM, the laptop is designed to cater people with exceptional performance. From students, to employees to artists, this laptop is perfect for anyone with normal to mediocre level of requirements.
The dual core Kaby Lake i5-7200U processor has the base clock frequency of 2.5GHz and turbo boost frequency up to 3.10GHz. The processor has got all the caliber required to run and accommodate almost all the apps very smoothly without much lag. The laptop during our review, did respond well to the inputs and all the hardcore apps we threw at it.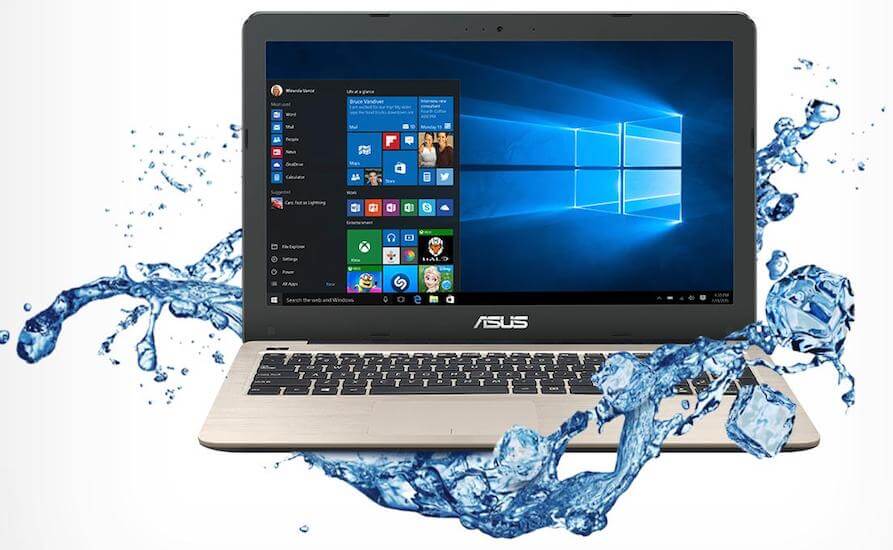 The laptop also responds very efficiently when a series of programs are launched simultaneously. One can definitely multi-task on this laptop without witnessing an iota of heat being produced. It also has the smart Asus ice-cool technology which controls inside temperature of the laptop and makes sure that the laptop always stay at comfortable temperature.
Audio & Video
Asus F556UA-AB54 laptop is going to rank par above the contemporaries because the Full HD LED-lit 15 inch screen and the pitch perfect audio makes it easier for the artists to note the nitty gritty of each and every songs. The output through 3.5mm jack is an immaculate example of quality. One can finally posses a laptop that produces exceptional stereo output and is in the range of $500. The laptop comes with the ASUS's proprietary SonicMaster audio technology meant to fine-tune the audio output. It was developed with the clear goal of giving you the best notebook PC audio. It supports a long list of professional codecs to ensures precise sound performance. In addition to all these, it has an optimised amplifier to deliver louder volumes and deeper bass.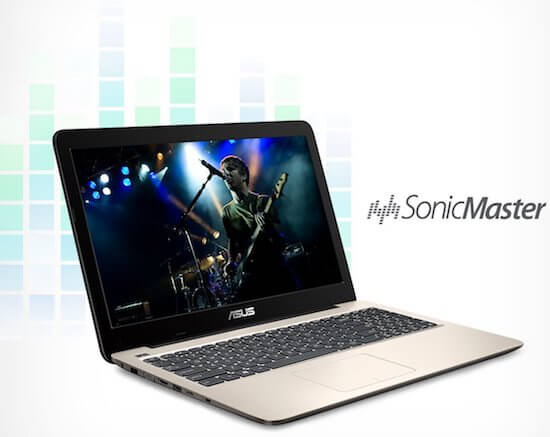 To test the video playback abilities of the Asus F556UA-AB54 laptop, we ran a set of HD, Full HD, and 4K content on it, to which the laptop responded really well. The detailing of the screen and the sound quality were simply superb thanks to its powerful speakers and bright display panel.
Gaming
This laptop is certainly not designed specifically for gaming but one can always run some old games on this laptop with great ease. Designed to leverage people with an exceptional working experience, this laptop is packed with specifications that can run some of your most favorite games with great ease. The laptop may lose when it comes to graphic output capacity because of lack of dedicated cards but the quality is certainly not poor. That said, it can run quite a good menu of games from the market, and being powered by the Windows 10 OS, the laptop supports a wide-range of games and apps to choose from. The modern games from the current market catalogue are also pretty much playable with the graphics and resolution set to low-medium settings.
You may like to checkout – Top 10 Best Gaming Laptops Under $800
Battery Life
Asus F556UA is packed with a 38-Whr-polymer battery which performans 2.5 times better than the standard Li-ion battery. It was compulsory for this laptop to have a long lasting battery because of the Full HD display that it is fitted with. The exceptional battery-life is going to make easier for people to go on and on without looking for a charger every now and then. The Li-polymer battery retains its 80% charge capacity even after completing hundreds of charge cycles. The battery also complies with the highest safety standards, which makes it radiation proof. During our usage, the laptop lasted for slightly over 6 hours, under heavy usage and it gets charged from 0 to 100 in around 3 hours, which is rather good.
Bottom Line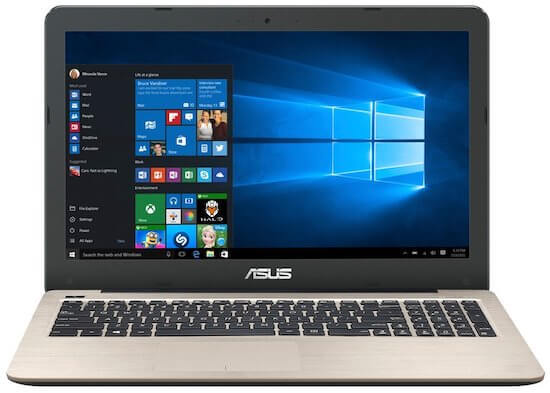 Asus F556UA emerges as winner when it comes to processing power, quality entertainment and leveraging healthier experience but fails to impress people with storage capacity.
The top-notch performance with audio-video output is going to win hearts and make people crave for more and more. We are pretty impressed with Asus F556UA when it comes to audio-video experience; we love the way it makes it easier for people to continue binge-watching movies without feeling restrained.
Like every other laptop in market, the Asus F556UA-AB54 is also not the perfect laptop. It has little dim display and the storage provided on the laptop is also not adequate for most of the users but if you're fine with these cons then it is one of the best laptop you can buy in $700 price range.
Advertisement