ASUS has been a brand, which is constantly delivering value for money laptops in the recent past. The brand has a wide range of laptops, suitable for users of all the age groups and niches. Our current contender is a mid-range power packed laptop from ASUS, which is primarily meant to provide a punchy performance, making it ideal for everyday usage. This laptop from ASUS offers some great specifications for a cut throat pricing. As a result, this laptop is one among the best sellers globally.
Considering the never declining demand for the day-to-day performer in laptops, we have decided to put the laptop to test, and here is what we feel of this machine. The laptop is although a business focusing device, we found out something very interesting about it during our review. Want to know what? Let's get started.
Advertisement
ASUS P-Series P2540UA-AB51 Business Laptop
out of stock
as of October 1, 2023 1:23 am
Features
Strong combination of design and business productivity. Incredible battery life with up to 9 hours* to keep you working and productive all day.
Affordable price with the right amount of small business security and manageability. TPM security and fingerprint reader for additional security to keep files safe. Designed for the working professional with enterprise performance and superior reliability
7th Gen Intel Core i5 7200U dual core with 8GB of RAM and 1TB 5400RPM HDD. Designed to be powerful, durable, and portable to keep professionals on the go with the security features for peace of mind.
15.6-inch anti-glare FHD panel and upgradable memory door on bottom side for easy access.
Total 4 USB ports. 3 x USB 3.0, 1 x USB2.0. 1 x HDMI, 1 x VGA port. (Support dual outputs)
Design
The ASUS P2540UA-AB51 comes with a matte finish all plastic body, which gives the old school look of a common laptop. On the very first view, there was nothing groundbreaking about the laptop, as far its design and looks are concerned. The laptop although looks a little thick and hefty, it is actually, a very ergonomically built work machine. The laptop comes with the right placement of ports and connectivity slots, and all in all feels way better than its other competitors in the market.
Speaking about the measurements of the laptop, it is 0.9-inch thick with a 15 x 10.1 inch (HWD) built. The laptop weighs close to 5.2 pounds, which we felt was a little heavy for a laptop this calibre. However, it wasn't that heavy to be considered as a drawback.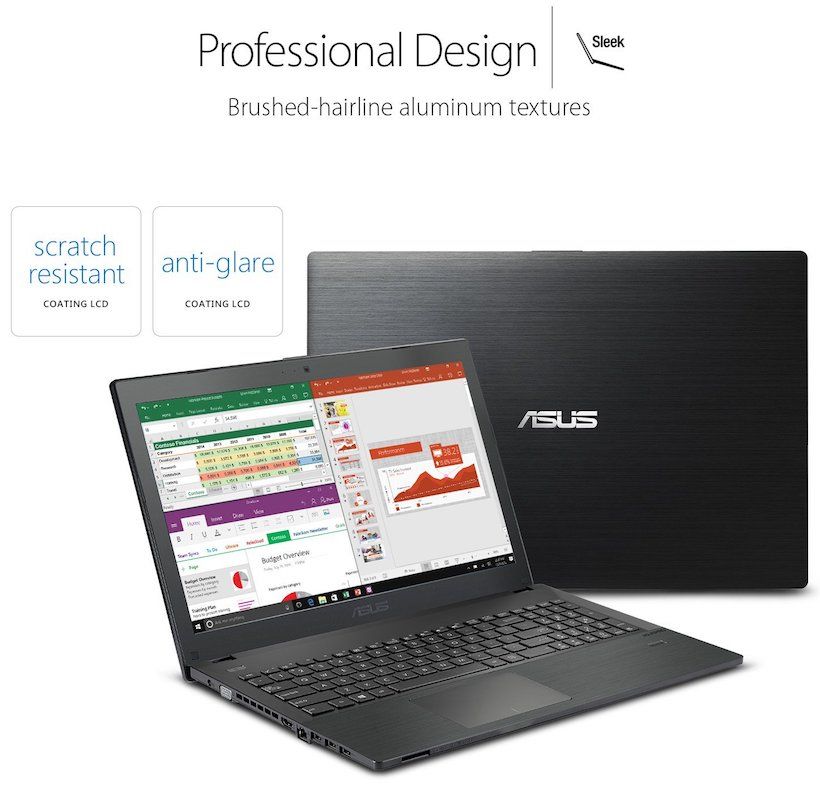 Space on both the edges of the laptop are well managed and are neatly recessed with ports, connectivity slots, and heat exhaust vents. The keyboard and the trackpad placement on the device are ideal for most cases and feels of superior quality.
You may like to read – Our Top Choices of Laptops for Writers with Best-in-class Keyboards
All in all, the ASUS P2540UA-AB51 laptop comes with a balanced and finely engineered design and feels sturdy to grip and carry around.
Display
The ASUS P2540UA-AB51 laptop features a 15.6-inch anti-glare Full HD display with a standard resolution of 1920 x 1080 pixels. The laptop's display comes with a matte finish on top of its anti-glare enabled display, which prevents unwanted reflections and helps reduce eye fatigue. The laptop does provide a very bright display and also had great viewing angles.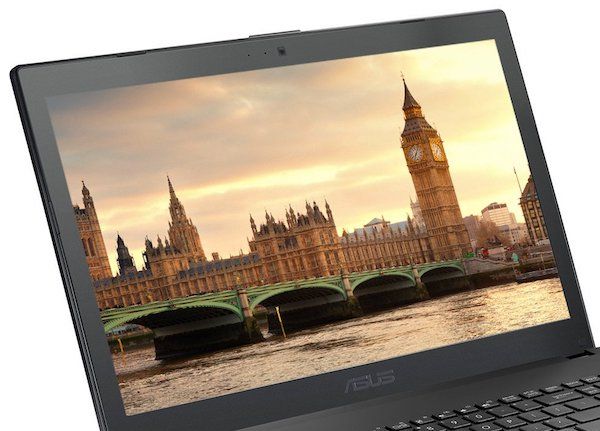 Thanks to its very bright and anti-reflective display, the laptop as expected scored a very good, 148 percent in RGB color ratio with the brightness measured around 210 nits, which is again way beyond the other laptops at this price range. The screen had detailed detailing and was able to show blacks and whites with accuracy.
You may like to read – Our Top Choices of Laptops for Photo Editing with Color-Accurate Displays
Hardware
Diving into the hardware and specifications department of the laptop, the device comes with a long list of interesting yet powerful specifications for the asking price. Speaking about the innards of this laptop, the ASUS P2540UA-AB51 is powered by a latest seventh gen Intel Core i5 processor paired with a good 8GB of RAM. The dual-core i5 processor is clocked at 2.5GHz, which can go up to 3.1GHz in its full throttle. The efficiency of the processor and RAM makes sure that multiple applications run on the laptop with ease.
Check out – Top 10 Best Laptops with Intel Core i5 Processor
Whereas, graphics on the laptop are handled well by the integrated Intel HD 620 graphics. This isn't an ideal choice for gaming but this laptop will definitely quench your occasional gaming cravings. As far as storage on the laptop is concerned, it is backed by a 1TB of mechanical HDD with a speed of 5400RPM. The hardware specifications on this laptop are unlike any other laptops in the segment. That said, this is the only laptop in $500 price range which comes with Intel i5 processor. That undoubtedly makes ASUS P2540UA-AB51 one of the best budget laptop to buy today.
Ports & Slots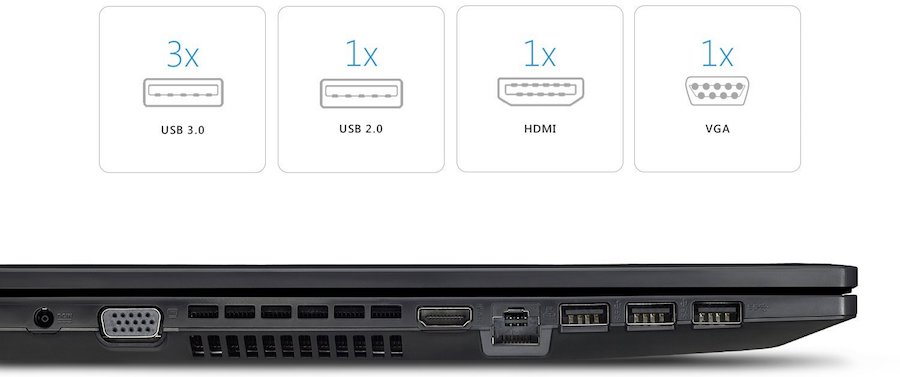 The ASUS P2540UA-AB51 comes with 3 USB 3.0 ports and 1 USB 2.0 port. Moreover, the laptop also provides an HDMI port, a VGA port, and comes with a Kensington lock and power connect alert. It also features a DVD drive which can read and also write the CDs and DVDs. The laptop's long list of ports helps the users to connect multiple peripherals to the laptop without any hassle.
You may like to read: Top 10 Best All-Purpose Laptops Under $600
Webcam
ASUS P2540UA-AB51 has a 720p camera, which adequately does the work of capturing images and video calls. The laptop's webcam provides a grainy output when snapping images, but on an overall note, the webcam on this laptop is quite serviceable.
Software
The ASUS P-Series P2540-AB51 laptop comes with Windows 10 Home (64 bit) operating system pre-installed. This is probably the best part of this laptop; The operating system. Windows 10 Home variant has been customised by various laptop vendors and has been baking with unnecessary bloatware. However, on ASUS P2540UA-AB51, the OS doesn't have any bloatware and is absolutely the pure Windows OS.
Sounds unbelievable, Right? Well, we also thought the same until we tested this laptop and found that it has not a single app or software pre-installed when it booted for first time.
Performance
Considering the price tag, the laptop offers top-notch performance. Thanks to its latest set of specifications and hardware packed beneath the hood the ASUS P2540UA-AB51 delivers a very efficient and stable performance even under prolonged sessions of continuous usage. Since the laptop is powered by the latest seventh generation of Intel Core i5 processor, it doesn't heat up even after a rugged usage. The laptop stays cool and stays calm, delivering the optimum performance expected.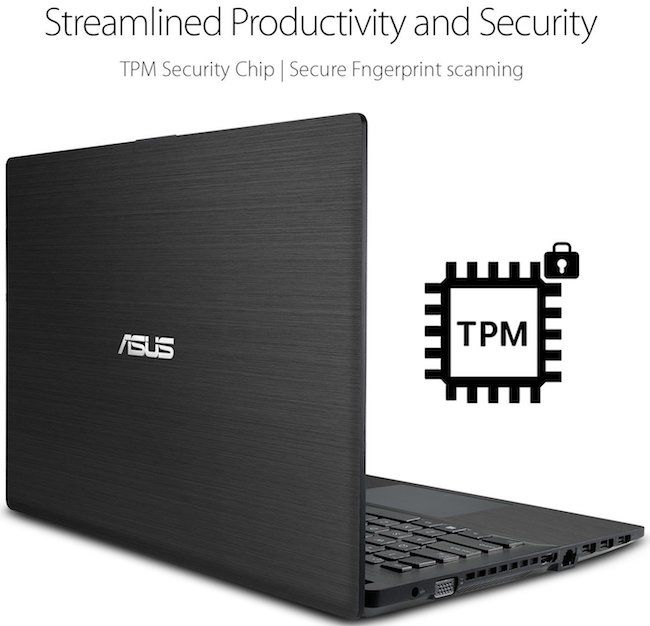 We used the laptop rigorously to run our benchmarking apps and also streamed Full HD and 4K content for hours together. We also had a continuous browsing session with around 8-10 tabs alive concurrently in Chrome. Surprisingly, the laptop managed to multitask with ease, without any hassle. Thus, delivering an uninterrupted performance.
Speaking about the connectivity, we faced no issues to latch onto WiFi networks and the laptop provided good and constant connectivity without any bandwidth merging related issues. All that said, the laptop is an excellent multi-tasking device and can deliver a very reliable performance for all type of usages.
Gaming
As the laptop is bolstered by an integrated Intel HD graphics, the gaming on this laptop is strictly mediocre. With its Intel HD 620 Graphics, the laptop delivers just average graphics rendering. Thankfully, the laptop can still run games, provided they aren't graphic heavy. This laptop is not meant for gaming, and therefore, gaming is your primary requirement then this laptop is not for you. However, you can still play low-to-medium graphics enabled games on this laptop with ease.
The titles we ran on this laptop and managed to run smoothly after scaling down the graphics are – Minecraft (45 fps), Counter Strike – Global Offensive (40 fps).
Check Out – Top 10 Best Budget Gaming Laptops Under $500
Audio & Video
The ASUS P2540UA-AB51 is although a business entered all-purpose laptop, it still has the potential to satisfy multimedia stationed users. That said, the laptop can play 4K content with ease and thanks to its bright antiglare display, watching content on this laptop is a delight.
But wait! there's a catch, the laptop although have a good set of specifications, its speakers aren't the best and they tend to get muffled up at higher volumes. The volume levels are also strictly mediocre. Therefore, we'd suggest the users to either go with an additional set of the audio system to aid the laptop.
Battery Life
Here comes the most essential and crucial zone of the laptop, the battery backup. Finding laptops with long-lasting batteries is no less than a herculean task these days. We cannot simply trust the numbers written by laptop manufacturers which are although intended to create the hype.
Thankfully, our current contender, the ASUS P2540UA-AB51, does exceptionally well in this segment.
The laptop provided up slightly over 8 hours of battery backup on a single charge with normal use, which is rather phenomenal in a laptop that is priced below $500! Again that depends upon one's usages. While gaming we noticed that the battery backup was dropped to mere 3 hours and we had to plugin the charger which took about 3 hours to completely charge its lithium-ion battery.
Note – The charging time can be reduced by keeping the laptop in the sleep mode or by shutting down the Windows.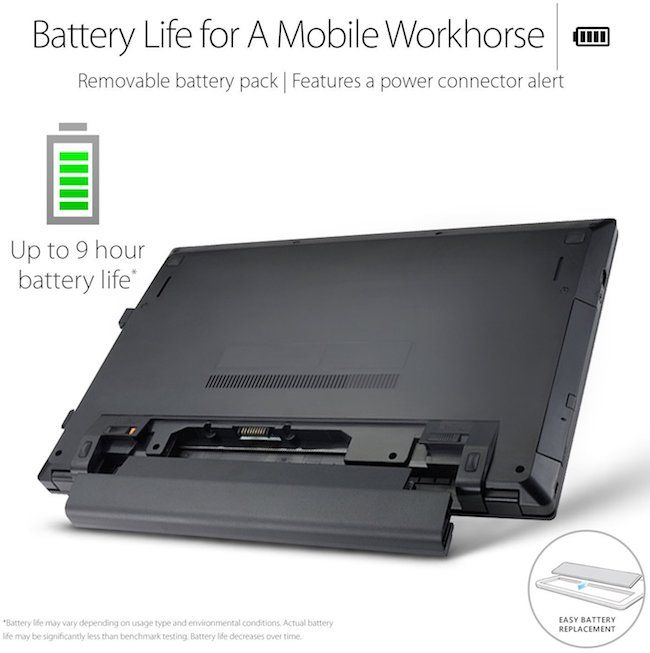 The best thing about this laptop is, it has a removable battery which makes it easy for users to replace the battery pack. So, if you're a power user then you can buy another battery of the laptop and the full day battery backup will be just one battery swap away for you.
Considering the specifications the laptop offers and its performance, over 8 hours of battery life, is something which you don't often find these days. So, if you are finding a long lasting laptop with performance, enough to meet your everyday tasks, then the ASUS P2540UA-AB51 laptop is the right choice for you.
Bottom Line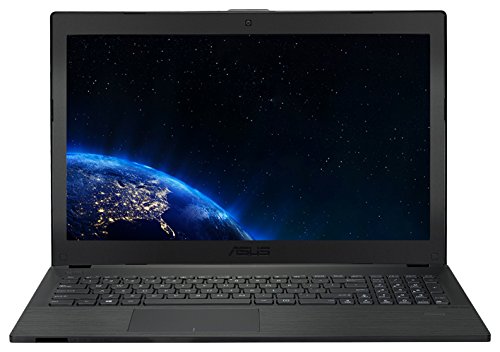 ASUS P2540UA-AB51 laptop is worth the every penny you're going to spend on it. The laptop comes with a decent ergonomics, a long list of connectivity options, powerful innards, and a very bright and responsive display. Wait, there's more, the laptop also comes with a fingerprint sensor for added security and comes with pure Windows OS.
If you're looking for an ideal laptop for your everyday essentials or for business, your search for a laptop under $500 should end here. Look no further and go with this laptop. However, there are few misses on this laptop such as mediocre audio output and lack of powerful gaming performance. If one is ready to overlook the aforementioned two drawbacks, the ASUS P2540UA-AB51 is the ideal one, quite unarguably!
Advertisement