ASUS ROG has been playing a prominent role in the gaming laptops arena since a while now. The brand is very well known to provide powerful gaming laptops under its ROG (Republic Of Gamers) series in various budget segments. Accordingly, our current contender, the ASUS ROG Strix GL553VD is a close to $1000 gaming laptop, which not only looks attractive but also provides an attractive set of features and specifications.
Although you won't be getting a ground staggering gaming beast at this point, but you definitely get quite a lot more than what you pay for. The laptop is also one of the very first laptops from the ASUS ROG series to come with an RGB-backlit keyboard, which gives an absolute gaming hue to the laptop. All these styling aspects and powerful configuration of the laptop, made us pick this for our review, and here is what we think of it:
Advertisement
ASUS ROG Strix GL553VD 15.6" Gaming Laptop
out of stock
as of October 1, 2023 1:23 am
Features
7th generation Intel Cor i7 quad core processor and with a discrete NVIDIA GeForce GT 1050 4GB graphics
15-inch panel with wide 178 viewing angles and Windows 10 pre installed
1TB HDD 7200RPM HDD for fast performance and large storage capacity
Aura RGB-backlit scissor-switch keys offering 2.5mm of travel distance for tactile keystrokes; 4 zones of lighting control
802.11 ac WiFi for superior bandwidth and stability; Bluetooth 4.0, USB Type C Gen 2, Up to 5 hours battery life.Storage
Design
Asus ROG Strix GL553VD comes in a furious looking blend of black and orange coloured chassis, which gives it all the necessary gaming look, one would expect from a gaming laptop. The laptop is made up of all plastic chassis, which, however, feels of superior quality and feels sturdy. The laptop's lid sports a pair of orange strips running across the ROG logo, which gives a slightly different look from its predecessors. The bottom of the laptop comes with rubber feet, to give an extra grip even at inclined and smooth surfaces.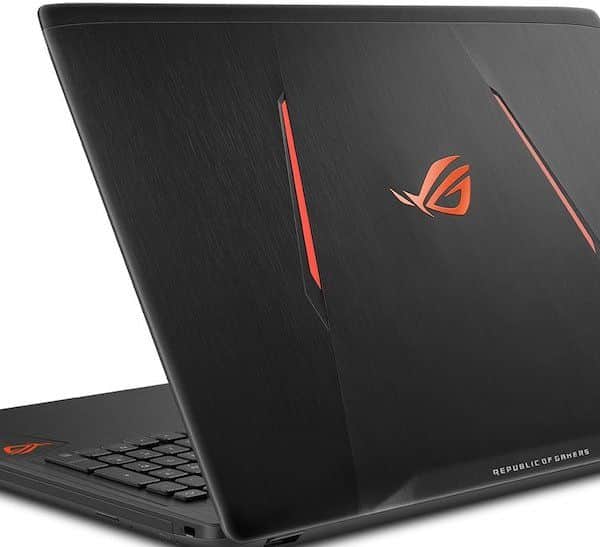 Speaking of the measurements and weight of the laptop, it weighs around 5.5 pounds and comes with dimensions of 15.1 x 10 x 1.2 inches. The laptop measures just like any of the usual 15.6-inch laptop in the market. As per the measurements, the laptop isn't heavy or bulky to carry around. However, that said, it's not pretty light either.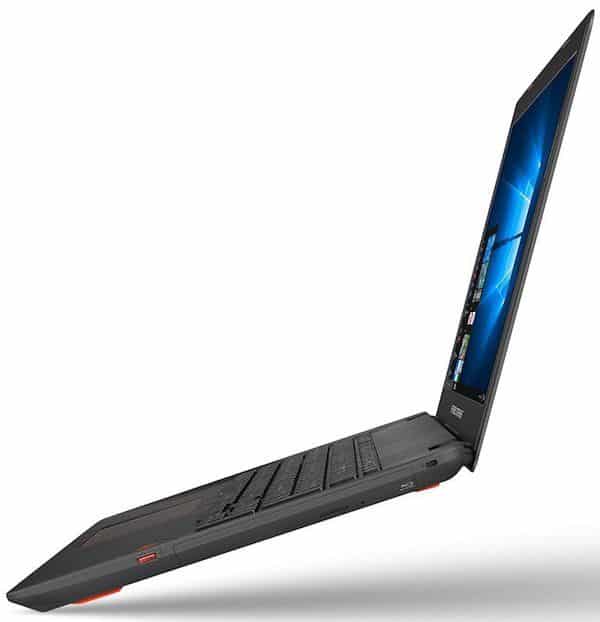 Speaking about the alignment of ports on the laptop, it comes with an ethernet port, an HDMI port, and a couple of USB 3.0 ports, a USB type-C port, and a headphone jack on the left end. Towards the right end, it comes with a single USB 2.0 port, a DVD drive, and a locking slot. The laptop comes with an SD card reader towards the lower end of the keyboard and is located just beneath the palm rest.
The keyboard on the GL553VD is a completely redesigned one. It is now a RGB lighting keyboard which Asus calls it as a Aura lighting keyboard. The lights on the keyboard can be customised through the pre-installed Asus keyboard color adjustment software. As far as typing is concerned, the keys on keyboard are spacious and gives very nice tactile feedback while typing. The key travel distance is also 2.5mm which is standard and good for the "gaming laptop's keyboard".
MORE: The Best Laptops for Programming & Gaming
Overall, the all-matte black finish on the laptop makes this laptop look extremely stylish and thanks to its well-built ergonomics, the laptop feels easy to hold and carry around.
Display
ASUS ROG Strix GL553VD gaming laptop sports a 15.6-inch Full HD IPS-like display panel and comes with a resolution of 1920×1080 pixels. The laptop comes with a wide view of 178 degrees, which we felt was pretty good in the real time usage. Moreover, the panel gets equipped with a refresh rate of 60Hz, which is also a good aspect for a laptop this calibre.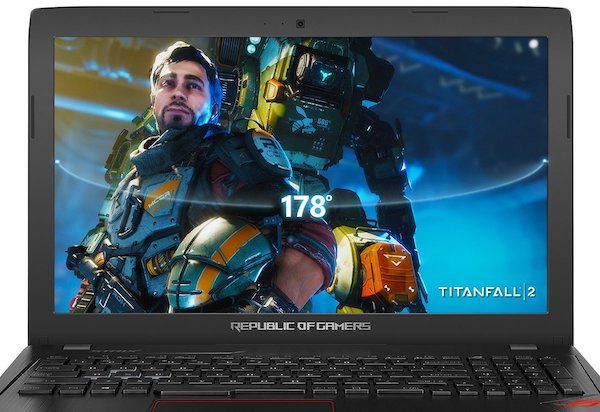 The blacks on the display were punchy, and almost all the colours were pretty accurate. The display on the laptop has got the right amount of contrasts, one would be needing in gaming and other viewing experiences. The best part about the display we felt during the review was the colour consistency which was pretty uniform even from extreme positions. And although the laptop doesn't come with an anti-glare coating, it does resist reflections and glare on the screen. These aspects of the display qualifies this laptop for photo editing and also for other works where color accuracy of the display is important.
There's also a 17-inch variant of this laptop – Asus ROG Strix GL753VD which comes with exactly the same specs as this laptop but it sports a bigger 17.3 inch display. So, if you're looking for a bigger laptop to play games then you can go with GL753VD, which will cost you around $30 bucks more than the current model. | Checkout price of Asus ROG Strix GL753VD 17.3 Inch Gaming Laptop.
Hardware
Now with all that said about the design and display of this power-packed gaming laptop, let's dive into the hardware specifications of the Strix GL553VD. Speaking about the innards of this laptop, the ASUS ROG Strix comes with an equally powerful set of hardware configuration. Under the hood, the laptop is powered by a latest 7th gen intel core i7 processor paired with an abundant 16GB of RAM. The quad-core i7 kaby lake processor is clocked at 2.8GHz and can turbo boost up to 3.8GHz, making sure that, multiple demanding applications run on the laptop with ease. Graphics on the laptop are bolstered and are handled really well by newer Pascal based NVIDIA GeForce GTX 1050 graphics card.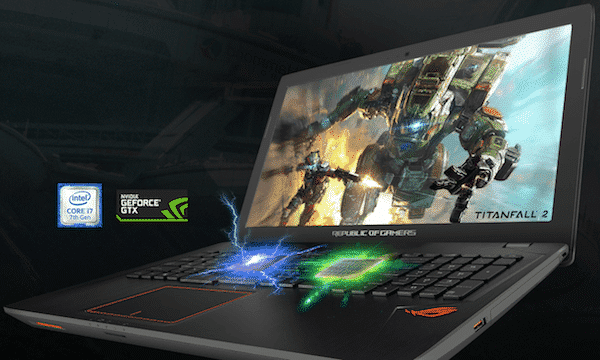 As far as the storage on the laptop is concerned, it is backed by a 1TB of HDD with a speed of 7200RPM. The laptop also comes with a DVD drive to read and write CD/DVDs. Upgrading this laptop is also fairly easy. The RAM is easily accessible and it can be upgraded up to 32GB. Even storage drive of this laptop can be upgraded but that is the little complicated process and you may void the warranty if you do this on your own.
There's also another model of this laptop – Asus ROG Strix GL553VE which has slightly more powerful GPU and faster SSD storage. To be accurate, it has powerful NVidia GeForce GTX 1050Ti Graphics and it offers 1TB of 7200RPM hard drive and an extra 256GB of SSD storage which vastly improves the gaming performance of the laptop. Of-course, this added performance will come by spending some extra money!
MORE: The Best Gaming Laptops Under $1500
Webcam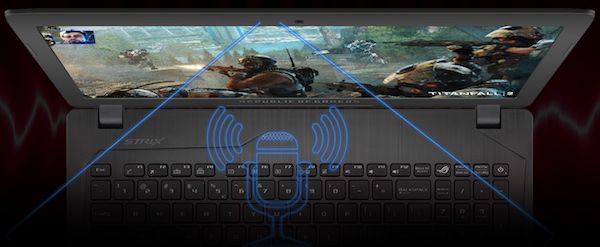 We never focus a primary light on this aspect of a laptop, especially if it is a gaming-stationed one. However, we understand that the webcam on a laptop should be serviceable for occasional video calls. Thankfully, the 720p camera on the Strix manages to take decent images and is pretty serviceable for video calls. However, the images captured are not very sharp and tends to get blurry at times. The image adjusts quickly on the screen, which we felt was very good for video calling.
Ports & Slots

The laptop comes with a long list of ports and connectivity options to accommodate additional peripherals (gaming accessories). It sports a couple of USB 3.0 ports and one USB 2.0 port. In addition to that, it comes with an ethernet port, an HDMI port, a USB Type-C port, and a 3.5mm audio jack. Unlike most of the current laptops, it comes with a DVD drive, which read/writes data from DVDs and CDs. The laptop also houses an SD card slot to transfer files back and forth between memory card and laptop.
Software
Asus has preloaded its Strix laptop with the right fusion of gaming beneficiary software, which is high on productivity and gaming aspects. The laptop comes with Windows 10 preloaded on the software front, and also comes equipped with the ASUS's proprietary ROG gaming centre.
This gives games a whole new level of overall performance increase and also keeps the laptop's temperature in control even after heavy gaming. The ROG gaming centre properly utilises the CPU and GPU performances and provides the most of the both. In addition to this, this laptop also includes alternatives to boost up the exhaust speeds and disable the Windows key during gaming.
The laptop comes preloaded with almost all the Windows 10 apps and features and is, therefore, an equally able laptop in terms of overall productivity.
MORE: The Best All-Purpose Laptops Under $1000
Performance
The ASUS ROG Strix GL553VD comes with a fully-loaded future-proof set of specifications and hardware. So evidently, we expect top class performance from the laptop. We put this laptop to test, to check out whether it can really provide us with the performance we expect from a gaming beast of this calibre. And here is what we found:
The laptop runs absolutely smooth and does a great job in multitasking. During our entire review, we never faced any performance related hiccups, and the laptop was able to handle almost everything we threw at it. Thanks to its latest 7th gen Intel core i7 processor paired with a massive 16GB of RAM, the Strix delivers impeccable performance. We multitasked the laptop with Chrome running around 15 tabs simultaneously, a 4K video running in the background, a benchmarking app loaded and was connected to WiFI all the time. The laptop was able to handle them all with ease.
For the overall performance of the laptop, we tested it with Geekbench 3, in which the laptop notched a score of 14,120, which is absolutely great for a gaming laptop priced $1000. As far as the gaming is concerned, the in-house 4GB of Nvidia GeForce GTX 1050 GPU is a show-stealer here. The laptop can handle almost all the modern games even the graphics set to maximum. However, you'll feel that smooth lag-free gaming with more than 35-40fps when you play them with graphics set to medium. We played GTA V on high graphics mode and the laptop although responded very well to the games, we personally felt that it did a better job when graphics were set to medium.
All that said, The ASUS ROG Strix GL553VD unarguably provides a beastly performance for the asking price.
MORE: The Best Gaming Laptops Under $800
Audio & Video
The laptop easily handled almost all formats of video content. We tested it with 4K, Full HD, and HD videos and the Strix GL553VD handled them all with ease. However, it was the audio quality, which failed to reach our expectations. The audio felt muffled at times and was not detailed on the notes. At maximum volume, we felt a crackling like sounds, which disappointed us.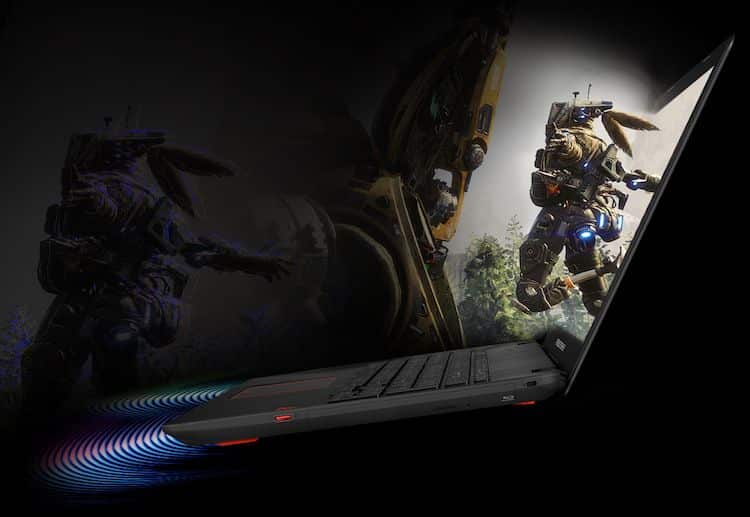 Audio on the laptop is also a bit thin and weak when compared to its rivals in the price segment. However, the sound output on the laptop is still serviceable. Thanks to the preinstalled ICEpower AudioWizard software programs tuning audio was easy.
Battery Life
Like most of the gaming laptops these days, ASUS ROG Strix GL553VD also comes with a pretty mediocre battery life, and you'll have to carry your power adapter if you take Strix anywhere out. The laptop is powered by a non-removable 4-cells 48 WHr battery, which lasted for just over 4 hours for us on our usage. This included casual web browsing, online videos streaming, few benchmarking apps, and some gaming. The laptop takes around 3 hours to get fully charged from 0 to 100. All in all, the battery backup of this laptops isn't groundbreaking and is strictly average. We seriously felt this was an area the laptop was lagging behind its rivals to an extent.
MORE: ASUS FX502VM Gaming Laptop Review – Lightweight & VR Ready
Bottom Line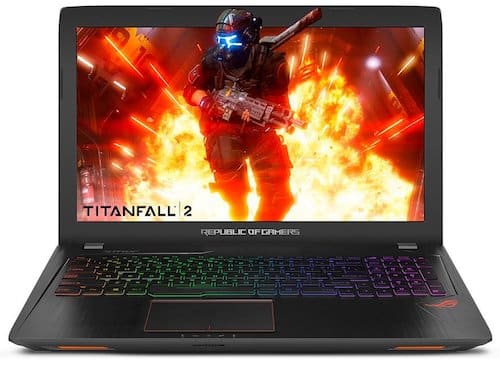 Keeping it very simple, the Asus ROG Strix GL553VD is a very attractive looking gaming laptop with punchy aesthetics and powerful hardware. The laptop also provides very good performance and gaming experience. The only aspects which are a let down in this laptop are its battery life and audio output. However, on an overall note, the laptop is a complete show stealer, when compared to its rivals and is, therefore, our choice of gaming laptop if your budget is around $1000.
Advertisement