ASUS was one of the very first brands among all the traditional laptop makers, to step into the gaming arena and challenge the pioneers like MSI and Alienware series of laptops. It all started with the ROG (Republic of Gamers) series of laptops from ASUS, which was not only priced competitively but was also a very good all-around performer. Soon after the company started to earn fame and reputation in the gaming arena, it started to release a series of laptops with the primary emphasis on gaming to attract a large audience.
Our current laptop, the ASUS FX502VM Gaming Laptop is one among the newly launched gaming series of laptop from ASUS, which is now one of the most selling gaming laptops at around $1000. The laptop does pack in some interesting set of specifications and also packs in a lot of additional features. We were initially surprised to hear about the intelligent thermal design and several other futuristic features of the laptop and therefore, decided to have a look at it.
Advertisement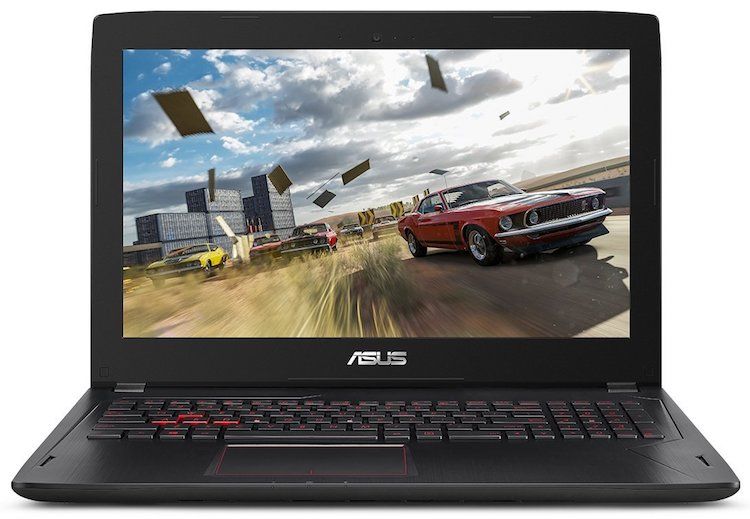 Here is our take on the ASUS FX502VM-AH51, so let's just quickly drill down to the review.
ASUS FX502VM 15.6" Gaming Laptop
out of stock
as of October 1, 2023 1:23 am
Features
13.3-Inch Full-HD Display with Windows 10 Pre-installed
Latest 6th generation Intel i5-6300HQ 2.3 GHz Processor (Turbo to 3.2 GHz)
Nvidia GeForce GTX 1060 3GB discrete graphics
Large 1TB 7200RPM HDD with 16GB DDR4 RAM
Extensive connectivity with HDMI/D-SUB/USB 3.0, 802.11a/c WiFi, and SD Card Reader
Design
The ASUS FX502VM looks thick and hefty right from the very first look. However, the laptop is very finely engineered and ergonomically built. The laptop comes with a curved chassis as seen on the ROG series with imposed curves with an ASUS logo imposed on the lid. The laptop is thick at the centre and gradually gets narrower towards the edges.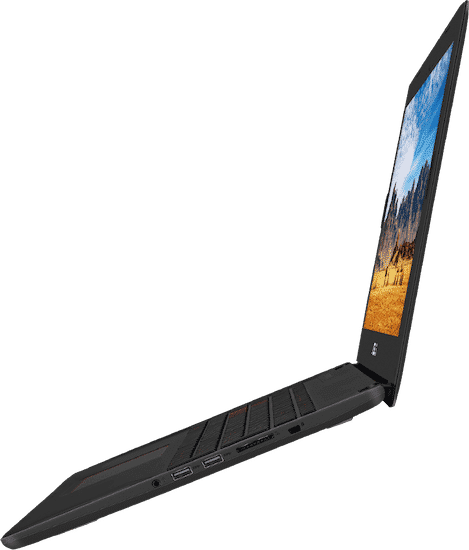 Speaking about the measurements of the laptop, it is 0.9-inch thick with a 15.4 x 10.5 inch (HWD) built. The laptop weights around 4.9 pounds, which although isn't that hefty for a gaming laptop, still feels a little cumbersome to carry around.
Both the sides of the laptop are neatly recessed with ports, connectivity slots, and heat exhaust vents. The laptop comes in matte finished colour giving a perfect gaming hue to the users. As soon as you open the lid, you see a very aggressive looking futuristic keyboard. The keyboard on the laptop comes with red backlit keys, which adapts a theme according to the game we play. Moreover, the trackpad on the laptop is also spaciously arranged in the body, giving it a perfect ease of usage.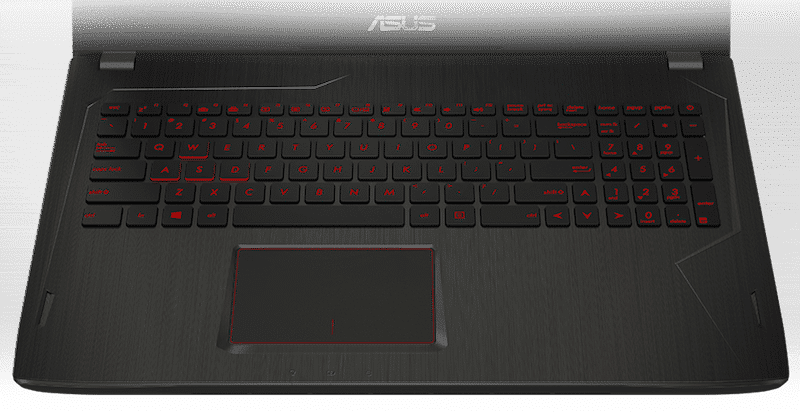 All in all, the ASUS FX502VM comes with a finely engineered futuristic design. The laptop feels really sturdy but is, unfortunately, slightly heavy to carry around.
MORE: The Best Gaming Laptops Under $1000 for Pro-Gamers
Display
Our ASUS FX502VM features a 15.6-inch full HD display with a resolution of 1920 x 1080. With these numbers kept in mind, it is quite vibrant enough for movies and games. As soon as we started testing out the laptop, we played some 4K content on it, to which the laptop's display responded really well. When watching a 4K trailer of injustice: Gods among us, all the colours popped up really well with high colour gamut. Moreover, the viewing angles on the laptop are also really great and can easily cover over 160-degrees without getting smudged.
Our lab tests also proved the ASUS FX502VM's impressive colour performance. The laptop managed to produce 184.7 percent of the sRGB colour gamut, which is by far one of the best we measured. That not only means that this display is bright and colourful, but also means that it is accurate than most of its rivals in the price segment.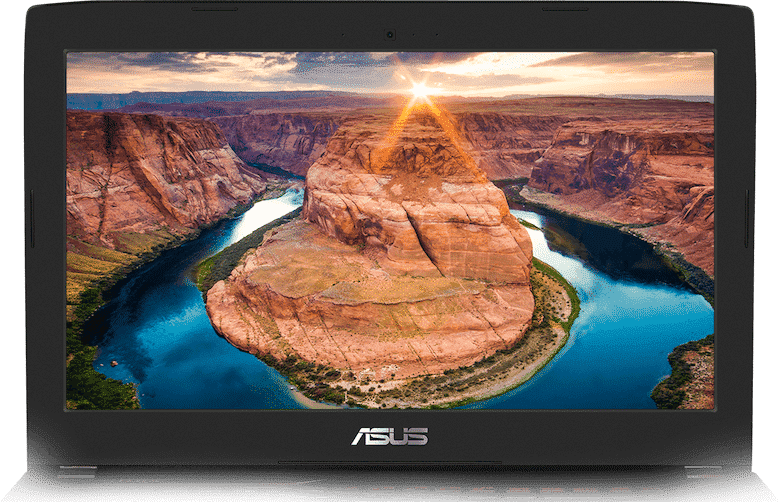 During our entire review and usage, we never ever felt that the display on the ASUS FX502VM was even a bit dim. It is bright, vivid, colourful, and wide. As far as the benchmarking numbers are concerned, ASUS's notebook managed to register an average brightness of 289 nits on our light meter, which is an edging out figure for a laptop this calibre.
Hardware
Speaking of the hardware on ASUS FX502VM: It is powered by a sixth generation gaming-centric Intel core i5-6300HQ mobile processor clocked at 2.3GHz. For multitasking, the processor is paired with a massive 16GB of DDR4 RAM. The laptop comes with thermal cooling technology, and thus makes use of dual cooling fans, to prevent the innards getting warm even under heavy usage.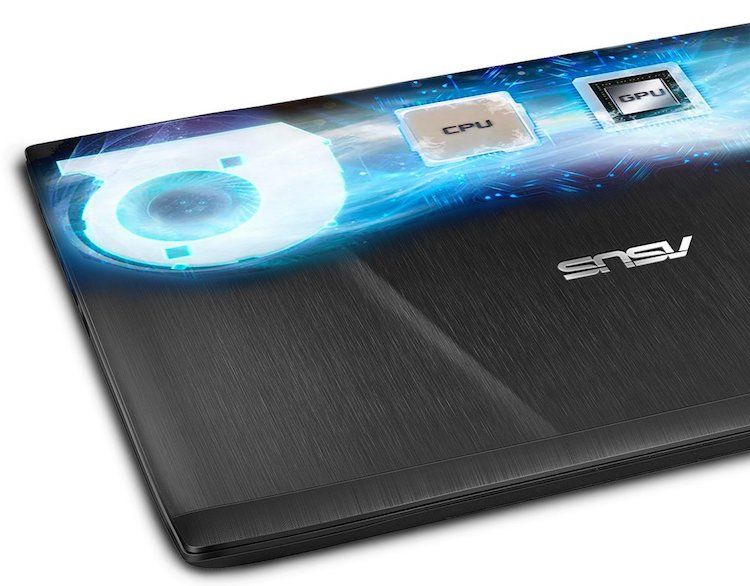 As far as storage on the laptop is concerned, it comes with a 1TB of hard disk, with an RPM of 7200. This not only ensures faster data transfers but also ensures of being a reliable data storage medium. Graphics on the laptop are handled by NVIDIA GeForce GTX 1060 graphics coprocessor with a dedicated DDR5 memory of 3GB. This is the new Pascal architecture based GPU from NVidia. Hence, Asus FX502VM is a VR Ready gaming laptop and it can run all 360° games, videos and other VR content without any problems.
ASUS FX502 has a specially-designed chiclet gaming keyboard with red-backlit scissor-switch keys that offer the users a large 1.6mm of travel distance. Greater the travel distance, better is the tactile feedback for keystrokes. In addition to that, the laptop also features highlighted WASD keys for user convenience. The keyboard on this laptop is undoubtedly best for gaming, but apart from that it can also be used by students for college or by computer programmers for coding and playing games.
MORE: Top 10 Best Gaming Laptops Under $1500 for Immersive Gaming
Webcam
The laptop sports an HD Webcam on top of the display. The camera on this laptop is not the best you get at this budget but is adequate enough to meet the basic requirements of a typical laptop's webcam. Yes, you can make Skype calls, and can even take few selfies during your leisure. On top of that, there is nothing much to be discussed in this section.
Ports
ASUS FX502VM crams a number of useful and productively usable ports onto its small frame. On the left side, you'll find a proprietary power port, three USB 3.0 ports, HDMI-out, an audio jack, 1x mini Display Port, and a microSD card reader.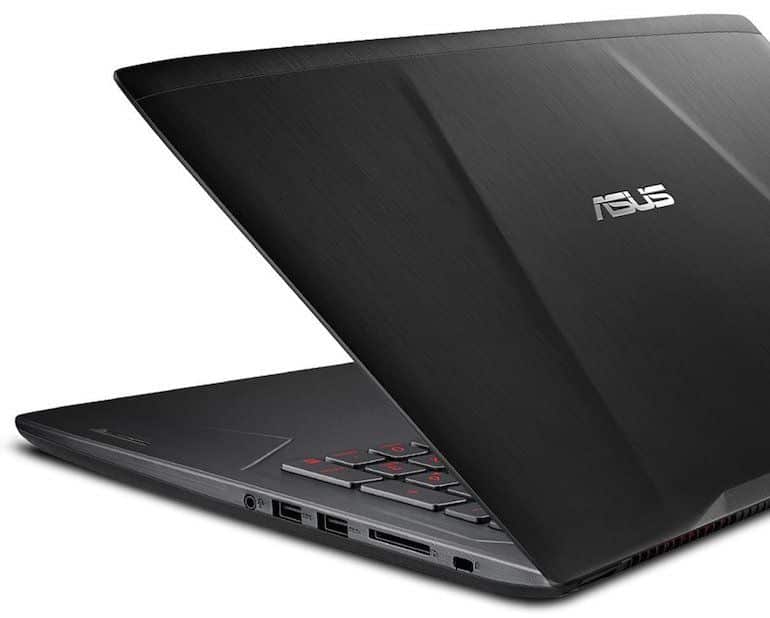 The right side houses two USB 2.0 ports, which are more than good enough for most peripherals you might attach, but we wish there was another USB 3.0 so we could take advantage of the fastest external hard drives available in market.
Software
ASUS FX502VM runs Windows 10 out-of-the-box and is naturally, one of the flexible operating systems for laptops. The Windows 10, is not just good at UI but is also very productive. It has millions of apps, compatible with it and provides a deeper level of customizations to its users. Apart from all the standard lineup of Windows 10 applications and software, the ASUS FX502VM also packs in some of the ASUS's proprietary applications of security and productivity.
The laptop comes with 1-year Accidental Damage Protection along with 30 days of Zero Bright Dot Guarantee, which is one of the most comprehensive coverages available for laptops. This gives you protection against accidental drops, spills and electrical surges of the laptop.
Performance
The laptop does deliver an outstanding performance in its class. Thanks to an Intel Core i5-6300HQ processor paired with a massive 16GB of DDR4 RAM and 1TB of hard disk drive, the laptop is surely a power-packed performer.
MORE: The Best Laptops with Intel Core i5 Processor – A Complete Buying Guide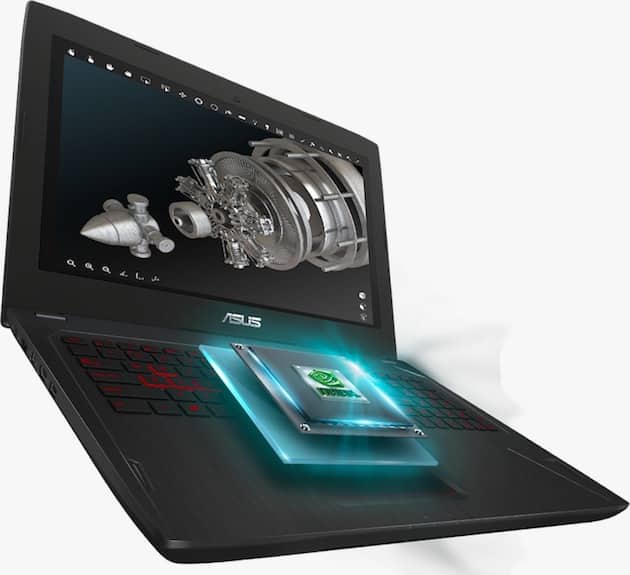 We personally feel that the laptop could have been even better if it had an SSD drive instead of HDD. During our usage, the laptop's hard drive was reading data at 145MB/s and was writing at 135MB/s, so while nowhere near as fast as the SSD it's clearly a decent 7200rpm model. Keeping the hard drive details aside, the laptop being a powerful gaming performer, can handle all the general daily essentials with ease. During our usage, we ran a couple of RAM consuming benchmarks, brewer with more than 15 tabs opened, music playing in the background, with a high-end game running in the background. The laptop was handling multitasking with ease and is a powerful, stable, and reliable daily performer.
MORE: Our Most Recommended Workstations Laptops for CAD and 3D Modeling
Gaming
With that out of the way, we can accolade the ASUS FX502VM for being a gaming-stationed laptop and to the fact that it is stuffed with the Nvidia's latest GTX 1060 GPU (the main reason to get excited about this laptop). The laptop was able to handle Alien Isolation with all settings maxed out and resolution set to 1080p at an average 75fps. However, the laptop did face few hiccups at 188fps wherein the visuals dropped slightly.
We installed a long list of high-end games on this laptop, thanks to its massive 1TB of hard drive. We tested the laptop with our all time favourite The Witcher III, Overwatch, and Heroes of the Storm. The best part, the laptop was able to handle all these games with ease even with the graphics set to max. Surely, the laptop stands in its words- The best gaming laptop at the budget. So for all the gaming lovers out there who are slightly tight on budget, this is probably the best you can get.
MORE: The Best Laptops With Intel Core i7 Processor – Detailed Guide
Audio & Video
Being a gaming laptop, it is essential for the ASUS FX502VM to accommodate powerful, detailed, and loud stereo output. During our usage, we found the speakers are excellent and hold their ground. As we always mention, multimedia is one of the most vital aspects of any laptop and our contender is packed with dual HD stereo speakers with DTS tech-enabled, which does the task of providing punchy audio pretty well.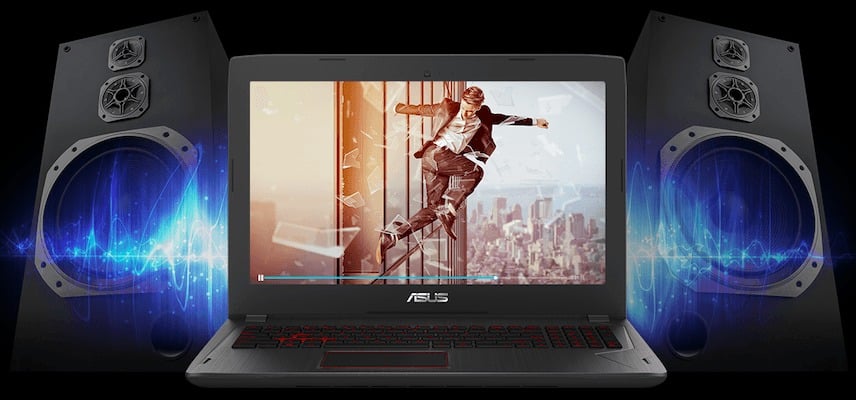 We tested the speakers with bass heavy punchy tracks such as no church in the west and power bass, to which the speakers on the laptop responded really well. We also tested the laptop with treble based cleaner tracks, to which it responded well again. The laptop can play all sorts of HD content including 4K with ease. After all, this packs in the latest Nvidia's GTX 1060!
MORE: An Affordable yet Best Gaming Laptops Under $800
Battery Life
The ASUS FX502VM is juiced using a 4-cell Lithium-ion battery. After all our usage, all we can say is the laptop does provide an outstanding battery backup. That said, being a gaming-stationed laptop, we honestly, didn't expect much from it. The laptop lasted for just over 4 hours under continuous gaming, which is still a decent backup for a laptop with this configuration and features. However, if you aren't gaming continuously you can expect slightly better battery backup. The laptop can be charged fully from 0 to 100 in around 3 hours.
RECOMMENDED: Acer Aspire E5-575G-53VG Review – Laptop with Dedicated GPU and 12 Hours of Battery!
Bottom line: Are you a hardcore gamer but slightly tight on budget? Go for it blindfolded!
With a price tag of around $1250, the ASUS FX502VM 15.6″ Gaming Laptop is undoubtedly our first choice, if you need a power-packed gaming machine. Moreover, there aren't many laptops at this price point which is primarily meant for gaming. Although the laptop is not as powerful as the ASUS's flagship ROG series of laptops or the MSI's dominators, it still is a very efficient, reliable, and powerful all-round performer.
Advertisement