The Asus ROG Strix Scar gaming laptops are known for offering unparallel gaming performance with funky gaming aesthetic. With the latest iteration—the Asus ROG Strix Scar 15 (G533Z), the company is offering the latest hardware in the market along with a trendy design.
The most impressive part of this gaming laptop is the fact that it uses the 12th Gen H-series Intel processor along with the new RTX 3000 Ti laptop GPU. This combination of CPU and GPU makes this laptop a great gaming machine and an excellent content creation tool.
Advertisement
Asus has also priced the ROG Strix Scar 15 well. We compared its price with other gaming laptops of its caliber and found that it is at least $200 cheaper than competing models, making it a good value for money proposition.
But without testing, it's hard to come to a judgment, and that's why we thoroughly tested it by playing games and doing benchmark tests.
Read our full review of the 2022 Asus ROG Strix Scar 15 (G533ZW-XS96) below to find out how it stacks up in terms of performance with the competition and what we feel about its updated design, display, keyboard, and more.
Price And Configurations
The 2022 Scar 15 comes in multiple SKUs. Our model has the latest 12th Gen Intel processor—the Core i9-12900H, which is a 14-core CPU with a hybrid CPU cluster consisting of six performance cores and eight efficiency cores.
The laptop also includes the newest Nvidia GeForce RTX 3070 Ti laptop GPU with up to 150W of TGP (in boost mode) and 8GB of GDDR6 video memory. This model also includes a mammoth 32GB of DDR5 memory and 1TB of PCIe Gen 4 SSD storage and a better 15.6-inch IPS LCD display with a resolution of WQHD (2560×1440) and a 240Hz refresh rate.
Other variants of the ROG Strix Scar 15 G533 come with RTX 3060 paired to a 12th Gen Core i7 and FHD 300Hz display, and there is also a high-end variant than the one we are reviewing, with the flagship RTX 3080 Ti laptop GPU at a slightly higher price.
Its price for the base model starts at $1,799, and our review unit is retailing for $2,499 here in the US at the time of writing this review.
Specs as reviewed:
Model Number
G533ZW-XS96
Processor
12th Gen Intel Core i9-12900H 14 Cores – 6P + 8E (24MB Cache, 2.5 GHz – 5.0 GHz)
RAM
32GB DDR5 4800MHz (Supports up to 64GB)
Storage
1TB PCIe Gen4 NVMe SSD
Graphics
Nvidia GeForce RTX 3070 Ti GPU with 8GB DDR6 Memory (125 – 150W TGP)
Display
15.6-inch WQHD 240Hz Refresh Rate 3ms Display w/ Dolby Vision HDR (100% DCI-P3, 350-nits) | MUX Switch with Optimus
Ports
1 x Thunderbolt 4
1 x USB 3.2 Type-C with DisplayPort support and Power delivery
2 x USB 3.2 Gen 1 Type-A
1 x HDMI 2.1
1 x Ethernet (2.5 Gigabit)
1 x 3.5mm Headphone/Microphone Jack
Operating System
Windows 11 Home
Battery life
Up to 4.5 hours (tested)
Weight & Dimensions
5.0 Pound
13.9 x 10.2 x 0.8-inches
Design
When it comes to design, there is so much to like about the Asus ROG Strix Scar 15. From the cool-looking semi-transparent keyboard deck giving a glimpse of its high-performance internals to the RGB lighting across the device, it's unapologetically a gaming device from design.
Asus has also smartly baked in many new features to make the Scar 15 stand out from the crowd, such as the bold ROG logo with RGB lighting on the lid, customizable armor caps, and the keystone.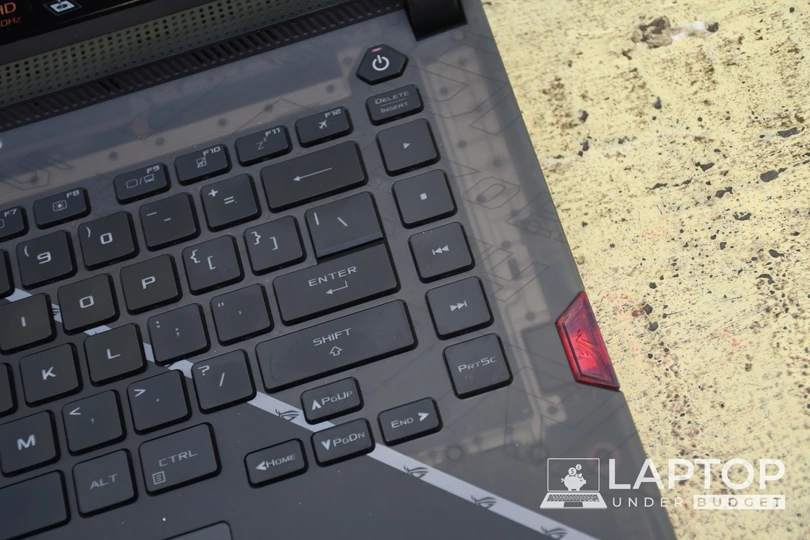 While features like a customizable armor cap and the RGB lighting are primarily here to customize the aesthetics of the machine, the keystone adds a real sense of customization to the laptop. And also allows you to access the files in the shadow drive, a hidden partition on the drive that can only be accessed using the keystone!
As far as weight and overall footprint go, it weighs 5.07 pounds and can be considered a medium-sized 15-inch gaming laptop. While its dimensions are standard for a gaming laptop, it is a slightly thick device measuring at 1.07-inches. The competing laptops like Alienware m15 R7 are a bit slimmer in comparison.
Asus has also extensively used plastic on the Scar 15, but it does not feel cheap in any way. On top of that, we also didn't notice any sort of chassis or lid flex, proving that the ROG Strix Scar 15 is a well-built gaming laptop.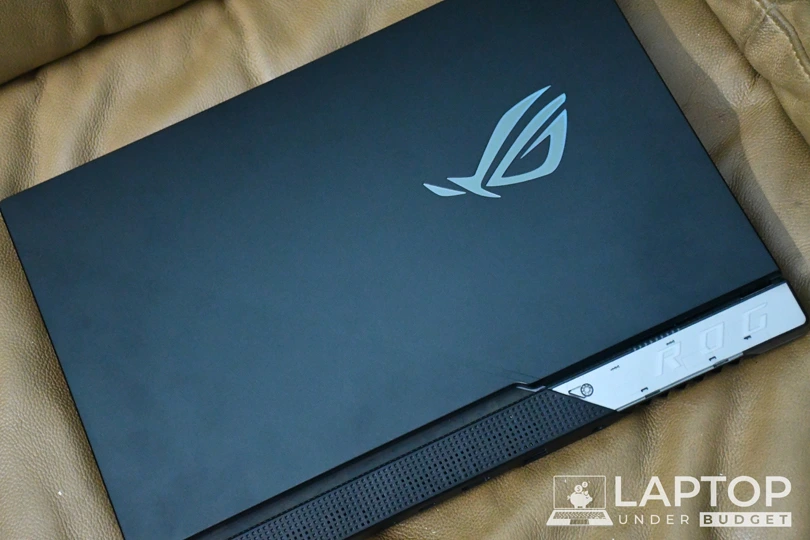 Overall, the 2022 Asus ROG Strix Scar 15 manages to stand out from the herd of similar-looking gaming laptops, and while it is in no manner a minimal-looking device but it's a treat for those who value RGB just as much as performance.
This is one such laptop that just looks different and also delivers on the performance aspect.
Ports and Slots
We loved Asus's approach of uniformly distributing ports and slots on all three sides (back, right, and left). While most of the ports on Scar 15 are located on the back, the laptop has a USB-A port on either side, which helps to connect accessories like external storage devices and a mouse conveniently.
At the back, the Scar 15 has an RJ45 ethernet jack, providing reliable internet connectivity for online gaming, an HDMI 2.1 port with support for up to 8K resolution output, and a 3.5mm combo audio jack, an USB Type-C port with DisplayPort and power delivery support.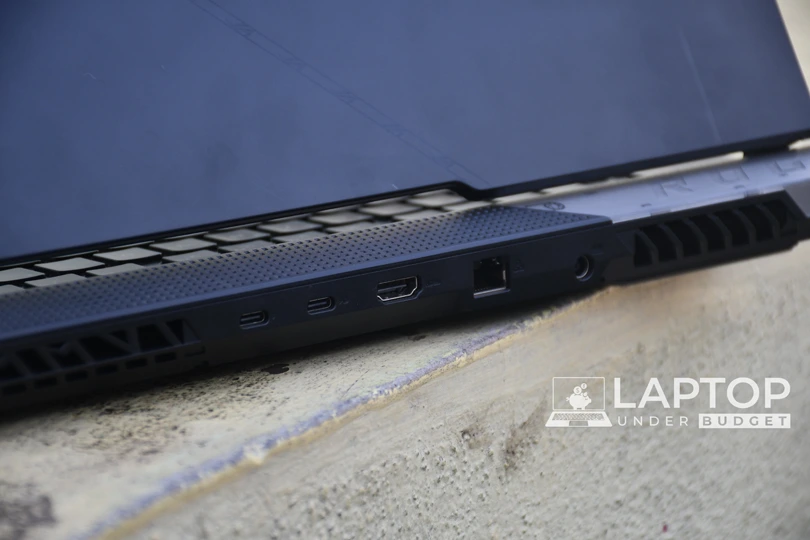 There is also an additional Thunderbolt 4 port (USB Type-C). While the I/O does feel good, it is definitely not complete. That said, including a full-size SD card slot would have made content creators feel much better about this laptop.
Display
When it comes to display, Asus has upped its game in the last few years, and the 2022 Asus ROG Strix Scar 15 has one of the best 1440p screens on a $2500 price range gaming laptop. The 15.6-inch display on the Scar 15 offers a native resolution of 2560 x 1440p and up to 240Hz refresh rate, which is the perfect balance of resolution and refresh rate, in my opinion.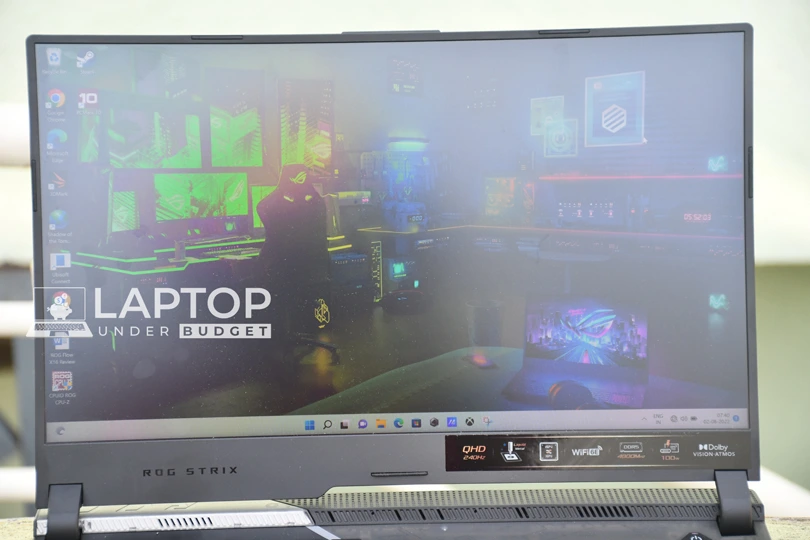 Moreover, the 2022 model also has a lower latency of 3ms and a physical MUX switch, which helps the dedicated GPU to deliver full performance without iGPU interference.
Gaming on this high-resolution, high refresh rate display is a delight, but the display is also pretty good in terms of color accuracy covering 100% DCI-P3 gamut. It also comes with Dolby Vision HDR support, which we tested on Netflix and saw the Dolby Vision badge displayed with impeccable picture quality. While its 350-nits peak brightness is a bit less, using the laptop under direct sunlight was not an issue. Though we had to crank the brightness all the way to 100% to read the text comfortably, so note that.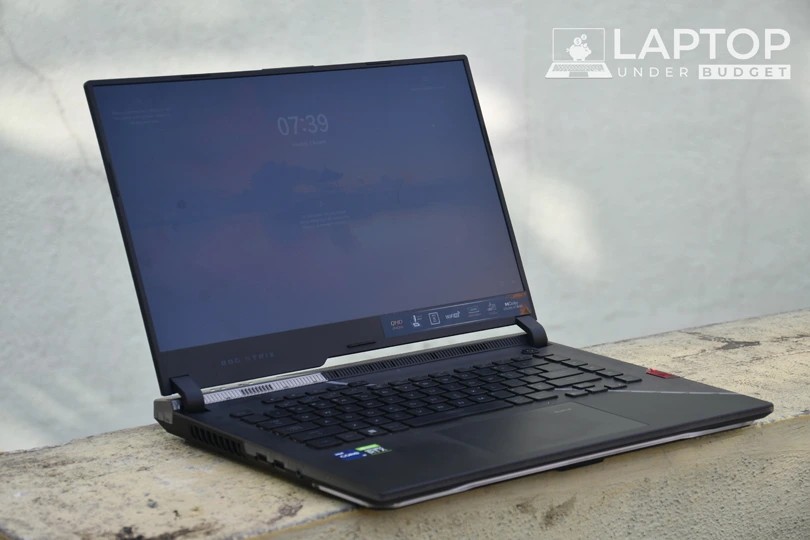 Besides that, the display on the 2022 Scar 15 is fantastic, and the tiny bezels around its screen complement it further, but it still has a huge chin, and it misses out on a webcam!
But Asus includes an external 1080p webcam inside the box, which is much better in quality than most laptops' crappy built-in 720P webcams.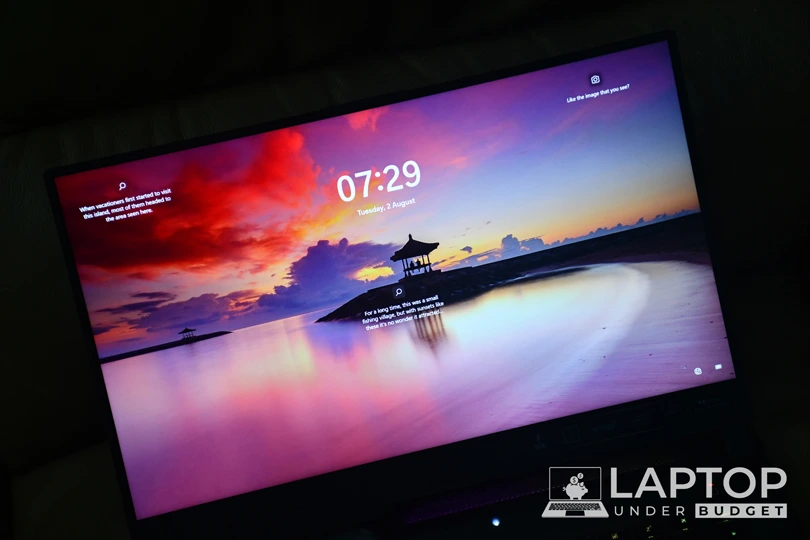 So despite a few caveats, the display is pretty great, and we think it'll satisfy both gamers and content creators with its resolution, color accuracy, and refresh rate.
Keyboard & Trackpad
The Asus ROG Strix Scar 15's keyboard is on par with the best gaming laptop keyboards that we have tested so far in 2022.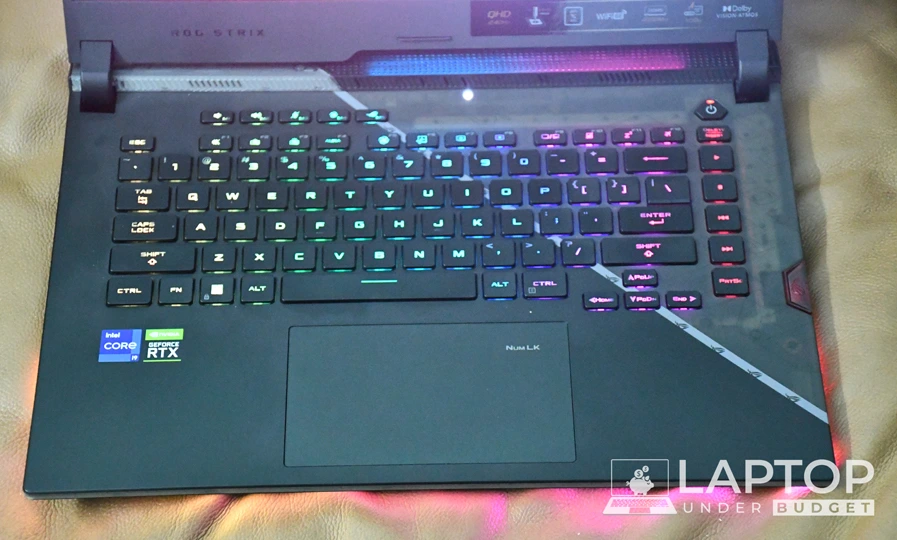 The keys are well-sized and perfectly spaced out, and it offers plenty of key travel (2mm) with a satisfying tactile response. There is also per-key RGB lighting support to customize the keyboard as per your taste from the Armoury Crate App.
While there is no dedicated Numpad, you can activate a virtual Numpad on the trackpad at a touch of a button like on the other Asus laptops. The trackpad is also of decent size and has a smooth surface delivering fluid tracking and gesture experience. I also personally love the centered placement of it. It gives even space to rest the arms while typing and aesthetically also looks better than the laptops with off-centered trackpads.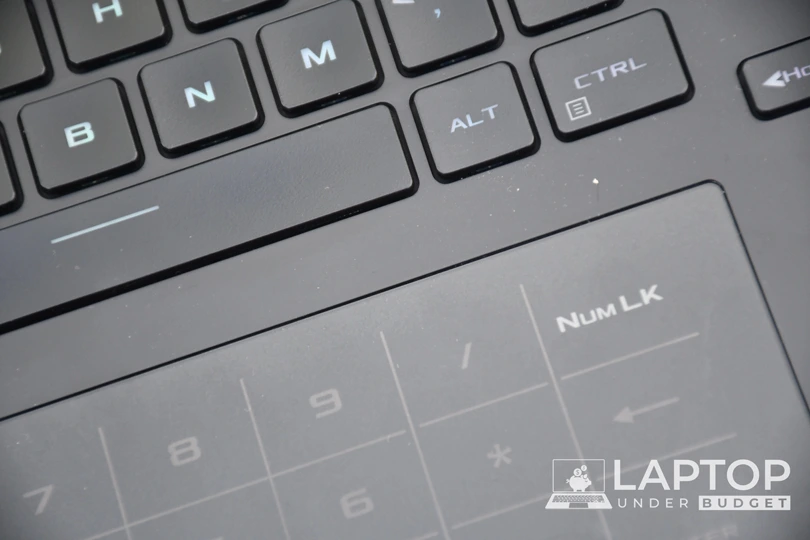 For pro-gamers, there are also programmable macro keys, which users can set up as per the requirement.
Audio
The Asus ROG Strix Scar 15 G533 has a quad-speaker setup with smart amplifier technology. The speakers are also Dolby Atmos-certified and claim to deliver a cleaner surround sound. While there is a quad-speaker setup, the performance of the speakers leaves a lot to be desired.
During our test, we found that they sound clear even at high volumes, and the sound stage was also pretty great thanks to the Dolby Atmos, but we felt they lack the bass and fullness that one expects from a laptop in this class.
Though its 3.5mm audio jack supports high-resolution audio, a feature that audio professionals would adore. Also, it supports Bluetooth 5.2 to connect Hi-Fi wireless headphones.
Overall, if you are looking for a laptop with loud and full-sounding audio, this laptop might not impress you, but they are not completely trash and to the untrained ears they might actually sound impressive!
Performance (Day to Day Usage, Gaming & Benchmarks)
Performance is where this year's Scar 15 truly shines. The Intel Core i9-12900H and RTX 3070 Ti is a pretty capable CPU-GPU combo, and as expected, it performed excellently well with everything – from AAA games to 4K video renders and benchmarks stress tests.
Although doing everyday tasks like web browsing, word processing, and watching Netflix does not quite do justice to its high-end internals, it easily handles all of it while sipping significantly less juice from its battery.
The new hybrid core architecture of the 12th Gen Core i9-12900H CPU with separate efficiency and performance cores helps the laptop conserve the battery under normal usage and deliver top-tier single-core and multi-core performance when plugged in.
The RTX 3070 Ti (Max-P) laptop GPU can also hit up to 150W of TGP in dynamic boost mode, making it one of the most capable upper-mid-range gaming laptops.
Here are the actual benchmark numbers of the Asus ROG Strix Scar 15 G533ZW-XS96, which give us an overall idea on how the laptop performs in real-world conditions with different workloads.
CPU Performance
As mentioned before, the Intel Core i9-12900H is a very capable and one of the best laptop CPUs of 2022. This 14-core CPU uses Intel's new hybrid CPU technology with six high-performance and eight efficient cores. The CPU is also based on the latest Intel7 node, making it the most efficient mobile CPU from Intel with up to 5GHz clock speed.
On the CPU-Z benchmark, the Intel Core i9-12900H on the Scar 15 posted 805 and 7906 points on single-thread and multi-thread CPU tests. Similarly, in the Cinebench R23, the laptop posted 1915 and 16085 points. Lastly, on Geekbench 5, it posted 1907 and 11750 points.
Though with negligible margins, the Asus ROG Strix Scar 15, with these test results, outperformed most Intel Core i9-12900H powered laptops such as the Alienware m15 R17 and the MSI Raider GE66.
Aiding it to achieve this is the liquid metal thermal compound, which Asus is using in this year's model to lower the temps and sustain high clock frequency in heavy workloads.
Overall, that translates into a better single-core and multi-core performance for the Scar 15. Hence it is an excellent laptop for gaming and professional workloads.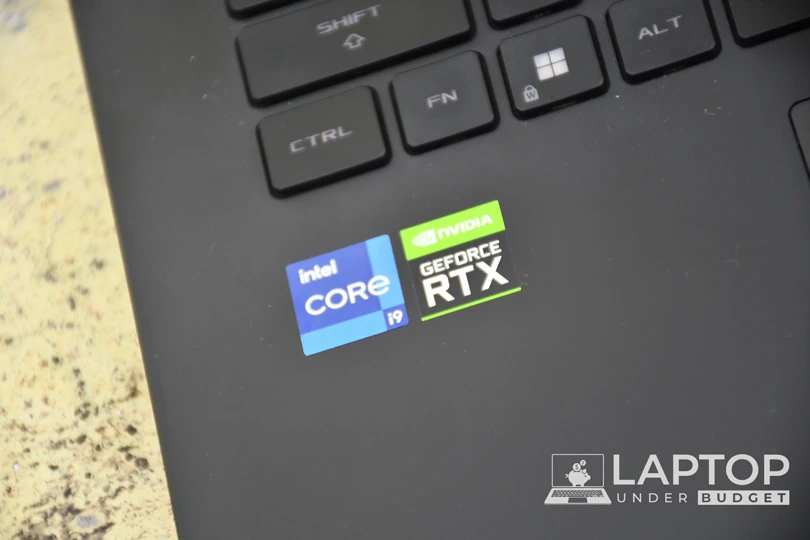 GPU Performance
The Nvidia GeForce RTX 3070 Ti is one of the most powerful gaming laptop GPUs. In fact, it can match the performance with RTX 3080 in some scenarios!
On the Asus ROG Strix Scar 15, the GPU can go up to 150W of TGP, and it comes with 8GB of video memory, so it has both performance and plenty of video memory to handle modern AAA titles at higher resolution.
During our testing, we ran 3D Mark Time Spy and the laptop posted 11128 points, which states that its performance is very similar to that of an RTX 3080 laptop.
Also, we found that the GPU usually runs at 115W to 120W of power, although it is rated at 125W. Also, there isn't much of an FPS difference when the GPU is running at 125W and 150W in most games.
Gaming Performance
The Asus ROG Strix Scar 15 is a hard-core gaming laptop, and during our testing, it did not fail to prove the same. It handled most games we ran at 1440p and 1080p resolution without any issue.
On Forza Horizon 5, which is a GPU-centric game, the laptop posted 113 and 91fps in 1080p and 1440p resolution at high graphics settings.
Similarly, on Far Cry 6, the laptop posted 95 and 89fps in 1080p and 1440p resolution. On the Shadow of the Tomb Raider, the laptop gave us an average FPS of 103 and 85 with ultra ray-tracing settings in 1080p and 1440p resolution. Lastly, on Cyberpunk 2077, the Scar 15 posted 54 and 46 fps at FHD and QHD resolution.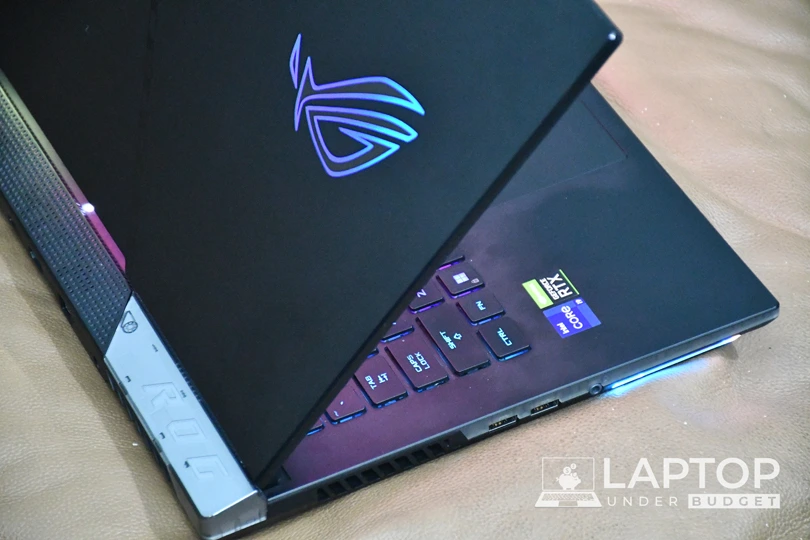 These results show that this year's Scar 15 is an excellent performing gaming machine. It can handle most AAA games at 1080p and 1440p resolution without any issue and will please even the pro-gamers and streamers with its top-notch performance.
Even if you decide to game in 4K, that's possible by connecting a 4K monitor to the laptop, and the laptop will be easily able to run most modern games at 60FPS in 4K at high to medium graphics settings.
Cooling
The Asus ROG Strix Scar 15 has a dual-fan cooling solution with four dedicated air vents, two on the back and one on either side.
During normal usage, you won't hear the fans at all. However, when gaming, it does get a bit noisy, but the sound does not exceed 40 dB of noise even when the laptop is set to performance mode.
As far as the temperatures go, the average CPU temperature we noted was around 85 degrees while the GPU temperatures hovered around 70 degrees, which is on par with the devices like the Alienware m15 R7 and the MSI Raider GE66.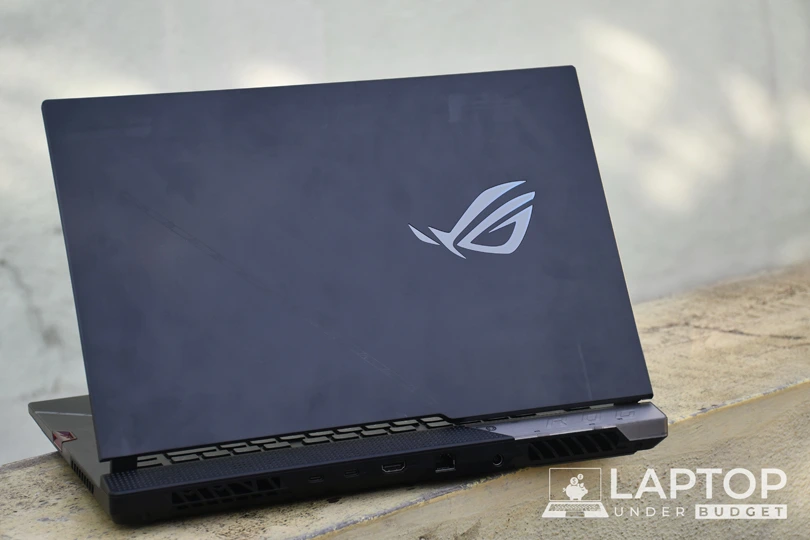 The laptop never gets uncomfortably hot to touch, and common touch points like the trackpad and keyboard remain cool for the most part, but we noticed that the left side of the keyboard did get a bit warmer than the right side with continuous gaming.
I also felt heat from the side exhaust vent blasting on my right hand holding the mouse, making it a bit uncomfortable when gaming. Though in winter I would actually prefer that!
Overall the cooling system on the Asus ROG Strix Scar is pretty efficient, and the multiple exhaust slots do help the laptop to stay cool even with continuous usage.
The laptop also uses Thermal Grizzly's Conductonaut Extreme Liquid Metal as the thermal paste, which Asus claims keeps the system temperature 15 degrees cooler than the traditional thermal paste.
Upgradeability
The Asus ROG Strix Scar 15 G533 has two SODIMM RAM slots. Our model came with two 16GB 4800MHz RAM sticks. The laptop does support up to 64GB of RAM, and users can easily upgrade the RAM by replacing the existing 16GB sticks.
For storage, our unit has a single 1TB PCIe Gen4 SSD and an additional SSD slot with over 7000MB/s sequential read speed and 5200MB/s write speed. Again, users can add an additional SSD and can also upgrade the primary 1TB SSD to a higher capacity model with ease.
Battery Life
The Asus ROG Strix Scar 15 (G533ZW-XS96) comes with a pretty big 90WHr battery. Despite having a large-sized battery, the device only lasts four and a half hours with continuous non-gaming usage. Gaming will further fasten the battery discharge, and you can expect slightly over an hour of gaming at a lower brightness level on battery with Scar 15.
The laptop does support fast charging with the included 280W charger and can fully charge the battery in less than an hour. However, the charging brick is huge and weighs as much as the laptop itself.
The laptop also supports 100W USB-PD charging via the USB Type-C port. Of course, it wouldn't be able to suffice the power requirements of its high-end CPU and GPU, but when traveling and doing non-intensive stuff, you can carry a USB-C charger to travel light.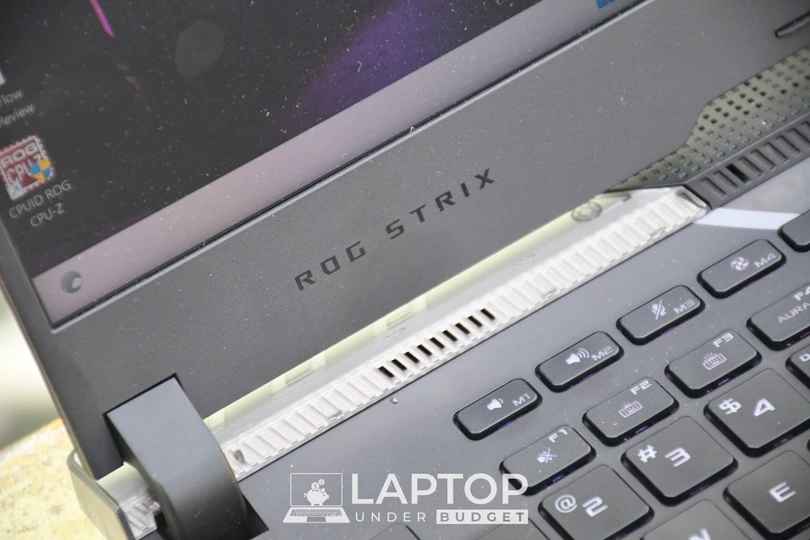 Overall, like most Intel-powered gaming laptops, even in idle mode (non-gaming), the CPU and GPU consume a good amount of power. While the battery life of the Scar 15 is still decent for a gaming laptop, you are looking at the wrong device if battery life is your main priority.
You may like to check out: The Best AMD Ryzen Laptops (Great performance & battery life!)
Conclusion – The 2022 Asus ROG Strix Scar 15 is a worthy machine!
All in all, the Asus ROG Strix Scar 15 is an excellent value for around $2,500. It has a great CPU and GPU, and even the design will contemplate the fact that it is a gaming machine. The company has also included a sharp, vibrant, and high refresh rate display, making it a well-made package for gaming, media consumption, and professional editing.
While there are much thinner and lighter laptops like the MSI Stealth GS66 and the Razer Blade 15 available at the same price point, they cannot match the performance that the Asus ROG Strix Scar 15 delivers. If you are primarily looking for a gaming laptop for around $2,500, and weight and battery life aren't your concerns, the 2022 Asus ROG Strix Scar 15 is a top-notch performing machine that's hard to beat for the price.
Asus ROG Strix Scar 15 (G533ZW-XS96)
$2,049.99
Design & Build Quality
4.5/5
Keyboard & Touchpad
4.8/5
Pros
Unique design with lot of RGBs
Solid build quality
Display delivers great balance of resolution, refresh rate and color accuracy
Well laid out RGB backlit keyboard with Numpad on the trackpad
Excellent performance with efficient cooling
Competitively priced
Cons
No webcam
Loud speakers but bass feels slightly lacking
Battery life could be better with day to day usage
Huge charging brick weighing as much as laptop
Slightly dim display for outdoor usage
Advertisement