When it comes to laptops and ultrabooks, the 15-inch laptops seem to rule the market and with good reasons. The 13-inch and 14-inch laptops are pretty small and portable, but they fail to pack the sheer raw horsepower for any intensive task. On the other hand, the 16-inch and 17-inch systems are loaded with beefy specs, but they are way too heavy and, thus, not quite portable.
We think 15-inch laptops offer perfect balance of both performance and portability. They've got a screen that's big enough to produce and consume content, and their form factor is still light and slim enough to make them portable. This ideal form factor also allows the manufacturers to house rather powerful specs while maintaining ideal temperatures compared to their 13- and 14-inch counterparts, which can get way too hot with beefy specs. The sheer power from the components such as high-end processors and graphics cards, along with enough memory, makes these machines perfect for intensive tasks such as gaming and editing on the go.
Advertisement
Since 15-inch laptops are the most popular segment of laptops, the market is flooded with them. You can get a 15-inch laptop for as low as $300, and they go all the way up to $2000 and even beyond that. Within that space, you've got models that are light and made for portability, while there are a few that are made for extreme productivity and weigh a ton. There are also few models that are light and still pack hefty specs for pretty much anything you can throw at them.
With so many options on hand, it's easy to get confused while finding the best 15-inch laptop for yourself. But, you needn't worry. We've carefully reviewed and hand-picked an array of laptops to help you find the best 15-inch laptop for your needs. Go through all the options and pick the one in accordance with your needs and budget.
Best 15 Inch Laptops – Top Picks
1. Microsoft Surface Book 3 15″
Best 15-inch 2-in-1 Laptop
It's astonishing yet praiseworthy how much power Microsoft was able to pack in such a light and compact machine. The 4.1 pounds machine, along with the keyboard, can be specced all the way up to 10th gen Intel core i7, 32GB RAM and a 2TB SSD. Along with Nvidia GeForce GTX 1660 Ti with Max-Q Design, the thin and compact Surface book can handle pretty much everything you can throw at it. It's designed for productivity and will perform excellently under pressure while editing photos and videos. With those specs, you can easily play modern AAA titles like Star Wars Fallen Jedi at respectably high settings with a stable frame rate. Even under pressure, the Surface book's thermal performance stays stable and keeps the laptop under 100° C.
The exterior is built out of magnesium and feels robust and strong. Despite the slim form factor, it's got pretty much all the ports you'd need including USB-C, USB-A ports plus a full-size SD card slot. But the magical part, the center of attraction, is the detachable display, which becomes a powerful tablet on its own. Microsoft even improved the detaching mechanism on this model after the complaints received on the Surface Book 2. The tablet mode, paired with the Surface Pen, is an excellent package for artists and allows you to draw unlike any other 15-inch 2-in-1 laptops. Although, it's worth noting that the Surface Pen is sold separately. The tablet mode is also amazing for watching YouTube and Netflix on the couch where you don't need the keyboard.
The only thing that may prevent you from picking it off the shelves is the fact that the Surface Book 3 is not built for the budget consumer. The 15-inch model starts at $2,299 and goes all the way up to $3,399 for the highest specced model.
Hardware Specifications of Microsoft Surface Book 3 15″:
2. Dell XPS 15
Our Top Pick
Since its release, the Dell XPS lineup has been the epitome of premium Windows laptop, and the latest iteration is no different. The XPS 15's modern look, lightweight chassis and powerful components make it a perfect pick as the best 15-inch laptop that money can buy right now.
The range kicks off at $1,299.99, which comes with a 10th Gen Intel Core i5, 8GB RAM and 256GB SSD storage. It can be specced up to an 8-core Intel Core i9 processor, 64GB RAM and 2TB SSD, all of which costs about $3,000. On the graphics front, except for the base model, all other XPS 15 models features an Nvidia GeForce GTX 1650 Ti discrete graphics card. So, despite it's thin and light form-factor, it doesn't lack behind in terms of performance. It can do all sorts of heavy lifting, and if you go with the higher specced version, you can even play demanding games on it at stable frame rates.
The XPS 15 comes with a refined 16:10 InfinityEdge display, which basically means that it's got a really narrow bezel on all four sides. Thus, Dell was able to pack a 15-inch screen in the thinnest and smallest form factor possible. As far as resolution is concerned, there are two options, a full HD+ non-touch display and UHD+ touch display. Both panels get bright up to 500-nits, which is enough to work comfortably outside on a bright sunny day. Plus, they cover 100% of the Adobe sRGB color spectrum, making the Dell XPS 15 a perfect machine for color-accuracy tasks such as photo editing and video editing.
There's no shortage of ports either as it features two Thunderbolt 3 ports, a USB-C 3.1 port, a full-size SD card reader and a headphone jack. Unfortunately, there's no USB A port, which may be a deal-breaker for some people. The keyboard feels nice to type on and seems similar to the last year's model, however, the trackpad has been tweaked prominently on the new XPS 15. It's bigger now, in fact, it's the biggest trackpad you'll find on any laptop. Thankfully, it runs on Windows precision drivers, and it has an excellent palm rejection system, so it doesn't make the cursor move accidentally while typing.
Apart from that, there's an infrared camera with webcam and a fingerprint sensor on the power button for secured Windows Hello login.
Hardware Specifications of Dell XPS 15:
The HP ENVY 15t is one of the best value for money 15-inch high-performance laptops you can buy right now. It offers similar performing hardware as the Dell XPS 15, but for a lot less. Its base variant costs $1,200, and for the price, you get a 10th Gen Intel Core i7-10750H six-core processor, 16GB RAM, 256GB SSD, and Nvidia GeForce GTX 1650 Ti 4GB DDR6 graphics. Its 15-inch screen comes with a full HD resolution and it is perfect for professional photo and video editing because it covers 100% sRGB color-gamut. If you think these specs won't cut it for you, then you can get it specced with up to Core i9, RTX 2060 Max-Q GPU, 32GB RAM, 2TB SSD storage, and touchscreen 4K AMOLED display.
So, it's undoubtedly better performing laptop than Dell XPS 15, but the ENVY 15's chassis isn't as svelte looking and well-built. It also weighs more than other ultrabooks at 4.7 pounds. Nonetheless, it's still a stunner in its way, and undoubtedly a great option if you want a affordable high-performance 15-inch laptop that's portable enough to be carried in a backpack to places. | Check Price on HP
3. HP Pavilion 15
Best 15 inch Laptop Under $1000
HP Pavilion 15 blurs the gap between it's subnotebooks and premium Spectre and Envy Lineup and redefines what a budget, everyday notebook is all about. The HP Pavilion 15 is a sub-$1000 laptop that inherits its exterior styling from HP Envy, while the inside is powered by the latest, 11th Gen Tiger Lake processor.
It is powered by an 11th Gen i7 processor from Intel. While there are no dedicated graphics onboard, the Tiger Lake family has taken cues from AMD Ryzen processor when it comes to dedicated graphics. As a result, the integrated Intel Iris Xe Graphics can handle light games like Valorant and Fortnite as well as creative tasks like light to moderate video and photo editing. Inside, you'll also find 16GB RAM and 512GB SSD storage. The RAM is user upgradable, but there are no empty slots in the 8×2 (16) GB configuration. Same goes for the SSD and storage at large, upgradable but no empty slots. But given how slim and sleek the new Pavilion 15 is, I'd count the upgradeable RAM and SSD as blessings.
On the outside, despite its deceptive appearance, the HP Pavilion 15 is still made out of plastic, though it's not the cheap black plastic that has been the face of budget laptops. The FHD IPS display has nano-bezels around the corner, yet preserves the webcam on the top. There's a decent selection of ports with an HDMI, a USB Type 2.0 and a 3.0, Thunderbolt port, Micro SD Card reader and a 3.5mm jack.
The HP Pavilion 15 is not a creativity hub or a gaming beast, but rather a clean, everyday laptop that will get you through work, web browsing and media consumption. It's fast, looks good and easy on the pocket.
Hardware Specifications of HP Pavilion 15:
MORE: The Best Laptops Under $600 – Our Top Picks
4. Lenovo ThinkPad T15
Best 15-inch Business Laptop
The Lenovo ThinkPad T15 is the perfect work horse. It is Lenovo's best in class 15-inch business laptop that has been the go to choice of small and big businesses alike. It's renowned for its tank-like build quality, paired with class-defining security features.
The base model is equipped with Intel Core i5 processor and it can be configured all the way up to an i7 processor. As standard, you'll get 8GB of RAM and 128GB of storage, pretty low for a laptop in 2021, but then again, it can be configured all the way up to 128GB of RAM and 2TB storage. Depending on the configuration you choose, you can easily get 10-12 hours of battery life on a single charge. Being a business laptop, it's also pretty lightweight starting at just 3.86 lbs.
Despite the configuration you choose, you can be assured of the quality and security. All models get Fast Identity Online (FIDO) authentication capabilities, dTPM 2.0, Optional match-on-chip touch fingerprint reader, ThinkShutter privacy cover for the webcam and a Kensington lock slot as standard. Coming to the connectivity, you'll get two USB 3.2 Gen 1, an ethernet port, a Thunderbolt connector as well as a dedicated Type C port for charging, an HDMI port, a 3.5mm jack, SD card reader and an optional Smart Card reader.
The built, though plastic, is world renowned. The ThinkPad's design has not changed much over the centuries, for it is a statement in the business world.
Hardware Specifications of Lenovo ThinkPad T15 15-inch Business Laptop:
5. Apple MacBook Pro 16
The Only Mac Option
If you're looking for a 15-inch MacBook, then the Apple MacBook Pro 16″ is your only option since Apple discontinued the MacBook Pro 15. Although the MacBook Pro 16's screen is bigger than its 15-inch predecessor, its physical footprint is just slightly larger thanks to the shrunk bezels. Here are the dimensions of MacBook Pro 15 (13.8 x 9.5 x 0.6 Inch) and MacBook Pro 16 (14.1 x 9.7 x 0.6 Inch) for your reference.
The MacBook Pro 16 is a productivity beast and can be configured up to 8‑core Intel Core i9 processor, 64GB RAM, AMD Radeon Pro 5600M series graphics, and 8TB SSD storage. The 16-inch Retina display can produce 500 nits of brightness and supports DCI-P3 wide color gamut, which displays accurate colors. The MacBook Pro 16 also comes with a very intuitive touch bar up top that can be useful depending upon the apps you use for your work. Apple finally bid adieu to the blunderous butterfly keys and replaced them with the trusted scissor keys. The MacBook Pro 16 also features the best speaker system on any laptop out there with a six-speaker sound system and dual force-canceling woofers. The whole system is powered by a 100Wh battery with a claimed battery life of 11 hours.
The port selection on the latest iteration of the new MacBook Pro is a bit disappointing. It's got just 4 Thunderbolt 3 ports and an audio jack. There is no dedicated power input either, so you'll have to use one of the Thunderbolt ports for charging. On the positive end, the Thunderbolt ports can support up to 40 GB/s data transfer and two 6K monitors at once. In order to get the most out of it, it is better to purchase an adapter. On the subject of build quality, Apple reigns supreme, and the MacBook Pro 16 is another testament to that. It's build-out of premium aluminum without any plastic in sight and feels like you're holding a high-end laptop.
The baseline MacBook Pro starts at $2,399. While you can get laptops with better specs at this price point, most people that pick up a MacBook get it for the macOS and its exclusive apps such as Logic Pro X and Final Cut Pro.
Hardware Specifications of Apple MacBook Pro 16:
6. HP Chromebook 15
Best 15-inch Chromebook
If you're on the lookout for a 15-inch Chromebook that balances price and performance, then look no further than the HP Chromebook 15. On the subject of specs, you're running an Intel Core i3 processor, 4GB RAM and 128GB storage. On paper, that doesn't sound like a lot, but you need to remember that this machine is running Google's Chrome OS, which is a lot less demanding than Windows. You certainly do lose the versatility of a full-fledged Windows laptops here, but the Chrome OS is fast and peppy at what it can do. So if you're looking for a laptop for just emails, notes, presentations and content consumption, then a Chromebook may better than a Windows laptop.
The HP Chromebook 15 follows HP's signature design language. It's built out of plastic, but all the cheap plastic is neatly tucked away under a metallic finish on the deck and a ceramic finish on the lid. The port selection is versatile enough for a Chromebook with two USB-C ports, an audio jack and a dedicated micro SD card reader which can be used to expand the storage. There are also front-facing B&O tuned speakers that will surprise you with their performance.
The 15.6-inch Full HD screen supports touch input, something that can be hardly found in the sub-$500 range. The keyboard is well laid out and comes with backlit keys. The typing experience is clicky and testifying. The full-fledged number pad on the right end is a blessing if you work a lot with numbers in a program such as Excel.
Hardware Specifications of HP Chromebook 15:
MORE: The Best College Laptops – Our Top Picks for Students
7. HP Spectre x360 15″
Best 15-inch Convertible Laptop
HP Spectre x360 is where elegance meets performance. It's powered by a 10th Gen Intel Core i7 Hexa-core processor, 8GB RAM, and a 256GB SSD. There's even a dedicated graphics unit powered by a Max-Q variant of Nvidia GeForce GTX 1650 Ti. With those specs, the HP Spectre x360 is a productivity beast where you can edit and create photos and videos on the go. Although the GTX 1650 Ti isn't the most powerful graphics card for gaming, this machine can handle modern AAA games on lower settings. The build quality isn't compromised anywhere, and everything you can touch is built out of high-quality materials. HP has kept portability in mind while designing this laptop, and accordingly, the HP Spectre x360 weighs 4.2 lbs and features a slim and sleek chassis despite such powerful hardware.
The 15.6 inch UHD touchscreen display is crisp and covers 157% of the sRGB color spectrum, making it perfect for all sorts of color-accuracy work. In addition to the touch input, the HP Spectre x360 also supports HP's digital pen, which can be used to draw on the screen with minimum latency. Add that to the tablet mode, and you've got yourself a proper digital drawing station. The bezels around the screen are also small and thin that lend a modern look to this laptop.
On the subject of ports, it's got an HDMI port, a headphone jack, two Thunderbolt 3 ports, one USB Type-A port, a privacy camera kill switch, and a microSD card slot. There is a front-facing Bang and Olufsen speaker on the keyboard deck that produces amazing and loud sounds with sufficient bass. The keyboard is backlit and well laid out for comfortable typing. There's also a fingerprint scanner for secure log-in.
Hardware Specifications of HP Spectre x360 15″ Convertible Laptop:
8. Lenovo Legion 5 15″ – Best 15-inch Gaming Laptop Under $1000
The Lenovo Legion 5 should be your pick if you're looking for a high-octane 15-inch gaming laptop on a budget. To start off with the specs, it's powered by the AMD Ryzen 7 octa-core processor, 16GB RAM, a 512GB SSD, and an Nvidia GeForce GTX 1660 Ti GPU with 6 GB of dedicated VRAM. It can easily handle any game that you can think of at a respectable setting with a stable frame rate. The storage, for a gaming laptop, is on the lower end, but thankfully you can upgrade the storage.
Being a gaming laptop, it's got a 15.6-inch full HD 144Hz display with a 5ms response time. While the high refresh-rate may not add value to the day to day tasks, it comes in handy while playing fast-paced games such as Overwatch or Apex Legends. If you're into color sensitive tasks, you'll be glad to find that the screen is fine-tuned by Dolby Vision, which makes the Legion 5 screen 100% sRGB color accurate. High refresh-rate display with good color accuracy makes the Legion 5 15″ a perfect blend of work and play.
Coming to the looks, it's not got all the fancy edges and LEDs that one might expect from a gaming machine. In fact, in 2021, RGBs are becoming primitive as more and more gamers opt for a simpler aesthetic. The Legion 5 follows the same philosophy and opts for a plain, black and boxy look. An enthusiast might be able to tell it apart as a gaming machine from the reflective Legion logo, but apart from that, it's indistinguishable. Unfortunately, the material used for construction is also indistinguishable from budget machines, so you can expect a lot of cheap black plastic and some flex.
Being a boxy and bulky thing, there's a ton of ports to go around. On the backside, there is an RJ45 Ethernet port, a USB Type-C port, two USB Type-A ports, an HDMI 2.0 port, a power jack, and a Kensington security slot. On the sides, there's a USB Type-A port and a headset jack.
To wrap it up, the Lenovo Legion 5 is the best gaming laptop under $1000 right now that can push out an absolute bang for the buck. The high performance hardware paired with color accurate display make it an absolute bang for buck machine for content creation.
Hardware Specifications of Lenovo Legion 5 15″:
You may like to check: The Best Budget Gaming Laptops Under $800
9. MSI GL65
High-end 15-inch Gaming Laptop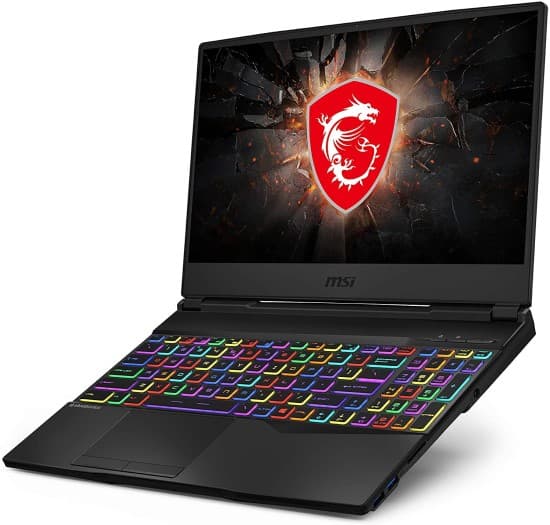 If GTX graphics can't quench your thirst for graphics, and you'd like a taste of that sweet RTX nectar without trading a kidney, then MSI GL65 Leopard 15″ is the best laptop for you.
Coming in at a price tag under $1500, MSI GL65 is powered by a 10th Intel Core i7 processor with six-cores and RTX 2070 graphics paired with 16GB RAM and 512GB SSD. In other words, it can play Cyberpunk 2077 without being a fire hazard. Even CPU heavy applications like DAW for music production and video editors will work flawlessly thanks to the potent Core i7 processor. The storage leans towards the lower side of the spectrum, but if you open it up, you'll find an empty M.2 slot as well as a 2.5" SATA bay for an HDD.
The 144Hz refresh rate looks smooth while gaming and the 100% sRGB color accurate display utilizes the full potential of the GL65 as an editing beast. The built is identical to MSI GP65, which means an all around plastic built but with minimal flex and sturdy hinges. Being a big and bulky laptop, there's a ton of connectivity. On the right, you'll find an SD reader, two USB 3.1 and an AC adapter. On the left, there's a Kensington Lock, RJ-45, HDMI 1.4, Mini-DisplayPort, USB 3.1, USB 3.1 Type-C Gen. 1, 3.5 mm earphones, 3.5 mm jack.
MSI GL65 Leopard is quite a capable laptop that comes at a comparatively affordable price, but that means that a few corners had to be cut. If you're ready to trade a bulky build and a battery that doesn't last longer than 4 hours for absolutely banger performance, then MSI GL65 Leopard is an excellent pick.
Hardware Specifications of MSI GL65 10SFK-062 15″ Gaming Laptop:
MORE: The Best Gaming Laptops Under $1500 – Our Top Picks
10. Lenovo ThinkPad P15
Best 15-inch Workstation Laptop
Lenovo ThinkPad P15 occupies the title of the best 15-inch workstation on our list. It can be configured up to an Intel Xeon W-10885M with 8 cores , 128GB RAM, up to Nvidia Quadro RTX 5000 16GB graphics and 4TB SSD storage on top of the base 256 GB storage. The colossal specs on this laptop make it one of the most powerful 15-inch laptops that you can buy. The over the top processor and graphics can handle hefty CGI and CAD tasks without a sweat. It's got an ISV certification for almost all the mainstream productivity Softwares that you can imagine.
On the subject of connectivity, it's got two x USB 3.1 ports, 2 Thunderbolt ports, a USB 3.2 port, an HDMI port, an SD Card Reader, an ethernet port and an audio jack combo. The 15.6-inch display can be configured up to UHD 4K (3840 x 2160) OLED panel and 400 nits peak brightness with 100% color accuracy. This machine is a productivity beast for the pros, and it's got a price tag for that pro performance as well. The top-specced version will cost you just over $7,500. That may sound like a lot for features you might not even need, but the beauty of this laptop lies in the customizability offered by Lenovo. The base variant starts at $1,500 and comes with a 10th Gen Intel i5, 8GB RAM and 256 GB SSD, everything else can be selected as an option.
Hardware Specifications of Lenovo ThinkPad P15 Laptop:
That concludes our long list of the best 15-inch laptops that you can buy in 2021. The 15-inch form factor is the most popular laptop segment among both consumers and producers as it allows a high degree of versatility and offer the perfect balance between performance and portability, so there is a 15-inch laptop for everyone out there.
If you're a student on a strict budget, then stick to the HP Chromebook 15 or Acer Aspire 5 if you need the full-blown Windows OS. The Dell XPS 15, Surface Book 3 and the HP Spectre x360 are the top-notch offerings in the 15-inch laptop space, while the MacBook Pro 16 is your default option if you want Mac OS. The Lenovo Legion 5 15″ serves as an excellent 15-inch gaming machine on a budget; however, if you've got a little more to spend, we'd recommend the MSI GL65 or the Razer Blade 15 if you're looking for a sleek and slim gaming machine.
We hope that this guide helps you make an informed and confident decision on your next purchase of a 15-inch laptop.
Advertisement