HP is an internationally-renowned information technology company which has extended its business to a wide-variety of hardware and PC components including laptops. Ever since its inception in the year 1939, the company has managed to win in almost all the IT peripheral related segments and today, the company is in the top 5 laptop and PC makers in the world.
HP always does a commendable job, when it comes to providing powerful configuration, without compromising on the design elements, which most of the companies trade-off. Speaking about our current HP 15-ay013nr, the laptop is a powerful daily performer and the brand has continued it's traditional, yet pleasing design elements with top-of-the-line hardware at a cutting-edge price. We have been using this laptop for the past couple of weeks, and this is what we think of this laptop.
Advertisement
HP Notebook 15-ay011nr 15.6-Inch Laptop
out of stock
as of October 1, 2023 1:21 am
Features
Intel Core(TM) i5-6200U Processor 2.3GHz with turbo boost up to 2.8GHz
Memory, standard : 8 GB DDR3L-1600 SDRAM (1 x 8 GB)
More productive. Windows 10 is the best for bringing ideas forward and getting things done.
1TB 5400RPM Hard Drive, DVD Writer
15.6" diagonal Full HD SVA antiglare WLED-backlit (1920 x 1080)
Design
The first thing which we noticed when we started using the laptop is its beautifully crafted chassis. Although the HP 15-ay013nr isn't any thinner than most of its rivals in the segment, it is undoubtedly a very well built laptop with pleasing aesthetics.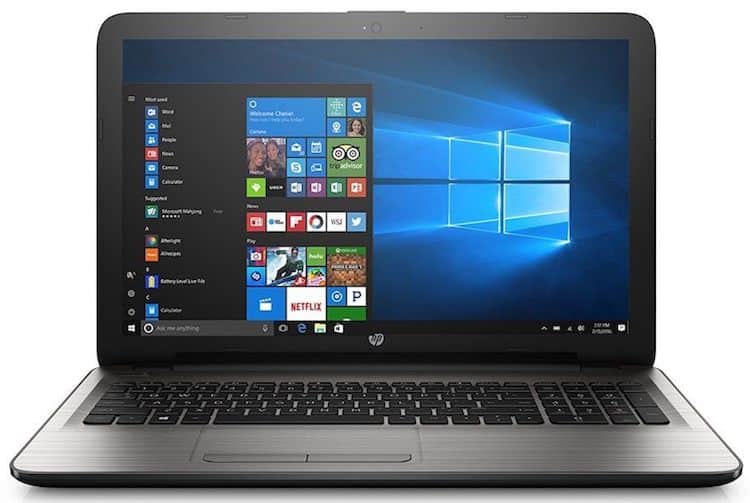 With the dimensions of 15.12 and 10.02-inches, this laptop measures same as almost all the 15-inch laptops out in the market. Sadly, the laptop isn't thinner and is 0.95 inches thick. But if one is ready to overlook, the thickness of the laptop, it offers a very polished textured linear grooves along with horizontal brushing in metal shades. Moreover, the laptop weighs around 4.6 pounds which are pretty good and light for a laptop with these measures.
The laptop is entirely made up of plastic, but it doesn't feel cheap by any means. The rear of the laptop comes with a polished 'HP' logo as seen on most of the HP laptops. As soon as you open the lid of this laptop, you'll see a 15.6-inch display packed in a slim and sleek plastic bezel. On the other hand, you will see an island-style complete keyboard along with a number pad and few other additional company's proprietary menu buttons.
Speaking about the keyboard and trackpad on the laptop, it comes with a standard and well-spaced keyboard, which are sad, not backlit. Although this might be a deal-breaker for few users, it's not always a major point of concern. The keys were neatly curved to the centre, providing a good response and grip during our usage. We tested the keyboard's capabilities using TypingTest.com and I managed to score around 126 words per minute with five errors, compared to 130 words per minute with around five-six errors on my MacBook Air. Do note that MacBooks are one of the best available series of laptops for document editing and making. That said, the HP 15-ay013nr is packed with an able keyboard minus backlit keys.
MORE: Top Picks of Laptops for Writers with Most Ergonomic Keyboards
It is provided with a 4.5 x 2.2-inch Synaptics touchpad, which was pretty accurate and responsive. It also has gesture support options such as pinching to zoom, scrolling with two fingers, and selecting multiple files with three fingers.
The chassis is finely-engineered and as a result, the design is neat and far from being clumsy. you also get a decent deck space with this laptop. On a simple conclusive note, the laptop looks like most of the HP laptops plus a pleasing aesthetics.
Display
HP 15-ay013nr sports a 15.6-inch Full-HD display combined with the latest SVA anti-glare WLED technology to provide rich colour contrast. The display comes with a resolution of 1920 x 1080 pixels, which is good considering the size.
The laptop provides a long-listing of display setup controls, which allows its users to change the colour hues and adjust brightness. We downloaded some 4K video content on this laptop and the colour reproduction was commendable considering the price at which it is available.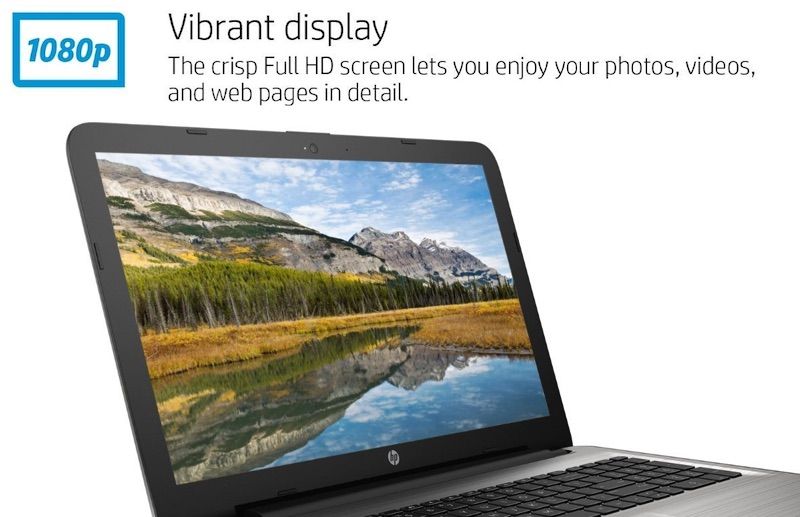 MORE: The Best Laptops Under $500 – Our Top Picks
During our display benchmarking tests, the laptop's display managed to reproduce 79.2 percent in the sRGB colour gamut, which is very good in this budget. Moreover, the WLED technology used in the making of display gains it an upper hand over its rivals when it comes to the viewing experience and angles. When it came to the brightness of the screen, the HP 15-ay013nr outshone almost of its competition and managed to reach an average of 315 nits.
So yet again, the display remains the strong point of this laptop and is capable of passing all the checklists set by its users with flying colour (quite-literally).
Hardware
The HP 15-ay013nr is stuffed with a long list of powerful hardware for the asking price. Under the hood, the latest 6th generation dual-core Intel Core i5-6200U processor is the show-stealer. The laptop comes with a clock speed of 2.3GHz which can be turbo boosted up to 2.8GHz for the power usage. It comes with 3MB of L3 cache space, to provide faster memory mapping.
The processor is paired with an 8 GB of DDR3L SDRAM. The processor and RAM paired together can handle almost any of the daily task you throw at it with ease. Moreover, the abundant RAM also lets its users multi-task at a go. As far as the graphics processor in this laptop is concerned, it comes with an integrated Intel HD 520 graphic card with up to 4169 MB of total dedicated graphics memory. The laptop comes with a Super-Multi DVD Burner, which can read/write files from a DVD disk.
The laptop comes with a customising configuration option, in which the user can decide on the vital aspects of the laptops such as hard disk size, RAM, and more. In terms of memory, the user is provided with either a 128GB of solid state drive or a 1TB of hard disk space out of the box. Although the pricing might vary accordingly, it lets the user decide on these aforementioned specifications. But personally, we prefer SSD over a normal HDD for the faster data transfer speeds. So, you might consider buying an additional hard drive for data storage.
Two Similar HP 15-Inch Notebook Models Comparison
HP 15-ay013nr 15 Inch Laptop –
With 128GB SSD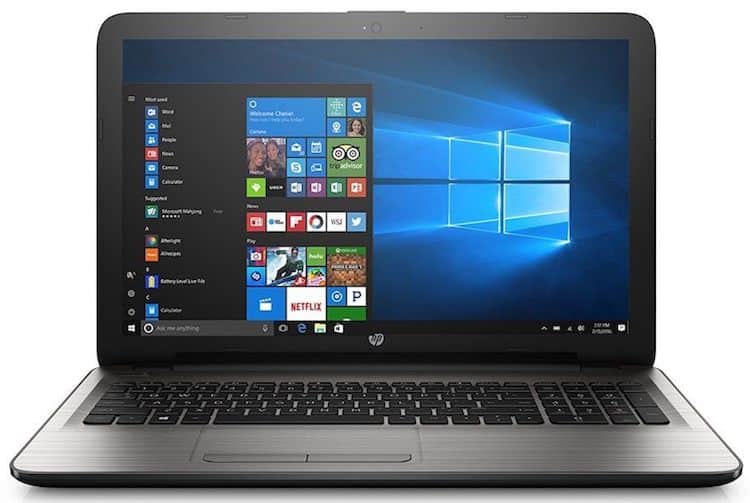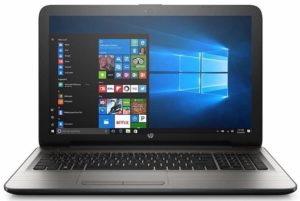 Specifications –
Intel Core i5 6200U 2.3 GHz Skylake Processor
8GB RAM
128GB SSD
Intel HD 520 Graphics
15.6 Inch Full HD WLED Anti-Glare Display
Windows 10
HP 15-ay011nr 15 Inch Notebook –
With 1TB HDD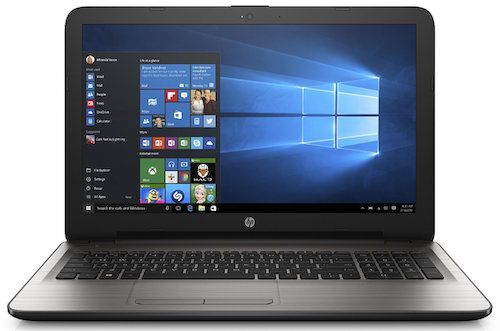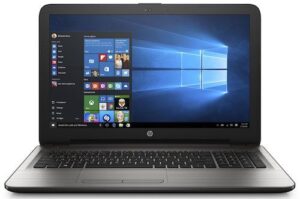 Specifications –
Intel Core i5 6200U 2.3 GHz Skylake Processor
8GB RAM
1TB Hard Drive
Intel HD Graphics 520
15.6 Inch Full HD WLED Anti-Glare Display
Windows 10
MORE: Top 10 Best Intel Core i5 Processor Laptops
Webcam
HP 15-ay013nr comes with a 720p advanced HD camera, which can capture images with good details and vibrant colour gamut. The 720p webcam on this laptop adjusts the image quickly and doesn't lag in any manner. The camera is pretty ideal for video calls and can also take adequate photos. The colours reproduced in this laptop, were, however, a bit warm. Moreover, the laptop comes with the HP's proprietary 'Snapfish' tool, which lets the user access their photos from multiple devices at a time.
During the sample shots, we shot using the laptop's webcam. The colour reproduction and other vital aspects were very satisfactory. However, the colours at the edges sometimes tend to wash out.
Ports

The HP 15-ay013nr sports one USB 3.0 port for blazing fast file and data transfers. Dual USB 2.0 ports to allow you plug in multiples peripherals at a time. The laptop comes with a Digital Media Card Reader for Secure data accessing from a digital SD. In addition to them, it also comes with a DVD writer, which can read/write from disks.
Software
The HP 15-ay013nr runs Windows 10 out-of-the-box and has a bit of preinstalled software (bloatware), but at least a decent portion will be useful for work. Our review unit included Skype along with Skype for business and a suite of software from CyberLink: PowerDVD for video playback, YouCam webcam software and Power2Go to burn discs. You also get a very useful HP Software Setup program, which allows its users to update all the system drivers and manage the installations of Windows and other HP-recommended applications.
The laptop also comes with all the standard line-up of Windows 10 applications and includes all the support from Windows in the near future.
Performance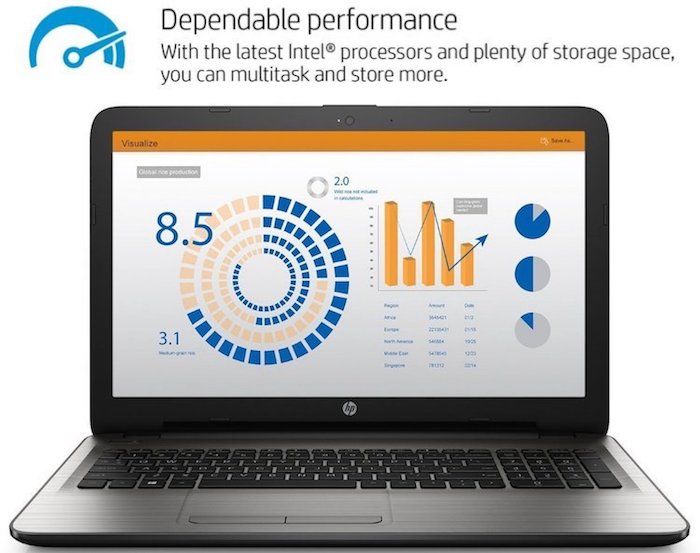 Thanks to all its powerful innards, the laptop possess, the performance is top-notch in its segment. That said, the laptop was able to withstand all our daily heavy-duty applications without a lag. Moreover, multi-tasking was butter smooth. At times, the processor was forced to enter its turbo mode, to handle heavy applications. During this, the laptop started heating. Although, it wasn't a major heating issue but was considerable. As mentioned earlier, it was a pretty fine multitasking machine, allowing me to keep over 30 tabs open in Chrome with few of them streaming 4K content from YouTube, and I hardly noticed any lag.
MORE: Our Top Picks of Laptops Under $600
Gaming
As mentioned earlier, the laptop comes with Intel integrated graphics and is surely not a gaming stationed laptop. Now before you get dishearten, we would like to share some interesting benchmark results for this laptop, it managed to score a surprising 64,231 on 3DMark Ice Storm Unlimited test. We tested the laptop with graphic-intense games such as Witcher III and heroes of the storm. Although the laptop struggled to play these games at graphics set to maximum, it was pretty much playable in graphics set to medium-low.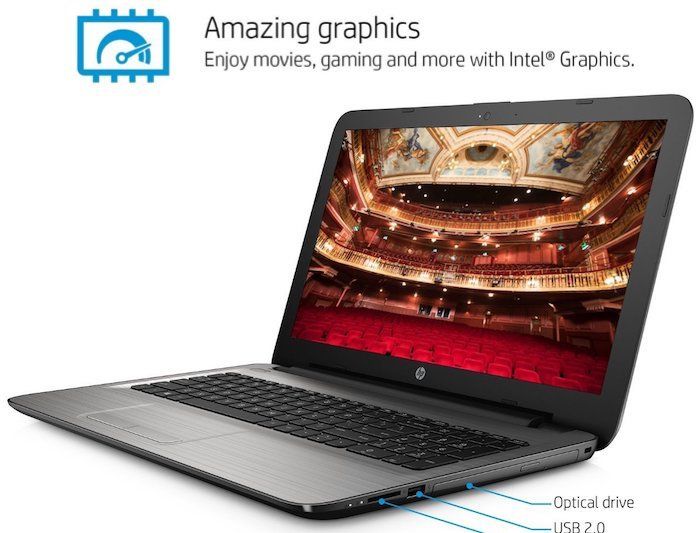 RECOMMENDED: Best Gaming Laptops Under $800 – Our Top 10 Picks
However, we would advise you not to choose this laptop, if your primary concern is gaming. For rest, do keep note of the benchmarking scores and yeah, the laptop can still play high-end games.
Audio & Video
HP never let its users down, when it comes to multimedia experience. Accordingly, the HP 15-ay013nr comes with dual-stereo speakers. The speakers on the laptop can easily fill a room with its sound. When we played bass heavy tracks such as "No Church in The Wild" the sound was crisp and punchy. We also tested the speakers with "Owl-city Fireflies" and the vocals and sharp treble was kept to its standards. On an overall note, the speakers are very punchy and can deliver very good sound output.
Battery Life
Battery life is yet another commendable aspect of this laptop. It comes with a Li-Ion battery, which the company claims that the laptop can provide over 7 hours of continuous usage. However, we were sceptical about this and we put the laptop to test by ourselves. We managed to get slightly over 5 hours of continuous usage on a single charge, which included a continuous network reception, multimedia, gaming, and benchmarking.
The laptop took 2 hours 45 minutes to charge fully from 0 to 100, which is normal for a laptop this calibre.
MORE: The Best Gaming Laptops Under $500 – Our Top 7 Picks
Bottom line – Just Go For It!
We just loved the HP 15-ay013nr, almost in terms of everything minus few minor aspects. The laptop offers top-of-the-line specifications and a powerful and reliable Windows 10 OS, which makes the deal even sweeter. Reliable battery life, commendable multimedia experience, sturdy performance, and pleasing aesthetics are the strong points to buy this laptop, and as we always mention, if your budget is under $500, and you are not an avid gamer, then look no further, as this laptop will not disappoint you in any means.
HP 15-ay013nr 15.6 Inch Full-HD Laptop
$459.00
Advertisement