When it comes to the best 2 in 1 laptop, Lenovo's IdeaPad Flex series has always been up there with other top choices. The IdeaPad laptops from Lenovo mostly fall in the budget to mid-range price category, so they are not the most premium-feeling devices from the company. Instead, it focuses on offering competent performing laptops at affordable rates. The Lenovo IdeaPad Flex 5 14, following similar lines, does not have an expensive laptop feel, in fact, it has an all-plastic exterior. But, it is well-built, checks a lot of other right boxes, and delivers heavily on the part that counts the most — Performance.
Last year's model also followed the same philosophy. It cut corners at various places, but the performance was bang on. Since this year's model is just a spec bump and it uses the exact same chassis and other parts as the last year's model, the problems like flexing keyboard deck and dim display are carried over to this year's model as well.
Advertisement
However, the performance has improved. It boasts now the latest AMD Ryzen 5 5500U processor. It is important to note that although the CPU belongs to AMD's new 5000-series processors family, it still uses the old Zen 2 architecture of 4000-series. So, the processor inside is basically old wine served in a new bottle and brings just slight improvements over the Ryzen 5 4500U found in last year's model.
The most noticeable performance upgrade that the Ryzen 5 5500U brings, though, is the hyperthreading support, meaning it now has twelve threads (instead of six in Ryzen 5 4500U) to make better use of all the computational power that its six-cores has to offer.
Getting more performance for almost the same price as the last year's model seems too good to be true, but since the laptop uses the same chassis as its predecessor and its cooling system also being untouched, the laptop does get a bit warm under heavy load. We have discussed more about it in the performance section of our review.
However, considering the price that it retails for right now ($700) and will during sales ($600 speculated), it's easy to get over all its shortcomings. We think the 2021 Lenovo IdeaPad Flex 5 14″ is still a winner among the affordable 2-in-1 laptops. The powerful performance that gives even expensive laptops a good run for the money and features like a backlit keyboard, fingerprint scanner, decent-sounding speakers, and Lenovo Active Pen included in the box makes it a great value for money package.
Go through the full review to know everything that we like and dislike about it.
Specs as reviewed:
| | |
| --- | --- |
| Processor | AMD Ryzen 5 5500U (6-cores) |
| RAM | 16GB DDR4 3200MHz |
| Storage | 256GB SSD |
| Graphics | AMD Radeon Integrated |
| Display | 14-inch Full HD IPS Touchscreen (Glossy) |
| Operating System | Windows 10 Home |
| Battery Life | 09:56 |
| Weight | 3.3 Pounds |
Design
As mentioned earlier, the design of the 2021 Lenovo IdeaPad Flex 5 14″ is same as the last year's model, and that's alright. The device still manages to look modern, and although its chassis is made up of all-plastic, the actual construction feels very solid. Most plastic-built laptops produce creaking sounds when they are held from the edge of the keyboard deck with one hand (in clamshell mode). To our surprise, the chassis of the IdeaPad Flex 5 14″ didn't creak at all. All the parts of its case are very well put together, and that provides good rigidity to its structure. There is a slight flex in its screen and keyboard deck, but it's not prominent enough to concern us about its build quality.
The actual footprint of the laptop (12.65″ x 8.56″ x 0.82″) is also relatively small despite being a 14-inch device, and it's also fairly portable at 3.3 pounds. However, it's not the slimmest or smallest 2 in 1 laptop you can buy for the money. The HP ENVY 13 also falls in a similar price bracket as the IdeaPad Flex 5 14″ and is a much smaller, slimmer, and premium-feeling device.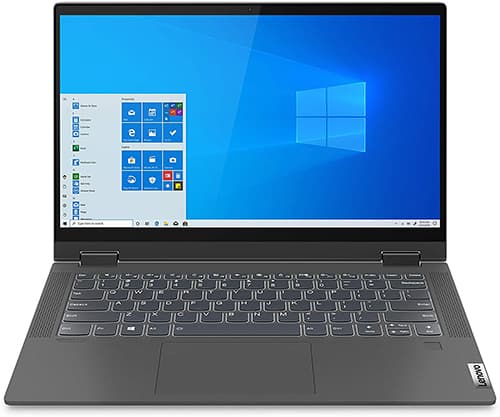 The Lenovo IdeaPad Flex 5 14″, however, does not easily give out the fact that it's a plastic-built machine. Its lid and bottom panel have a smooth touch finish, which gives a vibe of an expensive machine when touched. It also has a clean exterior design with a subtle Lenovo logo on the right edge of the lid and grills on the bottom for air dissipation. There are no other popping design elements or branding to see on the exterior of the laptop. However, its smooth exterior finish is prone to catch a lot of fingerprints, so you'll have to regularly wipe them off with a microfiber to keep the laptop's surface clean.
Opening up the lid reveals a 14-inch glossy display, backlit keyboard, trackpad, and a fingerprint scanner. Note that the lid does not open fully with one hand. It opens up to a certain level with one hand, and from there, you can use the second hand to open it further. The display is surrounded by small bezels, and there's a webcam on the top. Its top and side bezels are reasonably thin, but its huge chin makes the laptop look chunky and a little bit dated in terms of design.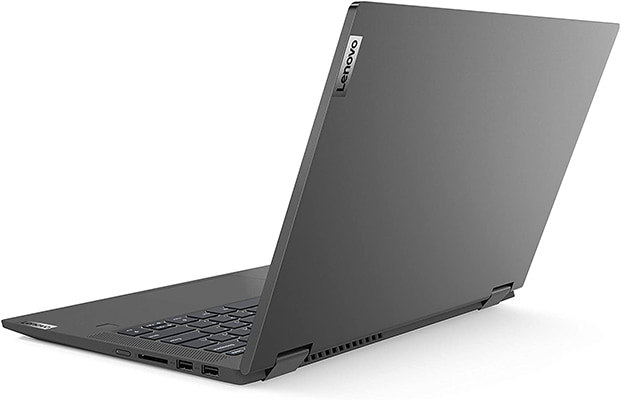 The backlit keyboard has an 80 key design, meaning it does not have a numpad like most other 14 inch laptops. The keyboard is surrounded by the speaker grills on both sides, and right side, just below the keyboard there's a fingerprint sensor. This is not our preferred position for the fingerprint scanner. Most laptops these days have it embedded inside the power button, which is where we like it to be. But it's not the worst placement for it either. Many laptops include the fingerprint sensor right inside the trackpad, which can be a huge annoyance while using the trackpad. Speaking of the trackpad, it is a decently sized whole trackpad (no separate left-right click buttons), but it would have been better if Lenovo was generous enough to add a few more inches to it horizontally. We have talked more about how the trackpad and keyboard feel below.
Overall, we like the design, and we do not have any complaints about its build quality either. The laptop feels rock-solid despite being built of plastic and its hinges also offer smooth operation to convert the laptop into a tablet and different modes. However, we would have loved to see the design refresh on this year's IdeaPad Flex 5 14″ laptop. Even minor aesthetic changes like smaller display bezels could have made it look significantly better. But if the old design helps to keep the cost of the laptop down, then there's nothing wrong with it.
Ports & Connectivity
Looking at the sides, you will notice an assortment of ports, including a USB Type-C port that doubles up as charging input, and it also works for connecting USB Type-C devices to it. It has a USB 3.2 (Gen 1) interface with PD support. Sadly, this USB Type-C port doesn't support Thunderbolt, so you cannot connect an external GPU or a display using this port. But then again, Thunderbolt on AMD laptops is expecting too much as it is an Intel-developed technology, and no AMD laptops come with Thunderbolt as an option. There is also an extra Lenovo DC charging port, but it comes with a Type-C charger inside the box.
The left side also has an HDMI output, which can be used to connect an external display or a projector for presentations. A 3.5mm combo audio jack is also present on the same side to connect an audio headset of your choice.
On the right side, you will find a full-size SD card reader along with two USB Type-A ports that have a USB 3.2 (Gen 1) interface. You will also find the power on and sleep button right by the SD Card reader, which would come in handy when using it in tablet mode.
While the port selection is good, it would have been better if Lenovo added one more USB Type-A port on the left side of the laptop just to keep things more open when it came to the ports.
Display
Like many other things on the 2021 Lenovo IdeaPad Flex 5 14″, the display is also same as the last year's model, and we didn't like the display on the last year's model, so it's the same story this year as well. It isn't particularly bad if you use your laptop mostly indoors, but 2 in 1 laptops are meant to be carried to different places and used on the go, and for that type of use, the display is a major letdown.
It features a 14-inch IPS touchscreen display, and it has a glossy finish on top. Its glossy nature combined with its peak brightness of just 250-nits makes it extremely hard to use the laptop outdoors in direct sunlight.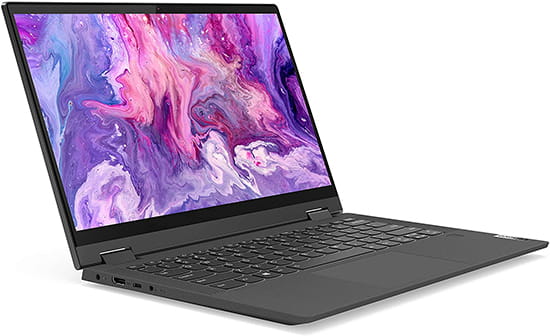 Apart from dimness, though, we don't have any other complaints about its display. It has great viewing angles, and we saw that the colors on the screen do not deviate at all when viewed from the sides. That's a huge advantage for any 2 in 1 laptop since they are used in different modes and in different orientations.
It also supports Pen input, and it comes with a Lenovo Active pen inside the box, which can be used to write notes and make doodles if you wish to do so. Note that it does not precisely understand the pressure levels, so it isn't apt for professional drawing work. Speaking of professional work, the laptop isn't apt for color-accuracy tasks as well. Our colorimeter showed the 2021 IdeaPad Flex 5 14's screen covers 60% of the sRGB color spectrum, which isn't sufficient for professional content creation. For media consumption and amateur editors, though, the laptop's display is serviceable (if used indoors).
Keyboard & Trackpad
As mentioned before, you get a 10-keyless keyboard with 80 keys for different functions. The function keys also double up as keys for controlling volume, display, and keyboard backlight brightness, and more.
The keyboard backlight has three levels of brightness which you can switch as per your needs and convenience. You can also keep the keyboard backlight off if you so wish to.
Typing on this keyboard is a pleasure, as for most Lenovo keyboards. The keys are sufficiently separated and have a nice clicky feel to them. There's also enough area to rest the palms, and its keyboard deck has a textured surface which adds a slight grip while typing, resulting in an excellent typing experience. We think this keyboard will even please people who type a lot of words each day.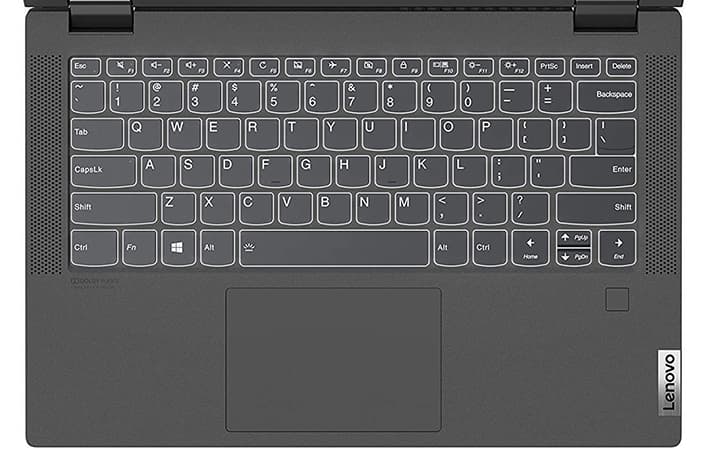 Talking about the Trackpad, it is decently sized, as we mentioned in the Design section, but a few extra centimeters of width would have added much more real estate for the user to have a better tracking experience altogether. It also uses Windows Precision drivers instead of third-party trackpad drivers, which means it is compatible with all Windows 10 gestures natively and has point-to-point mouse tracking, which is native to Windows 10.
Performance
Our review unit came equipped with the AMD Ryzen 5 5500U processor with 16GB DDR4 3200MHz RAM running in dual-channel configuration, and relatively fast Samsung 256GB PCIe NVMe SSD, and it retails for $730 on Amazon at the time of me writing this review. Other configurations of this laptop include the Ryzen 3 5300U and Ryzen 7 5700U models with options up to 16GB for RAM and 512GB SSD for storage. Note that the RAM is sodded on the motherboard, so make sure to get the RAM that you'll need throughout the laptop's life at the time of purchase. The storage drive on the other hand is upgradable.
As mentioned earlier, the AMD Ryzen 5000 series processor (Lucienne) inside of the 2021 IdeaPad Flex 5 14″ uses the old Zen 2 core architecture instead of the newest Zen 3 architecture. Therefore the performance of the 2021 Lenovo IdeaPad Flex 5 14″ is just ever so slightly better than the last year's model rocking Ryzen 4000 series processors. If you want to save, then the last year's model with Ryzen 7 (4700U) is still very fast and offers an excellent value ($599.77 from Amazon). There's not much you are losing with it in comparison to the 2021 model.
The Zen 2 Ryzen 5000 (Lucienne) processors, however, are not a total rip-off of the previous-gen Ryzen 4000 processors. There are various optimizations made to its memory and voltage tweaks done to its cores to make it more efficient and perform even better with demanding workloads. Apart from that, the new Ryzen 5000 series processors also support hyperthreading, and its integrated graphics performance has also improved. So, it does bring a noticeable amount of improvements, just they are not as significant and good as the Zen 3 based Ryzen 5000 processors.
Nonetheless, we are pretty satisfied with the performance of the Ryzen 5 5500U in our review unit. In benchmarks, it easily outperformed its competitor 11th Gen Intel Core i5-1135G7 with a huge margin, and it can even outperform or compete in some cases with the i7-1165G7, which is found in many expensive laptops than IdeaPad Flex 5 14.
We had this laptop for a week, and in that time, I used it extensively as my main laptop for work which includes heavy web browsing, a lot of typing, attending zoom meetings, editing videos, and short gaming sessions in the middle of all that. I have discussed my experience while doing all those tasks in detail further in the review.
To give you a bit of context, I use ASUS ROG Zephyrus G14 as my daily driver. But, apart from slightly slow video rendering speeds in DaVinci Resolve and playing games at reduced graphics settings, I didn't feel like I was missing much here.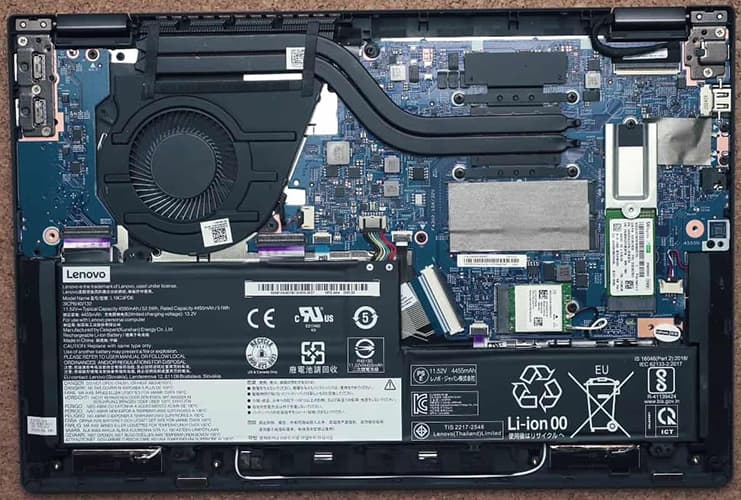 I used the laptop mostly in the 'Intelligent Cooling' profile available in the Lenovo Vantage app. The laptop handled Google Chrome with around 20 tabs open and switching back and forth between it, slack, and MS Word without any issues. And, there was also OneNote and Trello running in the background on another desktop. It handled all of that like a champ.
While editing videos and gaming, I plugged the laptop in with the USB-C charger provided in the box and changed the profile in the Lenovo Vantage app to 'Extreme Performance'. Doing so allows the laptop to perform at its full potential. My video editing experience with this laptop was smooth, but the laptop, especially the left part of it, became very hot to touch. However, the performance never slowed down. I edited a 10 minute 4K video where I added texts to it, tweaked audio a bit, and even made minor color corrections. To my surprise, the Flex 14 handled all of that without any sign of slowing down, and it completed the render of that video in just 5 minutes and 22 seconds.
While playing games, the experience was mostly similar. It ran all the games but it became uncomfortably hot to touch. With less intensive titles like Valorant, the laptop delivered 72 fps in high settings at 1080p resolution, which resulted in very smooth gameplay. However, more demanding titles like Forza Horizon 4 and Watch Dogs: Legion capped around 35 fps at 1080p in low settings.
Although the Ryzen 5 5500U chip features improved integrated Radeon graphics, we noticed that it's still not as good as the integrated Intel Iris Xe graphics. Integrated graphics is one of the departments where Intel still leads.
However, the IdeaPad Flex 5 14″ is in no sense a gaming laptop or a laptop meant to do the heavy lifting. It's a thin and light 2 in 1 for everyday productivity tasks, and it certainly excels at that. The extra performance that makes it capable enough for gaming and demanding tasks like video editing is still impressive, and we should take it as a bonus.
Overall, we are very pleased by the performance of the 2021 Lenovo IdeaPad Flex 5 14″ laptop. It's not leaps and bounds ahead of its predecessor, but it is still the best performer in the segment and could conveniently shame laptops costing twice as much running Intel processors.
Battery Life
Although the laptop comes with a fairly lightweight USB-C charger inside the box, you won't have to carry it every day. It comes with a 52.5Wh battery which may seem small, but it's more than sufficient for a 14-inch 2 in 1 with a modern AMD processor. It lasted for 9 hours and 56 minutes (almost 10 hours) on a single charge with general productivity tasks and Wi-Fi connected all the time. That's slightly better than its predecessor and in line with other AMD-powered 2 in 1s falling in the $650 – $750 price bracket.
Wireless Connectivity
Coming to the networking and connectivity part for the laptop, you get WiFi 6 (802.11ax 2 x 2) and Bluetooth 5.0. The addition of WiFi 6 makes this laptop future-ready while making sure it is compatible to connect to older WiFi standards. It can easily connect to 2.4GHz and 5GHz WiFi networks and will be ready when WiFi 6 becomes mainstream.
We have a WiFi 6 router in our office hooked up to a 500 Mbps line, and the speeds that I got while using it from my desk were around 460Mbps on average, which is on par with my Zephyrus G14, which also supports WiFi 6.
Moving over to Bluetooth, you get Bluetooth 5.0 on this machine which makes it faster than the last Bluetooth generation (Bluetooth 4.2). It can transmit up to 8 times more data at twice the speed, and the range has been improved to cover four times that of Bluetooth 4.2. It is a great addition if you are an audiophile as it can stream better-sounding audio to your Bluetooth headsets. I connected my wireless headphones and Xbox controller to the laptop, and I didn't notice any lag in audio or between my inputs and what I see on screen while playing Forza Horizon 4 on the IdeaPad Flex 5 14.
All in all, we do not have any complaints about the wireless connectivity on this device. Many budget laptops cut corners here, but the IdeaPad Flex 5 14 is one of those rare gems that offer the latest WiFi and Bluetooth connectivity options.
Audio
The audio quality of the 2021 Lenovo IdeaPad Flex 5 14″ is also surprisingly good. This is also one of the areas where manufacturers do a lot of cost-cutting, but Lenovo has fitted decent-sounding speakers inside this laptop. It features 2x2W upward-firing speakers, and it's powered by Dolby Audio. While playing the games on this laptop, we like the sound stage that it created and how well it differentiated the different in-game audio. It made it easy for me to identify the direction from which the enemy was firing at me while playing Valorant. We also tested the speakers by playing music and noticed that they can get pretty loud, and its sound also does not distort as much as we have seen with other mid-range laptops at high volumes. If it offered a little more bass, then we think it could have competed with many other expensive laptops.
Nonetheless, they are still pretty decent-sounding speakers and considering the price of this laptop we couldn't complain about it. It exceeded our expectations.
Security
While this laptop isn't loaded with security features like the ThinkPad line of laptops from Lenovo, it still comes with many, so that we had to talk about them in the separate section of our review! So, it offers a fingerprint scanner which is compatible with Windows Hello. You can use it to log in to Windows, and it can be used to make payments with Microsoft Pay online.
Another security feature is the combination of the TPM 2.0 chip, which uses a hardware microchip and software to secure the data on this laptop. It also integrates with the fingerprint sensor to keep the passwords stored on your computer safe and encrypted.
Apart from that, Lenovo has also added a privacy shutter on the webcam, which you can use to cover or uncover the webcam when needed.
Bottom Line
Overall, we think the 2021 Lenovo IdeaPad Flex 5 14″ is one of the best 2 in 1 laptops you can buy in the $700 price range right now. Its performance continues to be the USP of this convertible laptop, and it also does not miss out on any essential features. The comfortable backlit keyboard, fingerprint scanner for secured and quick logins, speakers with great audio quality, and an Active Pen inside the box all add up to make it a great value for money package. Although its display is disappointingly dim, we think it would still be a good choice for many people.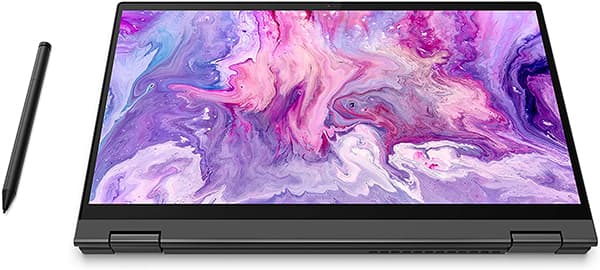 We recommend this laptop to students because it has long battery life, it's fairly lightweight, comes with Pen inside the box to take notes, and it's enough powerful for the tasks that would be carried out by the students of most college majors. We also think that this could be a great choice for business users, but only if you have an office job. If your work demands you to travel and work on the go, then you should probably look at laptops with a display that offer at least 350-nits of brightness.
Lenovo IdeaPad Flex 5 14 (2021, Ryzen 5 5500U)
$599
Design & Build Quality
4.3/5
Keyboard & Touchpad
4.0/5
Pros
Outstanding performance for the price
Good build quality
Comfortable backlit keyboard
Great ports selection
Long battery life
Cons
Dim and dull display
Unpleasing design
Runs hot under load
Non user-upgradable RAM
Advertisement