There's only so much that a $1000 will get you in a laptop, but don't tell Lenovo that. Because with the Lenovo Legion 5 15″, the company has almost pulled off a shocker, packing it with competition-grade features and decently powerful hardware. The Legion lineup is anyway known for offering astounding features at equally astounding prices, and now in its 6th generation, Lenovo has simply upped the ante. The company did launch the Legion 5 Pro this year as well, but that's nearly double the price of the Legion 5.
You can't expect a lot from a gaming laptop at this price, but for $1,049.99, the Legion 5 15″ packs a high refresh rate display, 3D audio, RGB keyboard, and an excellent AMD APU paired with a discrete Nvidia RTX 3050 Ti. It doesn't stop there. It offers lots of room for future upgrades, one year of worry-free warranty experience, and a whole lot more. Read our full review to know more —
Advertisement
Price & Configurations
The Lenovo Legion 5 15″ we picked from Amazon for $1049.99 has the AMD Ryzen 7 5800H processor coupled with the Nvidia RTX 3050 Ti. It is the mid variant of the Legion 5 lineup. There's a cheaper one with AMD Ryzen 5 5600H and Nvidia RTX 3050, while the more expensive variants pack the Nvidia RTX 3060 and the RTX 3070.
Our review unit comes with 16GB DDR4 RAM and 512GB NVMe SSD, along with Windows 10 Home pre-installed. On the other hand, the more affordable variant has 8GB RAM and 256GB PCIe SSD. The display is also different across the variants. You only get a regular 15.6-inch IPS LCD with 1920×1080 resolution and 120Hz refresh rate on the lower variants. But on the higher SKUs, including the one we're reviewing here, the 15.6-inch panel is Dolby Vision certified for HDR content, has a 165Hz refresh rate, and less than 3ms response time with 100% sRGB support. It's also a lot brighter.
All variants are offered in Phantom Blue and a gorgeous Stingray variant with a white backlit keyboard. The rest of the features, including the design, is the same across all SKUs.
Specs as reviewed:
Model Number
82JW0012US
Processor
AMD Ryzen 7 5800H Octa-Core (16MB Cache, 3.2GHz – 4.4GHz)
RAM
16GB DDR4 3200MHz in Dual Channel
Storage
512GB PCIe NVMe SSD
Graphics
Nvidia GeForce RTX 3050 Ti GPU with 4GB DDR6 Memory
Display
15.6-inch Full HD IPS 165Hz Refresh Rate Display w/ AMD FreeSync & Dolby Vision (100% sRGB, 300-nits)
Ports
2x USB 3.2 Type-C with DisplayPort 1.4 support (one supports PowerDelivery)
4x USB 3.2 Gen 1 Type-A
1x HDMI 2.1
1x Ethernet RJ45
1x 3.5mm Headphone/Microphone Jack
Operating System
Windows 10 Home (Free upgrade to Windows 11)
Battery life
Up to 6 hours
Weight & Dimensions
5.3 Pound
14.2 x 10.2 x 0.8-inches
Design
Not much has changed from the Legion 5 that came out in 2020, at least in terms of the overall design and aesthetics. Not that Lenovo had reasons to change things around, considering how the previous Legion 5 was quite popular in the gaming laptop segment.
Now, it may not look like it in the photos, but the Legion 5 is made out of polycarbonate. We reviewed the Phantom Blue variant, which is basically a combination of dark blue on the chassis while the vents and some parts of the chassis are black. It looks stealthy enough to blend in with the crowd, but on touch and feel, it remains just as premium as before.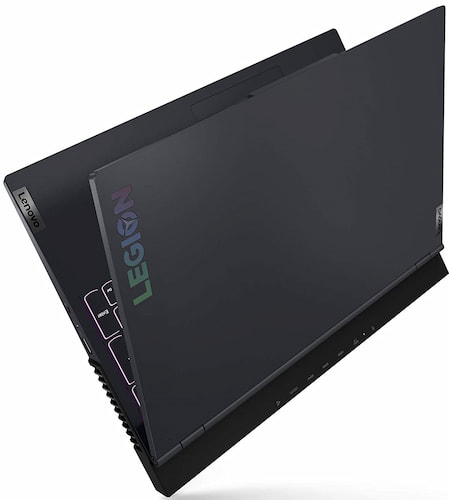 The laptop is relatively lightweight, considering the hardware inside, and is easy to carry around in a backpack. More importantly, the angular cuts on the edges make it easy to grip and move around. There's actually a lot of space in the rear with the I/O panel, which you can hold and open the lid with the other hand without having to place the laptop down on a surface, which is pretty neat.
Lenovo has also built the Legion 5 like a tank. It feels seamless and uniform with very little flex, even for a laptop made out of plastic. The build quality, as a result, feels right up there with the premium gaming laptops priced way above $1000.
What adds to the durability is a thick sheet of plastic for the lid. The two corners on the lid are adorned with the Lenovo and Legion logos, the latter of which has a color-shift design that changes depending on the angle the light falls in. Lenovo also made this one easy to open with one finger, indicating the weight distribution is almost uniform. The hinge isn't all that tight but feels quite sturdy and can be used for minute adjustments. But just like last year, the Legion 5's display can be extended all the way to the back, lying at a flat 180-degrees.

Now while most gaming laptops go for a matte finish on the surface so that there's not much visible wear and tear on constant usage, the Legion 5 goes for a glossy paint job that's super reflective and shiny. It's not ugly, but we're just concerned just how long it will retain that shiny polished exterior.
Ports & Slots
The Legion 5 offers a wide buffet of ports and connectivity options, especially for a $1000 gaming laptop. The majority of them are at the back, behind the display, and some are on the left and right.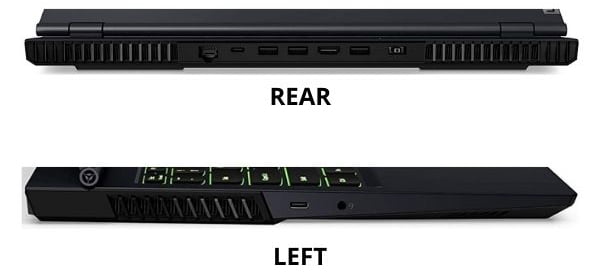 On the rear, the I/O array includes the RJ45 ethernet port, a USB-C port, three USB-A ports, and an HDMI 2.1 port. On the left is another USB-C port and the 3.5mm headphone jack, while on the right is a lone USB-A port, most likely for a wired mouse. Both USB-C ports support USB PowerDelivery and DisplayPort 1.4.
Lenovo uses a proprietary charging port, also located on the rear side of the laptop. Similar to the ThinkPad laptops, the connector is reversible and easy to connect.
Display
As I mentioned above, the RTX 3050 Ti variant of the Legion 5 gets the complete display treatment. The IPS LCD 15.6-inch FHD display comes with a 165Hz refresh rate and 3ms response time, making it perfect for competitive gaming. But this display will also please creators and video editors as it offers 100% sRGB color accuracy. And more importantly, this one's Dolby Vision certified, meaning you get to watch your favorite movies and shows in glorious Dolby HDR mastering.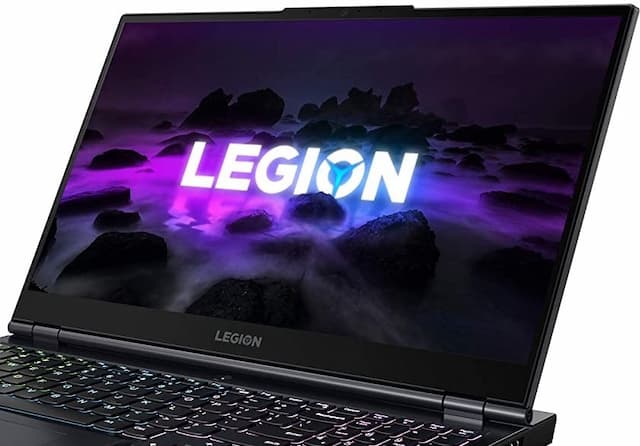 The display hardware becomes all the more apparent upon using the laptop. The IPS panel provides excellent viewing angles with minimal backlight bleeding. It is easily one of the better displays on a gaming laptop, something that most cheap gaming laptops tend to compromise on. Lenovo promises 300 nits of brightness which is perfectly good for gaming and watching content on this screen and even some outdoor use. The contrasts are not as much as some of the new OLED laptops launching this year, but it's good enough for HDR content to shine through.
Keyboard & Trackpad
Coming to the keyboard, the Legion 5 has a distinctly 'Lenovo' shape to the keys. Unlike most laptops that have uniformly shaped keys, the ones on Legion machines have a slight dip in the middle. The power key is independently located above the keyboard, and annoyingly, it remains lit up at all times and can be a bit distracting. The large chassis also makes room for a number pad, albeit with slightly smaller keys, but what's really good is that the arrow keys are kept separate from the main layout. If you're a gamer, you'd instantly understand the importance of it.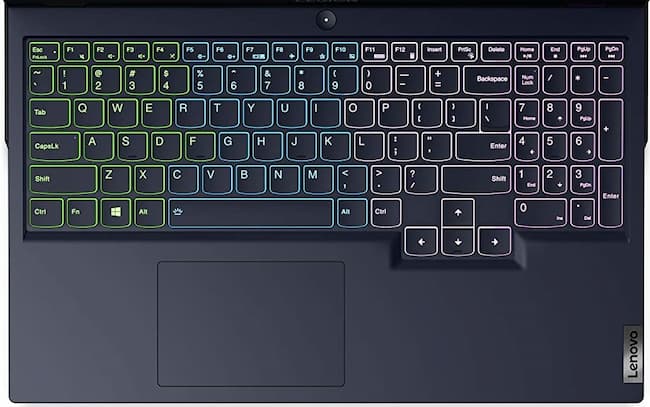 There's also a good amount of spacing between the keys and none of those awkward placements. Everything's where it should be, and if you ask me, this keyboard layout is sort of a benchmark for other OEMs to imitate.
The keys themselves are lovely to type and game on. The travel is adequate, albeit with slightly stronger feedback. It's also relatively silent save for a noisy spacebar and comes with four zones of RGB backlighting. You can control the colors on each zone with the bundled Lenovo Vantage software. Customization-wise, it stops just short of offering per-key RGB customization, but that's fine considering the price of this gaming notebook.
The trackpad is made of plastic but feels almost as smooth as the glass ones. It does attract smudges and stains, though but works quite well. Of course, you can't be gaming on this, but for everything else, the trackpad is just fine. It doesn't wobble and isn't too large for it to come in the way of typing.
Audio
So far, every bit of the Legion 5 was making me feel this one's just too good to be true at this price. Till I actually listened to the speakers. The 2x2W speakers promise 3D audio by Nahimic, but due to their downward-facing position and low output, it's better to use headphones or connect to a larger stereo setup. The speakers rely heavily on the sound waves bouncing off the surface the laptop's placed on, and even with the 3D audio settings turned on, gaming using the onboard speakers is a shoddy experience, especially in games like CS:GO and PUBG, where players rely heavily on directional audio.
Having said that, the output quality is quite decent with good mids and highs. Don't expect big bass, though, as the speakers are too tinny and lack a woofer.
Performance – Day to Day Usage and Gaming
The unit we reviewed comes with the AMD Ryzen 7 5800H processor with eight cores and 16 threads, capable of working simultaneously. The CPU has a base clock of 3.2GHz and can go up to 4.4GHz. That's plenty of firepower for regular day-to-day usage.
There's a dedicated Nvidia RTX 3050 Ti GPU, which is just a cut above entry-level and falls between the GTX 1660 Ti and the RTX 3060. While it does promise ray-tracing support in games, the 4GB VRAM falls short of maximizing graphics in most of the new AAA games. Ironical, isn't it?
The hardware is paired with 16GB DDR4 memory clocked at 3200MHz and a 512GB PCIe 3.0 SSD. The good news is both these components are easily upgradeable. You can upgrade to up to 32GB RAM and 2TB storage. It can be quickly done by opening the back cover, held by ten Phillips screws, and carefully pulling away the heat shields revealing the extra storage slot and the two RAM slots.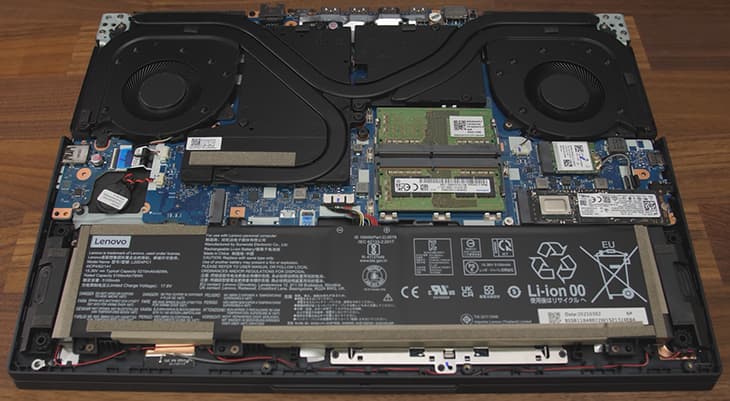 Now, how does it perform? At stock configuration (which features a single Ranked RAM), the Legion 5 performs exceptionally well in handling everyday tasks but disappoints where it counts the most. Here are the benchmark scores —
On performance mode, which has the CPU and GPU running at up to 85W, the Legion 5 scored 1417 on Geekbench Single Core and 7328 on Geekbench Multi Core. On Cinebench R23, the laptop scored 1392 on single-core and 12794 on multi-core tests, respectively.
We also put the GPU to test using the 3DMark test suite. On the Fire Strike test, the RTX 3050 Ti scored 13602, while on the Time Spy test, it scored 6429. The Port Royal test, which measures Ray Tracing proved how inadequate this is for the superior textures by scoring a meager 568.
So looking at the benchmark scores, the Legion 5 has clearly improved from last year, with top-notch CPU performance. The GPU, however, might prove to be a little underwhelming if you're buying this expecting to play the latest AAA titles with graphics maxed out. Here's how it did on gaming —
We played 15 minutes each of Cyberpunk 2077, Horizon Zero Dawn, and Witcher 3, and the results were just about decent. With ray-tracing turned off and on DX12 Ultra, Battlefield V ran at an average 84 FPS, while on Witcher 3, with everything maxed out, it ran at 56 FPS on average. Horizon Zero Dawn at Ultra settings gave 65 FPS on average, and lastly, Cyberpunk 2077 at High graphics with Ray Tracing turned off ran at a sad 49 FPS.
Now, the gaming performance won't impress hardcore gamers. But mixed with the FHD resolution, I feel it is great if you're on a tight budget.
Cooling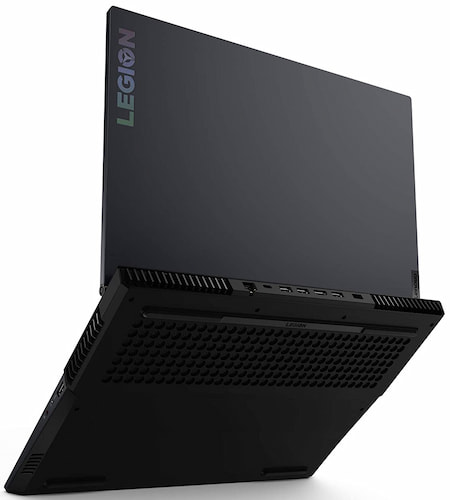 The Legion 5 relies on a combination of twin fans, heatsinks, and heat pipes to dissipate heat inside the chassis. In fact, the cooling system inside the Legion 5 is quite similar to its Pro sibling. And for the most part, the thermals are really well managed. Even after a long session of Cyberpunk 2077, the CPU temperature was at an average of 82 degrees with a peak of 91 degrees, while the GPU never exceeded 75 degrees, and both of them are well below the thermal limits of these chips.
Lenovo offers three modes — Quiet, Balanced, and Performance. Each mode has its respective fan speed, CPU TDP, and GPU TGP levels, but the good thing is, even at quiet mode, the fans spin silently and never allow the surface temperature to rise beyond 40 degrees.
Battery Life
The Legion 5 comes with a 60Whr battery inside, which is weird because there's a lot of empty space inside the chassis for a larger battery. Regardless, I did manage to stretch the battery life to a little over 4 hours on performance mode, doing my daily tasks that included around 20 Chrome tabs, Netflix streaming in Dolby Vision, and the Xbox app downloading games in the background.
The 230W charging brick is massive and will surely weigh down the backpack you'll be carrying the laptop in. But the good thing is this laptop supports USB-PD, so you can easily spend a bit more and swap it out with a GaN charger which is much lighter and just as speedy. Only if you want to make full use of the GPU, there's no way out of using the bundled charger.
Conclusion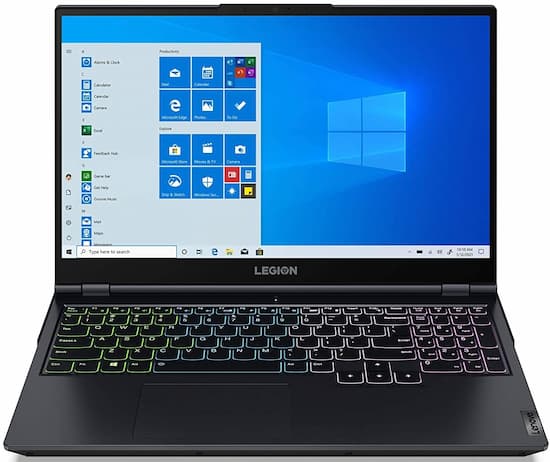 The Lenovo Legion 5, with everything that it offers and how it performs, feels like an easy recommendation to make for a first-time gaming laptop buyer. It has all the bells and whistles found in a 2021 gaming laptop, and it sweetens the deal with an excellent display, a great keyboard, and top-notch cooling. It's also quite future-proof with upgradeable RAM and storage slots, and a vast array of I/O options makes it easy to pair it with a larger display and more storage and accessories.
However, the core hardware, especially the discrete GPU, is what keeps this variant of the Legion 5 from impressing the hardcore gamers. The RTX 3050 Ti feels like an unfortunate bottleneck amidst a powerful Ryzen 7 CPU and 165Hz display. None of the latest games can take full advantage of it and output 160 FPS. So if that's a concern, it's better to spend a little more and get one of the higher variants with RTX 3060 or RTX 3070. Well, if you can't spend more, then honestly, for the price, it's hard to go wrong with this laptop.
Although the RTX 3050 Ti GPU bottlenecks the performance of the powerful Ryzen 7 5800H processor, this is probably the most powerful CPU & GPU combo you'll find in a gaming laptop at this price range. In addition to that, we also don't often see a budget gaming laptop with such a great display. The 165Hz refresh rate makes it a class apart, and good color accuracy acts like a cherry on top for this gaming notebook.
Overall, we think the Lenovo Legion 5 is a complete package, and therefore it is our most recommended gaming laptop under $1000 right now.
Lenovo Legion 5 15 w/ Ryzen 7 5800H & RTX 3050 Ti
$1,049
Design & Build Quality
4.5/5
Keyboard & Touchpad
4.5/5
Pros
Great design and tough build quality
Excellent display for gaming & content creation
Decent keyboard and trackpad
Good amount of ports
Great performance overall
This variant is very well-priced
Cons
No SD card slot
Performance bottlenecking GPU
Low sounding speakers
Lousy webcam
Short battery life compared to other AMD gaming laptops
Advertisement