Microsoft has unveiled its latest line-up of Microsoft Surface devices to modernize its offerings with the latest tech and features. This time Microsoft has a focus to create an experience "where the PC and the cloud intersect and tap into innovative AI technology" said Panos Panay, Microsoft's Chief Product Officer.
With their new focus on AI and the PC, Microsoft has updated their devices to support their new goal. Microsoft has refreshed the Surface line-up including the Surface Pro 9, Surface Laptop 5, Surface Studio 2+, and further innovations in AI programs & Windows 11 updates.
Advertisement
The biggest updates are to the brand-new Microsoft Surface Pro 9.
Microsoft Surface Pro 9
The Microsoft Surface Pro 9 has expanded its potential as a tablet-laptop hybrid by introducing two variants of the device.
Users will now have the option of purchasing either an Intel Core-based processor or an ARM device with the newly debuted Microsoft SQ 3 powered by a customized Qualcomm Snapdragon 8cx Gen 3 processor.
Otherwise, both versions of the Microsoft Surface Pro 9 are largely similar in terms of build and display.
The new Surface Pro 9 comes with a 13-inch PixelSense display with a 2880 x 1920 resolution. The display now supports a quick 120Hz refresh rate for smooth scrolling and motion.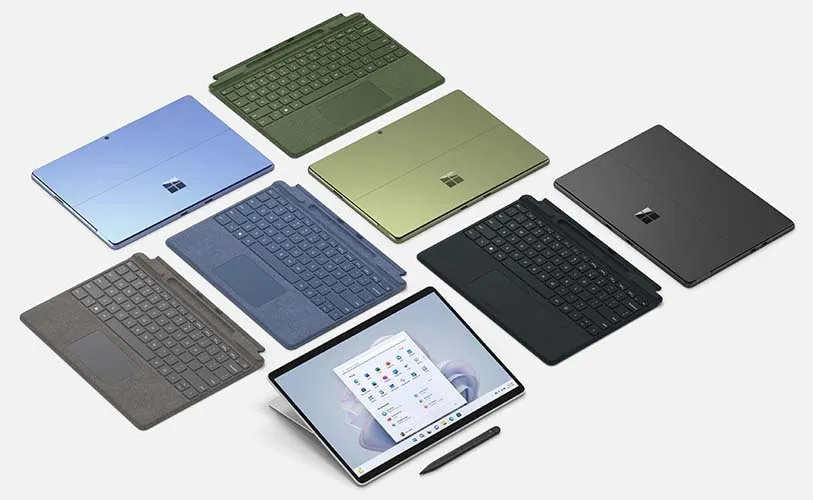 The Surface Pro 9 is built on a "high-grade" aluminum casing with the iconic built-in kickstand on the rear.
There are also several new color variants including Sapphire, Platinum, Forest Green, and Graphite. The new colorways also have matching Type Cover keyboards to complete the package.
Additionally, both versions sport an HD camera and directional microphones along with dual 2W Omnisonic speakers. The entire Surface Pro 9 line-up has Wi-Fi 6E support and Bluetooth 5.1.
Microsoft Surface Pro 9 (Microsoft SQ 3 Version)
Since this is a mobile processor, we can expect lesser performance compared to the Intel Core variant.
The Microsoft SQ 3 Surface 9 Pro features 8GB / 16GB of LPDDRX4 RAM and storage options up to 512GB.
The biggest difference between the two is the connectivity options, with the Microsoft SQ 3 variant supporting 5G connections. The Microsoft SQ 3 version also supports additional GPS functionality, a nanoSIM card, eSIMs, and LTE along with 5G connectivity. It also includes 2 Thunderbolt 3.2 ports for wired connectivity.
Additionally, the Microsoft SQ 3 version has a beefed-up battery performance lasting up to 19 hours. This version also includes new "AI features" powered by the Neural Processing Unit (NPU) to enhance video calls with the new Windows Studio effects.
With this, you get features like auto-framing, background blur, resolution enhancement, and more built-in to the device's settings and front-facing camera.
Microsoft Surface Pro 9 (Intel Version)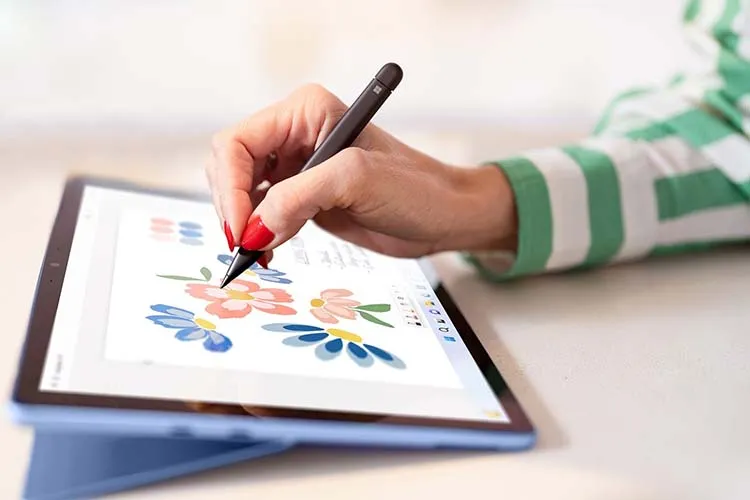 On the other hand, the Intel-based Surface Pro 9 is suited for users who don't need mobile connectivity options and features upgraded performance. The Intel-based Surface Pro 9 features the latest 12th Gen Intel Core i5-1235U or the Intel Core i7-1255U.
Paired with the 12th Gen Intel Core processors are 8GB, 16GB, or 32GB of LPDDR5 RAM and up to 1TB SSD storage. This is another big difference between the Intel and ARM versions as the Intel version has higher RAM/storage capacities and a faster RAM built-in.
However, in terms of battery life, the Intel version can reach up to 15.5 hours on a single charge which is slightly lacking to the ARM version's 19 hours.
To make up for this, the Intel version sports two Thunderbolt 4 ports which are faster and more versatile than the Thunderbolt 3.2 ports on the ARM version.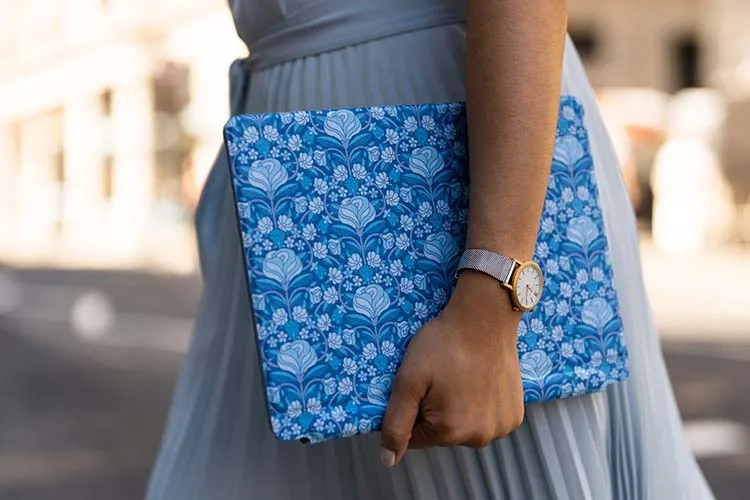 There's also a limited-edition version to celebrate 10 years of Surface products designed by "Liberty" design house. This version comes with a floral blue pattern on both the Surface Pro 9 and a matching Type Cover keyboard.
The Surface Pro 9 Intel version starts from $999 while the Microsoft SQ 3 version starts from $1299. They will be available starting from October 25th.
Microsoft Surface Laptop 5
The Microsoft Surface Laptop 5 is a less exciting proposition and sees a humble upgrade with new internals.
There are three new versions of the Surface Laptop 5; a 13.5-inch version with either a 12th Gen Intel Core i5-1235U or Intel Core i7-1255U or a 15-inch version with the 12th Gen Intel Core i7-1255U.
All three versions of the Surface Laptop 5 feature 8GB/16GB/32GB LPDDR5, up to 1TB of SSD storage options, and an Intel Iris Xe graphics card. With these new upgrades, Microsoft claims the Surface Laptop 5 is "50% more powerful than its predecessor".
Both the 13.5-inch and 15-inch versions come with a 3:2 aspect ratio and Gorilla Glass 5 except for the Alcantara version which features Gorilla Glass 3 display. The 13.5-inch PixelSense display has a 2256 x 1504 resolution while the 15-inch has a 2496 x 1664 resolution.
In terms of battery life, the 13.5-inch version maxes out at 18 hours while the 15-inch has a slightly lesser 17 hours. The Surface Laptop 5 also comes with Wi-Fi 6, Bluetooth 5.1, a USB-C Thunderbolt 4 port, USB-A, and a headphone jack.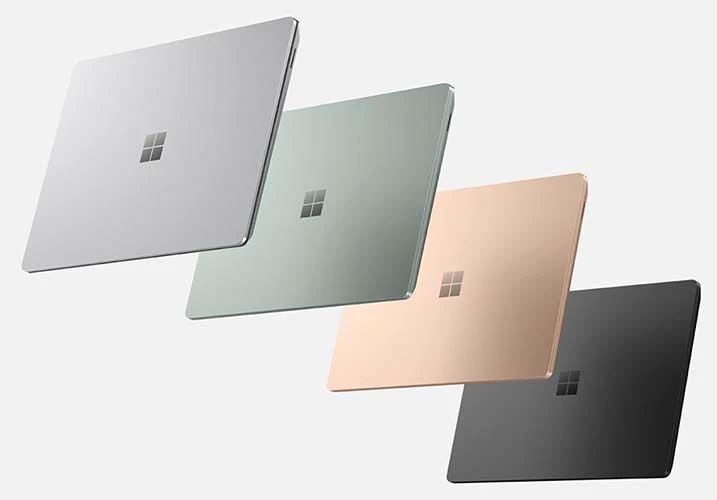 The Surface Laptop 5 13.5-inch is available in Platinum, Matte Black, Sage, and Sandstone while the 15-inch is only available in Platinum and Matte Black.
The 13.5-inch Surface Laptop 5 starts at $999 & the 15-inch version start at $1299. All versions will be available for purchase on October 25th.
Check out: The best laptops under $1000
Microsoft Surface Studio 2+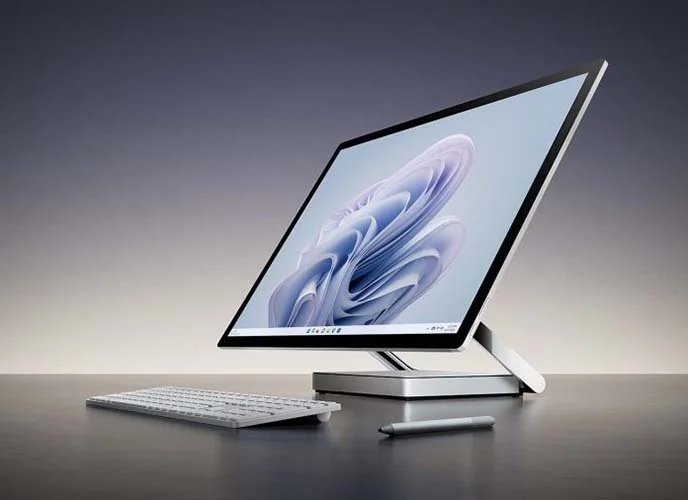 Microsoft also updated their Surface Studio desktop with the new Surface Studio 2+. While its design is almost identical to its predecessors, Microsoft beefed up the internals to meet creative demands.
The Surface Studio 2+ features last year's 11th Gen Intel Core i7-11370H and 32GB DDR4 RAM alongside a 1TB SSD. To upgrade graphical performance, the Surface Studio 2+ comes with an Nvidia GeForce RTX 3060 graphics card.
The 28-inch PixelSense touchscreen has a 3:2 aspect ratio and 4500 x 3000 resolution. The Studio 2+ also supports Wi-Fi 6, Bluetooth 5.1, and multiple wired connectivity options including 3x USB-C Thunderbolt 4, 2x USB-A, a headphone jack, and an ethernet port.
The Surface Studio 2+ starts at $4499 and is available from 25th October onwards.
The Other Stuff
Microsoft also unveiled new software and peripherals to complement their new devices and products.
Microsoft Designer is a new graphic design app that's powered by Microsoft AI and DALL∙E 2 to help create and design content faster. This will help generate images and designs by prompts, with the core difference being it's built-in and included in Microsoft 365.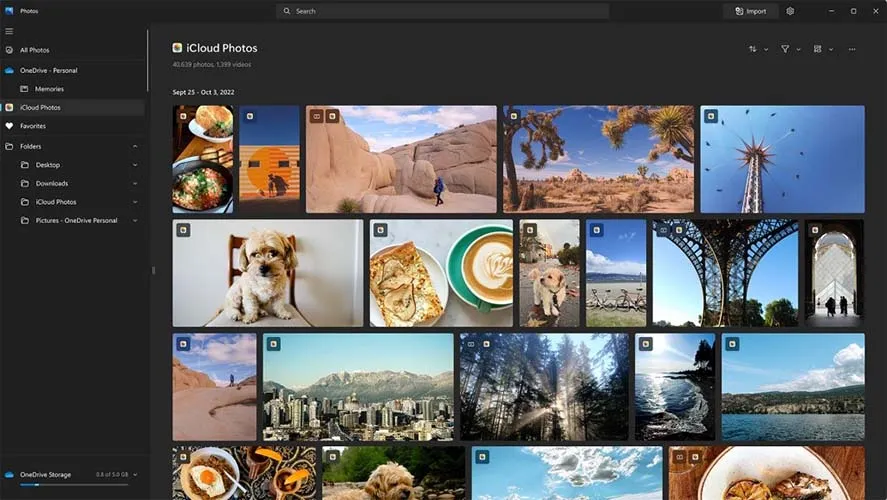 Windows 11 will also now support iCloud and Photos from your iPhone directly in the Photos app on your computer. This also includes Apple TV and Apple Music integration on Windows.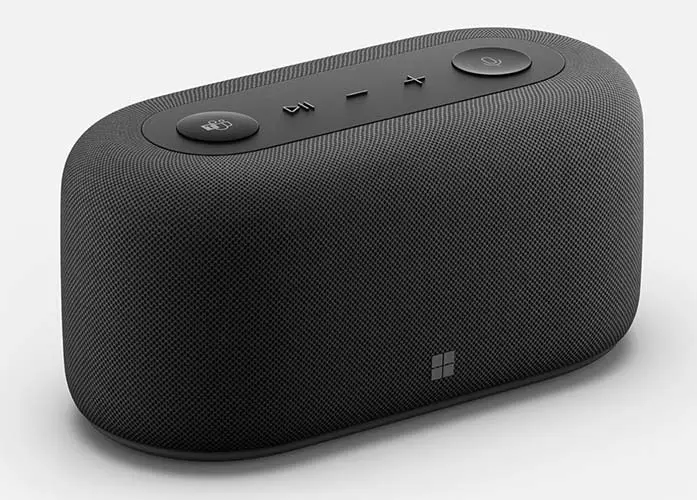 Additionally, Microsoft has launched the Microsoft Audio Dock which acts as a speaker and USB connector for laptops and PCs. The Audio Dock features HDMI, 2x USB-C, and USB-A to connect your PC for use in conferencing apps or just for music.
Microsoft claims this is a solution to "reduce desktop clutter" while functioning as an audio hub all-in-one.
That said, these are all of the latest innovations and updates from Microsoft. Their Surface Laptop and Surface Pro offerings do look enticing, but they might not be for everyone. So, we want to hear your thoughts on what Microsoft has unveiled.
Are they worth the cash? Are you looking to cop a new Microsoft Surface Pro 9 for yourself this holiday season? Leave us a comment and let us know!
Check out: The Best Microsoft Surface Deals Available Right Now
Advertisement