After Samsung's unimpressive take on their Notebook 9 Pen this year, we pretty much gave up all our hopes for this laptop ever meeting our expectations. Turns out, Samsung's new year resolutions for 2019 include reviving their high-end ultrabook by introducing some big changes.
Bigger Size
Samsung is going for a couple of variations this time. There is a 15-inch and a 13-inch (both HD LCD displays) option for screen sizes. The 13-inch model of the Notebook weighs 2.5 pounds and the 15-inch going up to 3.4 pounds. Both of these variants are convertibles and they come in a dark-blue aluminum finish. Apart from the bigger size, the 15-inch model has the upper hand from its sibling due to the addition Nvidia GeForce MX150 (2GB) discrete graphics.
Advertisement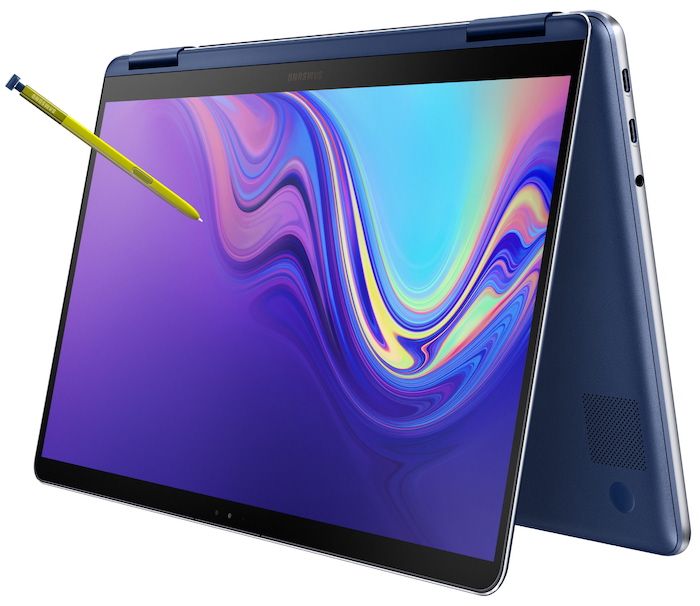 The enlarged bodies of these devices hold 16GB of RAM, 512GB of storage, and Intel 8th generation Core i7 processors. These notebooks are expected to make their debut in CES in January and released sometime in 2019.
MORE: The Best Laptops Powered by Intel Core i7 Processor (Newest 8th Gen Models)
Better Battery
So apparently, the size isn't the only thing that is being augmented. Samsung is claiming for the devices to last up to 15 hours while unplugged from a socket. Both variants include a 54Whr battery but for surety on the battery standup, we can only rely on the benchmarks which will of course come around after the release.
Upgraded S Pen
The most hyped inclusion in this package upgrade is the S Pen. According to Samsung, the new S Pen (now in Gold) offers reduced latency and is designed to function exactly as it makes contact with the screen. What's even more exciting is that the Pen doesn't need to be powered up. To make it more fun, Samsung made the tips interchangeable and the Notebook 9 Pen laptops will include three different tips to choose from. Each delivering a different tactile response according to the user's preferences.
What's not changed is the placement of the S Pen and the size. It remains on the front holster of the chassis and holds the same length as of the 2018 S Pen. But the length would be the least of our concerns if Samsung has gotten around this time from the cheap plastic material their 'high-end' S Pens are made of.
MORE: Our Most Recommended Laptops for Artists (Supporting Pressure-sensitive Digital Pens)
A few other notable additions include the two USB Type-C Thunderbolt 3 ports (supports charging), and a microSD card slot. Samsung also threw in an audio and mic jack along with a backlit keyboard, facial and fingerprint recognition.
Here are the complete specs of the devices as released by Samsung.

Samsung is yet to disclose the pricing of their new 2019 showstoppers so until they do, keep checking in with us.
Source: Samsung Newsroom
Read More Related Stories:
Advertisement