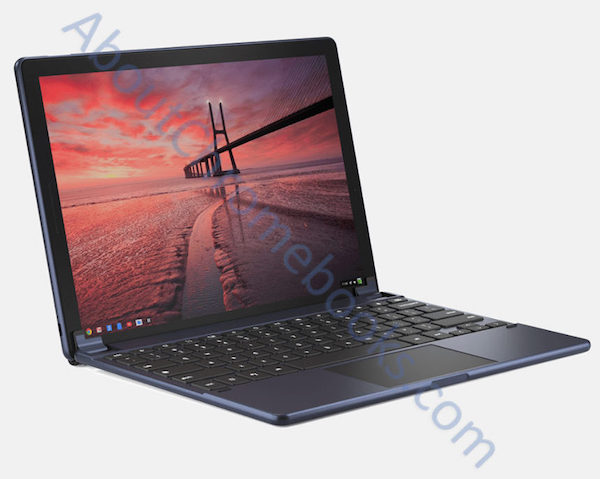 With Google's Pixel phone leaks and rumors taking over the news feed like a storm, the Chromebook updates are certainly not left behind.
Advertisement
Seems like the much awaited 'Nocturne' – a tablet 2 in 1 convertible with a detachable keyboard and two Intel processor generations, is going to be unveiled as the Pixel Slate. According to David Ruddock, the infamous tech-journalist, the news comes from a reliable source.
Google Pixel Slate is the name of Google's first Chrome OS tablet. This name has been offered up so many times as a possibility I don't even think it's worthy of a story, but this is from a source I trust.
Although there is no official word regarding the latest hybrid Chromebook being named Pixel Slate, there are certainly enough rumors to support the evidence. For instance, the addition of a fingerprint sensor on top of the the tablet screen – a feature that has long been missing from the Chrome OS. Some leaked images have also resurfaced suggesting that this hybrid 'Slate' will include a third-party keyboard made by Brydge. These features if true, fit the Pixel description perfectly.
Being one of Google's novelty tablets featuring the Chrome OS, Pixel Slate is also rumored to dual boot Windows 10. This might be the trump card for Pixel Slate on this year's Made by Google event as currently the only device to support this feature is the Pixelbook. That being said, the Pixel Slate is not necessarily to be launched with Windows 10 support. All we can say at this point is that the Windows 10 addition might be in Google's roadmap for this device.
The rumors do seem to fit the puzzle as with these specs, the Nocturne might as well be the sibling of Google's other Pixel products. But there so much we can speculate, we will leave the rest to be confirmed on October 9th, that is the launch of Google's Pixel 3 phone . Despite the launch of Pixelbook being not less than a year ago, the Chromebook fans are definitely excited to see what Made by Google event might have in store for them this year.
You may also find these reads interesting:
Advertisement