ASUS is one of the most ingenious PC manufacturing companies. From high-end gaming laptops and laptops with dual-screens (yes, you read that right!) to versatile 2-in-1s and ultrabooks, they've been pushing different types of laptops into the market, suiting the lifestyle and requirements of all sorts of users. Besides that, the brand is also famous for building great, dependant low-budget options. And here's one of them.
The Asus L210MA is one of their most exciting releases of the year in the inexpensive laptop market. Arguably, it's one of the best budget 11-inch laptops you can get right now. For students, it's a relatively cheap but well-designed laptop with an ultraportable chassis and first in segment "backlit keyboard". For everyone else, it's a great dependable laptop with sufficient power for web surfing, emailing, and using MS Office apps and enough juice to get you through the day without a recharge.
Advertisement
So, is it the best laptop for the price, or are there better options from other brands?
During our take with the laptop, I found that Asus L210MA-DB01 performs on-par with other similarly priced laptops, but its overall good looking design and a rare feature, the backlit keyboard is what separates it from the competition. It looks very lucrative from the specs sheet, but I have found some minor quirks in it that might make or break the deal for some.
Read our complete ASUS L210MA-DB01 11 inch laptop review to know whether it is the right choice for you or not.
ASUS L210MA-DB01 Ultra Thin Laptop
24 new from $172.23
22 used from $115.33

as of December 3, 2023 12:16 am
Features
Aspect Ratio:16:9.Keyboard layout:qwerty
Efficient Intel Celeron N4020 Processor (4M Cache, up to 2.8 GHz)
11.6" HD (1366 x 768) Slim Display
64GB eMMC Flash Storage and 4GB DDR4 RAM
Windows 10 in S Mode with One Year of Microsoft 365 Personal
Design
Straight out of the box, the Asus L210MA laptop gives a youthful feeling. It feels young, agile, and energetic. When you think of it, this is the whole essence of building a chic, slim, small laptop. It fits like a glove to the Generation-Z lifestyle.
In general, I have relatively low expectations when it comes to the appearance of an 11-inch budget laptop. Getting the perfect balance between beauty and performance without compromising the price is a hard thing to achieve. However, the Asus L210MA was somewhat of a pleasant surprise. For a laptop that costs less than $200, it strikes a balance between appearing sleek and using inexpensive building components.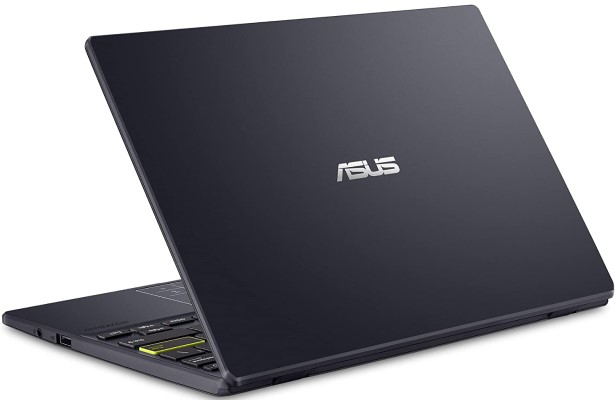 The exterior although being all-plastic gives a premium feel while holding and using it. The smooth finish all-around and curves around the edges only add up more to that premium feel. Try to open it and you'll feel its stiff hinges that will require you to use both your hands to open the lid. Inside the laptop has a rather clean looking deck with (surprisingly) no stickers and the only thing that strikes is the yellow Enter key. That straight-up reminds you that this is the laptop targeted towards a younger audience.
It's not a 2-in-1 laptop, and you should not expect it to be given the price, but it's important to note that it has a 180-degree hinge. That means you can easily share the screen with a group of people by laying it flat on the table. It weighs just 2.2 pounds and its dimensions scale at 11″ x 7.5″ x 0.67″. It is a very portable device, and although not tested, I can confidently say that working with this laptop on-the-go would be a no problem.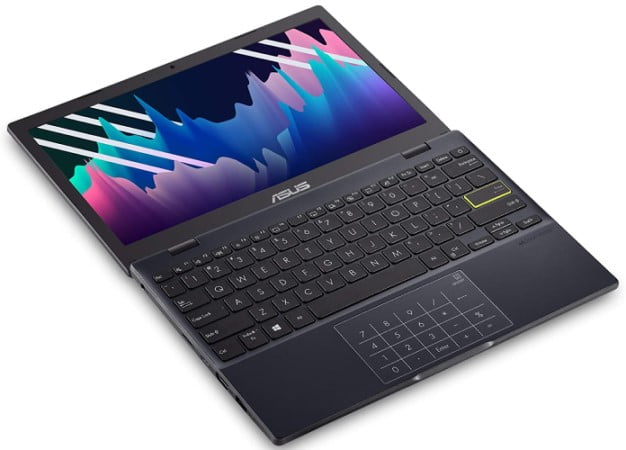 Internally, just like most other netbooks, the ASUS L210MA also has a fanless design. That is completely okay since the CPU inside is not that powerful, but its chassis, especially the part above the keyboard, did get slightly warm after an hour of usage (playing music + web browsing). That's not a worrying sign, though. Most fanless laptops act similarly.
In general, the laptop feels like a solid piece of tech. It perfectly fits the budget. Moreover, it also encompasses the right basic design to work for someone who needs a good, not-so-powerful 11-inch laptop.
Even with the general feel, I'm a firm believer that the devil is always in the details. Let's get down to them in a moment.
Ports & Slots
For such a small laptop, the Asus L210MA has lots of ports. You probably can't have enough ports, but we've seen bigger, more expensive laptops without ports.

On the left side, you'll find a USB 3.2 (Type-A) port, a USB 3.2 (Type-C) port, and an HDMI port followed by a micro SD card slot. On the right-hand side, there's a USB 2.0 (Type-A) port and a 3.5mm audio jack. For wired connections, I think it provides more than enough number of options. However, I would have loved it if it supported USB-C charging. Instead, the laptop offers a dedicated barrel port to connect the charger.
On the wireless side, the laptop has last-gen WiFi 5 802.11 ac and Bluetooth connectivity option. Regardless of that, it provided stable WiFi and Bluetooth connectivity during our test.
Overall, as far as connectivity options are concerned, I think that this laptop is grounded solidly.
Display
Go to Amazon and type 11 inch laptops in the search box. You would find most of them have a display with 1366 x 768 resolution. We firmly believe that laptop screens below 1080p resolution should not exist in 2021.
The display on the ASUS L210MA also has the below 1080p, 1366 by 768 resolution, but when you see that in the form of pixels on a relatively small 11.6-inch panel, everything pops and looks crisp. Moreover, the display gets bright up to 200-nits, and that paired with its anti-glare nature makes it easy to use in well-lit areas.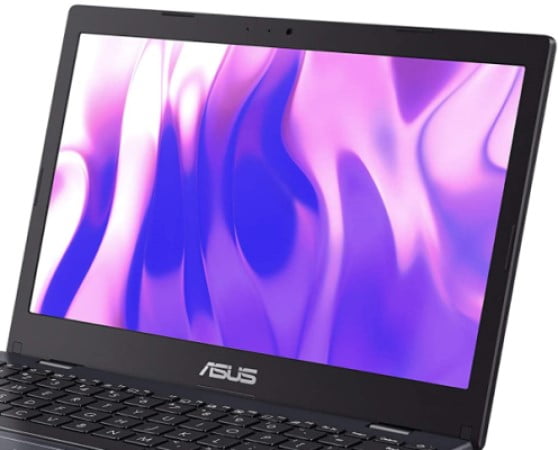 The display is also powered by ASUS' proprietory Splendid technology, which basically means that you get different modes to select for display based upon the task you are doing. Firstly, there's the Normal mode, which is the default screen setting, and it's perfect if you are like me, who don't like to mess much with display settings. For creative ones, there's a vivid mode, which increases the overall vibrancy and makes everything on the screen look more colorful. For workaholics, there's an Eyecare mode that reduces the blue light on the screen and makes everything look pale yellow. Then there's a manual mode that allows users to fiddle with settings and find the best display setting for themselves. As you can tell, I used the laptop mostly in the normal mode, and I didn't face any problems with it.
However, I would have loved if the display was a little bit brighter because it got harder to see what's on the screen when I used it from my office desk, which is just by the glass window. For the most part, though, you'll not face any problem with the display on the ASUS L210MA laptop.
Webcam
It's taken us a long while to get this laptop's undoing. Although it's not glaring, it's still worth mentioning.
In all honesty, the camera doesn't have the desired quality.
It's a VGA camera, with the capability of shooting anything up to 720p. We probably shouldn't expect anything else from a VGA camera.
Even though it's an outstanding laptop for students and general light laptop users, the VGA camera doesn't live up to it when it comes to attending online meetings or classes. The videos often appear grainy.
Performance
Under the hood, the ASUS L210MA-DB01 laptop has an Intel Celeron N4020 dual-core processor with a 1.1 GHz clock frequency. The processor might seem highly underpowered from its base clock frequency, but it can turbo boost up to 2.8 GHz when running at optimal conditions.
The processor is paired with 4GB of RAM and 64GB of eMMC flash drive. Although the storage is not a lot warehouse-size by any means, it's not too little either. 64 GB is good enough to store all the essential work-related files. Should you need more storage, you can complement the laptop with an external storage device or use Microsoft One Drive to store files since this laptop comes with a free one year of Office 365 subscription. Moreover, if you want to get completely rid of its storage-related issues, you can insert a 128GB SD card in the provided memory card slot.
Overall, the performance of the ASUS L210MA is good but not great. During our web browsing test, I saw that it can handle three tabs in Edge pretty easily, but as I opened more tabs, it started showing signs of slowing down. I also had a similar experience while creating a small five-slide presentation on the laptop in PowerPoint by fetching the data from the internet (basically copy-pasting text and images). So, it's not made for those who like to keep a lot of things open on their computer and work on everything simultaneously. This laptop can handle multitasking but with only two apps at a time. Those too non-demanding ones.
In general, if you consider the budget price tag, the performance is still decent for the money. Although it can't do heavier tasks, it blasts through the everyday computing needs like working on documents, streaming, or listening to music with ease and total silence. Don't forget the silence!
Battery Life
Do you have to carry a charging cable when you purchase this laptop?
I don't think so. That would go against the whole essence of buying this laptop. It's supposed to be light and easy to carry around. A bulky charging cable would be counter-productive to the entire idea.
The 38 Wh-2 cell Lithium-ion battery should untether you from a charging-port for between 8-10 hours when under regular use. During our test, the laptop lasted for 8 hours and 12 minutes. That's with the screen brightness set to 50%. That should be enough to push you through the day without stress or any recharging hassles.
Audio
Even expensive Windows laptops have bad sounding speakers, so when I talk about inexpensive laptops, you have to be ready for some pretty awful audio experience.
The ASUS L210MA features a two-speaker setup located below the chassis. The speaker placement is bad, with the audio getting easily muffled when the laptop is being used from the lap. Then, the audio quality is also no good. First off, forget bass. There's no trace of it. The mids and lows are clear, but the speakers are not loud enough. Also, at max volume, you'll hear a lot of distorted sounds.
In my opinion, you will be better off connecting a headphone for better audio experience with this laptop.
Keyboard & Trackpad
This ASUS L210MA laptop has an excellent backlit keyboard. In essence, this allows you to type even under low lighting flawlessly. More often than not, laptops within this budget class and size don't have a backlit keyboard.
Keyboard spacing is also an issue with many 11-inch laptops. Sometimes, an 11-inch laptop feels cramped and tight. It's not the same with this Asus. For the relatively small keyboard space, the keys are relatively well-spaced. I typed this review using it and I got used to its layout in no time. The typing experience is also pretty good, but it's nowhere in line with our top laptop picks for writers, which offers the best keyboard you can get on a laptop. However, it's the only sub-$200 laptop right now to offer the backlit keyboard.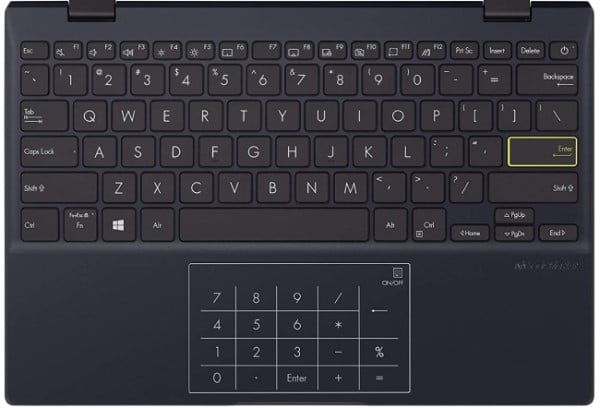 Below the keyboard sits a moderately big trackpad for easier input. It's a satisfying 6-inch multitouch pad. While using the laptop, it's hard not to notice the workmanship. It has little noise, very minimal clucks, and works great all the time.
One disappointing thing about most 11-inch laptops is the lack of a dedicated numerical keyboard. If you have to type numbers frequently, using such laptops can get aggravating. However, it appears that Asus found a way to balance size with the numbers-part of the keyboard. Although it may take a while to get the hang of it, using the touchpad as your numerical keypad is an ingenious way of approaching it. While using the laptop, you simply need to tap on the touchpad to turn it into a number pad. Once done, you can revert it to a standard touchpad with a tap too. The pad doesn't feel clammy or gimmicky either. It's reliable, silent.
Conclusion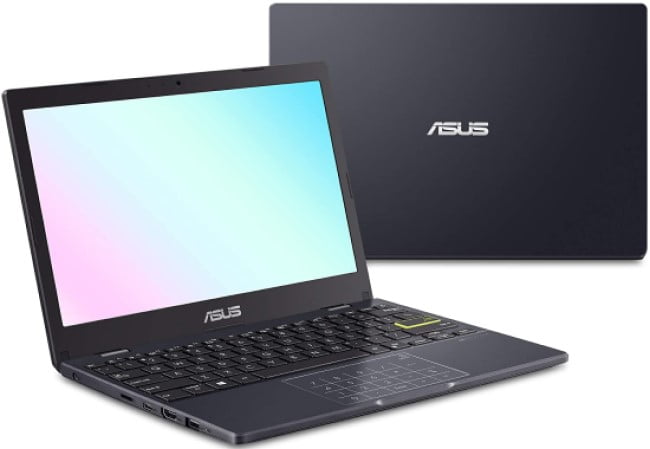 Does the Asus L210MA-DB01 11 inch laptop live up to its price? It certainly does. It has a fantastic slim design, a stunning 180-degree hinge design, largely outstanding performance, and more features. Given what it costs, I think it's worth it. Although it's not a laptop after your heart in terms of power, it provides more than enough value for every dime spent on it.
As a parting shot, I think this laptop is an excellent option. However, that's only if your budget is slimmer than its curved edges. If you're looking for a small, highly portable computer with an excellent battery below the $200 line, you should seriously consider it.
Advertisement