Gaming laptops, while being powerful, tend to be super expensive and possibly out of reach for most aspiring PC gamers, but the Asus TUF series has always bucked that trend. Just run a search for gaming laptops under $1000, and most of them will be from the TUF series. These aren't the thinnest laptops you can get, neither are they the most powerful, but what they offer is that perfect balance between performance and portability. They may not be the best-looking laptops but cover the basics perfectly well. The Asus TUF Dash F15 is no different, and in fact, scores high on the looks bit as well as on the hardware it packs.
For one, you get the latest Nvidia RTX 30 series GPU combined with Intel's Core i7-11370H CPU and a functional 144Hz FHD display, housed in a sturdy polycarbonate chassis, making this perfectly capable of handling AAA gaming and even some creative workloads. Or is it? Here's our review examining both benchmark and gaming performance, battery life, and more —
Advertisement
Price & Configurations
The Asus TUF Dash F15 is offered with a single choice of CPU — The 35W Intel Core i7-11370H with integrated Intel Iris Xe graphics. It sports a 15.6-inch Full HD IPS display with 1920×1080 resolution and 144Hz refresh rate with AdaptiveSync. For graphics, you get a choice of a wide range of Nvidia RTX 30 series graphics cards, right from the RTX 3070 to the RTX 3050 Ti, which is the variant we review here. You get 8GB of DDR4 3200MHz RAM soldered to the board, and you can install another 8GB stick to increase capacity. For storage, there's 512GB NVMe SSD storage with one empty M.2 PCI x4 slot for further expansion. You get stereo speakers, WiFi 6, Bluetooth 5.1 but no integrated webcam.
So looking at the specs, the TUF Dash F15 is easily one of the most wholesome offerings out there, but what's interesting is the price at which this laptop is retailing.
The RTX 3050 Ti variant presently retails at $946 on Amazon at the time of writing, thus becoming an affordable but powerful option for gaming right now.
Specs as reviewed:
| | |
| --- | --- |
| Processor | Intel Core i7-11370H Quad-Core (12MB Cache, 3.3 GHz – 4.8 GHz) |
| RAM | 8GB DDR4 3200MHz |
| Storage | 512GB M.2 PCIe NVMe SSD |
| Graphics | Nvidia GeForce RTX 3050 Ti (60 – 75W) discrete + Intel Iris Xe integrated |
| Display | 15.6-Inch Full HD IPS-level 144Hz refresh-rate panel with Adaptive sync (62% sRGB) |
| Operating System | Windows 10 Home (Free upgrade to Windows 11) |
| Battery life | 8:13 |
| Weight | 4.4 Pound |
Design
While Asus also positions the TUF Dash F15 for creators (that's what the Dash in the name signifies), the design of the laptop is made to please someone who is a gamer at heart. It takes quite a few design cues from the ROG Zephyrus G14 launched last year, stopping just short of the Anime Matrix Lid. What it gets instead is the TUF moniker etched in bold on the lid, and a uniform white or black paint job on the body.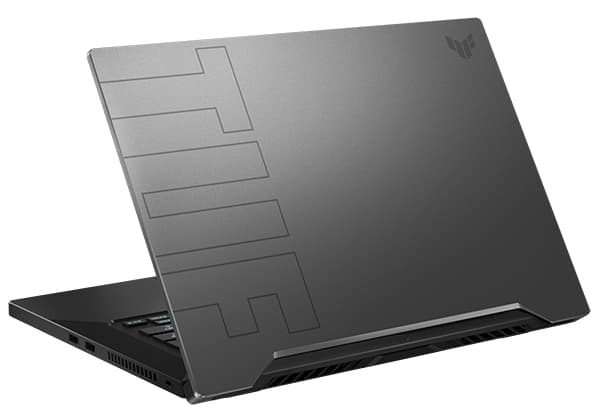 Like most modern gaming laptops, the lid has a cutout for the LED status lights to be noticed even when it's closed, while the ports and slots are all placed on the sides, instead of the back of the laptop. The hinge is tight, but the chassis is heavy enough to open the lid with one finger.
What's interesting is that while the erstwhile TUF laptops felt a little too garish for my taste, the TUF Dash F15 looks aesthetically nice and has that MIL.STD durability certification that sets all TUF laptops apart from the rest (hence the name, TUF).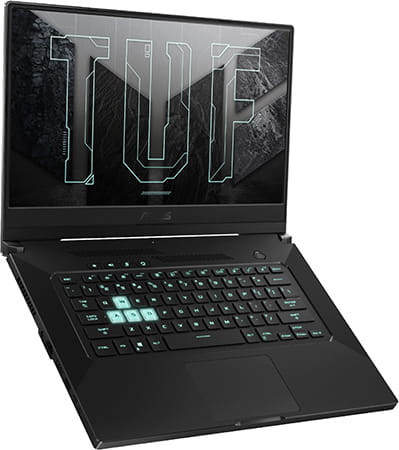 But at 4.4 pounds, the TUF Dash F15 packs a lot of heft for a modern gaming laptop. There are enough cooling vents for air circulation inside the chassis. There's one north of the keyboard, two on each side, and one behind the lid.
It's also quite easy to access the innards and swap out the RAM and storage. You can install an additional NVMe SSD to bring the storage to a total of 2TB, increase the RAM by another 8GB and swap out the WiFi chip for a newer one in the future.
Overall, the TUF Dash F15 marks a radical change in design aesthetics for the TUF series and gets positioned closer to the sleeker, sexier ROG laptops from Asus.
Ports & Slots
For connectivity and I/O, there are three USB-A 3.2 Gen 1 ports, 1 USB-C Thunderbolt 4 port, an HDMI 2.0b port, a 3.5mm headphone jack, an ethernet port, and a Kensington lock. So, it has every port except for an SD card slot, which is must for content creators. The laptop is also not thin enough to not be able to accommodate one. It's a missed chance for ASUS.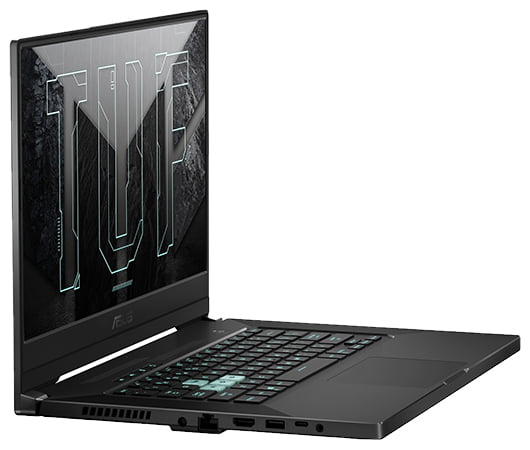 On the other hand, the placement of ports is relatively easy to access, but most of them are located on the left side of the laptop, which is okay if you are a right-handed person, but if you are a left-hander, then cables of other connected peripherals may come in between when playing games using an external mouse.
There's a 76Whr battery keeping the lights on, which charges via a 100W barrel-plug charger or a 100W USB PD charger via the Type-C port.
Display
The 15.6-inch IPS display on the Dash F15 is easily the center of attraction. With a 144Hz refresh rate and around 3ms response times, the display is decent enough to make the most of the RTX 3050 Ti GPU while gaming.
The bezels around the panel are razor-thin (so thin that there was no space for a webcam), but while Asus has tuned the panels on the higher SKUs for 100% sRGB support, the lower-end SKUs, including this one manages only 62% sRGB support. What's disappointing is that the panel is also quite reflective, and its 280-nits peak brightness isn't the best we have seen in a gaming laptop in this price range.
Overall, the display is good enough for everyday work and gaming, but if you plan to get this for doing color-sensitive tasks, it's better to go for the higher variants with RTX 3070, which comes with a display with 100% sRGB color coverage and faster 240Hz refresh rate.
However, getting an RTX 3070 paired with a quad-core CPU does not quite make sense. Also, for the price that variant retails (around $1500), many other better options are available.
Keyboard & Trackpad
It was easy to get used to the full-sized chiclet keyboard on the TUF Dash F15. Even better is the Aqua backlight that looks good on both the Moonlight White and Eclipse Grey colors, but it's not customizable like the RGB backlight on most gaming laptops.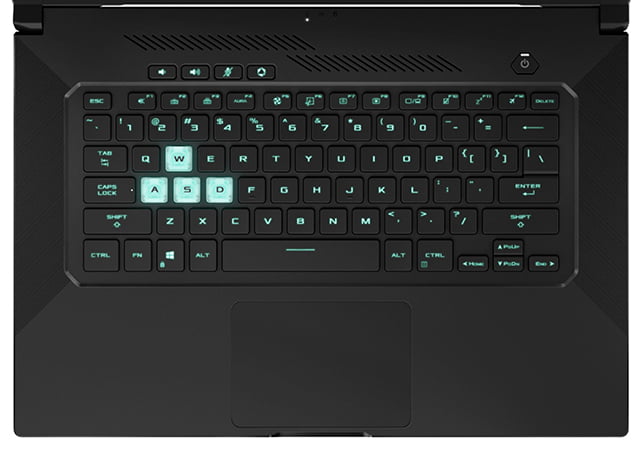 The keys offer around 1.4mm of travel and actuate early for faster response, but it did get a little squeaky at times. The arrow keys are fused, which doesn't make sense for a gaming laptop. What it does offer is a nice, big palm rest enabling long hours of comfortable gaming.
The trackpad is a decent size. It's not as large as one found on MacBooks, but there's ample space to move your finger around. There are no dedicated click buttons; instead, the entire surface is clickable, and during my usage, there was no wobble, indicating that this one's built to last. It also supports Windows Precision Drivers, and you can use flicks and gestures to control Windows. Frankly, except for when you're gaming, you won't really need a mouse.
Audio
Asus offers a stereo sound setup on the Dash F15, but it's only audible in a quiet room. Most of the time, you'll have to keep your ears closer to the chassis to hear dialogues and in-game audio, so I'd recommend investing in a pair of headphones to get the best experience. The poor audio, however, spills over into everyday usage and makes things like attending a conference call, watching a YouTube video a little more hassling.
Performance – Day to day usage & gaming
While the new 11th-Gen Intel H35 series does not outright topple the AMD Zen 3 CPUs in overall performance, it's still worthy enough for high-end gaming. The Core i7-11370H on the variant I reviewed has a 35W TDP, and it made for a solid day-to-day experience with zero lags while keeping more than 20 Chrome Tabs open, with Adobe Lightroom and Spotify running in the background. I never really noticed the CPU usage hitting 100% outside of gaming, but RAM usage remained high at 80% most of the time, which simply means 8GB won't be enough. Nevertheless, combined with the 144Hz display, the TUF Dash F15 felt smooth in my hands.
Interestingly enough, the single-core performance of the Core i7-11370H is still better than even the 8-core Ryzen 9 5900HX, scoring higher on Geekbench 5 and Cinebench R23, but in multi-core tests, it lags behind significantly due to just 4 cores and 8 threads. You can see the benchmark scores in the table below, compared against the Ryzen 9 5900HX on the ROG Strix G15.
| Benchmarks | Asus TUF Dash F15 (RTX 3050 Ti) | Asus ROG Strix G15 (RTX 3070) |
| --- | --- | --- |
| PCMark10 | 6146 | 6917 |
| Cinebench R23 Single Core | 1543 | 1433 |
| Cinebench R23 Multi Core | 7105 | 13037 |
| Geekbench 5 Single Core | 1569 | 1473 |
| Geekbench 5 Multi Core | 5180 | 7456 |
| 3DMark Timespy | 5676 | 10157 |
| 3DMark Firestrike | 12669 | 23086 |
The TUF Dash F15 was one of the first laptops this year to marry Intel's Tiger Lake H-series CPUs with the RTX 30 series GPUs from Nvidia. In this review, it's the RTX 3050 Ti with 4GB VRAM and 60W TDP that can go up to 75W using DynamicBoost. The amount of VRAM on the discrete GPU won't let you be greedy and run AAA titles at maxed-out graphics, but for games like CS:GO and GTA V, it's good enough for a nice visual experience.
To get an idea of how it games, we ran intensive titles, including Cyberpunk 2077, Metro Exodus, Red Dead Redemption 2, and Shadow of Tomb Raider, with everything maxed out. The results?
| Games | ASUS TUF Dash F15 (Average FPS) |
| --- | --- |
| Cyberpunk 2077 | 35 |
| Metro Exodus | 40 |
| Red Dead Redemption 2 | 45 |
| Shadow of the Tomb Raider | 60 |
Cyberpunk 2077 barely managed 35 FPS at Ultra preset with DLSS turned on. Dialing it down to High preset boosts it to 50 FPS at best. Metro Exodus gave 40 FPS on Ultra preset, while Red Dead Redemption 2 managed 45 FPS. Shadow of the Tomb Raider at the Highest preset clocked 60 FPS.
The numbers prove that the RTX 3050 Ti is not meant for glorious ultra graphics gaming, but it should work out perfectly well if you dial it down a bit. Plus, it might be able to get away with running older, casual titles at their highest preset, but it's best to keep expectations slightly tamed for this one. Of course, there's always the more powerful RTX 3070 variant if you wish for a more immersive experience.
Cooling & acoustics
The TUF Dash F15 deploys twin fans and has an integrated heatsink connecting the CPU and GPU inside the chassis to manage heating more efficiently. At Turbo preset, the fans spin loudly enough to eat up the already-poor audio output, but does a fairly good job at keeping the laptop cool while gaming.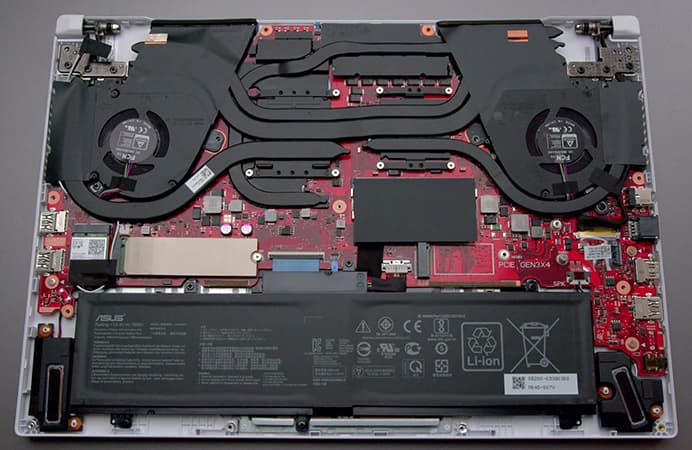 I noted surface temperatures of around 45 degrees Celsius on the center of the keyboard while the WASD buttons were at 38-40 degrees. Inside, the CPU never clocked above 85 degrees even after an hour of gaming, while the RTX 3050 Ti ran cool at all times, managing the temperature at 80-83 degrees.
Looking at the thermals, the RTX 3050 Ti actually makes the most sense as there's no thermal throttling due to the low power hardware inside.
Battery Life
While gaming laptops are barely the poster boys for long-lasting battery life, the 75Whr battery on the TUF Dash F15 easily survives well above 8 hours at the Silent performance preset, provided you are not gaming. Well, you anyway get the best performance with the charger plugged in, but for your day-to-day usage, you can actually take this outside, and it'll last you through the day.
Conclusion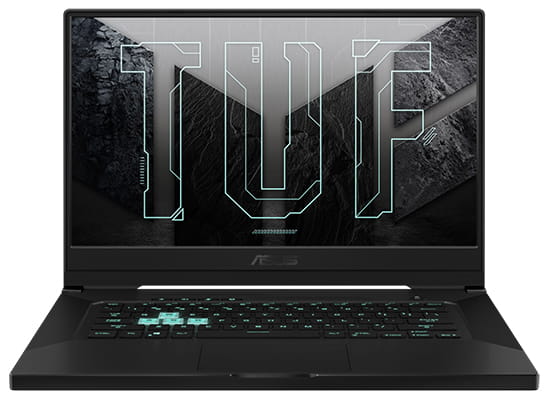 The Asus TUF Dash F15 is an interesting proposition. While it stops just short of offering high-end gaming performance, it's perfect for casual gaming, especially if you're into story-driven titles. It won't really please an eSports player but works well for older, more casual titles. Where it excels is in the design, thermal management, and an excellent typing experience. Frankly, I found this more suited for office and creative work than gaming, but that's just me and my demand for glorious graphics while gaming.
Asus TUF Dash F15 (TUF516PE)
$949.99
Design & Build Quality
4.0/5
Keyboard & Touchpad
4.0/5
Pros
Great performance for both work and play
Beautiful design and TUF build quality
Excellent backlit keyboard
Ample amount of ports including latest Thunderbolt 4
Great battery life
Easy access for hardware upgradability
RTX 3050 Ti under $1000 is a great value
Cons
Dim and dull display
No webcam or fingerprint scanner
No SD card slot
Slightly small trackpad
Higher variant with RTX 3070 does not make sense
Advertisement