ASUS VivoBook F510UA has been launched against the likes of Dell' XPS and Lenovo' Yoga series of laptops. VivoBook is a sleek and stylish laptop, which is powered with ample configuration to give a tough fight to its rivals in the segment. However, the unique selling point of this laptop is its price. The laptop is priced just under $500, which makes it stand out from its competitors.
First looking at the specifications, we were actually a bit amazed to see VivoBook offer so much for so less amount. Therefore, without any further delay, we quickly brought the laptop and put it to the test so that we can aid our readers and make them know about this premium looking budget-friendly laptop.
Advertisement
ASUS VivoBook F510UA-AH51 Laptop is being publicised as a premium yet affordable all-rounder. And here is our take on this laptop:
ASUS VivoBook F510UA FHD Laptop
out of stock
as of October 1, 2023 1:23 am
Features
Powerful 8th Generation Intel Core i5 8250U 1.6GHz (Turbo up to 3.4GHz) processor
14.2 Inches Wide, 0.8 Inches Thin and portable footprint with 0.3 Inches Nano edge bezel for a stunning 80% screen to body ratio
15.6 inches Anti glare full HD display with ASUS splendid software enhancement
8GB DDR4 RAM and 1TB HDD
Ergonomic chiclet keyboard with fingerprint sensor, Windows 10 Home
Design
The ASUS VivoBook F510UA is a revamped version of the previous VivoBook edition of laptops launched by the company. This time ASUS has been in trend and made its laptops much more elegant, sleek, and stylish. The laptops are also lighter and are marginally thinner than its predecessors and weigh just about 3.7 pounds and come with measurements of 14.2 x 9.6 x 0.8 inches.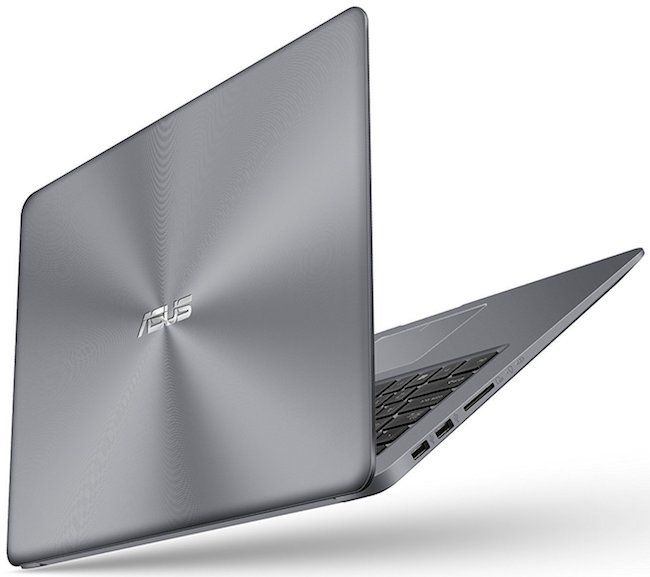 The laptop comes with a brushed metal, shiny chassis, in a glittering grey color. The laptop is thicker at the hinge-edge and gradually gets narrower. The design aspects of the VivoBook, we feel, are largely drawn from the likes of the Apple's MacBook Air externally. The placement of ports, trackpad, keyboard, and other vitals are very similar to the previous generation of VivoBooks, and all in all, the laptop feels quite easy to carry around.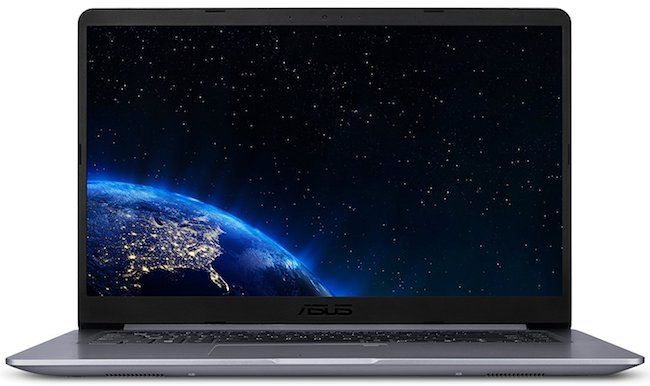 Another unique aspect of this laptop is that it comes with an ultra-narrow 0.3-inch ASUS' proprietary NanoEdge bezel, which gives an amazing 80% of screen-to-body ratio. The bezels on the laptop are fairly negligible and are probably one of the rarest laptops in the market currently to offer such slim bezel display in a laptop at such low price.
Thanks to this, ASUS VivoBook F510UA makes it feels like you have a full-size 15.6" FHD WideView display embedded into a 14-inch display, which not only makes it compact and sleek to use, but also offers wider, bigger, and much better display. On a final note on the design and build quality, the laptop comes with a uniform solid build quality and certainly is beautiful enough to attract the masses.
Display
Asus VivoBook F510UA comes with a 15.6-inch IPS LED display which is vibrant. As far as the resolution of the display is concerned, it comes with a Full HD display with a resolution of 1920×1080 pixels. As mentioned earlier, the laptop's WideView makes it look even better, and thanks to its larger display, the viewing angles on this machine are perfect.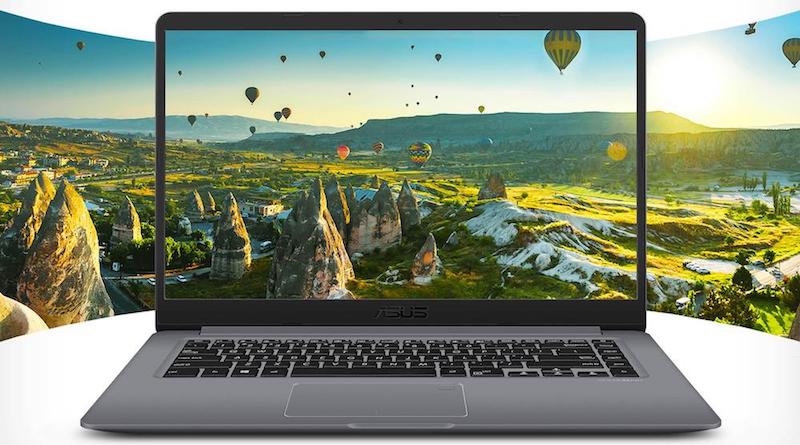 The laptop also comes with the ASUS' proprietary Splendid visual optimization technology, which automatically provides the optimized visuals to the user for almost any kind of content being played. The laptop comes with custom features as well as pre-installed display modes such as Normal, Vivid, Eye-Care, and Manual, which can be accessed and enabled based on the user's choice. The videos on the screen also turn out to be a visual treat all thanks to the ASUS Tru2Life Video technology which enhances the movie watching experience on this laptop. The display on this device comes with an intelligent set of sensors which optimises the essential visual parameters such as brightness, contrast, sharpness, and hue in every pixel to produce vivid and lively imagery.
MORE: The Best Laptops for Photo Editing with Most Color Accurate Display
Hardware
Asus VivoBook F510UA laptop offers a robust set of innards and is undeniably a powerful device on the paper. Let's have a quick glance at what does the laptop offers. Under the hood, the laptop is powered by the latest and the most advanced, 8th Generation of Intel Core i5-8250U processor. The processor is by default clocked at 1.6GHz which can, however, rattle up to 3.4GHz in its turbo mode.
MORE: Top Laptops with Intel Core i5 8th Gen Processor
Multitasking and the applications on the device are handled by an 8GB of DDR4 RAM. Storage department on the laptop is bolstered by a 1TB of HDD, which is although ample amount of storage, still lags behind SSD when it comes to data transfer speeds and efficiency. We hoped that the laptop comes with an SSD storage, this could have been a deadly combination for a laptop priced under $500. The laptop comes with an integrated graphics coprocessor and doesn't come with any additional GPU.
VivoBook also comes with a fingerprint sensor to add a layer of security to the device and the data in it. This is certainly one of the rare finds in a laptop priced at this range.
As far as upgradability of the hardware is concerned, the laptop's RAM can be upgraded up to 16GB, and its hard drive is also swappable with solid state drive. So, overall ASUS VivoBook F510UA-AH51 Laptop is a future-proof device which not only provides all current generation hardware specifications but also ensures that it stays up to date with time.
Webcam
The VivoBook comes with a VGA front-facing camera, and like most of the other laptops in the segment, the front camera on the device is just serviceable. It can capture decent images in daylight conditions and fails to add details under low-light. The image rendering of the device's camera is quick and is able enough to capture fleeting moments during a video call. There's nothing exceptional about the webcam on this laptop, and at the same time, do note that there's nothing to complain as well.
Ports & Slots
Speaking of the ports and connectivity options on the VivoBook, it comes with a standard set of ports, which is more or less a common practice in most of the laptops. All the ports are uniformly distributed along the two sides of the device.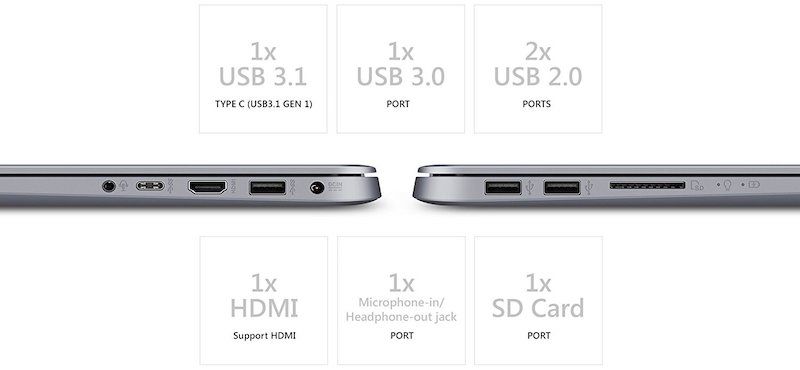 The device comes with one USB 3.1 and one USB 3.0 port, for faster, reliable, and efficient data transfers. And, comes with a pair of USB 2.0 ports for adding up additional peripherals. It also houses an HDMI, 3.5mm Audio Jack, and an SD card reader.
Software
ASUS VivoBook F510UA laptop comes with Windows 10 Home variant pre-installed. Windows 10, which is world's most used computer operating system, needs no introduction of what it's capable of. The laptop doesn't come with any much of the bloatware and is, therefore, fast, efficient, and nag-free. The device, however, does come pre-installed with some of the productive aspects and tools, which ought to increase the overall productivity of the system.
Performance
All thanks to its powerful and most importantly, the latest set of hardware and innards, the VivoBook offers excellent performance for the budget. No matter how strong the specifications are on paper, what actually matters is its real-time usage and performance. And during our usage and hands-on with this sleek and stylish looking laptop, we were satisfied with its overall performance.
The laptop stays quiet and offers decent graphic-based tasks performance. That said, as the laptop doesn't come with a specific dedicated graphics coprocessor, the gaming on the device might not cater hardcore gamers. However, thankfully, it can handle small to mediocre demanding games quite well, thanks to the Intel's integrated UHD 620 graphics.
MORE: The Best Laptops for Gaming Under $500
Audio & Video
Multimedia stands as a common stop for all sorts of laptop users. Be it gamers, businessmen, students, regular home purpose, no matter what the need is, a laptop will undeniably be used as a source of multimedia.
The ASUS VivoBook F510UA comes with Two Built-in Stereo Speakers which provides very powerful and thumping audio output. During our review, we tested the speakers with bass heavy, punchy tracks, accustomed mids, and also treble stationed lean tracks. And to our surprise, the sound was pretty clear on all the occasions.
As far as the videos are concerned, it can handle almost all forms of videos and codecs. 4K and Full HD videos were playing absolutely lag-free and thanks to its wide viewing angles, we actually had a good time watching content on this laptop.
Battery Life
The ASUS VivoBook F510UA was one among the very first laptop we tested, which came along with the 8th Gen Intel core processors and we must say, the chipsets are very power efficient and robust. The laptop offers decent battery backup and is probably way ahead of most of its rivals in the segment.
On a single charge, the laptop stays juiced up for about 5-6 hours of continuous usage. It takes just over 2 hours to charge from 0 to 100. The battery type on this laptop is a Li-Ion one, and our final comments on the battery life would be 'The laptop did not fail us in terms of battery life,' while most others in this price range don't provide this good specs and battery life for the price!
Conclusion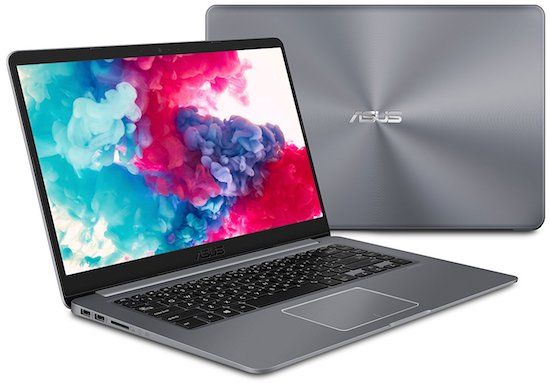 Not every laptop in the market comes with the latest 8th Gen Intel core processors and decent battery life. Even if they do, they will certainly not look as polished and solid as the ASUS VivoBook F510UA laptop. Moreover, the price point of $500 makes this laptop an unarguably one of the better offerings you can get currently in the market. Provided, you are not looking for a gaming-stationed laptop.
Advertisement