No matter how great the specs of your new laptop are, resource-intensive software updates will slow it down over time. When that happens, if your notebook isn't upgradeable, your only option is to purchase another laptop. This is why buying an upgradeable laptop makes sense. You can upgrade the RAM or storage when it starts feeling slow for your needs.
However, most portable (smaller than 15-inch) laptops aren't upgradeable. Manufacturers solder everything to the motherboard to achieve ultra-thin designs, leaving consumers permanently stuck with the hardware they got when they bought the laptop.
Advertisement
To save you from that remorse, we did a lot of hard work in finding and evaluating the portable laptops that allow upgrades.
And finally in this guide we've uncovered the best 14-inch laptops with upgradeable RAM, storage and other parts. We've also provided concise review covering performance, design, display, upgradeability features and much more of each laptop model.
So, whether you are looking for a portable laptop for gaming, creative work, business, or a budget notebook for everyday jobs, below are the top upgradeable 14-inch laptops to consider buying now.
Best 14-inch Laptops with Upgradeable RAM – Reviews & Comparisons
1. Razer Blade 14
Best Overall Pick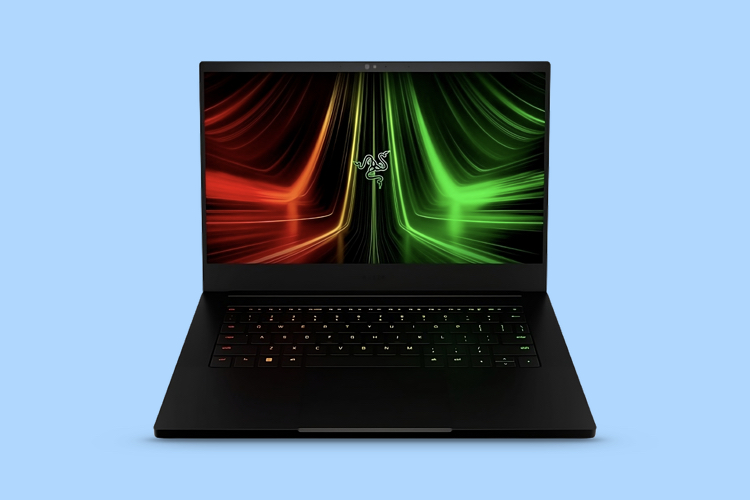 SPECIFICATIONS:
Processor: AMD Ryzen 9 7940HS (8 cores, 16 threads, up to 5.2GHz clock speed)
Graphics: Nvidia GeForce RTX 4070 ()
RAM: 16GB DDR5
Storage: 1TB PCIe SSD (Expandable up to 2TB)
Display: 240Hz QHD+ (IPS, up to 500 nits)
Weight: 4.05 lb
BEST PRICE RETAILERS:
PROS:
Long battery life
Best design & build quality
Vapor chamber thermal cooling system
No frame drops after long gaming sessions
Two upgradeable RAM slots & replaceable SSD
CONS:
Low-quality flip webcam cover
The Razer Blade 14 tops our list as the best overall 14-inch laptop with upgradeable RAM thanks to its winning blend of power, performance, display quality, design, and upgradeability.
It is powered by AMD's newest Ryzen 9 7940HS processor, featuring 8 cores, 16 threads, and speeds up to an impressive 5.2GHz max boost. Combined with the Nvidia GeForce RTX 4070 graphics, you get desktop-level performance for gaming and creative work. The Razer Synapse software lets you toggle between low and max power modes to optimize between performance and fan noise. Vapor chamber cooling keeps it all running smoothly under pressure.
You get two RAM slots that are easily accessible for upgrades, as well as an SSD slot for expanding the SSD storage.
The 14-inch QHD+ display has a buttery smooth 240Hz refresh rate and 16:10 aspect ratio for extra vertical viewing space. The image quality is fantastic.
For ports, you get a broad selection for a laptop of this size, including USB-C, USB-A, HDMI 2.1, and a combo headphone/mic jack. The keyboard is RGB backlit with per-key lighting. Other great features include a webcam with auto-framing and background blur AI, and virtual 7.1 surround sound.
The CNC aluminum unibody is precisely machined to a slim 0.7″ thickness while remaining durable. And at just 4.05 pounds, it strikes the perfect balance of portability and premium quality.
Yes, the price is on the higher end, but for one of the most powerful and upgradeable 14-inch laptops out there with award-winning design, the investment is justified if it fits your budget.
2. Asus ROG Zephyrus G14 (2023)
Best Gaming Laptop Pick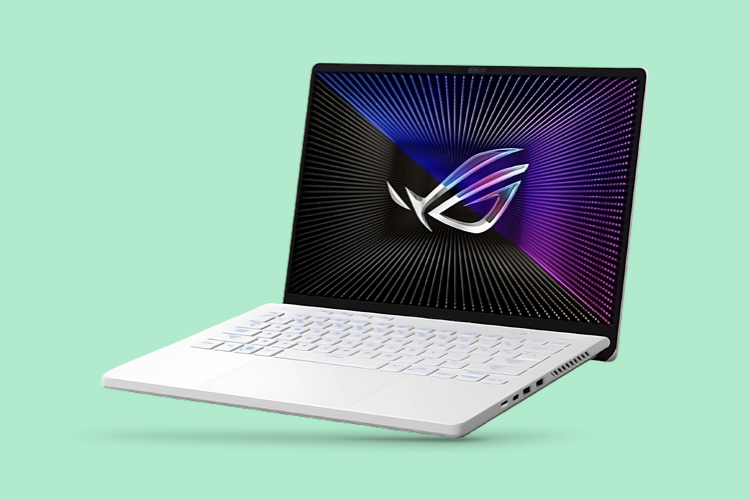 SPECIFICATIONS:
Processor: AMD Ryzen 9 7940 HS (8 Cores, 16 Threads)
Graphics: NVIDIA GeForce RTX 4070 (8G graphics memory)
RAM: 16GB DDR5
Storage: 1TB PCIe Gen4 SSD
Display: 165Hz QHD (IPS, 500 nits peak brightness)
Weight: 3.64 lb
BEST PRICE RETAILERS:
PROS:
Great quad speaker system
Mini-LED screen
Excellent AAA gaming performance
Good battery life for a gaming laptop
Sleek and ergonomic design
CONS:
No per-key RGB
Heats up significantly in turbo mode
The Asus ROG Zephyrus G14 is the best 14-inch gaming laptop with upgradeable RAM you can buy right now. It packs a punch with excellent gaming power while also upgrading easily and providing a lightweight, quality build.
It has one RAM slot and the SSD user-accessible, to increase its 16GB DDR5 RAM and 1TB PCIe Gen4 SSD storage. Note that it has half of the 16GB RAM (8GB) integrated onto the motherboard.
It runs on AMD's Ryzen 9 7940HS chip with 8 cores, 16 threads, and a max boost up to 5.2GHz, combined with the NVIDIA GeForce RTX 4070 GPU to provide incredible gaming capabilities. You can switch between Silent, Performance, and Turbo modes to optimize between fan noise, temps, and power.
Its 14-inch QHD Nebula display also has a super fast 165Hz refresh rate and comes with 100% DCI-P3 color accuracy and 500 nits peak brightness, perfect for gaming or creative work.
Despite the compact 0.73 inch thin and 3.64 pound lightweight design, the Zephyrus G14 delivers stellar sound through its quad speaker system enhanced by Dolby Atmos. There's also two-way noise cancelling microphone, ensuring clear audio on video calls or streaming.
Its unique dotted AniMe Matrix display on the lid allows fun custom animations and messages. The magnesium alloy, aluminum and plastic construction provides durability while staying portable.
You get convenient front placement of 4 USB ports including USB-C and USB-A Gen 3.2, HDMI, and a headphone jack. The 80Wh battery lasts up to 10 hours for ample untethered use.
At a $300 lower price point than the Razer, the ROG Zephyrus G14 is a top-tier choice offering awesome gaming power, and upgradeability in a highly portable 14-inch form factor.
3. Dell Precision 3480 Workstation
Best Performance For The Price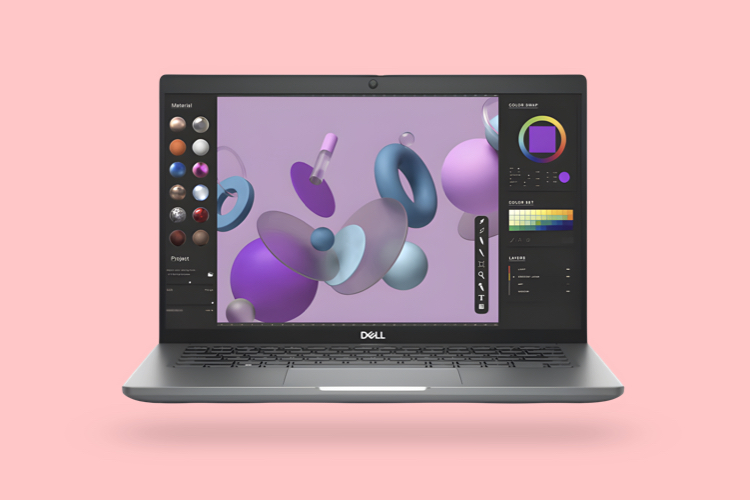 SPECIFICATIONS:
Processor: 13th Gen Intel Core i5-1335U (2P + 6E Cores, 12 Threads, up to 4.60GHz)
Graphics: Intel Integrated Graphics
RAM: 16GB DDR4
Storage: 256GB PCIe Gen4 SSD (upgradeable up to 2TB)
Display: FHD (IPS, up to 400 nits)
Weight: 3.06 lb
BEST PRICE RETAILERS:
PROS:
Plenty of configuration options
Great port selection
Advanced thermals
Strong environment friendly build
Enhanced security features
CONS:
Can get pricey with all options
The Dell Precision 3480 workstation stands out for its exceptional upgradeability. You can customize the RAM up to 64GB DDR4, storage up to 2TB PCIe SSD, and graphics from Intel integrated up to Nvidia's RTX A500.
It offers the latest 13th Gen Intel Core i5 and i7 processors, bringing the power for intensive tasks like rendering, 3D modeling, and video production. Moreover, its vPro enterprise technology enhances security.
The 14-inch FHD display produces vivid visuals with 400 nit brightness and PremierColor. An infrared FHD camera facilitates secure video calls, while the lightweight 3.06 lb chassis stays portable.
Smart cooling from the DOO fan and USTT system keeps performance high during extended workloads. Dell crafted the chassis sustainably using recycled carbon fiber for durability and environmental responsibility.
With Thunderbolt 4, USB 3.2, HDMI, Ethernet, and more ports driving connectivity, plus durable construction and powerful components driving performance, the Precision 3480 is one of the best workstation laptops available in the market right now.
So overall with serious processing muscle, vivid display, and essential security packed in a portable 14-inch form, the Dell Precision 3480 is perfect 14-inch upgradeable workstation notebook for professionals needing flexibility and performance.
4. Asus ZenBook Pro 14 OLED
For Creative Professionals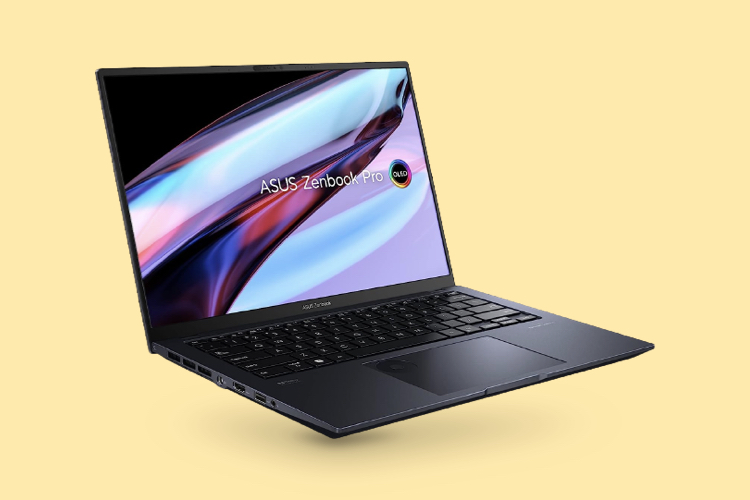 SPECIFICATIONS:
Processor: Intel Core i9-13900H (14 cores, 20 threads, up to 5.4 GHz clock speed)
Graphics: NVIDIA Geforce RTX 4060 (8GB GDDR6)
RAM: 16GB DDR5 RAM
Storage: 1TB PCIe 4.0 SSD
Display: 120Hz WQXGA+ (OLED, 16:10 aspect ratio, up to 550 nits)
Weight: 3.64 lb
BEST PRICE RETAILERS:
PROS:
Premium all-metal design
Excellent Dolby Vision-certified display
Powerful performing specs
Future proofed with upgradeable components
Asus DialPad for precise control in creative apps
Ethernet adapter and sleeve in the box
CONS:
Surface is a fingerprint magnet
The Asus ZenBook Pro 14 OLED offers powerful specs making it a compelling choice for creative professionals seeking portable upgradeable laptop.
It is equipped with a 14-core Intel Core i9-13900H processor and NVIDIA GeForce RTX 4060 graphics with 8GB GDDR6 VRAM, enabling smooth performance for video editing, photo editing and other intensive tasks. The 1TB PCIe 4.0 SSD and 16GB DDR5 RAM provide fast system and file transfer speeds. And, both it storage and RAM (up to 32GB) can be expanded.
The standout 14.5-inch 2880 x 1800 OLED touchscreen display features a 16:10 aspect ratio, 120Hz refresh rate, 100% DCI-P3 color gamut coverage, and 550 nit peak brightness for vivid, accurate visuals even in bright lighting. The display is PANTONE validated and calibrated at the factory.
Weighing 3.64 lbs, the durable yet portable chassis includes an Asus DialPad controller on the touchpad, providing intuitive creation-focused controls for various apps. And, its quad vents aid cooling during demanding workflows.
Connectivity includes Thunderbolt 4, HDMI 2.0, SD card reader, USB-C 3.2 Gen 2, and a 3.5mm audio jack. The 1080p IR webcam has noise-reducing mics for clear video calling.
With up to 9 hours of battery life, ample ports, a responsive OLED display, and robust internals packed into a slim 14-inch design, the Asus ZenBook Pro 14 OLED is tailored for creators needing power, vivid visualization, and portability.
5. Lenovo ThinkPad E14 Gen 5
Best Business Laptop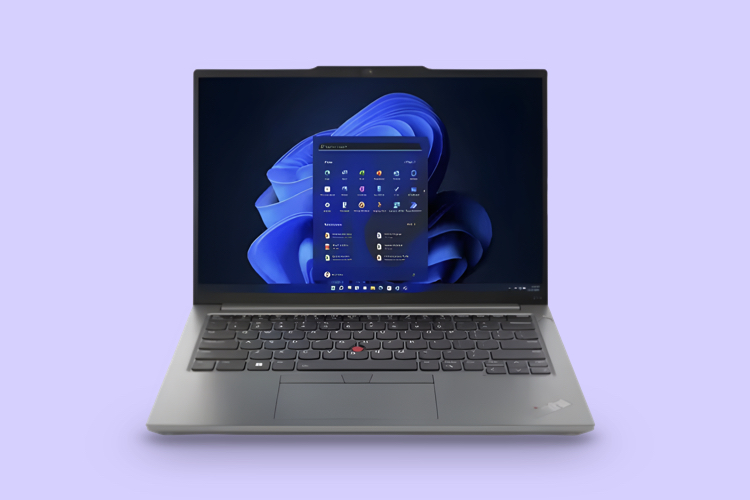 SPECIFICATIONS:
Processor: Intel i3-1315U (2 Performance cores + 6 Efficiency cores, 8 threads)
Graphics: Intel Integrated Graphics
RAM: 16GB DDR4 (8GB soldered)
Storage: 256GB M.2 PCIe SSD
Display: 14-inch WUXGA (IPS, up to 300 nits)
Weight: 3.1 lb
BEST PRICE RETAILERS:
PROS:
Strong build quality (MIL-STD 810H certified)
Satisfying to type backlit keyboard
Smart security features
1080p webcam
Has all the ports you'll need
Affordable pricing
The Lenovo ThinkPad E14 Gen 5 stands out as a top business laptop option with its balance of performance, portability, and upgradeability starting at $817.22.
Configurable with either Intel Core i3-1315U, i5-1335U or i7-1335U processors, it leverages Intel's hybrid architecture with efficient E-cores for background tasks and fast P-cores for demanding workflows. RAM starts at 8GB soldered, configurable up to 24GB with an additional SODIMM stick. Storage ranges from 512GB to 1.5TB PCIe Gen 4 M.2 SSD.
The 14-inch 1920 x 1200 display provides a clear view with its wide 16:10 aspect ratio and 300 nit brightness. Options include touchscreen and low blue light/anti-glare for eye comfort. Weighing from 3.1 lbs, the slim aluminum chassis enables mobility.
Connectivity covers Thunderbolt 4, HDMI 2.1, 3x USB-A, Ethernet, headphone jack, and optional Nano SIM slot. 720p or 1080p IR webcams allow crisp video conferencing. Dual 2W speakers deliver audio enhanced by Dolby Atmos.
With renowned ThinkPad durability, sustainability certifications, ample ports, and performance that scales to demanding workloads via its upgradeable memory, storage, and processing options, the ThinkPad E14 Gen 5 is a versatile yet portable 14-inch business laptop.
6. HP 14z-em000
For Budget Buyers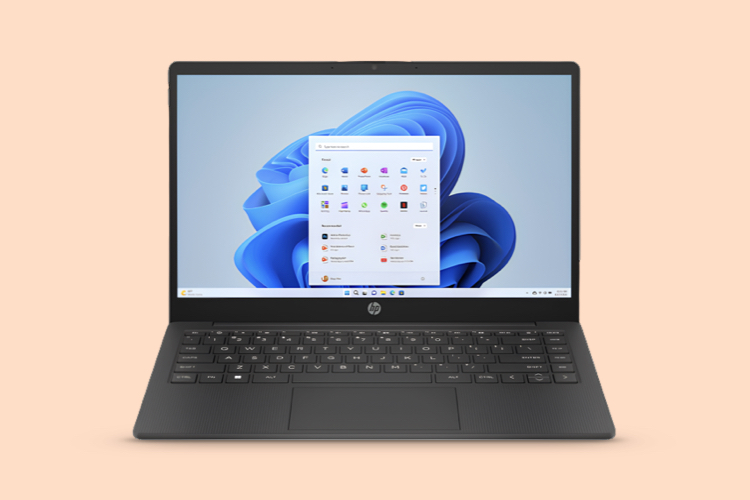 SPECIFICATIONS:
Processor: AMD Ryzen 5 7530U (6 cores, 12 threads)
Graphics: Integrated AMD Radeon Graphics
RAM: 8GB DDR4
Storage: 128GB PCIe M.2 SSD
Display: 14-inch IPS (FHD, anti-glare, up to 400 nits)
Weight: 3.09 lb
BEST PRICE RETAILERS:
PROS:
Affordable pricing
Lot of customization options
Upgradeable RAM and storage makes it future proof
Powerful latest-generation AMD processor
Decent number of ports
CONS:
Average build quality and design
Battery life is not so great
No backlit keyboard
The HP 14z-em000 laptop is a top contender for budget-friendly performance, customizable to suit basic needs starting at just $369.
It comes equipped with an AMD Ryzen 5 7530U hexa-core processor up to 4.5GHz and integrated AMD Radeon graphics, enabling smooth multitasking and lightweight gaming capabilities.
Base memory is 8GB DDR4-3200 in a 2x4GB configuration, expandable up to 16GB with a 2x8GB setup for better performance. Storage starts at a mere 128GB M.2 PCIe SSD, but is expandable to 1TB if more capacity is needed.
The 14-inch HD (1366 x 768) display provides an 84% screen-to-body ratio. For $130 more, upgrade to a brighter 400 nit FHD (1920 x 1080) IPS panel with anti-glare coating for an enhanced viewing experience.
Weighing just 3.09 lbs, the slim 0.5 inch plastic chassis promotes portability. Sustainability-focused recycled plastics are used in construction. The full-size keyboard, unfortunately, misses out on backlighting, but allows comfortable typing.
Connectivity includes a USB-C port, 2x USB-A ports, HDMI, a headphone/mic jack, and AC smart pin. The 41Wh battery supports fast charging. The HD webcam has temporal noise reduction for clear video calling and conferencing.
With upgradeable RAM and storage to scale performance over time and a powerful AMD chipset in a lightweight design, the HP 14z delivers excellent value for basic work, school, and entertainment needs.
7. Lenovo IdeaPad 3 14
A Travel-friendly Option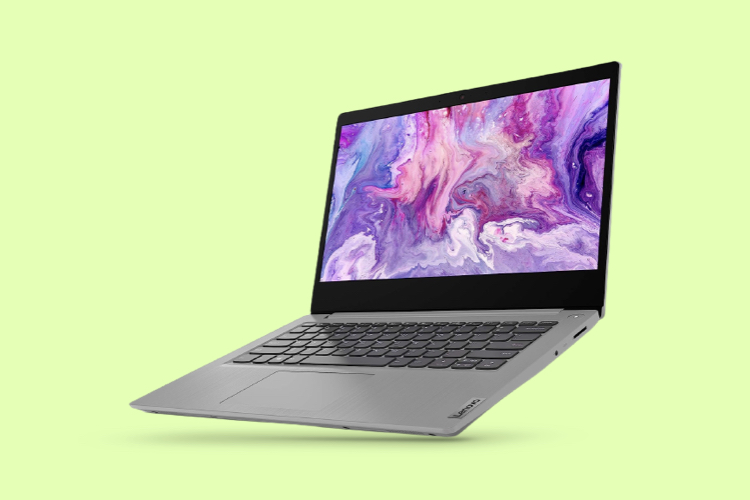 SPECIFICATIONS:
Processor: Intel Core i3-1115G (2 cores, 4 threads, up to 4.10 max turbo)
Graphics: Integrated Intel UHD Graphics
RAM: 8GB DDR4 (upgradeable up to 16GB)
Storage: 128GB SSD
Display: 14-inch LCD (FHD, up to 220 nits, anti-glare)
Weight: 3.78 lb
BEST PRICE RETAILERS:
PROS:
Small size and lightweight
Good battery life
Processor is old but has enough oomph for everyday productivity and entertainment
Surprisingly good variety of ports and slots
Great value for money
CONS:
Less storage out of the box
No backlit keyboard
The Lenovo IdeaPad 3 brings portability and battery life in an affordable sub-$300 package, making it a compelling ultraportable option with upgradeability features.
It runs on an Intel Core i3-1115G dual-core processor reaching 4.1GHz max turbo speed. This provides sufficient power for basic daily productivity and entertainment needs on the go. The 8GB DDR4 RAM is expandable to 16GB, while storage includes a 128GB SSD.
The 14-inch 1920×1080 IPS display produces a clear picture with 220 nits brightness, which is not enough but the anti-glare coating aids. Narrow bezels allow more screen real estate in the compact 3.78 lb chassis that measures just 0.7 inches thin for easy portability.
Connectivity covers HDMI, 3x USB ports and surprisingly SD card reader as well! Audio is enhanced with Dolby support. The physical privacy shutter secures the webcam when needed, and the 180-degree hinge enables comfortable viewing or presenting.
With long 7.5 hour battery life, peppy performance for everyday tasks, and durable yet portable construction, the IdeaPad 3 brings solid value in an ultraportable 14-inch form factor. According to us, it will be a perfect option for students, travelers, and mobile professionals.
8. Lenovo ThinkBook 14s Yoga G3 2-in-1
Best 2-in-1 You Can Get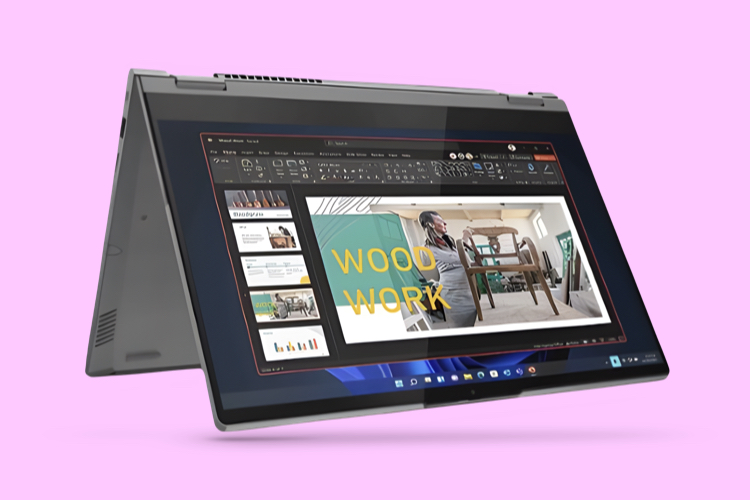 SPECIFICATIONS:
Processor: 13th Gen Intel Core i5-1335U
Graphics: Integrated Intel Iris Xe Graphics
RAM: 8GB DDR4 (upgradeable up to 16GB)
Storage: 256GB SSD
Display: 14-inch FHD (IPS, up to 250 nits)
Weight: 3.3 lb
BEST PRICE RETAILERS:
PROS:
Power-packed with the latest 13th Gen Intel processors
Vibrant touchscreen display
Comy keyboard with backlit keys
Rarest of 14-inch 2 in 1s with upgradeable RAM and storage
Decent battery backup
CONS:
Although metal built but design could be better
The Lenovo ThinkBook 14s Yoga stands out as one of the only 14-inch 2-in-1 laptops with upgradeable memory. Its convertible design provides versatility for work and entertainment.
Inside, an Intel Core i5 13th Gen processor and Intel Xe graphics deliver solid productivity performance. It comes equipped with 8GB soldered DDR4 RAM upgradable to 16GB total, and 256GB SSD storage expandable to 1TB.
Weighing 3.3 lbs, the slim aluminum chassis can convert between traditional laptop and tablet modes. The spill-resistant backlit keyboard allows comfortable typing, while the 14-inch 1920×1080 IPS touchscreen enables interaction in tablet mode.
Connectivity includes 2x Thunderbolt 4 ports, 2x USB-A, and HDMI. The 60Wh battery supports rapid 1-hour charging up to 80%. An integrated rechargeable pen with pressure sensitivity enhances creativity.
While not the most vibrant display at 250 nits brightness, the ThinkBook 14s Yoga focuses on versatility. The unique 2-in-1 form factor and upgradable memory provide flexibility to handle work, creative projects, and entertainment on the go or at home.
Conclusion
So, are you still trying to figure out which is the best 14 inch laptop with upgradeable ram?
After weeks of testing innumerable 14-inch laptops, we got a clear view of the best options. All you need to do is go for the one that matches your everyday tasks, review the features, and ensure it falls well within your budget. The first few might be the most expensive on our list, however, they pack the best specifications.
If you want some clarity and have any queries, then feel free to drop a comment below.
Related Guides:
Advertisement