HP refers the latest unveiling of HP Spectre Folio as embracing the art of "manucrafturing". The idea behind HP's latest grandeur was to make using laptops more 'comfortable'. They have emphasized towards its correspondence to a PC. Whether it be the look and feel, the portability or the specs. Although it sounds quite customary, like every other hybrid convertible in the market, but there is a catch. It is encased inside a full grain leather surface.
According to HP, the wide acceptance and success of 2-in-1 convertible notebooks persuaded them to craft this design. Such laptops are usually targeted to fit in specific user domains. The HP Spectre thrives on the idea and can be adjusted into 3 different positions.
Advertisement
Feel It!
The motivation to experiment with the frame of the device was driven from the fact that it needs to feel more humane. Considering that your PC is your go-to buddy for your entire day whether you are a student or a working parent. Resting a cold plastic or metallic body on your lap is too outdated, monotonous and uncomfortable.
Apart from the "whiff of ozone", the traditional hard surface designs don't really have a smell. Smell is more closely associated with the memory than any other sense. HP wanted to get around the fact and make the device feel more personal. Said Stacy Wolff, HP's Global Head of Design.
She also mentions that the idea for a leather casing was also inspired by timeless everyday devices like camera and sewing machines. It was intended not just to provide a leather cover where you slid a metal device in, but to make it a part of the device entirely. The leather casing is directly latched to the laptop. There is no metallic body or surface underneath the supple leather casing and no metallic hinge either.
The versatility of the device is also tailored to market to unisex consumers. Giving off a classy and professional feel, the device can go with a bomber jacket as much as with a handbag.
HP has not used the idea of a leather exterior just as a marketing gimmick but has fully embraced it as an integral part of their gadget which is kind of a go big or go home standpoint.
Carry It!
With the concept of a leather casing earning HP major points, it is all moot if the gadget lacks the comfort for usage.
The HP Spectre Folio is bendable into 4 different positions. The embedded forty magnets are sturdy enough to fully support the device in any flexible position.
The on 'top of the lap as a notebook' position, tilted up for a cinematic aura, the plain flat surface tablet position and of course,  closed as a stylish leather folder.
HP asserts that by only slight one handed movements, the device can be transformed into different positions almost effortlessly. Even on a tilted angle (up to about 135 degrees), the device maintains a sturdy stature during touching and tapping gestures. Moreover, there are no hinges, buttons or locks to fiddle with to set the positions.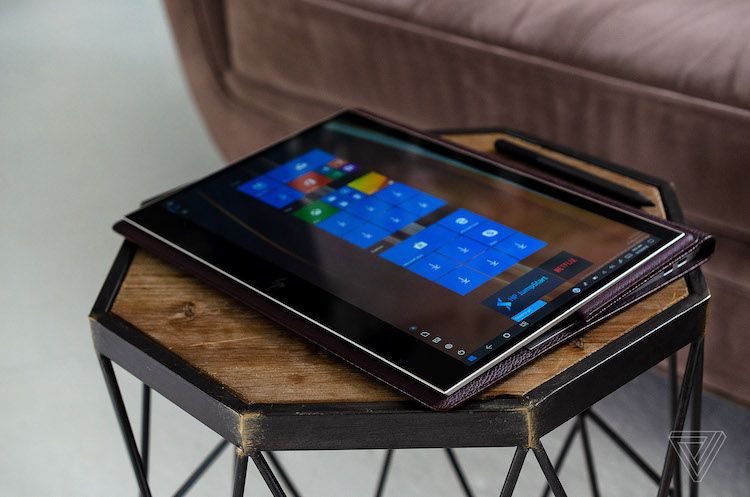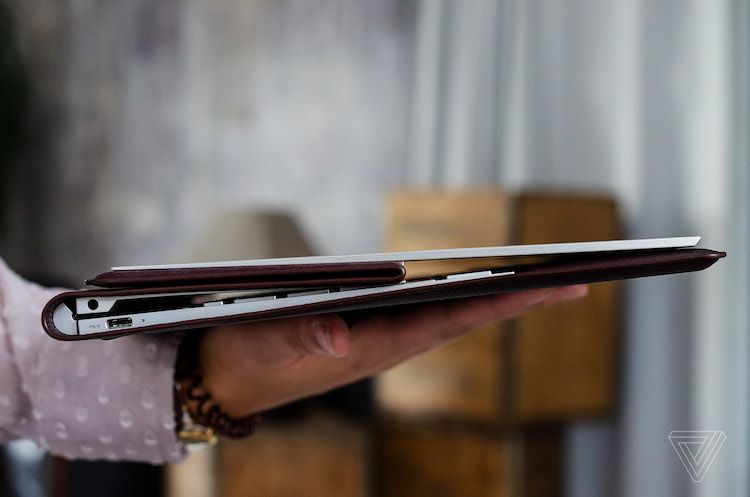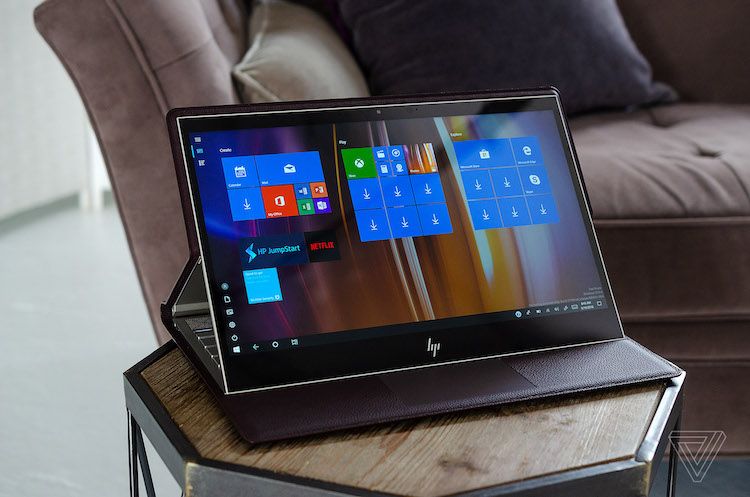 The versatility in the positions is aimed to fit the needs to different consumers. Propped up for media playing, flat out for sketching and drawing and the classic lap-top style for typing.
Accessorize It!
To spruce things up a bit, you can always compliment the gadget with some classic accessories.
The HP Spectre Folio can be coupled with an HP Tilt pen for seamless writing and smooth drawing. For orders now, you will be able to avail the stylus with a 15% discount too!
Another add-on can be the HP Spectre Rechargeable Mouse. A sleek silver, smooth finish prop that can be synced with up to 4 devices with easy switching. To add another plus besides its sleek finish, the gimmick can last up to 11 weeks on a single charge. Sounds like a perfect companion.
Pre-Order It!
The HP Spectre Folio will be available in 2 modern colors;  Cognac Brown and Bordeaux Burgundy.
Pre-orders for the HP Spectre Folio have begun from October 1, 2018.
The device is expected to be available in Cognac Brown with an Intel® Core™ i7 processor and 13.3-inch Full HD (1920×1080) IPS WLED backlit touchscreen, from October 29. The laptop will be available in a few different variants in terms of both body and specifications.
Cognac Brown with an with Intel's 8th-gen dual-core Amber Lake Core i5-8200Y processor for a starting price of $1,299.99. It will come with a 1.3GHz base frequency and a 3.9GHz Turbo Boost mode.
Cognac Brown with an Intel's 8th-gen dual-core Amber Lake Core i7 8500Y processor and LTE for a starting price of $1,499.99. It has a 1.5GHz base frequency and a 4.2GHz Turbo Boost mode.
Bordeaux Burgundy is expected to be available in late December.
The 4K panel option for the HP Spectre Folio is expected to come out late in December.
The stylish HP Spectre Folio Pouch and the HP Spectre Folio Sleeve are to be up for sale at HP.com in November for $49.99 and $69.99 respectively
But should you really buy It?
Usually, devices targeted to look pretty or to be more specific – sleek and portable are not taken quite seriously by hardcore techies.
So far, it doesn't look to be the same case with HP Spectre Folio. The 400 nits of brightness and a 13-inch, 1920×1080 unit seem pretty decent. Moreover, HP claims for the device to run for 18 to 21 hours on a single charge. This means to go about your entire day without a charger, and then some.
Having admired the interiors of the device, it seems like HP is pushing too hard for the device to be flagged as 'premium'. HP is clearly experimenting with  Folio and trying to step out of their comfort zone. Sound quite similar to the attempts made by Microsoft to dominate the 'premium laptop' market that Apple has ruled since forever.
Nonetheless, I would definitely try it.  Given the versatility of both the interior and exterior of the gadget, seems like a safe bet.
Read More:
Advertisement