We all remember last year at MWC 18 when Huawei unveiled their flagship Matebook X Pro that blew the consumers away with a storm. To outdo themselves this time at the Mobile World Congress 19, Huawei upgraded their already popular Matebook X Pro and also introduced a bigger (but not better) Matebook 14.
We believe that Huawei perfected the formula  of an ideal – good performance machine to a level that they didn't want to fiddle much with it. So with the new Matebook X Pro, there are definitely configuration refreshes but the design, port selection and overall look and feel of the device remain the same. So, we're left with two USB-C ports and one USB-C connector but with full Thunderbolt functionality. However, we do see a taller screen ratio than the last year on the Matebook X Pro which has improved its usability for scrolling and web surfing.
Advertisement
There is a selection of configurations you can opt for ofcourse. But the entry level MateBook X Pro will ship with an 8th generation Intel Core i5-8265U processor (going up to Core i7s for higher models). An Intel UHD Graphics 620, 8GB (going up to 16 GB) of DDR3 memory and a 256GB SSD (options going up to 1 TB). If you are feeling more adventurous and want to kick things up a notch, you can also throw in an NVIDIA GeForce MX250 graphics.
The most dramatic trend in 2019 is slim bezeled laptops. The Matebook X Pro holds a 13.9-inch display, working out a 91 percent screen-to-body ratio. Yeap, I know what you are thinking, the webcam is (yet again) tucked under the keyboard making video conferences a bit awkward.
The aluminum body color options available for the Matebok X Pro are "Mystic Silver" and "Space Gray," measuring only 0.57 inches in width and weighing only 2.93 lbs. There is also a fingerprint sensor within the power button for haptic login via Windows Hello.
Now the Matebook 14 is quite a reflection of the X Pro but only with a larger display and a bulkier body. Alongside the 14-inch screen, there is a trade between the Thunderbolt 3 port of the X Pro with a standard USB-C, an HDMI, a USB-3.0, and a USB 2.0 port. The HDMI port is sort of an unexpected treat as we can all relate with people who do NOT want to be mired in wire meshes and a dozen kind of dongles. Apart from these distinctions, it holds same keyboard, trackpad, fingerprint scanner, and embedded webcam as the pricier model. Just the quad sound system has been swapped with underside speakers on the Matebook 14.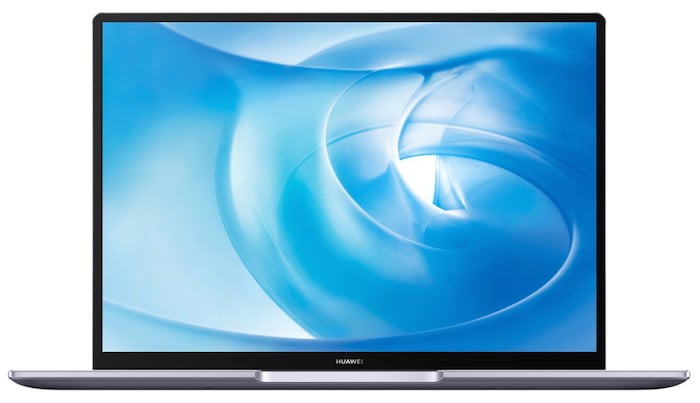 The MateBook 14 is embodied in Space Gray and a lighter Mystic Silver colors as well. The specs go up to 8th generation Whiskey Lake Core i7 process, a discrete GPU (same as the X Pro), a built-in Dolby Atmos and a fingerprint sensing power button. Despite being specced almost the same, the Matebook 14 lacks the panache of the Matebook X Pro.
The devices are to arrive sometime in April. As per Huawei, the laptops will be boxed with a 65W charger, equipping the laptops with three hours of power backup after just 15 minutes of fast charging. The MateBook X Pro starts around $1,800, with the MateBook 14 priced from $1,360.
Read more related stories:
Advertisement