When we hear the term 'business laptops' our first instinct is to inch away as the name mostly endears high-end users. Even for users who's lifestyle demands sleek and powerful machines, are often forced into settling for less. Given ofcourse the price sensitivity. Lenovo has thought outside of this social convention with their two latest releases. The Lenovo ThinkPad L390 and Lenovo ThinkPad L390 Yoga.
Now we are aware that these laptops might not fit the exact definition of 'versatile professional laptops' but they do come pretty close and are a step in the right direction. Let's see what Lenovo has to offer.
Advertisement
Display, Size, and Weight
While both laptops sport a 13.3 inch full HD touchscreen display, the Yoga L390 is a flexible version of its sibling. Yoga can be twisted and turned into almost every angle whereas, the L390 supports a 180-degree hinge and can be laid out flat on a surface. However, it is slightly lighter than its more flexible counterpart.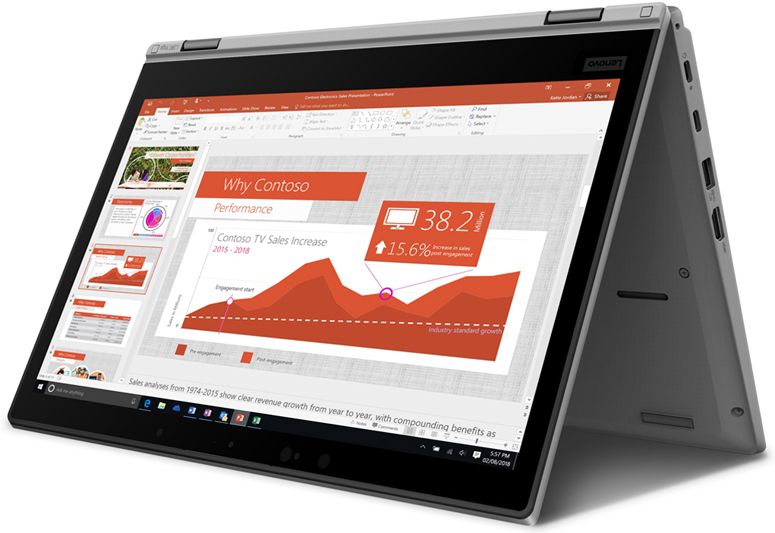 Its total weight rounds up to 3.2 lbs, a fraction less than the Lenovo Yoga L390 that weighs up to 3.44 lbs and is just 8.8″ in width. The ThinkPad L390 Yoga does come with an additional plus that is the Active Stylus pen support that can be placed in its built-in garage slot. Sweetening the deal up a bit more, it sports a full 360-degree hinge to use it as a tablet.
You may like to check out: The Best Laptops for Artists with Pen Support
Processor and Power
These svelte notebooks are powered up by the newest 8th Gen Intel Whiskey Lake processors and they can support up to 32GB of DDR4 memory and up to 512GB of PCIe solid-state storage. The port selection on these ultrabooks include two USB Type-C ports, a couple of USB 3.1 ports, HDMI 1.4 and mini Ethernet jacks, along with a microSD card reader.
Of course, these high-end notebooks are not left without fingerprint sensors. They also come with Lenovo's encrypting data on its dTPM 2.0 chip.
Camera and Battery
Here we will again see the Yoga L390 taking the spotlight. It sports a webcam (without ThinkShutter) and an IR camera with Windows Hello compatibility for quick logins.
For the battery, Lenovo has featured both its latest ultrabooks with 45 WHr batteries. Lenovo has promised for the non-convertible L390 to deliver up to 14 hours of battery life and 12 hours for Yoga.
Price and Availability
Both of the sleek and flexy books come in silver and black colors. The laptops are expected to break the shelves this month with prices starting from $659 for a basic Lenovo ThinkPad L390 and $889 for the ThinkPad L390 Yoga.
Read More Related Stories:
Advertisement