In the midst of MWC 2019, Lenovo is taking huge leaps for upgrading their ThinkPad lineup. The laptop giant Lenovo, announced their latest additions – the X390, and X390 Yoga to the ThinkPad portfolio.
Lenovo ThinkPad X390
Lenovo has bumped up the display from 12 to a 13-inch, but the best part is that the overall form factor of the device has not been compromised. As expected in 2019, Lenovo has introduced 50% slimmer bezels which has resulted in an even slimmer machine than before, rounding to 0.6 inches thin and weighing just 2.7 pounds.
Advertisement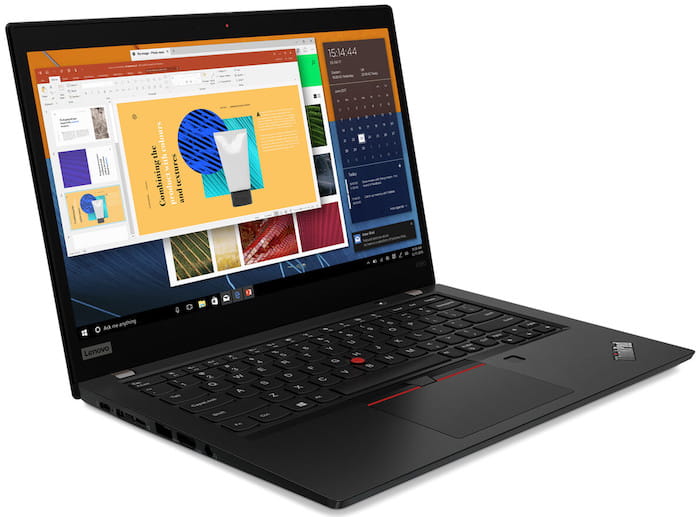 Inside, there is an 8th Gen Intel Core vPro i7 processor, up to 32GB of RAM, and storage goes up to 1TB. The ports selection on the ThinkPad X390 includes a Thunderbolt 3, a USB 3.1 Type-C port, two USB 3.1, an HDMI input slot, a microSD card slot, alongside a Kensington lock, and a single jack for mic and headset connectivity. Lenovo has also promised for the laptop to deliver up to 17 hours of power backup and also introduced some nifty security features. Like the PrivacyGuard that utilizes the built-in IR camera to detect snoopers behind you- enabling alerts and using the ThinkShutter to tone down the brightness for prying eyes only.
The screen options on the ThinkPad X390 include a basic 13.3-inch, 1080p touch display with 300 nits of brightness and a 13.3-inch, 1080p PrivacyGuard non-touch alternative with 400 nits brightness.
You may like to check out: Our Top Picks of Laptops For Writers – With Most Comfortable Keyboard
Lenovo ThinkPad X390 Yoga
Now, Lenovo's Yoga series has been a portable marvel for all travelers and on-the-run kind of consumers. Its refreshing to see that alongside the X390, the X390 Yoga is also getting a boost. Toning down an already slim screen, the Lenovo ThinkPad Yoga X390 will be 2 percent thinner to 9.6 inches and 5 percent lighter to just 2.9 lbs from its previous version.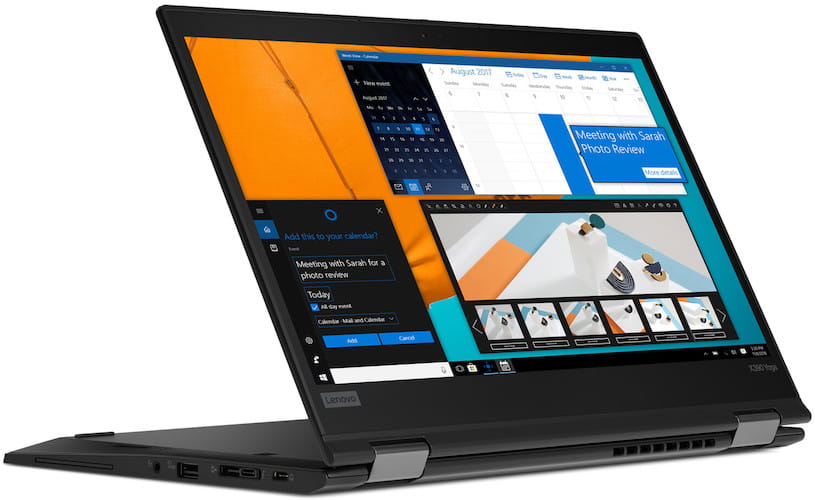 The only display option on the Yoga X390 is a 13.3 inch display, 1080p IPS touch screen and 300 nits of brightness. Such neat specs really doesn't let you miss the lack of variety in it.
With the same processing capacity and storage as its sibling, the Yoga X390 can only be bumped up to 16 GB of RAM. The battery life is also toned down and can go up to just 14.5 hours. With an integrated HD Graphics 620 GPU, the ports gallery on this one remains the same as the ThinkPad X390. What's unique in this one is the LTE connectivity (with the Wi-Fi 6 protocol that has been configured into both models) and a stylus pen that seems like an essential for all portables. But the Lenovo ThinkPad Yoga X390 does lack the PrivacyGuard feature without losing the HD camera and the ThinkShutter cover.
However, both sibling share the dual far-field noise-canceling microphones, delivering top-notch voice output during conferencing and while using smart assistants.
Both laptops are expected to hit the shelves in May. The ThinkPad X390 is starting from $1,099, and the Yoga variant from $1,359.
Read more related stories:
Advertisement