In an age where high-end laptops like the Dell XPS, HP Spectre and MacBook Pro are under the spotlight of the tech community, it's easy to overlook the mid-range laptops like the Acer Aspire 5. Yet, it's an undeniable fact that most of the people who are looking to buy a laptop do not want to spend upwards of $1000 for a productivity machine.
That's where this mid-range power-house from Acer shines. The Acer Aspire 5 A515-54-59W2 is a recently launched (rather refreshed) laptop that packs all the newest generation hardware inside a comparatively thin and light chassis, and its on-paper specs are so good, it makes hard to believe its near $500 price tag.
Advertisement
The Aspire series of laptops from Acer has been popular among the budget buyers, and they are known to offer the best hardware and features at an affordable price. The new Acer Aspire 5 following the similar lines is a solid contender in the budget laptops segment, and after reviewing it, we can say that it's the best laptop for most people out there right now. However, there are a few things that we didn't like about this laptop, some of which could be deal-breaking for few people. Read the full review and find out if this is the right laptop for your needs or not.
Acer Aspire 5 A515-54-59W2 15.6" Laptop
8 new from $578.00

as of October 1, 2023 1:23 am
Features
System Ram Type: ddr4_sdram
Design
The design, to say the least, is not the centrepiece of Acer Aspire 5. The price that you're paying for the laptop goes mostly towards the components and raw performance, not the design and finish. In fact, Aspire 5 (A515-54-59W2) has almost the same specs as Dell XPS 13 on paper and can push out similar performance. Yet, the XPS 13 is almost double the price as compared to the Acer. This is because Acer does not have any fancy metal and glass builds or ultra-bright display.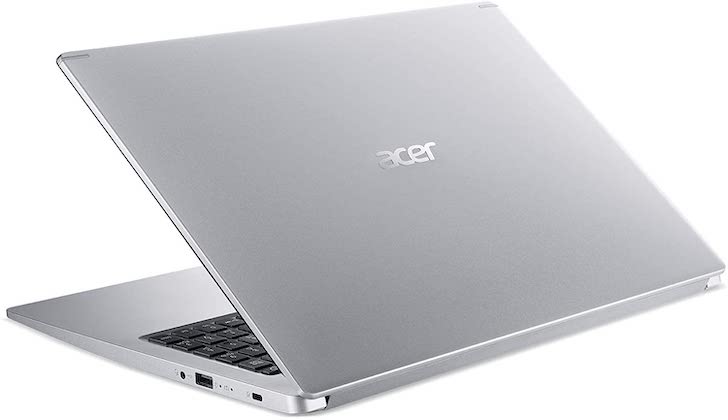 However, it will be wrong to say that it is a cheaply built device. The laptop features a sleek and professional appearance. It's made primarily out of plastic but features a thin sheet of aluminium on top of the lid. The predecessor of this Acer Aspire 5 laptop had a brushed metal finish which was comparatively a wee bit more flashy.
There is also a noticeable flex on the deck as well as the lid. The thick bezels around the screen make it seem like a laptop from 2015, but it also makes it easier to house the webcam up top in the normal position. The bottom bezel holds the metallic Acer logo. One of the premium looking quirks is the metallic hinge with 'ASPIRE' engraved on it, which adds a premium touch to the rather dull design. Overall, as compared to Acer Aspire 1 and Acer Aspire 3, a comparatively low priced and low specced laptop from the same company, the Aspire 5's build quality is much better, yet it feels outdated.
As for dimensions, it's not a thinnest and lightest laptop; rather, it is quite the contrary. The Aspire 5 weighs almost 3.97 pounds and is 0.85 inches thick. For your reference, a MacBook Air weighs around 2.75 pounds and is 0.63 inches thick. So while Acer Aspire 5 is not the lightest windows laptop available, it's undoubtedly a slim laptop and one of the lightest you can buy for the price.
MORE: The Best Laptops for College Students
Ports & Slots
Given that this is a slim device, Acer did not hold back on its port selection. There are two USB 3.0 ports (one with power charging), one USB 2.0 port, one USB-C, Ethernet, audio jack and an HDMI port.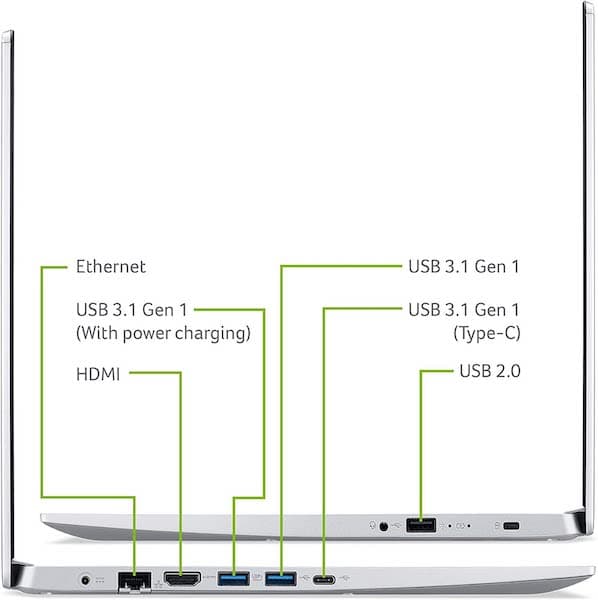 While the addition of the USB-C port and extra USB 3.0 ports is a welcome move by Acer, there is no SD card slot, VGA port or a DVD drive. The removal of the SD card is a big hit for the creatives and video editors who could previously insert the SD card of their camera directly into the laptop. The USB-C port adds a touch of future-proofing to the device. Unfortunately, it's not a Thunderbolt 3 port so you cannot attach an external GPU to the laptop.
On the wireless end of connectivity, this budget-friendly device surprisingly packs Wi-Fi 6 – based on the 802.11ax standard, something that not even all the premium devices have yet. The WiFi 6 card is a great leap in wireless connectivity and will improve your experience by providing you with a much faster and stable connection.
Display
The Acer Aspire 5 A515-54-59W2 laptop has a 15.6 inch Full HD IPS display with a resolution of 1920 x 1080. The screen is another factor that Acer's budget range never seems to nail down and this laptop is no exception.
As expected, there is a noticeable flex on the screen but that shouldn't be a major problem as long as you take good care of the device. One of the worst parts about Acer's midrange screen were the viewing angles. The LCD type screens were simply awful. It wasn't such a problem as long as the screen was placed right in front of your gaze. However, if you tilt the screen, you could hardly see anything. This is a major concern if you're someone who has to constantly show their screen to people or just want to watch some content with your friends on your laptop.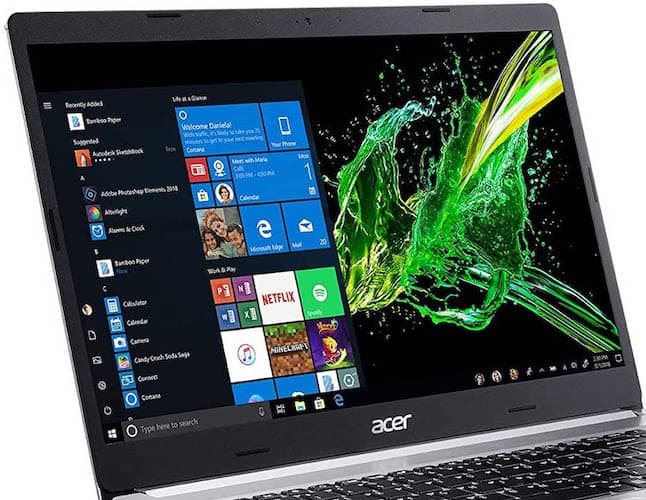 Thankfully, this issue is solved to some extent as Acer switched from an LCD to IPS display, which improves the colour accuracy as well as viewing angles. Acer has also included a Color Intelligence technology which claims to adjust gamma and saturation in real-time to bring out the best colours in real-time.
While the display is pretty good for most purposes, it's not well suited for editing. If you're a photo editor or a video editor, then it is not a good idea to use this as your primary machine. It's not highly colour accurate and thus you should look for an alternative.
Acer has also included something they call BlueLightShield, which aims to reduce blue light emissions from the display and protect the user's eye. Prolonged exposures to blue light from screens without any protection such as anti-blue light glasses can harm one's eyes, and it's a very good thing that Acer includes this in their budget lineup of laptops.
To wrap it up, the Aspire 5's display is on the better edge of the spectrum in its price range. The full HD resolution is something that is rarely found in budget laptops. However, it's not the most colour accurate display and thus not well suited for visual creatives.
MORE: The Best All-Purpose Laptops Under $600 – Our Top Picks of the Month
Performance
Performance is where this laptop really shines the brightest. Talking about raw specs, the Acer Aspire 5 (A515-54-59W2) laptop is powered by a 10th Gen Intel Core i5-10210U quad-core processor, 8 GB DDR4 RAM and a 256GB SSD. The only thing that keeps this laptop from being the perfect budget device is it's GPU, an Intel UHD Graphics 620.
An integrated Intel GPU is not good for any graphics-intensive task. If it's just light photo editing or small and undemanding indie games, then this laptop can handle it. However, if you plan to play hardcore games on it or use it as a primary system for video editing, then you should skip this laptop as an integrated GPU is not sufficient for such tasks. You could instead consider another variant of Acer Aspire 5, which comes with a dedicated Nvidia GPU and is better suited for graphic-intensive tasks.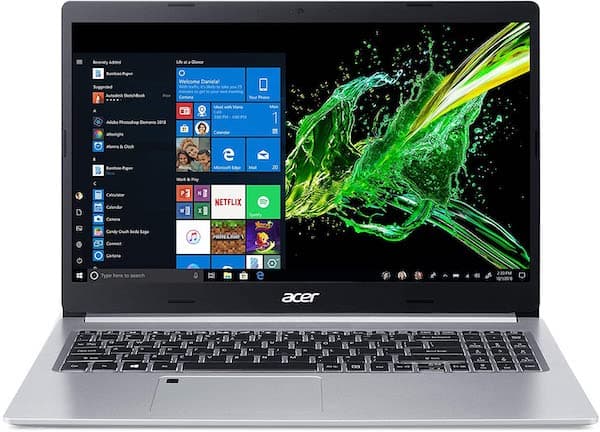 Apart from graphics-intensive tasks, this laptop can handle everyday applications in a snap. Multiple applications and various tabs in the web browser would work just fine on the 10th Gen Intel CPU and the SSD.
The system is powered by a 48 watt-hours battery with a claimed battery life of 9.5 hours by Acer. However, in real-world terms, you shouldn't expect the battery to last that long. During our test, the Aspire 5's battery lasted for 6 hours and 48 minutes. Of course, the battery life depends heavily on the usage, but you cannot expect the battery to last a whole day. Thus, carrying a charger with this laptop becomes mandatory.
You may like to check out – The Best Laptops Powered by Intel Core i5 Processor (Latest-Gen Models)
Audio
The laptop sounds surprisingly great for its price tag, thanks to Acer's TrueHarmony system. The company claims that it "is custom-engineered to deliver more realistic sounds and deeper levels of bass."
However, it's not wise to expect a very strong bass from a laptop at this price. There was little to no distortion and mids and highs were pretty strong. Consuming video content from Netflix or YouTube without headphones is easily possible and you'd be greeted with a rather pleasant experience. However, it would be a better choice to invest in a pair of headphones for better experience.
Keyboard & Trackpad
Given that this is a big 15-inch laptop, the keyboard and trackpad are great! The keyboard is a full-size one with a num pad on the side. The keys are nicely spaced out and it's easy to get used to the typing experience. Since this is a thick laptop, the keys are clicky and responsive, which feels good. This is an excellent device if you're a student, business professional or someone who types a lot. A pleasant surprise is a fact that the keyboard is backlit so you can type even in the dark. Backlit keyboards are not common at this price point, so this was a welcome move on the company's side. However, it's not an advanced backlit keyboard where you can adjust the brightness, it's simply on or off, but you can't really complain.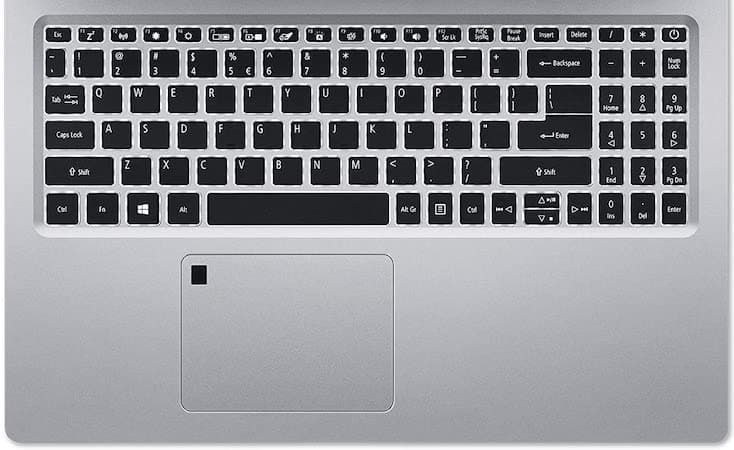 MORE: Our Top Picks of Laptops for Writers with Most Comfortable Keyboards
The trackpad is huge and is placed right in the centre of the deck, making it easy to navigate around. It's a plastic touchpad rather than a glass one that can be found on the premium devices. However, tracking and responsiveness is on par with costlier laptops, and it runs on the Windows precision drivers so you can use all the multi-finger gestures. One of the best parts is the integrated fingerprint sensor, which can be found on the top left of the trackpad. You can easily log in to your laptop using the fingerprint sensor with the help of Windows Hello.
Upgradability
Upgrading the memory and the storage of this laptop is possible. The back panel comes off relatively easily but it's not as simple as its predecessor Acer Aspire E15, where you could simply unclip it after opening two screws. Here, you'll need to unscrew the whole back panel and then use a pick to remove it.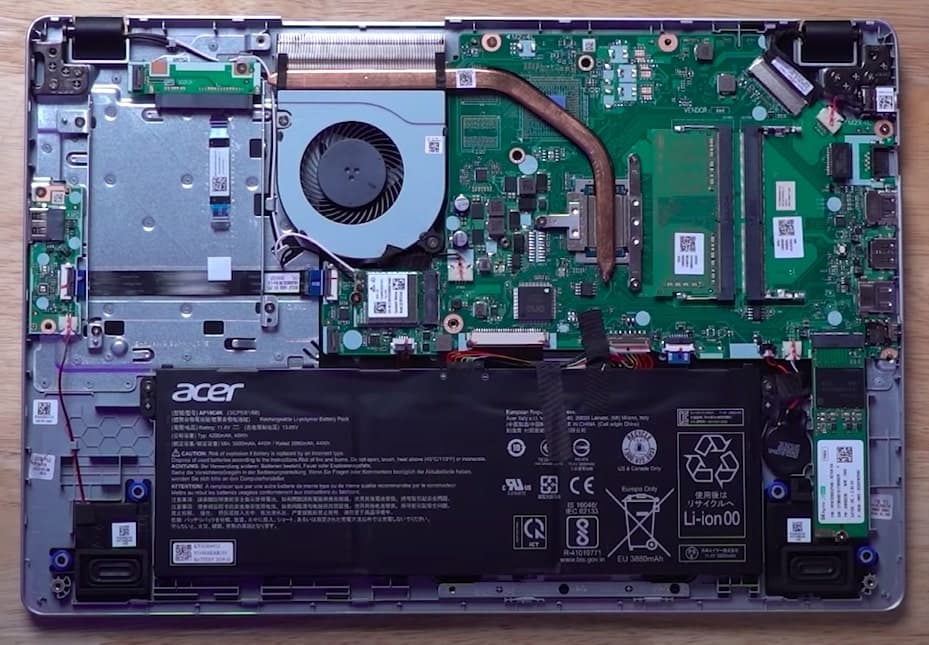 Inside, you can upgrade a lot of things. There is an empty dedicated slot for an HDD, so you can increase the storage of your laptop. There is no empty space for an additional RAM stick, but you can swap out the existing one for a one with higher memory. The laptop supports up to 24 GB of DDR4 RAM. You can even swap out the SSD for a newer one, but remember that the system software including Windows is installed on the pre-installed SSD. So if you do decide to swap out the SSD, be sure to create a system backup.
You may like to check out – The Best Desktop Replacement Laptops – Upgradable Like Desktops!
Bottom Line
To conclude, the Acer Aspire 5 A515-54-59W2 is a mid-range laptop with all performance and almost no beauty. Whatever you're paying is going pretty much solely to the raw specs. It's an amazing budget machine for students and businesspeople with an excellent keyboard. It's not the prettiest one and won't stand out of the crowd. Do not expect to game here or do anything that is graphics intensive. Apart from that, this laptop should suffice in everything else that you can throw at it.
Acer Aspire 5 (A515-54-59W2)
$579.99
Design & Build Quality
4.0/5
Keyboard & Touchpad
4.5/5
Pros
Excellent performance and good battery life
Lightweight
Good selection of ports
Fairly easy to upgrade
Great features for the price
Cons
Outdated design
Slightly flimsy build quality
No SD card slot
Advertisement