If you are looking to purchase an ultrabook on budget, then Acer Swift 3 is one of the best options right now. It is a 14-inch all-metal built laptop weighing less than 3 pounds and rocking a powerful 8-core AMD Ryzen processor inside that can give even expensive Intel-powered ultrabooks a good run for the money.
At its MSRP of $749, it's already a pretty well-priced laptop, but you can purchase it right now for $120 less, thanks to this amazing early Black Friday laptop deal. | See it on Amazon
Advertisement
We reviewed the 2021 Acer Swift 3 in our labs, and we loved it for its robust performance and battery life that lasted for 9 hours and 37 minutes on a single charge in our test!
The new AMD Ryzen CPUs are highly efficient, and Swift 3 is powered by the latest AMD Ryzen 7 5700U processor with 8-cores and 16-threads, and it has a turbo clock frequency of up to 4.3GHz. It is a mighty AMD processor that beats even the powerful 10th Gen Core i7 laptops in multi-core tests. The powerful CPU is paired with an adequate 8GB RAM, which is un-upgradeable, and it offers a speedy 512GB SSD to store all your files.
Although it is a mere spec bump compared to the last year's model, the display is significantly better on this 2021 model, offering a 14-inch IPS panel with 300-nits of brightness and 100% sRGB coverage.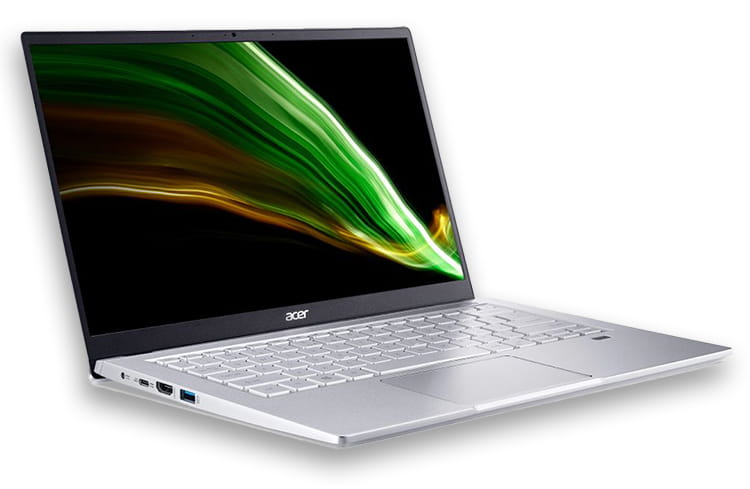 The design, although being the same as last year's model, is modern and sleek looking, and the laptop also feels premium to touch and hold — thanks to its all-aluminum casing. It is also a relatively lightweight machine weighing just 2.65 pounds.
We also loved the backlit keyboard on the Swift 3. It has a perfectly-sized and well-arranged keys, and it also features a decent-size trackpad, which also felt smooth to operate. Moreover, it supports Windows precision drivers, so it understands all the standard Windows gestures.
Apart from that, it also features a fingerprint scanner for quick logins, and it also offers all the essential ports and slots to connect your peripherals.
However, its speakers are just average, and they distort at high volumes, but you'll be okay watching YouTube videos on it, and its 720p webcam also pictures bad quality images.
Despite that, it's still one of the best ultrabooks in the $700 price range for professionals and students. Its powerful performance and features more than make up for its few minor caveats.
We will be covering the best laptop deals of Black Friday, Cyber Monday, and the Holiday Season this year. Bookmark our best laptop deals page to have it handy during peak sales time.
Advertisement