Last year, the Acer Swift 3 impressed us with its bang for the buck performance, offering excellent performance in a premium design but at an affordable price tag. It was an ultrabook that was almost too good to be true. And a year down the line, there's a new Acer Swift 3 refreshed with the latest AMD 7nm Ryzen 7 5700U CPU, which on paper, promises an even better value for money. The 2021 Acer Swift 3 lineup remains just as premium, lightweight, and portable as before, but the performance gains are almost too enticing to pass on.
The Swift 3 lineup is anyway known for being a cut above the rest when you're looking for a thin-and-light laptop for everyday use. Where most laptops at this price cheap out with a plastic body and compromised hardware, the Swift 3 lineup has prioritized the experience over specs. It does offer some of the best hardware you get at this price, but its choice of a premium metal body for the chassis and excellent battery life makes it a great choice. However, where last year's Acer Swift 3 was priced at $650, this one's retailing at a higher $750 on Amazon. Although Acer's website shows the price for this model as $699, which makes this a great deal, considering it's just $50 more expensive than last year's model.
Advertisement
Well, the new generation AMD chips are more expensive than before and the ongoing chip shortage has anyway cranked up prices of silicon. But considering last year's Swift 3 is still available for purchase, are there any meaningful upgrades to justify the higher price tag? More importantly, does it remain just as aggressively positioned as before?
Acer did go back to the drawing board and fixed some of the glaring flaws in last year's Swift 3. However, some of them still remain, indicating that they are conscious choices at the product conceptualization level, something that Acer wants you to compromise on and live with. Among things that have improved is the display. After last year's lackluster panel, the 14-inch panel on the 2021 Swift 3 has improved by a big margin. It's a lot brighter and more color-accurate than before, making this one suitable for more than just data entry on Microsoft Excel. You can even binge-watch your favorite shows on Netflix and Hulu. However, you'll have to live with speakers which are barely audible. So is the 2021 Acer Swift 3 worth your money? Read the full review to find out.
Price & Configurations
The Acer Swift 3 (2021) is offered in both AMD and Intel configurations, with the latter even sporting the Intel Evo certification for ultrabooks. What we review here is the AMD variant that sports the Ryzen 7 5700U with 8GB RAM and 512GB SSD. You also get a Ryzen 5 5500U variant with 8GB RAM and 256GB SSD, while the Ryzen 7 model has an elder sibling with 16GB RAM and 1TB SSD. Both the Intel and AMD variants are available for purchase in the US, but the Intel variants are ever so slightly more expensive.
Specs as reviewed:
Model Number
SF314-43-R2YY
Processor
AMD Ryzen 7 5700U Octa-Core (12MB Cache, 1.8 GHz – 4.3 GHz)
RAM
8GB LPDDR4X (Soldered, No empty slots)
Storage
512GB PCIe NVMe SSD
Graphics
Integrated AMD Radeon RX Vega 8
Display
14-inch Full HD IPS LED Display (100% sRGB, 300-nits)
Ports
1x USB 3.2 Type-C with PD
2x USB 3.2 Gen 1 Type-A
1x HDMI Port
1x 3.5mm Headphone/Microphone Jack
Operating System
Windows 10 Home (Free upgrade to Windows 11)
Battery life
9:37
Weight & Dimensions
2.6 Pound
12.7 x 8.4 x 0.7-inches
Design
The design of the Acer Swift 3 has been carried over from the last year's model, which is alright. It feels very well put together and looks modern, minimalistic, and clean.
Shrouded in a metallic silver finish with the Acer logo in the middle of the lid, the Swift 3 just blends in. The chassis itself gains durability with the use of magnesium-aluminum alloy, which also extends to the palm rest and the keyboard deck. The keys are also of the same color and blend in with the rest of the design quite nicely, rendering a unibody finish like a MacBook.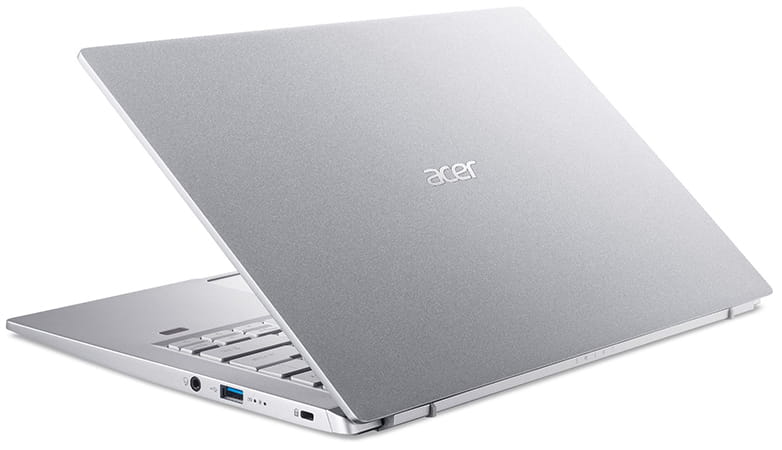 The 14-inch display has razor-thin bezels on the three sides, save for a thick bottom chin with the Acer logo etched. However, it still finds space for an integrated 720p webcam which is serviceable for occasional video calls. The display bezels are the only part where Acer has used plastic on the Swift 3; otherwise, it's an all-metal-built machine that manages to fool people into believing it as an expensive machine.
The deck has a fingerprint sensor powered by Windows Hello, which will let you sign in with just a tap of your finger, while on the other side is the moniker 'Swift' etched in a lighter shade of silver, right between the deck and the hinge. The hinge is quite long and rather narrow and had me handling the machine extra carefully.
What works for the Acer Swift 3 is not just the minimalist design but how portable it is. At just 2.7 pounds, the Swift 3 is one of the lightest ultrabooks out there, but it's not exactly the thinnest.
Ports & Slots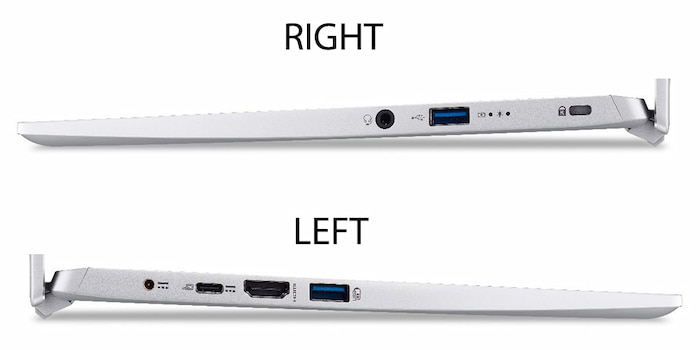 The Acer Swift 3 maintains the status quo for I/O offerings in mainstream ultrabooks, but thankfully none of those slow AF USB 2.0 ports. Instead, you get 2 USB 3.2 Gen 1 ports, 1 USB-C 3.2 Gen 2 port, an HDMI out to connect a second monitor, and a 3.5mm headphone/microphone jack. There is no microSD card slot, however.
Display
What was a major flaw in last year's Acer Swift 3 has been corrected this year. The 14-inch display this year has now been upgraded with higher peak brightness and better color accuracy. It's still not the best in this segment, but with 300 nits of brightness, it's perfectly usable in bright settings. The panel is still a bit reflective, but it covers 100% sRGB gamut, offering vibrant colors with a stronger backlight, making it perfect for consuming content.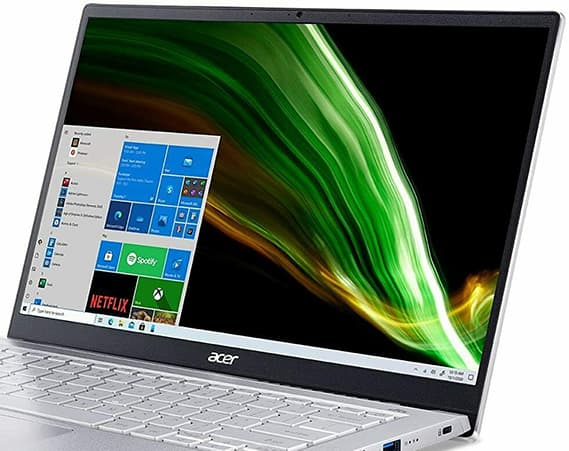 Furthermore, the Swift 3 achieves an 85.73% screen-to-body ratio with thin bezels, which is quite immersive. There's also DC Dimming, a feature usually found in more premium laptops that helps in reducing flickers. All this converts into a great viewing experience for casual users as well as beginner content creators.
Keyboard & Trackpad
The Acer Swift 3 features a full-sized keyboard that's perfect for typing out long essays or emails. The keys aren't too mushy, and the island layout renders accuracy making it ideal for office or school use. However, it lacks a number pad, which very few 14-inch laptops offer anyway, and the palm rest isn't the largest and most comfortable. But these are issues that are easily ironed out over time, and once you get used to the keyboard design, it's quite nice to use. Beware, though, the arrow keys and Page Up and Page Down are almost plastered together and prone to accidental presses.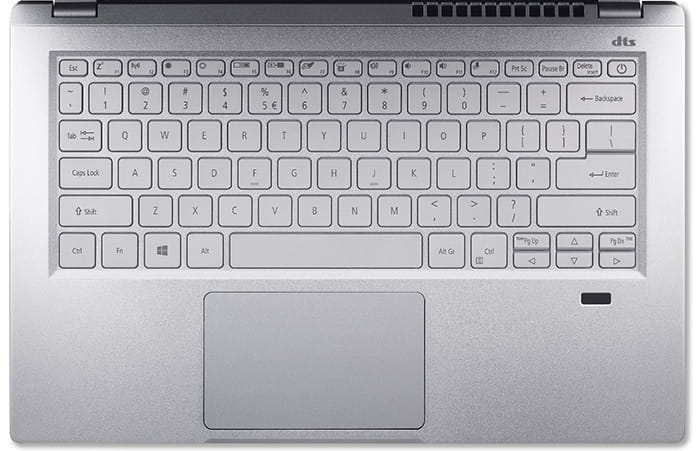 The trackpad measures 4.2 x 2.6-inches and blends in quite nicely with the silver finish, and it is flushed to the body and is one of the better ones. It offers precise cursor control and supports Windows Precision drivers, but it wobbles a bit when clicking.
Audio
With two bottom-firing speakers, the Swift 3 struggles to dish out loud audio that's now a major requirement for attending video calls and online classes. Yes, you get 3.5mm audio out for plugging in headphones, but how convenient is it? The sound output when in an absolutely quiet room has clear sound separation, but the volume itself is so tinny that you'd be pressing your ears against the chassis to hear a thing. The audio is certainly the weakest aspect of this laptop.
Performance
The reason why the Acer Swift 3 performs like it's nobody's business is because the AMD Ryzen 7 5700U offers performance as good as a 10th-Gen Intel Core i7 H-series CPU. For the layman, that's a low-power mainstream CPU matching the performance of a power-hungry gaming CPU. The chipset also features and uplifts the experience in laptops like the Asus Vivobook 15, which happens to be a little more affordable than this one. Pair that with decently fast SSD storage, and the Acer Swift 3 lives up to its name. It's swift.
In everyday use for mainstream users that primarily involves the use of Microsoft Office, web browsing, binging content, and light creative workloads like editing photos and short videos, the Acer Swift 3 is frickin' perfect. The Ryzen 7 5700U relies on 8 cores and 16 threads, and while the clock speed isn't too high, despite using the old Lucienne architecture, there are decent gains in IPC (instructions per clock), leading to much better everyday performance.
Multitasking on this laptop doesn't slow it down at all. I was able to juggle around 30 tabs on Firefox, including one that was playing a 4K video on YouTube, copy a large movie out from my external hard disk, and play around with Windows Explorer and Settings. This one just took it all without any noticeable slowdown. All this, of course, while plugged in and the 'Best Performance' power plan selected. On battery, and a more efficient power plan, the laptop does show a bit of a slowdown, but it doesn't become unusable. You do get a couple more hours out of it, though.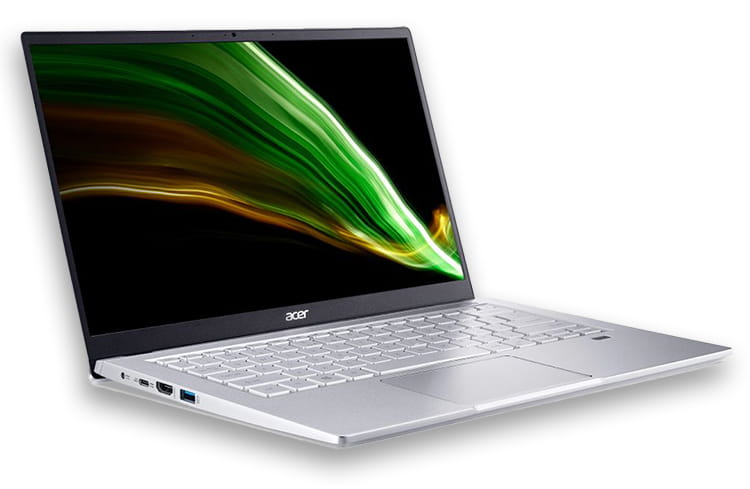 But it wasn't all a bed of roses. Running my real-world experience test, the primary bottleneck was the 8GB RAM soldered to the board. Even without too many processes running, it was constantly above 80% usage. So a little bit more load on the laptop and there would be expected slowdown. That happened when I fired up Adobe Premiere Pro to edit a short two-minute 4K clip with filters and transitions, and the timeline became extremely sluggish. It also took a good 15 minutes to render and export. On the other hand, Photoshop ran pretty smoothly on its own. It handled basic editing with 4-5 layers on an image quite well.
While this isn't anywhere close to a gaming laptop, the integrated AMD Radeon graphics with 512MB VRAM is good enough for basic gaming. I was able to run Doom Eternal at 45 FPS, albeit at its lowest graphics, while Dirt 3 ran at 75 FPS at medium graphics. The performance is much better than most mainstream laptops, but if you're looking for a good budget gaming laptop, I'd recommend the Asus TUF Dash F15 with the Nvidia RTX 3050 Ti GPU.
Battery Life
The Acer Swift 3 features a 4-cell 48Whr lithium-ion battery, which is the standard for most mainstream ultrabooks. But thanks to the extremely power-efficient AMD Ryzen 7 5700U APU, the laptop can deliver more at around the same capacity as before.
With the power plan set at 'Balanced', I managed a screen-on time of around 6 hours. Combined with standby times, the battery life can be easily extended to half a day, putting this squarely into Ultrabook territory, which used to be a stronghold for Intel even till a few years back.
The good thing is you don't have to compulsively charge the laptop using the barrel-pin 65W adapter that's bundled with the box. That one takes a bit of time, juicing the laptop from 0-100 in around 1.5 hours. But the Type-C port on the side supports fast USB-PD charging, so you can get a third-party PD charger to fast charge this one, which would also charge your smartphone and other gadgets.
Upgradability
A structural disadvantage of buying a thin-and-light ultrabook is its upgradability. OEMs generally opt for the most compact internal design to shave off weight and keep it razor-thin. Unfortunately, that means there's not much scope to expand the memory or storage later. The Acer Swift 3 is no different. So you have no choice but to stick to the 8GB RAM soldered onto the motherboard.
The rear chassis is also glued to the body, and there's no easy way to open this guy up to access the internals, which simply means that Acer doesn't want the user to open this up even for maintenance.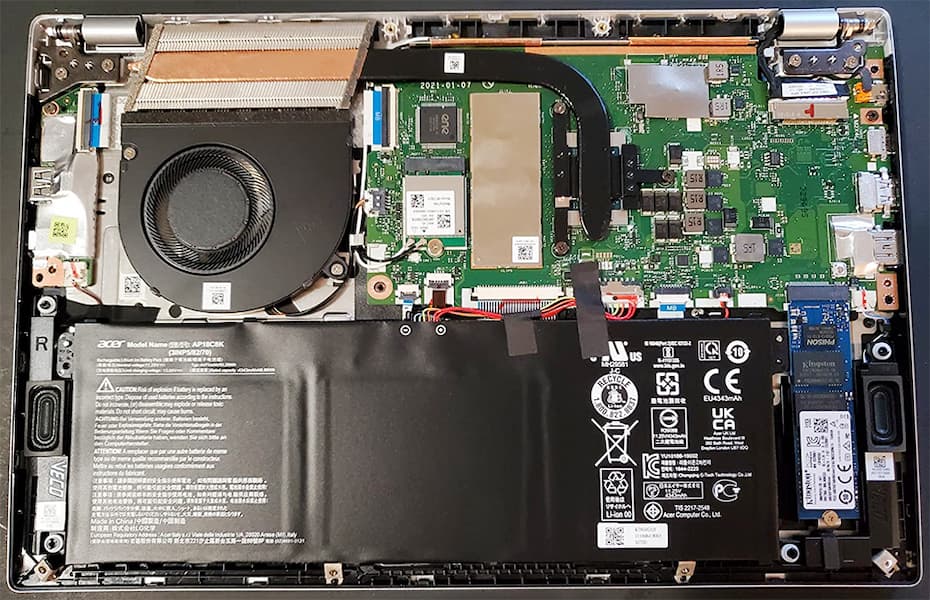 Should you choose to break open the rear panel, the good news is the SSD is user upgradable. Unlike the RAM, the SSD is not soldered onto the mainboard. It has a thermal fabric covering that can be peeled off and replaced with a higher capacity SSD for more storage.
Conclusion
The Acer Swift 3's affordability and performance make this an easy to recommend laptop for office and college use. For an affordable, mainstream ultrabook, the Swift 3 comes across as quite premium with the right amount of firepower under the hood. The display has also improved by leaps and bounds. It now provides an excellent multimedia experience, but with poorly tuned speakers, you will have to end up pairing either an external speaker or plug-in headphones. If that's not an issue, the Acer Swift 3 is nearly perfect for mainstream use.
Acer Swift 3 (SF314-43-R2YY, AMD Ryzen 7 5700U)
$749.99
Design & Build Quality
4.5/5
Keyboard & Touchpad
4.0/5
Pros
Robust performance
Color-accurate display
All metal chassis and Tough build
Superb battery life
Comfortable backlit keyboard
Great bang for the buck
Cons
Poor audio from speakers
Non-upgradable RAM
Advertisement